Torie Osborn Crashes the Party
The spirited California Assembly candidate battles the Democratic establishment.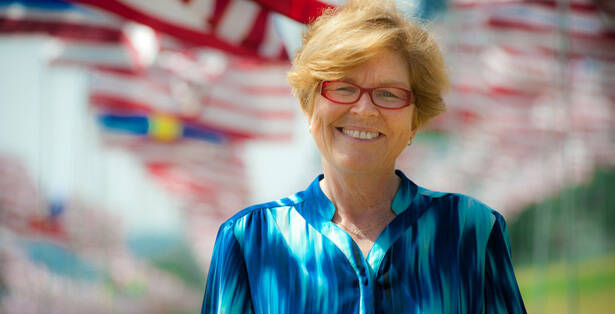 In 2008, thou­sands of Oba­ma cam­paign vol­un­teers got fired up about elec­toral pol­i­tics in a way they hadn't been before. Four years lat­er, some are now run­ning for office them­selves. But few have made a big­ger splash in local Demo­c­ra­t­ic cir­cles than for­mer In These Times staffer Torie Osborn, a nation­al­ly-known advo­cate for gay and les­bian rights and oth­er pro­gres­sive caus­es. Her insur­gent cam­paign for a Cal­i­for­nia Assem­bly seat has roiled the waters of Los Ange­les-area lib­er­al­ism and bucked the leg­isla­tive lead­er­ship in Sacra­men­to, which is cir­cling the wag­ons around her main opponent.
If San­ta Mon­i­ca-based Osborn beats Assem­bly­woman Bet­sy But­ler in the new­ly-cre­at­ed 50th Assem­bly dis­trict — either on June 5 or in a Novem­ber gen­er­al elec­tion run-off — her vic­to­ry over the par­ty estab­lish­ment will be a Left Coast mon­u­ment to what might have been pos­si­ble, in more places, if Obama's cam­paign orga­ni­za­tion (or the Demo­c­ra­t­ic Par­ty) had been seri­ous about grass­roots move­ment build­ing. ​"There could have been 100, or even 1,000 Torie Osborns, who came out of the net­work of ener­gized peo­ple try­ing to change Amer­i­can pol­i­tics in 2008," says Cal­i­for­nia polit­i­cal con­sul­tant Paul Kumar, an admir­er of Osborn's ​"extra­or­di­nary cam­paign organization."
Giv­en her strong resume as a com­mu­ni­ty orga­niz­er, non-prof­it orga­ni­za­tion leader, and influ­en­tial advi­sor to sev­er­al Los Ange­les may­ors, it's been sur­pris­ing to some that Osborn's well-fund­ed first-time bid for pub­lic office wasn't wel­comed by Assem­bly Speak­er John Pérez and oth­er Demo­c­ra­t­ic leg­is­la­tors. After help­ing to launch this mag­a­zine as a found­ing staff mem­ber in the mid-1970s, she played lead­er­ship roles in the Nation­al Orga­ni­za­tion for Women, a pio­neer­ing Los Ange­les clin­ic for HIV/AIDS suf­fer­ers, and the nation­al Gay and Les­bian Task Force that mobi­lized hun­dreds of thou­sands of civ­il rights marchers in Wash­ing­ton in 1993. While serv­ing as direc­tor of Lib­er­ty Hill Foun­da­tion, and lat­er with Unit­ed Way, she helped chan­nel mil­lions of dol­lars from well-heeled Hol­ly­wood­ers into Los Ange­les neigh­bor­hood projects deal­ing with gang vio­lence, low-income hous­ing, and envi­ron­men­tal issues. Osborn's lat­est work, with Cal­i­for­nia Calls, has focused on boost­ing vot­er reg­is­tra­tion in the state and build­ing a coali­tion to end ​"loop­holes for giant cor­po­rate prop­er­ty own­ers and the require­ment of a two-thirds super­ma­jor­i­ty vote by leg­is­la­tors to increase taxes."
As San Fran­cis­co lawyer and Demo­c­ra­t­ic Par­ty activist Paul Hog­a­rth not­ed in a Feb­ru­ary 2012 post on the Bay Area polit­i­cal blog Beyond Chron, California's just-com­plet­ed redis­trict­ing process has giv­en ​"Democ­rats an his­toric oppor­tu­ni­ty to pick up seats in Novem­ber— and win a two-thirds major­i­ty that would make Repub­li­cans irrel­e­vant." Instead, Hog­a­rth charged, "[Speak­er] Pérez has divert­ed resources from com­pet­i­tive ​'swing dis­tricts' and is instead med­dling into Demo­c­ra­t­ic pri­ma­ry fights in deep-blue seats" so he can ​"con­sol­i­date con­trol at the expense of every­thing else." The chances of the Democ­rats gain­ing the nec­es­sary two addi­tion­al seats in both hous­es of the leg­is­la­ture has decreased, as a result.
The back-sto­ry to But­ler vs. Osborn explains how and why. First elect­ed to the assem­bly in 2010, after a career as an envi­ron­men­tal group fundrais­er, But­ler won office by brave­ly defeat­ing a Tea Par­ty Repub­li­can in the South Bay com­mu­ni­ties of Tor­rance, Redon­do Beach, Mari­na Del Rey and El Segun­do. Through redis­trict­ing last year, more con­ser­v­a­tive vot­ers were added to this elec­torate, but the Democ­rats still have a slight edge among those reg­is­tered over­all. Nev­er­the­less, with full back­ing from Pérez (and 35 oth­er Demo­c­ra­t­ic leg­is­la­tors), But­ler aban­doned her con­stituents and fled from a re-match with the Repub­li­can she defeat­ed last time (leav­ing that job this year to a weak­er and now under-fund­ed Demo­c­rat). From her new address in Bev­er­ly Hills, she announced a cam­paign for ​"re-elec­tion" in the re-jig­gered 50th dis­trict that includes just 1.7 per­cent of the vot­ers she cur­rent­ly represents.
Despite Osborn's pre­vi­ous­ly announced can­di­da­cy and active sup­port from local Demo­c­ra­t­ic clubs, Pérez began twist­ing arms to secure big dona­tions for But­ler from statewide labor and envi­ron­men­tal PACs. Using appoint­ed del­e­gates, he engi­neered state par­ty con­ven­tion back­ing for But­ler in Feb­ru­ary. Since last year, Pérez and oth­er leg­is­la­tors have per­son­al­ly donat­ed more to their car­pet-bag­ging col­league ($88,000) than to any oth­er Demo­c­ra­t­ic can­di­date for the assem­bly. Among the com­mer­cial inter­ests flock­ing to Butler's ban­ner is the Apart­ment Asso­ci­a­tion of Greater Los Ange­les, a land­lords' group that oppos­es rent con­trol in West Hol­ly­wood, San­ta Mon­i­ca, and oth­er com­mu­ni­ties that still have it. Mean­while, back in the South Bay, the cam­paign of Butler's would-be Demo­c­ra­t­ic suc­ces­sor, Tor­rance School Board mem­ber Al Murat­suchi, has been large­ly ignored by But­ler donors in the state leg­is­la­ture. Leg­isla­tive staffers from Sacra­men­to, who could be aid­ing Muratsuchi's GOTV efforts against two GOP pri­ma­ry foes, will instead be dis­patched, at Pérez's direc­tion, to the 50th dis­trict as ​"vol­un­teers" for Butler.
Under California's new ​"jun­gle pri­ma­ry" sys­tem, Democ­rats and Repub­li­cans run against each oth­er in the same pre­lim­i­nary field; the top two fin­ish­ers go on to a gen­er­al elec­tion re-match in Novem­ber. In a safe lib­er­al dis­trict like the new 50th, that means that the com­pet­ing Demo­c­ra­t­ic cam­paigns of Osborn and But­ler (or of a third pos­si­ble top-tier fin­ish­er, San­ta Mon­i­ca May­or Richard Bloom) will con­tin­ue to con­sume finan­cial resources that could have been used to unseat Repub­li­cans else­where. The sev­er­al mil­lion dol­lars raised by Osborn, But­ler, or their sup­port­ers will bal­loon to much greater spend­ing dur­ing five-month's of post-pri­ma­ry cam­paign­ing with­in the same elec­torate of 300,000.
Among those vot­ers are AT&T work­ers who belong to Com­mu­ni­ca­tions Work­ers of Amer­i­ca Local 9003, head­ed by T San­to­ra. He reports that CWA's South­ern Cal­i­for­nia Coun­cil broke with the Cal­i­for­nia and Los Ange­les labor fed­er­a­tions to endorse the ​"more home-grown" Osborn — after inter­view­ing both can­di­dates and tak­ing into account Butler's pro-labor vot­ing record. ​"Betsy's a nice lady," San­to­ra says. ​"But her claim­ing the crown as the incum­bent didn't work with our mem­bers — it just rubbed peo­ple the wrong way. If Bet­sy wasn't in the leg­is­la­ture, nobody would know who she was. And, since she's been there, she's nev­er reached out to us."
In con­trast, past leg­is­la­tors from the area had strong local ties to labor, ten­ants, con­sumers, envi­ron­men­tal­ists, and health­care reform­ers. San­ta Mon­i­ca and its envi­rons was the polit­i­cal base for Tom Hayden's suc­cess­ful post-New Left rein­car­na­tion as a state assem­bly­man and, lat­er, sen­a­tor. When he was term-lim­it­ed out of office, Hay­den passed the torch to pub­lic inter­est lawyer Sheila Kuehl, who became California's most effec­tive leg­isla­tive cam­paign­er for sin­gle-pay­er health care. Both Hay­den and Kuehl (Osborn's for­mer part­ner) encour­aged Osborn's run this year. Accord­ing to Kuehl, ​"Torie absolute­ly fits this dis­trict. She's been a leader of one of the most suc­cess­ful civ­il rights move­ments of our time. Then she made the tran­si­tion from LBGT cam­paign­ing to work­ing on issues relat­ed to pover­ty, home­less­ness, and income inequal­i­ty well ahead of Occupy."
On June 5 (and hope­ful­ly Novem­ber 6, as well), vot­ers in the 50th Assem­bly dis­trict will have a choice between some­one who's already part of a cozy (if dys­func­tion­al) incum­bent pro­tec­tion club in Sacra­men­to and a par­ty crash­er who plans to show up there next Jan­u­ary with no polit­i­cal debts to any­one except vot­ers who want a voice, not an echo, in the state capitol.
Steve Ear­ly worked for 27 years as an orga­niz­er and inter­na­tion­al rep­re­sen­ta­tive for the Com­mu­ni­ca­tions Work­ers of Amer­i­ca. He is the author of sev­er­al books, includ­ing Refin­ery Town: Big Oil, Big Mon­ey, and the Remak­ing of an Amer­i­can City (Bea­con Press).