Reprieve for an Ancient Site: A Mining Company and a Tribe Find a Way to Work Together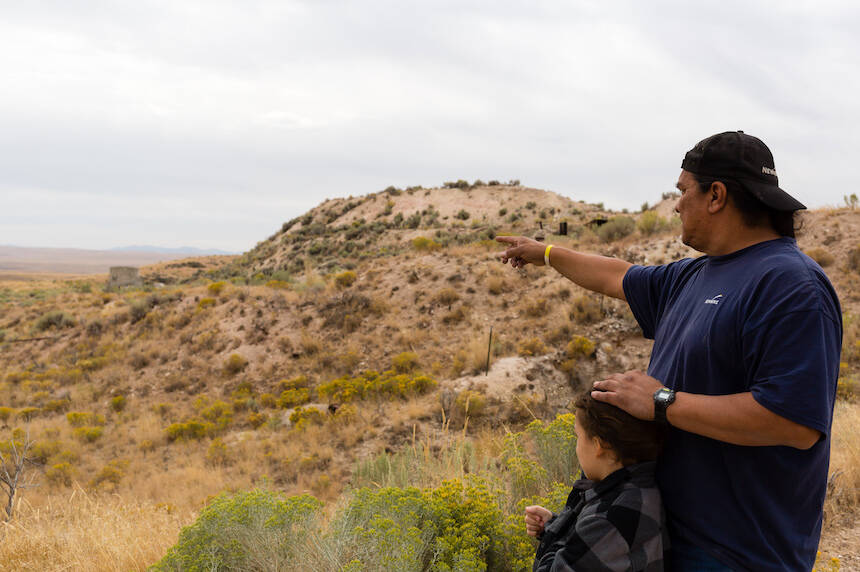 Prepa­ra­tions are under­way to hand over to West­ern Shoshon­es 3,269 acres of Native sacred sites in Neva­da. ​"We'll have prayers, danc­ing, drum­ming and food," says Joseph Hol­ley, coun­cil­man and for­mer chair­man of the Bat­tle Moun­tain Band of the Te-Moak Tribe of West­ern Shoshon­es, in Neva­da. ​"There will be time for Paul to talk about what's been hap­pen­ing over the past eight years and how he is help­ing us pro­tect this place."
Hol­ley is refer­ring to Paul Huet, the chief exec­u­tive offi­cer of Klon­dex Mines, a Cana­di­an firm that in late 2016 pur­chased an exist­ing gold-min­ing oper­a­tion with­in a West­ern Shoshone cul­tur­al land­scape called Tosaw­i­hi (pro­nounced DOS-a-wee). Acquired as part of the min­ing deal, the por­tion that Klon­dex will hand over to the Bat­tle Moun­tain Band on August 18 is a spir­i­tu­al hub with­in the ancient place. Though 83 per­cent of Neva­da is owned by the fed­er­al gov­ern­ment, the Klon­dex pur­chase and han­dover of this rel­a­tive­ly unusu­al pri­vate­ly owned tract will allow it to remain in the hands of those who val­ue it most. The Bat­tle Moun­tain Band will hold and admin­is­ter the lands on behalf of all Shoshon­es, accord­ing to Holley.
The entire Tosaw­i­hi land­scape encom­pass­es tens of thou­sands of acres of grass- and sage­brush-cov­ered hills in north­ern Neva­da. Archae­ol­o­gists have dat­ed arti­facts indi­cat­ing an occu­pa­tion of the area that is at least 14,000 years old. To put that in anoth­er con­text, it makes Ancient Rome, found­ed less than 3,000 years ago, a rel­a­tive stripling.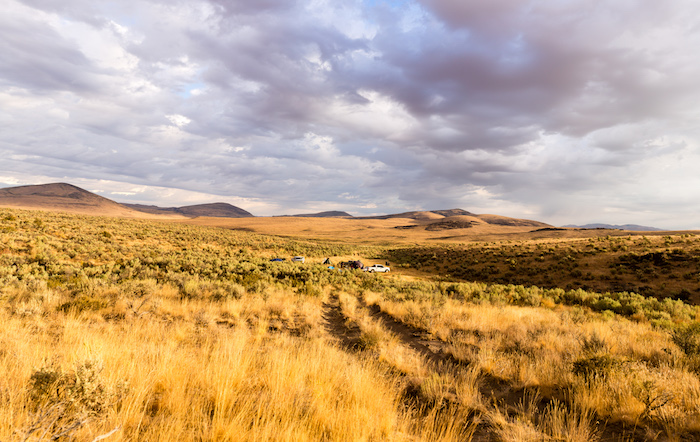 West­ern Shoshon­es camp in their ancient cul­tur­al land­scape, Tosaw­i­hi, in north­ern Neva­da. (Pho­to: Joseph Zummo)
Trib­al his­to­ry goes back even fur­ther. Reg­gie Sope, a med­i­cine man from the Duck Val­ley Indi­an Reser­va­tion, says that his people's first horse was a mul­ti-toed crea­ture that died out about 10,000 years ago. ​"First they were lit­tle, and we hunt­ed and ate them," Sope says. ​"As they evolved into ani­mals the size of a dog, we used them to pull travois [joined poles form­ing a sled used for trans­port]. Lat­er, they were big enough to ride, and we were lords of the Plains."
Or maybe West­ern Shoshon­es arrived in Tosaw­i­hi in a deep­er past, before time began. Bas­ket­mak­er and edu­ca­tor Leah Brady, of the Elko Band of Te-Moak West­ern Shoshon­es, says Coy­ote was giv­en a lid­ded bas­ket as a gift and warned not to look inside. Insa­tiably curi­ous about the singing and danc­ing that seemed to be going on with­in the ves­sel, the quin­tes­sen­tial trick­ster lift­ed the lid, and the peo­ple who today are called West­ern Shoshone ran out and pop­u­lat­ed their new home.
A will­ing­ness to listen
Huet's plans for his company's tenure in Tosaw­i­hi encom­pass more than the gift of the land. At the mine, which is sev­er­al dozen miles from the tract to be trans­ferred, Klon­dex employ­ees are coor­di­nat­ing with trib­al cul­tur­al experts so they can work around the area's many arti­facts and sacred places — med­i­cine-plant gath­er­ing areas, vision-quest sites, heal­ing springs, ancient rock shel­ters, rock hunt­ing blinds where hunters would hide and wait for prey, pre­his­toric camp­sites, and more.
Hol­ley says Klondex's approach to work­ing the site and deal­ing with the local com­mu­ni­ty shows a ​"night and day" dif­fer­ence from that of pre­vi­ous min­ing com­pa­nies. As Rur­al Amer­i­ca In These Times has report­ed, the com­pa­ny that imme­di­ate­ly pre­ced­ed Klon­dex, Car­lin Resources, aggres­sive­ly dis­missed trib­al con­cerns. The com­pa­ny allowed employ­ees to stand around, snick­er­ing, when elders came to the area to pray and hold cer­e­monies. In ear­ly 2016, it wiped out 12 miles of an ancient doctor's heal­ing trail, along with the med­i­c­i­nal plants he cul­ti­vat­ed along­side it. This was done to make way for a pow­er line that Hol­ley says could have been installed far less destruc­tive­ly. It could have even been buried, he says.
Tanya Reynolds, an offi­cial of the South Fork Band of the Te-Moak West­ern Shoshone, calls past destruc­tion in Tosaw­i­hi ​"beyond words, beyond what is pos­si­ble to fix."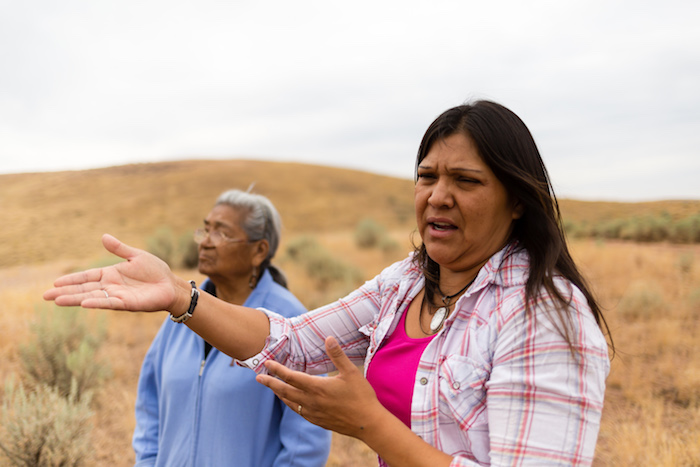 Tanya Reynolds, a West­ern Shoshone offi­cial, with Kath­leen Hol­ley (left), moth­er of Joseph Hol­ley. (Pho­to: Joseph Zummo)
In addi­tion to the active min­ing oper­a­tion now owned by Klon­dex, aban­doned mines dot the Tosaw­i­hi land­scape and beyond that, the Unit­ed States as a whole. Because the 1872 Min­ing Act made it cheap and easy to stake out claims around the coun­try but did not require cleanup, own­ers can — and did — walk away when their mines were worked out. Cor­rod­ed equip­ment and unse­cured pits nation­wide pose haz­ards to pass­ing humans and ani­mals, while dis­card­ed dyna­mite makes res­cue and recla­ma­tion dif­fi­cult. Poi­so­nous chem­i­cals evap­o­rate into the atmos­phere and leach into land and water. Earth­works, a min­ing-focused envi­ron­men­tal group, esti­mates that the pub­lic will pay as much as $72 bil­lion to clean up old mines across the coun­try; clean­ing up today's oper­a­tions will cost addi­tion­al billions.
Fed­er­al follies
The bulk of Tosaw­i­hi is not on a reser­va­tion, where a tribe could pro­tect it. Instead, it sits on fed­er­al­ly owned land over­seen by the Bureau of Land Man­age­ment (BLM), which has approved numer­ous inju­ri­ous projects. This is despite archae­o­log­i­cal stud­ies com­mis­sioned by the BLM itself that show that Tosaw­i­hi is eli­gi­ble for the Nation­al Reg­is­ter of His­toric Places.
Mean­while, the gov­ern­ment-fund­ed stud­ies of the late 1980s and ear­ly 1990s cre­at­ed their own prob­lems. They were done under fed­er­al his­toric-preser­va­tion law in order to pre­pare for the expan­sion of min­ing in the area. In estab­lish­ing that the area was, in fact, his­tor­i­cal­ly impor­tant, archae­ol­o­gists removed 342 box­es of pre­cious arti­facts that were pur­port­ed­ly in the path of min­ing-relat­ed destruc­tion — many arrow and spear points, includ­ing a 12,000-year-old Clo­vis-era point, hide scrap­ers, awls, elk- and buf­fa­lo-bone dig­ging tools and much more — and stored them in a dis­tant muse­um. This was intend­ed to save them. In the end, some areas that were slat­ed for oblit­er­a­tion escaped that fate.
"Eth­nic cleans­ing" is what Ted Howard, chair­man of the Shoshone-Paiute Tribe, calls the removal of arti­facts. ​"Some­day, there will be no proof that we were here."
The BLM has defend­ed its han­dling of Tosaw­i­hi, telling Rur­al Amer­i­ca In These Times in Sep­tem­ber 2015 that its meth­ods of issu­ing per­mits for min­ing there have been ​"robust" and ​"not hur­ried," with full con­sid­er­a­tion for trib­al con­cerns under the law.
New begin­nings for a pri­mor­dial place
The extrac­tive oper­a­tion Klon­dex pur­chased includes two con­tigu­ous open pits. Huet has direct­ed that recla­ma­tion begin on one of them and that new min­ing take place under­ground, where it can cause less dam­age to the sur­face, with its many arti­facts and sacred sites.
This is the sec­ond time around in Tosaw­i­hi for Huet. He was the gen­er­al man­ag­er of anoth­er min­ing com­pa­ny that extract­ed gold in the area until about eight years ago. As part of Huet's duties back then, he host­ed mine tours for vis­i­tors, includ­ing area trib­al mem­bers. For Huet, the events were as much about lis­ten­ing as lecturing.
Dur­ing the tours, Huet kept hear­ing from West­ern Shoshone elders about a very spe­cial cor­ner of Tosaw­i­hi that was cen­tral to their cul­ture, yet threat­ened by pos­si­ble min­ing expan­sion and oth­er devel­op­ment. ​"After lis­ten­ing to the elders talk about the sacred­ness of the place, I drove out to look at it," Huet recalls. ​"It was amaz­ing. I had no idea that such a beau­ti­ful spot, with a rush­ing creek and trees, was tucked away in Neva­da. I had nev­er seen any­thing like it in the state." He decid­ed he had to get it back into trib­al hands.
Obsta­cles arose. ​"Right off the bat, the elders thought that the min­ing com­pa­ny I worked for at that time owned their beau­ti­ful place," says Huet, ​"but we didn't." So he set out to find out who did — a quest that involved fly­ing to the corporation's South Africa head­quar­ters and per­suad­ing exec­u­tives to give him near­ly a mil­lion dol­lars to buy the pri­vate­ly owned area in order to donate it to the tribes. ​"I had nev­er done any­thing like that in my life," Huet says. ​"I am a third-gen­er­a­tion min­er who start­ed out in the mines as a jan­i­tor three days after my high-school grad­u­a­tion. When I head­ed for the air­port, I had a lit­tle binder and a ten-page pre­sen­ta­tion for how it would all work."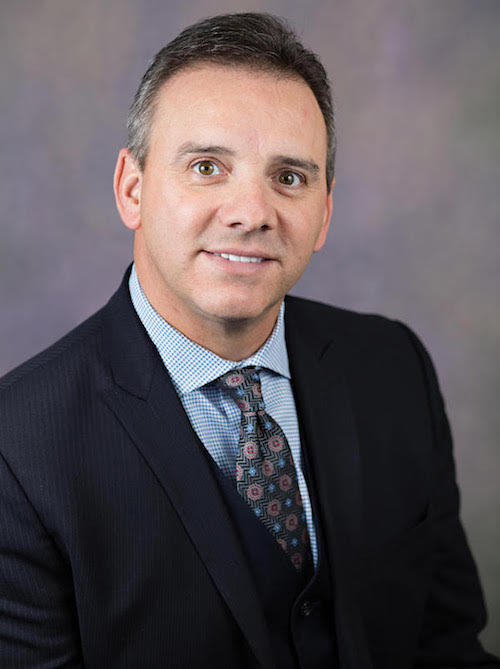 Paul Huet, chief exec­u­tive offi­cer of Klon­dex Mines. (Pho­to: Klon­dex Mines)
To his sur­prise and delight, he suc­ceed­ed. He got the mon­ey and bought the land. His career soon took him in oth­er direc­tions, and he left the com­pa­ny, think­ing the land trans­fer was a done deal. It wasn't. The com­pa­ny lost the mine in a bank­rupt­cy pro­ceed­ing, along with the extra land, and the dream was put on hold.
Eight years passed, dur­ing which Huet rose to the top post at Klon­dex. As soon as the Tosaw­i­hi mine and extra par­cel of 3,269 pri­vate­ly-owned acres came on the mar­ket again, Huet deter­mined that he would buy not just the mine but also the addi­tion­al acreage. Wish­ing to see through his orig­i­nal idea, he bar­gained hard to pur­chase the whole pack­age. ​"I am in charge now and can decide to do this," he says. ​"It's a mir­a­cle. The dream has come full cir­cle. The land will sup­port West­ern Shoshone cul­ture and make so many peo­ple hap­py. It will change lives."
Though most of the Klon­dex gift will remain just as the West­ern Shoshone ances­tors left it, a camp­ground is planned for one small por­tion. About a dozen cab­ins with bunk beds and wood­stoves will facil­i­tate vis­its by com­mu­ni­ty and school groups.
Get­ting It right
Pre­ci­sion hand tech­niques are among the meth­ods Klondex's min­ers will use in Tosaw­i­hi in order to cause less dam­age to the land. ​"We will not do any more open-pit min­ing in Tosaw­i­hi," says Huet. ​"We could, but we won't." Instead of under­tak­ing the mas­sive land­scape-scale exca­va­tions required by an open-pit oper­a­tion, Klon­dex's min­ers will work under­ground only, using large hand-held drills to work in drifts, or tun­nels, whose diam­e­ter is just a bit larg­er than a tall man. The gold-laden dirt will then be dropped into slides that will trans­port it down the drift and into wait­ing trucks.
"They'll chase a vein of gold until it's worked out, then back­fill," says Hol­ley, who has signed on as the company's senior com­mu­ni­ty rela­tions super­vi­sor. Part of the job involves super­vis­ing a team of trib­al cul­tur­al spe­cial­ists, who observe min­ing activ­i­ties and com­mu­ni­cate with the min­ers to ensure ancient sites and arti­facts remain unharmed.
The min­ing com­pa­ny con­tin­u­al­ly seeks advice from the Native com­mu­ni­ty. Dur­ing a recent mine tour, med­i­cine man Reg­gie Sope point­ed out cul­tur­al­ly impor­tant spots that would be dam­aged by the pro­posed drilling of explo­ration holes, which are part of the search for new gold sources. ​"Our geol­o­gists got out their maps," says Lucy Hill, Klondex's direc­tor of envi­ron­men­tal ser­vices and com­mu­ni­ty rela­tions. ​"With Reggie's infor­ma­tion, they fig­ured out how we could go in from a dif­fer­ent direc­tion and still learn what we need­ed to know."
To pre­pare for bor­ing the four-inch-wide explo­ration holes, Klon­dex does no more than mow­ing brush to make way for its drilling rig, accord­ing to Hill. In con­trast, Car­lin bull­dozed swaths that were about 30 by 60 feet to clear the way for drilling. Says Hill, ​"We also put up tem­po­rary fenc­ing to make sure no one strays off the tar­get area while drilling."
"The approach Klon­dex seems to be tak­ing is much more respon­si­ble and pro­gres­sive than we nor­mal­ly see," says Jamie Kneen, com­mu­ni­ca­tions and out­reach coor­di­na­tor of Min­ing­Watch Cana­da. He stopped short of endors­ing the project, which he said would be impos­si­ble to do with­out know­ing many more details. How­ev­er, accord­ing to Kneen, the invest­ment Klon­dex has made in work­ing with the com­mu­ni­ty indi­cates that the com­pa­ny is seri­ous about its con­cerns for West­ern Shoshone culture.
Before Hol­ley agreed to take the job with Klon­dex, he asked Sope and oth­er elders for per­mis­sion to do so. Hol­ley comes from gen­er­a­tions of activists who have fought to safe­guard Tosaw­i­hi as a crit­i­cal aspect of a her­itage that, like oth­er indige­nous cul­tures, finds its mean­ing in the land.
"I'll always be Shoshone, and I'll always pro­tect this place," Hol­ley says. ​"But know­ing where Paul Huet is at, that he has a his­to­ry of lis­ten­ing, that he's done so much for the peo­ple and worked so hard to get this done, I decid­ed that work­ing with him makes sense. I can talk to him and to Lucy. They lis­ten; they ask me ques­tions. Then, I go to the peo­ple and ask them ques­tions. We try to get it right."
Hol­ley says that the West­ern Shoshone have always want­ed to work coop­er­a­tive­ly with a min­ing com­pa­ny in Tosaw­i­hi — to com­mu­ni­cate effec­tive­ly with min­ers so they could do their work with respect for the land. Hol­ley sees the new rela­tion­ship as an expres­sion of trib­al sov­er­eign­ty. ​"We know we can't stop the min­ing alto­geth­er because the site is not on a reser­va­tion," Hol­ley says. ​"But we've always had to go in with our fists up, as it were, fight­ing every inch of the way for what should be a giv­en under fed­er­al law." Because of the BLM's poor track record of pro­tect­ing irre­place­able cul­tur­al resources, this time, the West­ern Shoshon­es are going their own way with a com­pa­ny that is will­ing to listen.
Huet claims that the min­ing indus­try should take note: ​"A mine and a tribe can work togeth­er. It is a mat­ter of lis­ten­ing, just listening."
The nation, which is at a divi­sive moment in its his­to­ry, could learn some­thing as well, accord­ing to Huet. ​"I feel so priv­i­leged to have been a part of this. Two groups that should be at odds are part­ners. Oth­er groups can also reach out, lis­ten to each oth­er, and find a way to cooperate."
*Cor­rec­tion: Reg­gie Sope is a med­i­cine man from the Duck Val­ley Indi­an Reservation.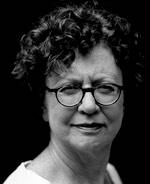 Stephanie Woodard
is an award-win­ning jour­nal­ist who has writ­ten inves­tiga­tive arti­cles for
In These Times
. Her new book is
Amer­i­can Apartheid: The Native Amer­i­can Strug­gle for Self-Deter­mi­na­tion and Inclu­sion
.