What Taxi and Uber Drivers Really Think About the Ride-Sharing Boom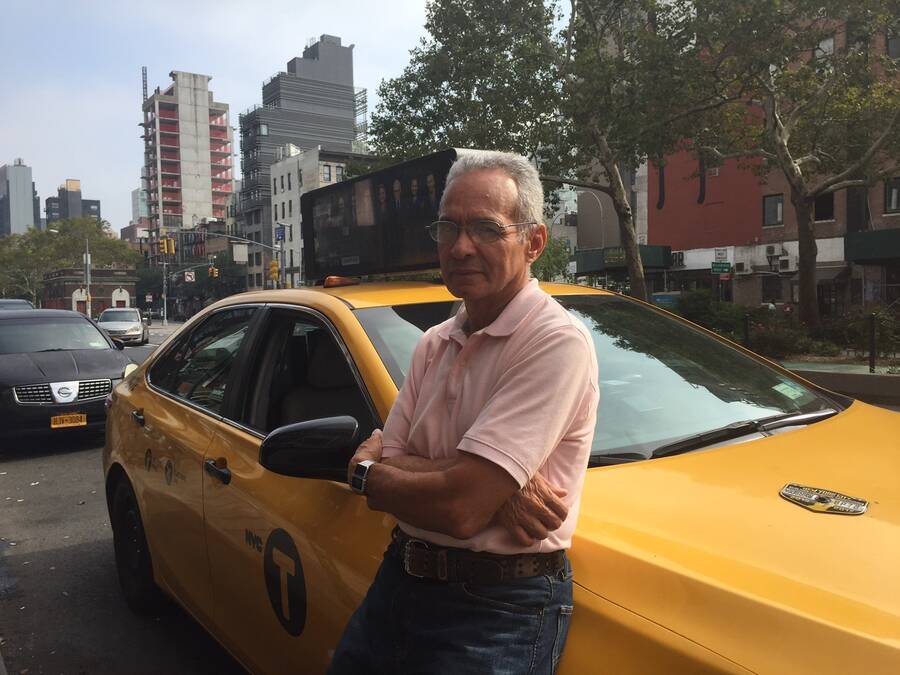 Tony Cobain, a recent col­lege grad­u­ate in Wash­ing­ton, D.C., dri­ves part-time for Lyft and Uber, so he can sup­port him­self while he pur­sues a career in enter­tain­ment. Along the way, he's built his net­work and even snagged the occa­sion­al date.
Ride-hail­ing apps have been less kind to New York City yel­low cab dri­ver Aster­fo Payano: He says he works hard­er and still earns much less than he did five years ago.
And Raul Rivera, a full-time New York Lyft and Uber dri­ver, calls his job a ​"mod­ern form of slavery."
Ride-hail­ing apps have brought a new lev­el of con­ve­nience to many con­sumers and pro­vid­ed new work oppor­tu­ni­ties. But these ben­e­fits have often come at the expense of full-time dri­vers' wages and job sta­bil­i­ty. Both tra­di­tion­al taxi dri­vers and ride-hail­ing dri­vers are feel­ing increas­ing­ly squeezed.
Whether there's room for improve­ment in this trade­off depends on whom you ask. Many work­ers are push­ing for a fair­er deal, but some con­sumers and dri­vers, par­tic­u­lar­ly part-timers, are leery of stricter reg­u­la­tion or dri­ver union­iza­tion. Aggres­sive cam­paign­ing by ride-hail­ing com­pa­nies has helped fuel oppo­si­tion to such measures.
"The prob­lem is that we haven't fig­ured out how to appro­pri­ate­ly reg­u­late rideshar­ing yet, so that we can cap­ture the ben­e­fits with­out enabling all these harms," Brishen Rogers, a labor law pro­fes­sor at Tem­ple Uni­ver­si­ty, told In These Times.
"[Ride-hail­ing apps] are able to ensure that cus­tomers nev­er have a very long wait or a very high cost for a ride," Rogers said. How­ev­er, he added, ​"the con­ve­nience is com­ing at the cost of a decent stan­dard of liv­ing for drivers."
"I just do this to get Twit­ter followers"
Cobain typ­i­cal­ly works for Uber and Lyft from 3:30 a.m. to 9:30 a.m. four days a week, earn­ing around $28 an hour after the cost of gas, he says.
The 23-year-old said he doesn't have to wor­ry about pay­ing for main­te­nance and car insur­ance, because he uses his par­ents' car. And he's also cov­ered by their health insur­ance plan.
The part-time work has allowed Cobain to build a music video com­pa­ny and a non-prof­it that makes films for peo­ple who suf­fer from debil­i­tat­ing men­tal illnesses.
"I don't want to keep ask­ing par­ents for mon­ey and stuff," he said. ​"I kind of use both of these plat­forms to fund my busi­ness ven­tures, and what­ev­er is left over is gas and Whole Foods money."
Plus, he says he has turned many of his pas­sen­gers into fans.
"This is how you get girls," one female pas­sen­ger teased him after she pro­posed drinks. ​"I was like, ​'no, no. I just do this to get Twit­ter followers.'"
There's no doubt that ride-hail­ing apps have made it eas­i­er and cheap­er to hire a driver.
But like many ​"shar­ing-econ­o­my" com­pa­nies, ride-hail­ing ser­vices ​"are real­ly pro­vid­ing ser­vices to Yup­pies," Rogers argues.
Hard times for drivers
Mean­while, full-time dri­vers like Payano, a 70-year-old yel­low cab dri­ver with 12 years of expe­ri­ence, are pay­ing a price.
He shut­tles pas­sen­gers around Man­hat­tan from 5:30 a.m. to 4:30 p.m. six days a week, earn­ing $14 an hour on a good day, after expens­es. That's down from rough­ly $20 an hour five years ago, before Uber caught on, accord­ing to Payano
"I have to work a lot hard­er," he said. ​"I can't afford to take three breaks in the day. I take one."
But even though times are tough, Payano and some of his peers say it still beats work­ing for Lyft or Uber.
"I can see my income is going low, low, less, less," said MD Asadul­lah, anoth­er New York City yel­low cab dri­ver. ​"If I go Uber, it will be way less."
Indeed, long gone are the days when Uber and Lyft dri­vers could often make a killing, many dri­vers and ana­lysts say (although Cobain might beg to differ).
Flood­ing the mar­ket with dri­vers while con­tin­u­al­ly hack­ing away at fees hasn't only squeezed taxis: Uber and Lyft dri­vers must com­pete more for pas­sen­gers while earn­ing less from each ride, said Rogers, the Tem­ple Uni­ver­si­ty professor.
Ride-hail­ing dri­vers today earn rough­ly half the hourly wage that they did five years ago, reck­ons Har­ry Camp­bell, an indus­try expert who pub­lish­es the blog The Rideshare Guy.
On aver­age, Uber dri­vers bring in $15.68 per hour and Lyft dri­vers $17.50 per hour before expens­es, accord­ing to a sur­vey of more than 1,000 dri­vers that Camp­bell con­duct­ed with help from researchers at Stan­ford Uni­ver­si­ty. After expens­es, those fig­ures like­ly fall by $4 or $5, accord­ing to Campbell.
"They [ride-hail­ing com­pa­nies] aren't say­ing, ​'Hey, you're going to make as much as a McDonald's cashier,' but that's turn­ing out to be the sit­u­a­tion for many dri­vers and maybe even a major­i­ty of dri­vers," he said.
Asked about alleged­ly wors­en­ing con­di­tions for full-time dri­vers, Lyft spokesman Scott Coriell said that the com­pa­ny has extend­ed eco­nom­ic oppor­tu­ni­ties that didn't pre­vi­ous­ly exist to hun­dreds of thou­sands of people.
Lyft is ​"con­stant­ly work­ing to help dri­vers suc­ceed," he added, point­ing to the company's intro­duc­tion of tip­ping, same-day pay­ments and ​"low-cost [car] rentals."
Uber declined to com­ment for this article.
"I don't like reg­u­la­tions, but some­times they're necessary"
Ride-hail­ing com­pa­nies may pro­fess a com­mit­ment to their dri­vers. But it doesn't feel that way to Raul Rivera, a full-time Uber and Lyft dri­ver who says he has been treat­ed like a serf.
About a year ago, he signed a lease-to-own con­tract for an expen­sive SUV so he could pro­vide high­er-pay­ing lux­u­ry rides.
Soon after, Uber insti­tut­ed a new pol­i­cy that required dri­vers to have a cus­tomer sat­is­fac­tion rat­ing of at least 4.8 to give lux­u­ry rides, he said. The driver's rat­ing fell short, so his invest­ment has backfired.
He must work 70 hours a week to eke out $700 in prof­it (which works out to $10 an hour), and he said he is shack­led by his lease.
The gov­ern­ment should increase min­i­mum fares and restrict the num­ber of dri­vers, he said: ​"I don't like reg­u­la­tions, but some­times they're necessary."
Col­lec­tive bar­gain­ing on the horizon?
Encour­ag­ing col­lec­tive bar­gain­ing would be anoth­er way to pro­tect dri­vers, although the fact that they tend to be clas­si­fied as con­trac­tors makes for­mal­ly union­iz­ing ​"incred­i­bly dif­fi­cult," Rogers said.
The App-Based Dri­vers Asso­ci­a­tion, a Team­sters-affil­i­at­ed group for Seat­tle ride-hail­ing dri­vers, and the New York Taxi Work­ers Alliance (NYT­WA) are among orga­ni­za­tions that have suc­cess­ful­ly pushed for bet­ter work­ing con­di­tions for drivers.
But the dri­vers they rep­re­sent don't have tra­di­tion­al col­lec­tive bar­gain­ing rights. That could change in Seat­tle if a law that was passed in 2015 to allow taxi and ride-hail­ing dri­vers to for­mal­ly union­ize can sur­vive legal challenges.
In addi­tion to legal bar­ri­ers, resis­tance from part-time dri­vers, who might see unions as a threat to the work flex­i­bil­i­ty afford­ed by ride-hail­ing apps, could prove an obsta­cle to col­lec­tive bar­gain­ing, accord­ing to Camp­bell. Some Seat­tle dri­vers have spo­ken out against union­iza­tion, and a hand­ful have sued the city to try to pre­vent it.
"They're not as invest­ed," Camp­bell said. ​"For them to join a union is a much big­ger ask."
Rep­re­sent­ing the major­i­ty of ride-hail­ing dri­vers, part-time dri­vers ben­e­fit most from the abil­i­ty to set their own hours, and they are less sen­si­tive to price cuts and pol­i­cy changes, accord­ing to Camp­bell, the pub­lish­er of the Ride Share Guy blog.
"The mes­sag­ing that comes out from the app-based com­pa­nies is more one of fear, telling them that some­how by col­lec­tive bar­gain­ing… they're going to lose flex­i­bil­i­ty, and noth­ing could be fur­ther from the truth," said Leonard Smith, direc­tor of orga­niz­ing and strat­e­gy at Team­sters Local 117, which hopes to nego­ti­ate con­tracts for Seat­tle taxi and ride-hail­ing drivers.
"The dri­vers are going to win eventually"
Cobain, who began dri­ving for Uber and Lyft less than six months ago, says he's heard Lyft and Uber don't pay as well as they used to, and some dri­vers ask him how he can make the num­bers work.
He says he dri­ves ear­ly in the morn­ing to cash in on ​"surge pric­ing," when Uber and Lyft boost fares amid high demand and low dri­ver supply.
For now, the work is a leg for him to stand on while he pur­sues his passions.
"I would oppose a union," he said. ​"I actu­al­ly pre­fer it the way it is. More flexibility."
Labor activist Jonathan Rosen­blum thinks such an atti­tude can change, hav­ing watched dif­fer­ent groups of dri­vers find com­mon cause in Seattle.
"I'm con­fi­dent that the dri­vers are going to win even­tu­al­ly, and then Uber and the oth­er com­pa­nies are going to have their day of reck­on­ing of hav­ing to sit down with the dri­vers and nego­ti­ate the terms of their work," he told In These Times. ​"And that is a good thing."
Teke Wig­gin
cov­ers labor, eco­nom­ic inequal­i­ty and hous­ing. Fol­low him at @tkwiggin.