Out of Our Silos: To Defeat Anti-Semitism, Jews Must Unite With Others Targeted by White Supremacy
Our struggles are bound up with the many communities facing violence and oppression during these dark times.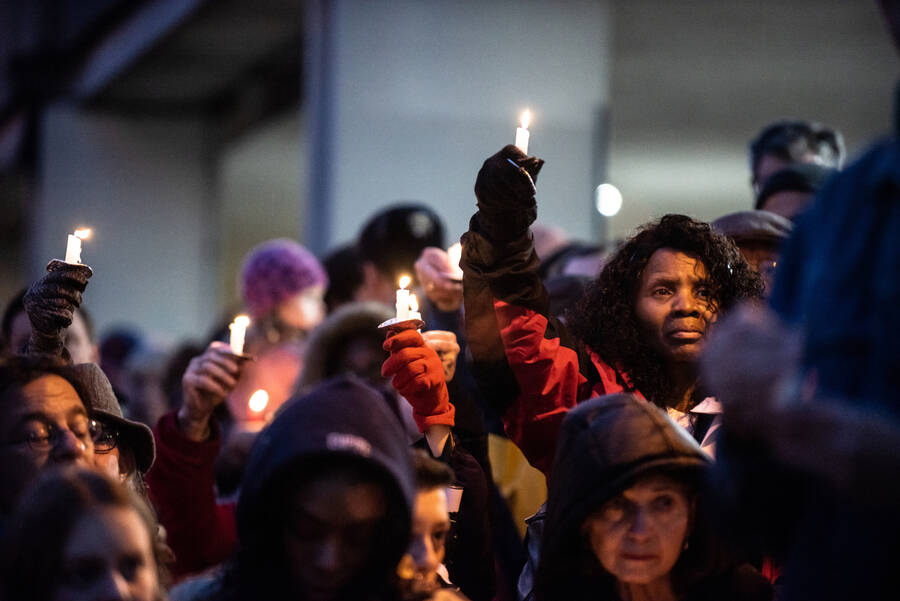 As a Jew­ish woman, par­ent and mem­ber of a syn­a­gogue in Philadel­phia, I spent Sat­ur­day rent by the hor­ror of watch­ing a Sab­bath ser­vice infil­trat­ed by a white gun­man in Pitts­burgh. With 11 peo­ple report­ed killed in the attack on the Tree of Life Syn­a­gogue, I am filled with fear, as I know many of us are.
The Sabbath murder of Jews in worship is irrevocably, structurally tied to the murder of shoppers at a Kentucky Krogers earlier this past week, to the slaughter of Black worshippers in Charleston in 2015, and to countless other acts of white supremacy and brutality in this country.
In the face of this kind of bru­tal­i­ty, many of us, of course, feel the urge to hun­ker down. After mil­len­nia in dias­po­ra and with geno­cide in our liv­ing mem­o­ry, will we tell each oth­er that we can only trust oth­er Jews to under­stand? Or will we unite with the many com­mu­ni­ties who are fac­ing vio­lence and oppres­sion in these dark times?
Through­out my years of Jew­ish edu­ca­tion, I was taught that being sep­a­rate keeps us safe — and that our lib­er­a­tion over the mil­lenia, from Egypt to Europe, was based on our ris­ing above insur­mount­able odds, often alone. And the Jew­ish peo­ple have an unde­ni­able his­to­ry of sur­viv­ing through great odds.
But as an orga­niz­er who has worked in mul­tira­cial com­mu­ni­ty my entire adult life, I know that tar­get­ing Jews is part of a larg­er project that oppress­es and kills us — espe­cial­ly Black, Brown, immi­grant and queer com­mu­ni­ties — around the world. I have turned many times in the last months to a piece writ­ten in June 2017 by Eric Ward, a long­time Black com­mu­ni­ty orga­niz­er and civ­il rights activist who breaks down the his­to­ry of how anti-Semi­tism ani­mates the white suprema­cy which grows each day in our country.
In his piece ​"Skin in the Game: How Anti­semitism Ani­mates White Nation­al­ism," Ward writes, ​"Amer­i­can White nation­al­ism, which emerged in the wake of the 1960s civ­il rights strug­gle and descends from White suprema­cism, is a rev­o­lu­tion­ary social move­ment com­mit­ted to build­ing a Whites-only nation, and anti­semitism forms its the­o­ret­i­cal core."
Ward goes on to unpack how white nation­al­ists spread the the­o­ry that Black, Brown, immi­grant, poor and queer peo­ple could not have won their human rights with­out a pup­peteer behind the scenes, run­ning our gov­ern­ments and finan­cial sys­tems. Ward writes that he saw this ide­ol­o­gy in sharp relief when he moved from California:
What I learned when I got to Ore­gon, as I began to log untold hours try­ing to under­stand White nation­al­ists and their ideas, was that anti­semitism was the lynch­pin of the White nation­al­ist belief sys­tem. That with­in this ide­o­log­i­cal matrix, Jews — despite and indeed because of the fact that they often read as White — are a dif­fer­ent, unas­sim­i­l­able, ene­my race that must be exposed, defeat­ed, and ulti­mate­ly elim­i­nat­ed. Anti­semitism, I dis­cov­ered, is a par­tic­u­lar and potent form of racism so cen­tral to White suprema­cy that Black peo­ple would not win our free­dom with­out tear­ing it down.
Know­ing and under­stand­ing how anti­semitism works inside the ugly beast of white nation­al­ism and ris­ing fas­cism we face today helps me with my fear, with my anger, with my desire to hide. It helps me see how the strug­gles I face are bound up in the strug­gles of so many oth­ers. It helps me knock doors in this elec­tion. It helps me see echoes of my children's faces in the faces of the lit­tle ones car­ried by their par­ents as they walk north in their car­a­van from Honduras.
It allows me to reflect on the many times when Jews have found their lib­er­a­tion in the active sol­i­dar­i­ty of oth­er oppressed com­mu­ni­ties. As Dove Kent, the for­mer direc­tor of Jews for Racial and Eco­nom­ic Jus­tice, wrote last Yom Kip­pur:
Part of our Jew­ish community's stum­bling block to sol­i­dar­i­ty and ally­ship comes from the sto­ries we tell our­selves, and how those sto­ries shape us as a peo­ple. Our Jew­ish com­mu­ni­ties tell and retell sto­ries of over­com­ing obsta­cles, of find­ing our way to lib­er­a­tion against all odds and of defeat­ing our ene­mies in order to sur­vive. And indeed that is part of what makes us strong, root­ed and proud. But with this sto­ry comes anoth­er insid­i­ous sto­ry: that no one ever has our back. We are told, explic­it­ly or implic­it­ly, that we can only tru­ly trust oth­er Jews, that non-Jews will throw us under the bus when giv­en the chance and that we are alone in this world. This sto­ry makes us fear­ful, sus­pi­cious, walled off and isolated.
Kent goes on to describe the many times when Jews won their free­dom in sol­i­dar­i­ty with oth­ers — and how so many strug­gles became more pow­er­ful when Jews stood up for them. When Mus­lim reli­gious lead­ers and groups were first respon­ders at des­e­crat­ed Jew­ish ceme­ter­ies last year. When thou­sands of Jews were saved dur­ing the Holo­caust when Alba­ni­ans hid their neigh­bors, and when the Alban­ian gov­ern­ment moved to pro­tect them. And Kent lifts up the deep his­to­ry of Jews who came from trau­ma to enmesh them­selves, per­son­al­ly and pro­fes­sion­al­ly, in Amer­i­can lib­er­a­tion strug­gles — from the labor move­ment to the civ­il rights move­ment to glob­al move­ments for peace.
The Sab­bath mur­der of Jews in wor­ship is irrev­o­ca­bly, struc­tural­ly tied to the mur­der of shop­pers at a Ken­tucky Krogers ear­li­er this past week, to the slaugh­ter of Black wor­ship­pers in Charleston in 2015, and to count­less oth­er acts of white suprema­cy and bru­tal­i­ty in this coun­try. Jews hold all of these iden­ti­ties inside our ​"K'lal Yis­rael" — in our whole Jew­ish com­mu­ni­ty. We are queer and trans, immi­grant and poor, Black, Brown and mixed race. The only way through these ugly times is together.
As we approach the elec­tion, we must see each oth­er as we vote, as we wres­tle with racism, pover­ty and oppres­sion, and as we orga­nize with our neigh­bors to make sure that all mar­gin­al­ized peo­ple can come to the polls.
Jews can't mean­ing­ful­ly chal­lenge anti­semitism with­out chal­leng­ing white suprema­cy as a whole. To end anti­semitism and its mur­der­ous fruits today and in the future, we must remem­ber how all these strug­gles are tied togeth­er, and face them with open eyes, and with a com­mit­ment to — as Dr. Mar­tin Luther King, Jr. framed it — bend­ing the arc of the moral uni­verse towards a com­plete and uni­ver­sal peace and justice.
Han­nah Sas­saman
is a life­long com­mu­ni­ty orga­niz­er. She is a Soros Jus­tice Fel­low focus­ing on tech­nol­o­gy and crim­i­nal jus­tice reform. She lives with her fam­i­ly in Philadelphia.