Warnings from First Americans: Insidious Changes Are Underway that Will Affect Us All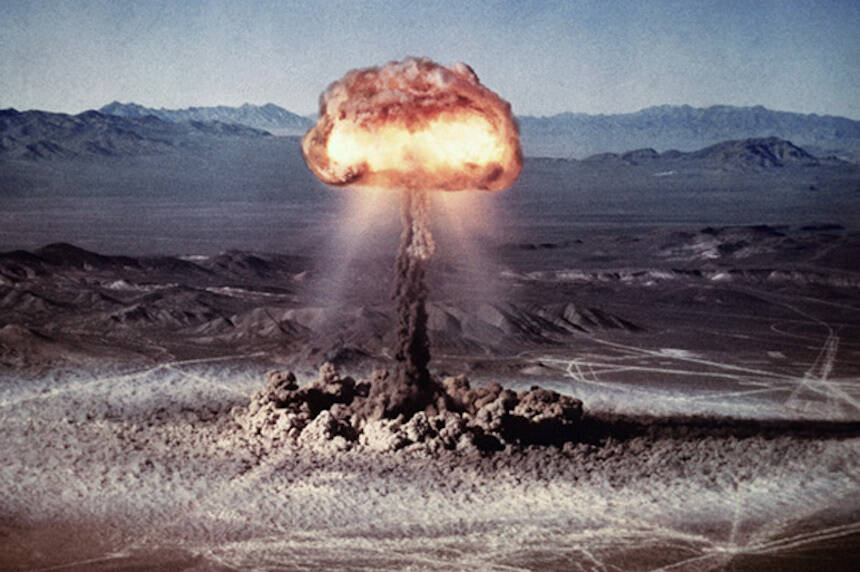 The worst mass shoot­ing in recent years. Esca­lat­ing threats of nuclear war. Cat­a­stroph­ic hur­ri­canes. Calami­ties and fear rock the nation these days. Mean­while, pub­lic ser­vants are char­ter­ing pri­vate jets, and the president's fren­zied tweet­storms cre­ate yet more chaos and divi­sion. As the tweet­er-in-chief seeks syco­phan­tic praise (or any­thing to divert our atten­tion from Robert Mueller's accel­er­at­ing inves­ti­ga­tion), seri­ous pol­i­cy changes have been pro­posed, or are under­way, in numer­ous aspects of Amer­i­can life.
For an update, Rur­al Amer­i­ca In These Times spoke to Native Amer­i­cans — peo­ple whose sur­vival requires being extreme­ly well informed about what all branch­es of the fed­er­al gov­ern­ment are up to. From their van­tage point as sov­er­eign enti­ties with direct gov­ern­ment-to-gov­ern­ment rela­tion­ships with the Unit­ed States, the tribes have a unique per­spec­tive on issues includ­ing vot­ing rights, the econ­o­my, the extrac­tive indus­tries' hold over this admin­is­tra­tion and more.
In each case below, they explain how pow­er­ful­ly and com­pre­hen­sive­ly this administration's mis­guid­ed poli­cies would impinge on each and every one of us. After all, ​"every­thing is con­nect­ed," as Tim­bisha Shoshone Trib­al His­toric Preser­va­tion Offi­cer Bar­bara Durham puts it.
Fire on the mountain
Kim Jong-un can relax! We have already nuked our­selves and are look­ing into a great way to poi­son our­selves even more with radioac­tive waste. In June, Depart­ment of Ener­gy (DOE) Sec­re­tary Rick Per­ry sug­gest­ed using the Neva­da Nation­al Secu­ri­ty Site, aka the Neva­da Test Site, as an inter­im waste dump and at the same time reopen­ing licens­ing pro­ce­dures for near­by Yuc­ca Moun­tain. Under Perry's plan, the moun­tain, revered as a sacred site by area tribes, would even­tu­al­ly become the per­ma­nent repos­i­to­ry for spent nuclear fuel and oth­er radioac­tive material.
The waste would trav­el via roads and rail­roads through com­mu­ni­ties through­out the coun­try as it made its way to Neva­da. Once it arrived, its home would be deep inside the earth­quake-prone moun­tain. The DOE's Final Envi­ron­men­tal Impact State­ment (FEIS) for the project admits that Yuc­ca Moun­tain may be shak­en by ​"ground motion" and that ​"beyond-the-design" events could col­lapse the waste facility.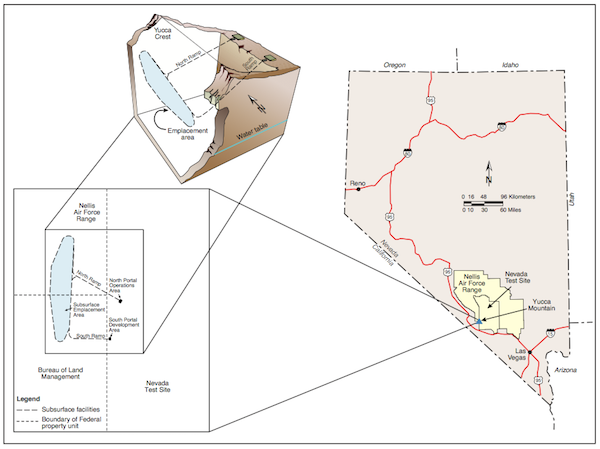 The Depart­ment of Ener­gy's pro­posed radioac­tive mate­r­i­al repos­i­to­ry at Yuc­ca Moun­tain. (Info­graph­ic: ener​gy​.gov)
The Tim­bisha Shoshone gov­ern­ment blast­ed the Per­ry pro­pos­al, cit­ing the ground­wa­ter con­t­a­m­i­na­tion that the Nuclear Reg­u­la­to­ry Com­mis­sion has said will like­ly occur, even with­out earth­quakes. Tim­bisha Chair­man George Ghol­son told the Depart­ment of Ener­gy the project ​"affronts the Timbisha's way of life, is dis­re­spect­ful to cul­tur­al beliefs, and con­sti­tutes an envi­ron­men­tal jus­tice infringe­ment on the rights of a sov­er­eign nation. Effects on pub­lic health and sacred sites have not been prop­er­ly stud­ied, Ghol­son says, point­ing out that his peo­ple have lived in the vicin­i­ty of the moun­tain since long before the Unit­ed States exist­ed. Native activists, notably Tom Gold­tooth from Indige­nous Envi­ron­men­tal Net­work, also exco­ri­at­ed the idea, along with Nevada's state offi­cials and Con­gres­sion­al delegation.
The Tim­bisha Shoshone live west of the moun­tain and test site and still feel the effects of the hun­dreds of det­o­na­tions that occurred there, the first of which hap­pened in 1951. Accord­ing to Durham, radi­a­tion has become part of large areas of land and water, redis­trib­uted via forces such as the winds, the aquifers and the tran­spi­ra­tion cycle. As a result of exist­ing con­t­a­m­i­na­tion, trib­al mem­bers in cer­tain areas are reluc­tant to hunt and col­lect pine nuts, both sta­ples of the tra­di­tion­al diet, says John­ny Bob, med­i­cine man and tra­di­tion­al chief from the Yom­ba Shoshone, who live east of the mountain.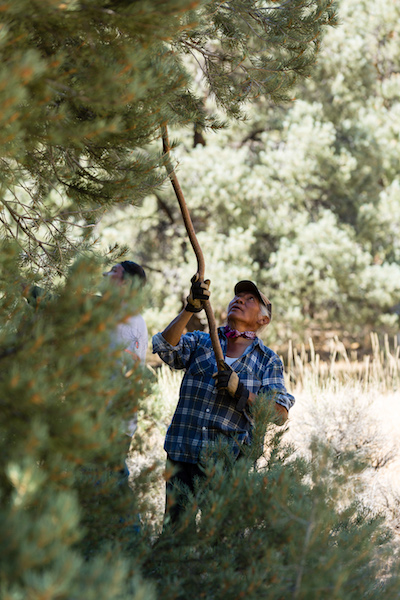 Yom­ba Shoshone med­i­cine man and tra­di­tion­al chief John­ny Bob col­lect­ing pine nuts, a sta­ple of the her­itage Shoshone diet, in the Neva­da moun­tains in the fall of 2016. (Image: Joseph Zummo)
The Unit­ed States faces one more very large bar­ri­er at Yuc­ca Moun­tain, adds Bob. In 1863, Shoshone trib­al heads and Unit­ed States rep­re­sen­ta­tives signed the Treaty of Ruby Val­ley, which declared friend­ship between the par­ties and guar­an­teed the tribes a home­land that encom­pass­es most of Neva­da and mas­sive chunks of Ida­ho, Ore­gon, Cal­i­for­nia and Utah. The fed­er­al gov­ern­ment seemed to for­get all about the agree­ment for decades, though of course there were dis­trac­tions — the Civ­il War, Lincoln's assas­si­na­tion, the Sioux defend­ing their home­lands and more. After the Unit­ed States woke up to the gigan­tic gap in the nation­al map, it tried unsuc­cess­ful­ly for decades to pay off the Shoshone tribes.
"We respect the treaty," says Bob. ​"And we don't want the nuclear waste."
DOE offers one bright spot in all the con­tro­ver­sy: Accord­ing to the FEIS, Yuc­ca Moun­tain is ​"high­ly unlike­ly" to erupt as a volcano.
This land is whose land?
The Trump admin­is­tra­tion is try­ing to shov­el vast and pris­tine por­tions of the Unit­ed States into the maw of the extrac­tive indus­tries, such as min­ing con­cerns and fos­sil-fuel companies.
An attempt to cut back the size of nation­al mon­u­ments includ­ing Bears Ears, a Utah mon­u­ment replete with trib­al sacred sites, in order to allow oil and gas drilling has gar­nered much pub­lic­i­ty and the threat of a trib­al law­suit. The rever­sal of Oba­ma-era pro­hi­bi­tions against oil drilling in the Arc­tic and Atlantic seas has already been chal­lenged by a law­suit by the Cen­ter for Bio­log­i­cal Diver­si­ty, the Native orga­ni­za­tion REDOIL (Resist­ing Envi­ron­men­tal Destruc­tion on Indige­nous Lands) and addi­tion­al con­ser­va­tion groups.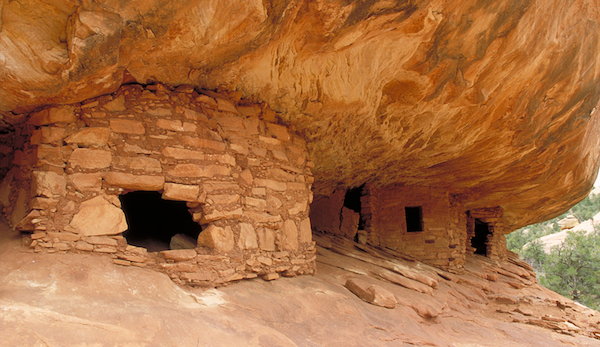 A Puebloan gra­nary with­in the Bears Ears Nation­al Mon­u­ment in Utah. (Image. blm​.gov)
Also in the administration's crosshairs is Bris­tol Bay, an expanse of Alaskan land and water that sup­ports a $1.5‑billion salmon fish­ery. The bay under­pins the sub­sis­tence life­ways of sur­round­ing tribes while pro­vid­ing some 14,000 jobs and pump­ing asso­ci­at­ed spend­ing and tax­es into the state and nation­al economies.
In 2014, after years of sci­en­tif­ic study and pub­lic com­ment on a pro­posed cop­per, gold and molyb­de­num min­ing oper­a­tion for the water­shed of the bay, the Envi­ron­men­tal Pro­tec­tion Agency (EPA) found that Peb­ble Mine would dev­as­tate the area. Fast for­ward to May of this year. With­in hours of meet­ing with Peb­ble Mine own­ers, accord­ing to a CNN report, the Trump EPA sug­gest­ed with­draw­ing Clean Water Act restric­tions on the mine and opened a pub­lic-com­ment peri­od on the con­cept. Admin­is­tra­tor Scott Pruitt said the EPA did not seek ​"a par­tic­u­lar out­come" for this turn­around but wished to be ​"fair" to the mine.
The agency and the mine face fierce oppo­si­tion in Alas­ka that cuts across all eth­nic­i­ties and rela­tion­ships to the water, says Alan­nah Hur­ley, the Yup'ik exec­u­tive direc­tor of Unit­ed Tribes of Bris­tol Bay, which rep­re­sents 14 tribes. Com­mer­cial and sport fish­er­men have joined indige­nous peo­ple as they ral­lied, peti­tioned and spoke out against the mine. Dur­ing the nation­al elec­tion in 2014, two-thirds of Alaskans vot­ed to cre­ate bar­ri­ers to the open­ing of Peb­ble Mine. The oppo­si­tion won in every precinct in the state.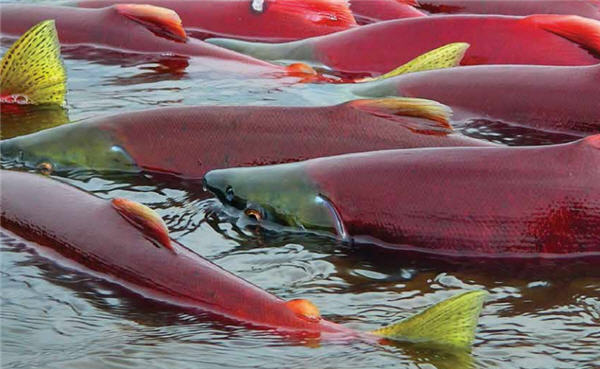 Sock­eye salmon in Bris­tol Bay. (Image: epa​.gov)
"Noth­ing has changed about the project and the objec­tions to it. The only change is the polit­i­cal lead­er­ship of this coun­try," says Hur­ley. ​"This admin­is­tra­tion puts prof­its before human beings and before sci­ence. It is will­ing to cre­ate a human­i­tar­i­an, envi­ron­men­tal and eco­nom­ic cri­sis in Alas­ka so that a min­ing com­pa­ny can reap prof­its. If the admin­is­tra­tion suc­ceeds, a huge sus­tain­able resource will be destroyed."
These days, Hur­ley is trav­el­ing around Bris­tol Bay, let­ting iso­lat­ed com­mu­ni­ties know what is going on so they have the infor­ma­tion they need to sub­mit com­ments to the EPA. ​"We want to make sure our voic­es are heard," says Hurley.
Robin Samuel­son, a Curyung trib­al mem­ber and pres­i­dent of Bris­tol Bay Eco­nom­ic Devel­op­ment Cor­po­ra­tion, has vowed to fight the mine to his last breath. At that point, he says, his grand­chil­dren will take up the cause: ​"And their kids are going to fight Peb­ble. We and Bris­tol Bay will nev­er give up."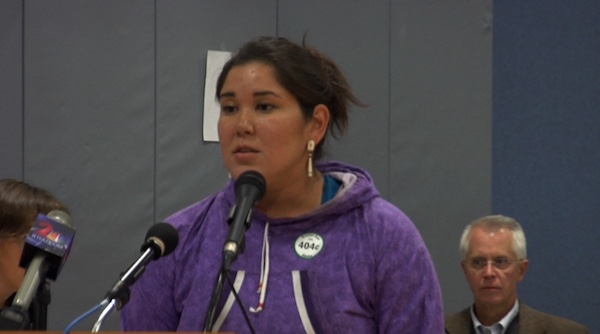 Alan­nah Hur­ley, the exec­u­tive direc­tor of Unit­ed Tribes of Bris­tol Bay, oppos­es the Peb­ble Mine at an EPA hear­ing back in 2014. (Image: save​bris​tol​bay​.org)
Locked and leaded
On Ryan Zinke's first day as Sec­re­tary of the Inte­ri­or, he rode to work on a horse and signed an order. The doc­u­ment rescind­ed restric­tions on use of lead-based ammu­ni­tion and fish­ing-line sinkers while on lands man­aged by the Fish and Wildlife Ser­vice (FWS). ​"An attack on our hunt­ing her­itage" was how the NRA described the Oba­ma-era restric­tions, which would have phased out these uses of the tox­in on FWS lands by 2022.
Though the nation has long banned lead in paint, water pipes and gaso­line, hunters and fish­er­men still pump star­tling amounts of it into the ecosys­tem and food chain, accord­ing to the Cen­ter for Bio­log­i­cal Diver­si­ty. ​"In the Unit­ed States, an esti­mat­ed 3,000 tons of lead are shot into the envi­ron­ment by hunt­ing every year, anoth­er 80,000 tons are released at shoot­ing ranges, and 4,000 tons are lost in ponds and streams as fish­ing lures and sinkers — while as many as 20 mil­lion birds and oth­er ani­mals die each year from sub­se­quent lead poi­son­ing," the Cen­ter says.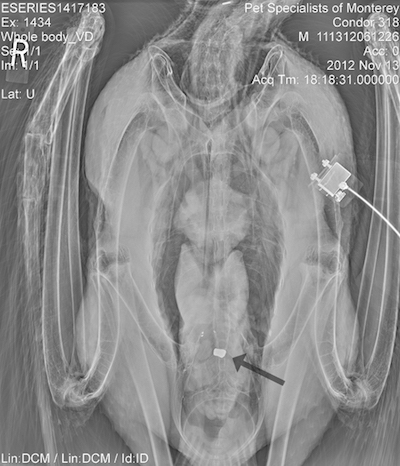 An X‑ray reveals a .22 cal­iber lead bul­let lodged in a Cal­i­for­nia con­dor's stom­ach, con­firm­ing sus­pi­cions that it died from lead poi­son­ing. (Image: ven​tanaws​.org)
Tribes try to salve the wounds. At the Zuni Pueblo eagle sanc­tu­ary in the New Mex­i­co desert, some of the birds cared for there have lead-relat­ed ner­vous-sys­tem dam­age. This is the result of con­sum­ing the car­cass­es of ani­mals that have been shot with lead pel­lets, or of being shot them­selves. In August 2017, the Sis­se­ton-Wah­peton Oyate, in South Dako­ta, cel­e­brat­ed the release into the wild of an eagle that a zoo had reha­bil­i­tat­ed with the help of lead-test­ing equip­ment donat­ed by the tribe.
Humans are at risk as well. When hunters, fish­er­men and their fam­i­lies eat game shot with lead-based ammu­ni­tion or con­sume fish tak­en from con­t­a­m­i­nat­ed waters, the tox­in is on the menu. "[Lead] can degrade a person's vas­cu­lar, renal, ner­vous and repro­duc­tive sys­tems," with chil­dren espe­cial­ly vul­ner­a­ble to the effects, say wildlife biol­o­gists at the Yurok Tribe. They say the heavy met­al can't be entire­ly elim­i­nat­ed when clean­ing the game, because lead-based bul­lets explode into frag­ments as small as a mote of dust when they strike a target.
Yurok com­mu­ni­ty out­reach pro­grams have warned of the dan­gers. A trib­al ammu­ni­tion exchange replaced hunters' lead-based ammu­ni­tion with non-lead vari­eties. The project was a con­tri­bu­tion to trib­al and state efforts to restore the endan­gered con­dor, which, like eagles, are cul­tur­al­ly impor­tant birds that may be poi­soned by con­sum­ing con­t­a­m­i­nat­ed carrion.
What if sci­en­tists dis­cov­er that lead isn't so bad? the NRA asks in a press release. A group of top sci­en­tists found plen­ty of rea­sons to scoff at this idea. They called lead ​"one of the most-well-stud­ied" of poi­sons, ​"with tox­ic effects…in humans and wildlife, even at very low expo­sure levels."
In short, with tens of thou­sands of tons of lead bom­bard­ing the envi­ron­ment each year, we all have a shot at lead poisoning.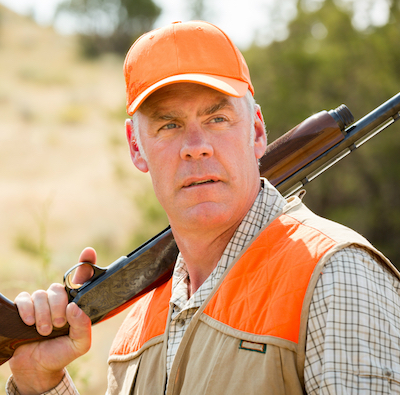 Ryan Zinke squints into the dis­tance with his shot­gun. (Image: DOI​.gov)
Equal­i­ty redefined
It's not just Rus­sians any­more. Attacks against vot­ing rights are pro­lif­er­at­ing beyond Putin's pals hack­ing into state elec­tion sys­tems or manip­u­lat­ing pub­lic opin­ion via social media. With the Trump administration's all-out assault on bal­lot-box access, non-Natives are get­ting a taste of what Native peo­ple have long expe­ri­enced, accord­ing to OJ Semans, the Rose­bud Sioux exec­u­tive direc­tor of Four Direc­tions, a non­prof­it that advo­cates for equal rights.
"To put it blunt­ly," Semans says, ​"as the Trump admin­is­tra­tion chips away at the abil­i­ty to cast a bal­lot, you non-Natives are becom­ing as ​'equal' as we are."
Among admin­is­tra­tion efforts, Semans notes, a House of Rep­re­sen­ta­tives com­mit­tee has moved toward defund­ing the Elec­tion Assis­tance Com­mis­sion, which helps improve elec­tion sys­tems and pre­vent hack­ing. Then there's the Jus­tice Department's oppo­si­tion to a fed­er­al-court deci­sion that called a Texas vot­er-ID law dis­crim­i­na­to­ry, along with the department's scruti­ny of the Nation­al Vot­er Reg­is­tra­tion Act, with an eye toward purg­ing vot­er rolls.
Omi­nous­ly, Semans adds, the con­ser­v­a­tive-dom­i­nat­ed Supreme Court will soon take up a case in which a low­er court declared that Wisconsin's Repub­li­can-con­trolled leg­is­la­ture had ger­ry­man­dered, or geo­graph­i­cal­ly rigged, vot­ing dis­tricts to ensure they could keep elect­ing their own. Will the Court's deci­sion in the case clar­i­fy the issue?, Semans asks. Or will it make ger­ry­man­der­ing eas­i­er — fol­low­ing its own lead in Shel­by v. Hold­er, which demol­ished cer­tain por­tions of the Vot­ing Rights Act, mak­ing bal­lot-box access even more dif­fi­cult for vul­ner­a­ble vot­ers, includ­ing Native Americans.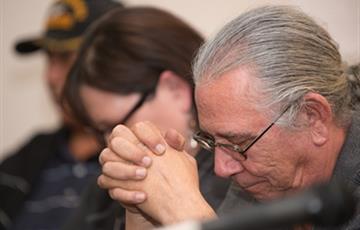 OJ Semans, exec­u­tive direc­tor of Four Direc­tions, at a vot­ing rights hear­ing. (Image: vot​in​gright​sto​day​.org)
NARF attor­ney Natal­ie Lan­dreth, who is Chick­a­saw, rolls her eyes at the idea of the com­mis­sion run by Kansas Sec­re­tary of State Kris Kobach, which seeks to prove vot­er fraud while vac­u­um­ing up vot­ers' per­son­al data. Lan­dreth called Kobach's group a ​"sham" in search of a nonex­is­tent prob­lem. ​"It's like set­ting up a com­mis­sion to hunt for uni­corns," Lan­dreth wrote in a state­ment for a Sep­tem­ber hear­ing of the Native Amer­i­can Vot­ing Rights Coali­tion (NAVRC), which Semans chaired in Bis­mar­ck, North Dako­ta. The coali­tion includes NARF, the Nation­al Con­gress of Amer­i­can Indi­ans, the ACLU and oth­er con­cerned groups.
And don't for­get the president's sug­ges­tion dur­ing the 2016 elec­tion that his sup­port­ers take it upon them­selves to chal­lenge oth­er vot­ers, vig­i­lante-style, in the polling places. ​"Vot­er harass­ment is some­times phys­i­cal­ly con­fronta­tion­al, but it doesn't have to be in order to work," Semans says. The NAVRC pan­el heard from Native vot­ers that they fre­quent­ly face unco­op­er­a­tive poll work­ers or a gaunt­let of unfriend­ly strangers act­ing as polling-place observers. ​"Sit­u­a­tions like these can go a long way toward scar­ing off vot­ers," Semans says.
When Natives need to reg­is­ter, vote ear­ly, get trans­porta­tion to dis­tant polling places, set up precincts in their own com­mu­ni­ties, and/​or use the ID they are like­ly to have, like a trib­al ID, they get lit­tle help from the local gov­ern­ments that admin­is­ter vot­ing, accord­ing to an In These Times inves­ti­ga­tion. Says Semans, ​"We also don't nec­es­sar­i­ly have the tech­nol­o­gy for the new vot­ing options — online bal­lot requests and the like. Any access we have, we got our­selves, through vot­er-reg­is­tra­tion dri­ves, get-out-the-vote cam­paigns and fed­er­al law­suits. We don't even have mon­ey, so all this has been accom­plished with dona­tions, vol­un­teers and pro-bono attorneys."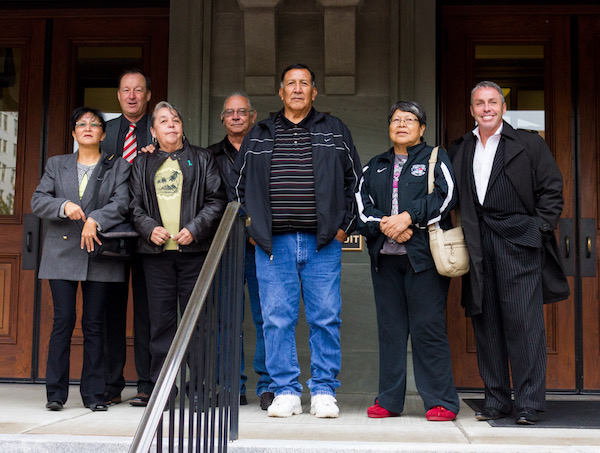 Advo­cates have turned to the fed­er­al courts to obtain vot­ing rights for Native peo­ple. From left, Michae­lynn Hawk, Crow; South Dako­ta ranch­er Bret Healy and Rose­bud Sioux Barb and OJ Semans, all from Four Direc­tions rights group; Mark and Ilo Wan­der­ing Med­i­cine, North­ern Cheyenne; and Tom Rodgers, Black­feet, of Car­lyle Con­sult­ing, seen in Port­land, Ore­gon, ahead of a hear­ing for Wan­der­ing Med­i­cine v. McCul­loch. (Image: Joseph Zummo)
In August, Semans served as an elec­tion observ­er in Kenya under the aus­pices of the Carter Cen­ter; he will return to Kenya for the Octo­ber re-do of the dis­put­ed pres­i­den­tial por­tion of the elec­tion. ​"The Kenyan elec­tion amazed me," Semans says. ​"I saw a country's orig­i­nal peo­ple involved in run­ning their own elec­tions. We don't have that in the Unit­ed States." He also saw that the Kenyan polit­i­cal-par­ty observers who scru­ti­nized bal­lots for irreg­u­lar­i­ties worked togeth­er to ensure every eli­gi­ble bal­lot was count­ed, no mat­ter for whom it was cast.
"Think back to the Bush – Gore elec­tion and the hang­ing chads in Flori­da," Semans says. ​"In U.S. elec­tions, our goal when scru­ti­niz­ing bal­lots is knock­ing out the opposition's votes. We put par­ty before coun­try. The Kenyans put coun­try before party."
Semans says fight­ing for equal rights is a priv­i­lege. ​"I wake up every morn­ing glad I can do this work. It's a strug­gle for equal­i­ty for us Natives, of course, but for every­one else as well. Peo­ple of every descrip­tion have lived in, worked in or mar­ried into our Native com­mu­ni­ties. When we win, every­one wins."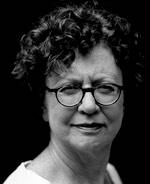 Stephanie Woodard
is an award-win­ning jour­nal­ist who has writ­ten inves­tiga­tive arti­cles for
In These Times
. Her new book is
Amer­i­can Apartheid: The Native Amer­i­can Strug­gle for Self-Deter­mi­na­tion and Inclu­sion
.