Tribes in Kenya Wage Water War
In the first skirmishes due to global warming, nomads fight for survival.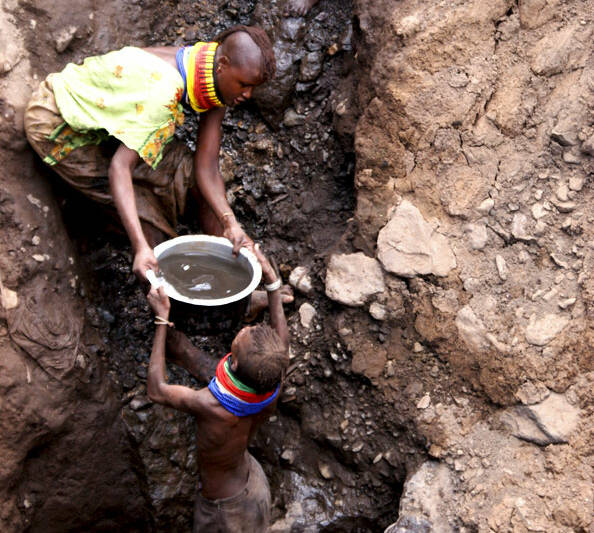 Turkana, North Kenya – Exhaust­ed by the 110-degree tem­per­a­ture, Loochi Kide­wa walks beside his cat­tle and goats with the rest of his tribe toward an under­ground spring.
As tribal warfare rages over increasingly scarce water and grazing land, armed battles over cattle are becoming more destructive and spreading across national borders.
Ner­vous, they approach the water guard­ed­ly. Loochi abrupt­ly swings the AK-47 strapped across his shoul­ders and fires ran­dom­ly into the dis­tant hills, only to be rep­ri­mand­ed by a man walk­ing by him for wast­ing ammu­ni­tion. Loochi has walked eight miles in search of water and antic­i­pates that rival tribes from across the bor­der will be vying for the same water. The only water he finds is from an under­ground spring, which is con­t­a­m­i­nat­ed by sur­face soil and feces from the live­stock that his tribe, the Turkana, have herd­ed from long distances.
Loochi is 13 years old and par­tial­ly blind. Clothed only in a tat­tered shirt and fatigued by the long walk, he leans on his Kalash­nikov, still look­ing anx­ious­ly at the hills, while the rest of his tribe descends into the spring to get water for the live­stock to drink.
The water wars in Kenya are some of the world's first skir­mish­es due to cli­mate change. In the Turkana dis­trict of north­ern Kenya, a 50,000-square-mile dis­trict inhab­it­ed by about 500,000 nomads, tem­per­a­tures have risen dras­ti­cal­ly dur­ing the last 10 years, and rains have per­sis­tent­ly failed to come.
For hun­dreds of years, the Turkana have herd­ed cat­tle, sheep and goats. They are among the most nomadic peo­ple in the world, con­stant­ly mov­ing in search of pas­ture for their live­stock. But the chang­ing cli­mate and mar­gin­al­iza­tion by suc­ces­sive gov­ern­ments have caused resources to dwin­dle at a star­tling rate across the Turkana's tra­di­tion­al home.
"It was eas­i­er before," says Loochi's father Aka­daye as he holds a pro­tec­tive palm over Loochi's dam­aged eye. ​"We used to have dry peri­ods, but the rains did even­tu­al­ly come. But now it just goes on and on." Droughts that once appeared every decade have start­ed rav­aging the land every two or three years, throw­ing the tribe's migra­to­ry pat­terns into disarray.
All this is undoubt­ed­ly due to cli­mate change. Mount Kenya and Kil­i­man­jaro have seen their ice caps recede dur­ing the last 60 years and Lake Chad, which extends over Chad, Niger, Cameroon and Nige­ria has lost 80 per­cent of its water since 1980.
But a san­guine Loochi, hav­ing lived only in drought in his young life, sweeps his gun over the dis­tant moun­tains and says the prob­lem – and the solu­tion – lies across the bor­der, in Ugan­da. ​"They have all the green land, the water and the cat­tle," he says. ​"We will go there tonight."
Too lit­tle water, too many guns
Cat­tle rustling and trib­al rival­ry has a long his­to­ry in East Africa and to some extent is an intrin­sic aspect of tra­di­tion­al pas­toral­ist cul­ture. An invet­er­ate rival­ry has long exist­ed between the Pokot, Sam­bu­ru and Turkana tribes of Kenya, often result­ing in armed bat­tles. But as trib­al war­fare rages over increas­ing­ly scarce water and graz­ing land, skir­mish­es over cat­tle are becom­ing more destruc­tive and spread­ing across nation­al borders.
"Ear­li­er you would pos­si­bly find a hand­ful of tribe mem­bers quar­relling over a water source, mak­ing a lot of noise and threat­en­ing each oth­er with spears," says the head of Nas­in­uono vil­lage, who goes by the name ​"Chief" and also works as a coor­di­na­tor for the African Med­ical and Research Foun­da­tion (AMREF). ​"But now" – Chief paus­es, his eyes widen and he bran­dish­es an imag­i­nary gun – ​"blood­shed. There is no water, just blood."
An ongo­ing sur­vey ini­ti­at­ed by the Kenyan gov­ern­ment esti­mates that almost 95 per­cent of adakars (small, nomadic vil­lages) have access to guns; that amounts to near­ly 50,000 weapons in the hands of civil­ians. Most of these weapons are thought to have per­me­at­ed the porous bor­ders of Soma­lia and for­mer­ly war-torn Sudan. They are cheap, robust, need min­i­mum main­te­nance and appear to require lit­tle train­ing to use.
Aka­daye says he got his son a Kalash­nikov for two bulls and a few goats. ​"Train­ing? No, no, just shoot at the Toposa." The Toposa are the Turkana's feared and ruth­less rivals from Sudan. ​"But he was not very good," Aka­daye says, point­ing to Loochi's eyes. ​"Not fast enough." Last year, 40 Toposa wield­ing sophis­ti­cat­ed guns raid­ed Akadaye's graz­ing grounds and stole 200 cat­tle, killing three Turkana on their way out. Aka­daye and oth­er mem­bers of his adakar regrouped and pur­sued the raiders. When the Toposa real­ized they were out­num­bered, they shot and slaugh­tered all the cat­tle. ​"They just want­ed to make us poor," Aka­daye says.
The Unit­ed Nations esti­mates that 400 peo­ple have died in Kenya as a result of cat­tle rustling and water skir­mish­es in the past year. The Kenyan gov­ern­ment has made sev­er­al attempts to dis­arm the tribes, but is often accused of being heavy-hand­ed and short-sighted.
Elim­i­non Peunon is part of an adakar where all weapons have been con­fis­cat­ed. ​"I had nine­teen chil­dren," he says, point­ing to his three wives. ​"We need the gov­ern­ment to build water facil­i­ties and give us pro­tec­tion. What is the point in just tak­ing away our guns? I have lost five chil­dren to the Toposa and anoth­er sev­en dead because of the drought." The last effort made by the government's inter­nal secu­ri­ty depart­ment to dis­arm the tribes left sev­er­al dead and hun­dreds displaced.
'

The world needs to wake up'

Eber­hard Zeyle, a par­a­sitol­o­gist for AMREF who has worked tire­less­ly to reduce con­flict, says bor­der­ing coun­tries must work in con­cert toward paci­fi­ca­tion and dis­ar­ma­ment. ​"Tak­ing away weapons from a tribe is leav­ing them vul­ner­a­ble to armed rivals across the bor­der," Zeyle says.

A 2009 Human Rights Watch report titled ​"Bring the Gun or You'll Die" urged the Kenyan gov­ern­ment to con­duct future dis­ar­ma­ment oper­a­tions, in line with the pro­vi­sions of the Nation­al Pol­i­cy on Small Arms and Light Weapons, which calls for an eval­u­a­tion of the under­ly­ing eco­nom­ic, envi­ron­men­tal, social, cul­tur­al and polit­i­cal caus­es of gun preva­lence. While the Kenyan government's polic­ing of the bor­der has been desul­to­ry and want­i­ng, Ugan­da is accused of using exces­sive force. In the sum­mer of 2009, with the drought at its peak, the Ugan­dan mil­i­tary alleged­ly deployed attack heli­copters against Kenyan herds­men attempt­ing to graze live­stock in Uganda.

A meet­ing orga­nized last year by AMREF in the Kaku­ma dis­trict of north­ern Kenya, attend­ed by non­govern­men­tal orga­ni­za­tions, char­i­ties and Kenya's depart­ments of health and water, exam­ined the cri­sis in Turkana. The Oropoi Peace Ini­tia­tive Devel­op­ment Organ­i­sa­tion (OPI­DO), a youth group based in the dis­trict of Oropoi, called for Kenya, Sudan and Ugan­da to work togeth­er toward small arms con­trol. OPI­DO encour­ages friend­ship among the tribes through soc­cer games, the peace­ful allo­ca­tion of acces­si­ble resources and giv­ing up weapons.

"I'd rather kill all my chil­dren and shoot myself than give my guns to the gov­ern­ment," Aka­daye says in response to the government's recent dri­ve to dis­arm. ​"They will not give us any pro­tec­tion and we will even­tu­al­ly get slaugh­tered by the Toposa."

Despite cli­mate change, Zeyle thinks there are ade­quate resources in Turkana and oth­er parts of north­ern Kenya – they just need to be bet­ter har­nessed and pro­tect­ed. ​"The Turkana have been through tremen­dous hard­ship in the past," he says. ​"They have been ignored repeat­ed­ly since colo­nial times by var­i­ous gov­ern­ments. But now they need help. The world needs to wake up to the fact that actions tak­en in oth­er parts of the world are affect­ing the liveli­hood of the Turkana."

Mean­while, the threat of a raid at the water spring has become real. A large num­ber of des­per­ate and thirsty Toposa are seen com­ing down the hill. A great com­mo­tion goes up as Aka­daye, Loochi and the rest of the tribe rush to herd their cat­tle away from the water.