As the Demo­c­ra­t­ic pri­maries approach, rela­tion­ships between sup­port­ers of Sens. Eliz­a­beth War­ren (D‑Mass.) and Bernie Sanders (I‑Vt.), the two most viable pro­gres­sive pres­i­den­tial con­tenders to ever face off in the Demo­c­ra­t­ic pri­maries, are begin­ning to fray. Though, in gen­er­al, good­will con­tin­ues to pre­vail — Warren's cam­paign team sent din­ner and cook­ies to Sanders' cam­paign staff fol­low­ing his heart pro­ce­dure — late­ly tem­pers have been heat­ing up, ignit­ed by inju­di­cious com­ments and out­right nasty jibes that take on a life of their own in social media. Con­sid­er these recent examples.
It is unclear how many of the attacks on Working Families staff were sent by bots or covert agitators, but Time reports that many of the attacks were "accompanied with the hashtag #BernieorBust," which was commonly used in 2016 by Russian trolls.
On CNN in Sep­tem­ber, Emi­ly Tisch Suss­man, a for­mer vice pres­i­dent at the Cen­ter for Amer­i­can Progress, attempt­ed to shame pro­gres­sives who sup­port Sanders: ​"If you are still sup­port­ing Sanders as opposed to War­ren, it's kind of show­ing your sex­ism. Because she has more detailed plans, and her plans have evolved."
On the Bernie side of the fence, you have polit­i­cal com­men­ta­tor Ben­jamin Stude­bak­er, who, in a cri­tique of pro­gres­sive media cov­er­age of the race, had this to say about Warren:
She's as bad as Hillary. She's worse, because Hillary made it obvi­ous, and she hides it so well that for months, the left press has gone easy on her. No more. Don't give her an inch, because she'll take a mile. Be relent­less. She's Har­ris. She's Biden. She's Book­er. Make it so.
Aimee Terese, who cohosts the ​"What's Left?" pod­cast with Stude­bak­er, like­wise gives War­ren no quar­ter, tweeting: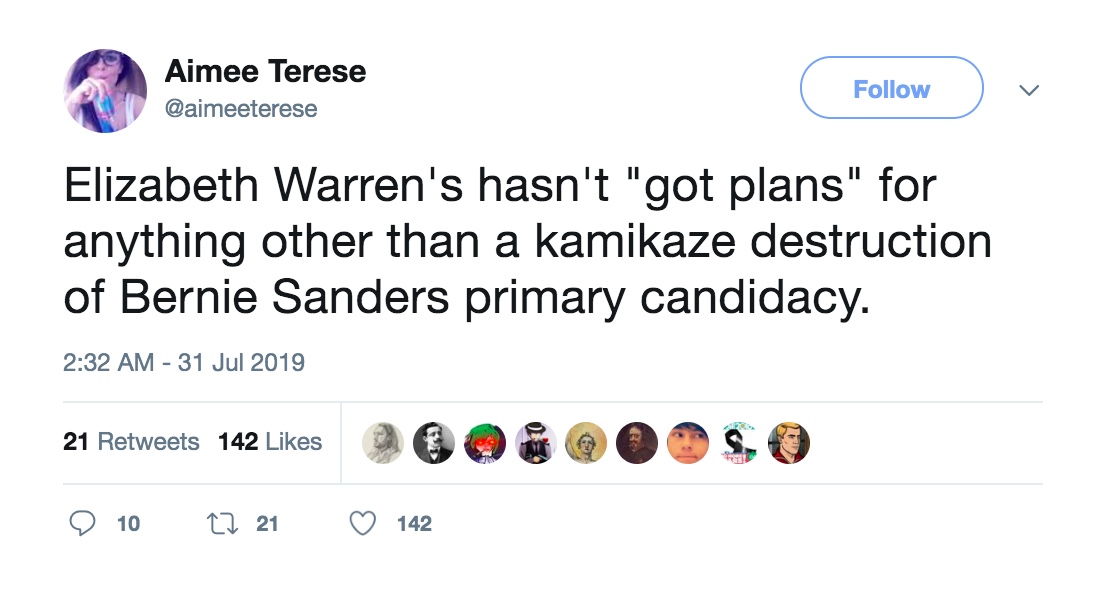 Then there was the brouha­ha that erupt­ed when the Work­ing Fam­i­lies Par­ty (WFP), which in 2016 backed Sanders, vot­ed in Sep­tem­ber to endorse Warren.
WFP polled two groups of peo­ple, what it described as ​"tens of thou­sands" of sup­port­ers (par­ty mem­bers and/​or sub­scribers to the party's online newslet­ter) and the 56 mem­bers of the party's nation­al com­mit­tee. The votes of each of the two groups, the sup­port­ers and the lead­er­ship, were weight­ed, with each receiv­ing 50% stake in the final out­come. Once the votes were tal­lied, War­ren won 61% of the weight­ed vote. WFP, how­ev­er, refused to release the vote tal­lies from each group as it has in past elec­tion cycles, lead­ing Sanders sup­port­ers to sus­pect that their can­di­date was the pre­ferred choice of the mem­bers, and War­ren the pick of the par­ty lead­ers (a group who played a role in the selec­tion process anal­o­gous to the Demo­c­ra­t­ic Party's superdelegates).
Some out­raged Sanders sup­port­ers lashed out on twit­ter, attack­ing Mau­rice Mitchell, WFP's nation­al direc­tor and Neli­ni Stamp, WFP's nation­al orga­niz­ing direc­tor, both of whom are black. This prompt­ed more than 100 black lead­ers to sign a let­ter decry­ing the attacks, that read in part:
[Mitchell and Stamp] are being threat­ened on a dai­ly basis, by self-iden­ti­fied Sanders sup­port­ers, with hate­ful, vio­lent and racist threats. ​"Uncle Tom." ​"Slave." ​"Cunt." These kinds of threats have no place in our move­ments, and are rem­i­nis­cent of the threats Black peo­ple would receive when dar­ing to vote …
Indeed, accord­ing to screen­shots of delet­ed tweets cap­tured by Time mag­a­zine, one Sanders sup­port­er, address­ing Mitchell, tweet­ed: ​"Why not have the balls to respond you cunt. You half man. You cor­po­ratist. You SLAVE!" Anoth­er pro-Sanders tweet­er said of War­ren, ​"She wants to bring you back to incre­men­tal slav­ery of neolib­er­al­ism. @SenSanders is the pro­gres­sive future, you [sic] choice stinks of corruption."
This dis­turbed Black Lives Mat­ter co-founder Ali­cia Garza, who has not endorsed any can­di­date. She wrote on Medi­um:
When a par­ty issues an endorse­ment, par­tic­u­lar­ly a par­ty that hones its focus on fam­i­lies that are strug­gling every day to live with dig­ni­ty, it is right for those of us who care about the same things to inter­ro­gate the process. …

But what we can­not do, what we must not do, is devolve into such nas­ti­ness that we wish can­cer on their fam­i­lies, call them Uncle Toms who are danc­ing for slave mas­ters, wish that they would be raped, and the like. I can­not say that we are bet­ter than that because I've seen the tweets. But what I know is that we who long for free­dom and safe­ty and dig­ni­ty and jus­tice will not win if we can­not be dis­tin­guished from the Right
Mitchell says he is pleased that there are ​"two cham­pi­ons of Medicare for All and a wealth tax in this race." But he is unapolo­getic about the party's endorsement:
Sen­a­tor War­ren has an unmatched abil­i­ty to explain in every­day terms how our econ­o­my and democ­ra­cy got rigged, who rigged them, and how we can unrig them. She's a fight­er for work­ing fam­i­lies who strikes fear into the hearts of Wall Street and Sil­i­con Val­ley CEOs. We're so glad there are two lead­ing struc­tur­al change can­di­dates in this pri­ma­ry, but we're thrilled to sup­port Warren.
Lat­er that month, attacks against War­ren by Sanders sup­port­ers again erupt­ed on Twit­ter after some­one with the name @isamuel, a ​"Catholic Amer­i­can Social­ist" with more than 16,000 fol­low­ers, repost­ed a video clip of an inter­view in which War­ren spoke about her moth­er being part Chero­kee and part Delaware (a claim she was unable to prove and no longer makes). That video, which went viral, orig­i­nat­ed from a per­son with the name @AlytaDeLeon, an ​"anti­war Mex­i­can Amer­i­can social­ist." They post­ed it as if it were a recent video, and not one from 2012 that has long been in cir­cu­la­tion. Since join­ing Twit­ter in March, @AlytaDeLeon has sent out more than 7,000 tweets. We don't know why most of the recent ones are devot­ed to attack­ing War­ren. The per­son who tweets at @AlytaDeLeon did not respond to mul­ti­ple inquiries from In These Times.
What we do know is that Rus­sia has already deployed a net­work of bots and fake social media accounts to sow dis­cord among Demo­c­ra­t­ic vot­ers in 2020, just as it did in the 2016 elec­tion. The Wall Street Jour­nal report­ed that dur­ing the June and July Demo­c­ra­t­ic Debates:
Hun­dreds of social-media accounts with bot-like traits pro­mot­ed mis­in­for­ma­tion and con­tent aimed at inflam­ing racial divi­sions. … The hash­tag #DemDe­bate­SoWhite was tweet­ed Tues­day [July 30] night by an account from a user with the name Susan­nah Faulkn­er and then shared by con­ser­v­a­tive activist Ali Alexan­der. The hash­tag received thou­sands of inter­ac­tions, but … a high num­ber of the accounts using the hash­tag had bot-like char­ac­ter­is­tics. The orig­i­nal tweet appears to have been tak­en down, but the hash­tag con­tin­ued cir­cu­late on Twit­ter.
It is unclear how many of the attacks on Work­ing Fam­i­lies staff were sent by bots or covert agi­ta­tors, or where they orig­i­nat­ed from, but Time reports that many of the attacks were ​"accom­pa­nied with the hash­tag #Bernieor­Bust," which was com­mon­ly used in 2016 by Russ­ian trolls to sow divi­sion between Sanders and Clin­ton supporters.
That's not to say pol­i­cy dif­fer­ences between the can­di­dates shouldn't be vig­or­ous­ly debat­ed. Pro­gres­sives need to make an informed deci­sion. Stick­ing to smart cri­tiques rather than hyper­bole and vit­ri­ol, how­ev­er, could also pay polit­i­cal div­i­dends. War­ren and Sanders appear set to go to the 2020 Demo­c­ra­t­ic Nation­al Con­ven­tion with sub­stan­tial num­bers of del­e­gates. Should no can­di­date win on the first bal­lot, as seems like­ly, it is hard to see how either could get the nom­i­na­tion with­out the other's delegates.
At the debates, Sanders and War­ren have stood shoul­der to shoul­der, defend­ing Medicare for All from tepid cen­trists. It's time for their sup­port­ers to do the same, and not get bait­ed into flame wars.