Climate Change Isn't a Hoax and Coastal Communities Need an Infrastructure Plan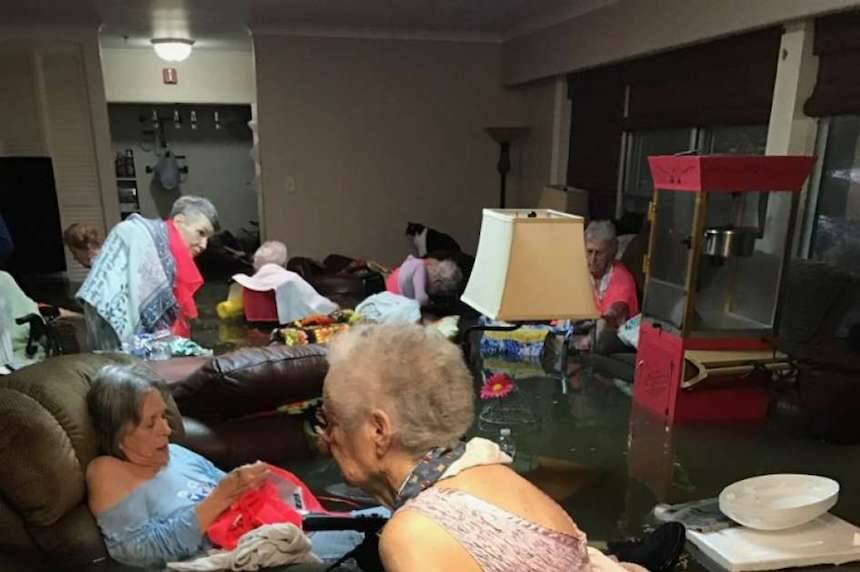 Reader donations, many as small as just $1, have kept In These Times publishing for 45 years. Once you've finished reading, please consider making a tax-deductible donation to support this work.
As of Sunday evening, flights in and out of Houston, Texas were grounded. All major interstates were closed and freeway off-ramps in the nation's 4th largest city were being used as boat launches for official and unofficial rescue efforts. In smaller communities like Dickinson, residents with flat bottom boats, trying not to hit their props on submerged cars, were using social media to track down neighbors — including senior citizens and stranded pets — who needed help evacuating. Coastal towns such as Rockport and Port Aransas are ​"void of functioning infrastructure" and will be for weeks or months.
But this is only the beginning.
On Sunday morning, the National Weather Service (NWS), not known for hyperbole, called the amount of rainfall in South Texas ​"beyond anything experienced." Later that afternoon, Tropical Storm Harvey, currently expected to keep bringing rain through at least Wednesday, had already dropped a mind-boggling 11 trillion gallons of water. Some meteorologists now expect that volume to double.
In short, when all is said and done, this may very well end up being the worst flooding event in U.S. history. But as the right criticizes the left for politicizing tragedies, and the left criticizes the right for refusing to acknowledge that climate change contributes to these tragedies — nothing changes the fact that living at or near sea level is increasingly dangerous.
Amid a nationwide outpouring of support for those affected by the storm, a revitalized discussion about the role climate change played in the ongoing disaster is also in full swing. This is especially so because Texas is known both for its economic dependency on fossil fuels and for electing vocal climate skeptics—guys like Sen. Ted Cruz and Gov. Greg Abbott. In the meantime, 100- and 1,000-year ​"extreme weather events" and catastrophic wildfires are happening more and more frequently. This begs the question: If getting the GOP to acknowledge this reality isn't an option, perhaps persuading them and their colleagues to look into infrastructure plans to protect the millions of Americans living at or near sea level is? This would, of course, need to be approached as a practical alternative to spending billions of dollars to fight endless wars overseas (or building ridiculous walls between the United States and Mexico).
The personal stories and images pouring out of Texas (in realtime thanks to social media) are shocking, sad, surreal and inspiring. Here are a few: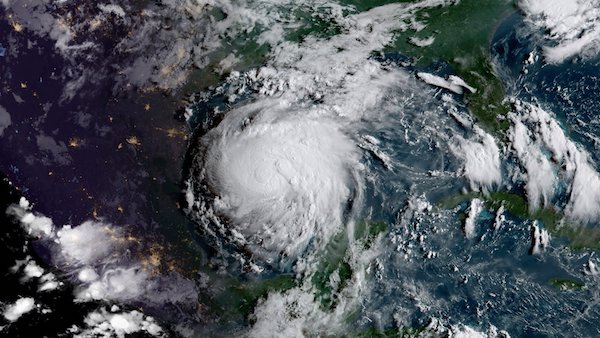 When Harvey, a tropical storm first named on Aug. 17, swirled out of the Gulf of Mexico and made landfall in South Texas on Friday night, it was a ​"Category 4" hurricane with 130 mile per hour winds. Unlike most hurricanes that quickly weaken over land, a full two days later Harvey remains a tropical storm — one threatening to circle back into the Gulf, strengthen and hit the same inundated region again. The system is actually being sustained by its own rainfall — a phenomenon known as the ​"brown ocean" effect. This satellite image of Hurricane Harvey was taken shortly before it made landfall on the night of August 25, 2017. (Image: @NASAGoddardPix / Twitter)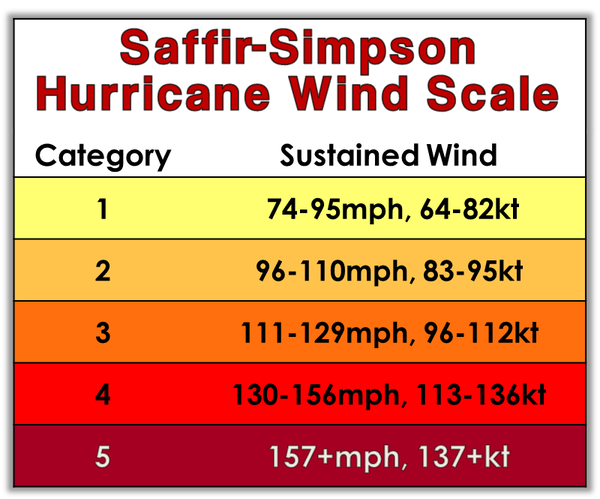 According to the Saffir-Simpson Hurricane Wind Scale, a Category 4 hurricane making landfall means that, ​"Well-built framed homes can sustain severe damage with loss of most of the roof structure and/​or some exterior walls. Most trees will be snapped or uprooted and power poles downed. Fallen trees and power poles will isolate residential areas. Power outages will last weeks to possibly months. Most of the area will be uninhabitable for weeks or months." (Infographic: Scoop​nest​.com)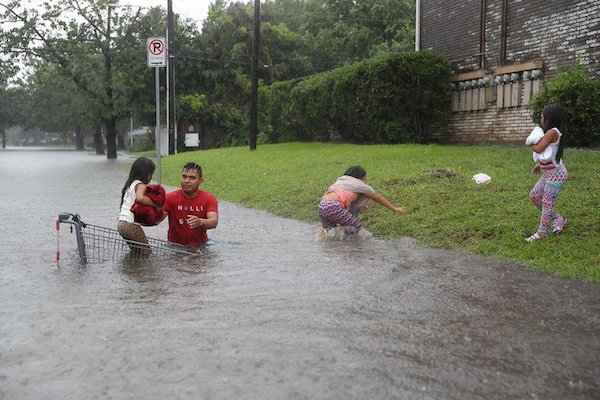 A man helps his kids out of the floodwaters and onto dry land. (Image: @GQMagazine / Twitter)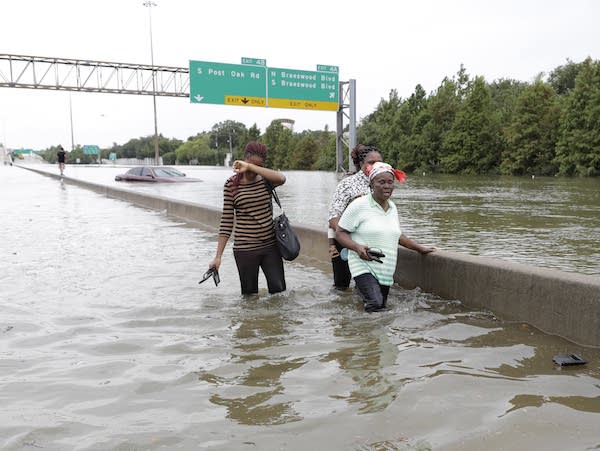 Evacuees wade down a flooded section of Interstate 610. (Image: mprnews​.org)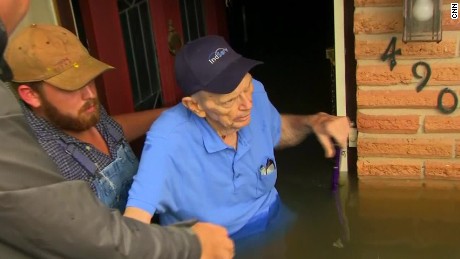 A volunteer with a boat rescues an elderly man and his wife who spent Saturday night in their flooded home. (Image: @CNN / Twitter)
The viral video of a Houston man catching a fish in his living room. (Video: YouTube)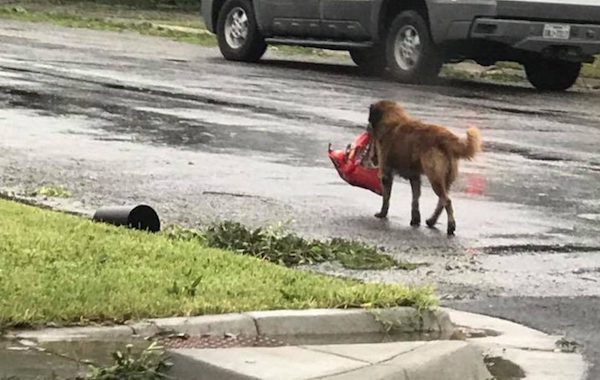 A picture of a dog carrying a bag of food in its mouth also went viral on Sunday afternoon. (Image: the​blaze​.com)
A video blogger's take on Hurricane Harvey and the politics of its aftermath. (Video: Styxhexenhammer666/​ YouTube)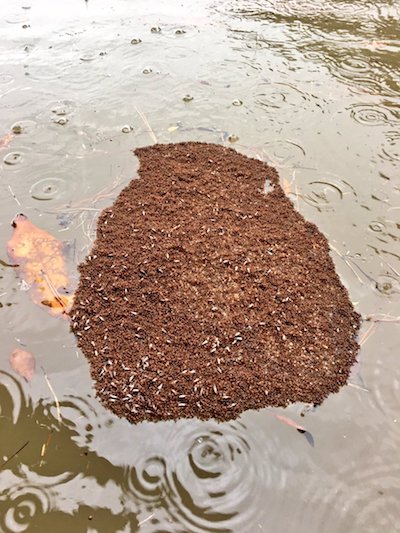 Texas fire ants stack themselves on top of each other to form a floating island until they reach dry land. (Image: @OmarVillafranca / Twitter)
For a timeline of Tropical Storm Harvey's development, click here. For updates from the National Hurricane Center, click here. To learn more about the various relief efforts underway for people and animals affected by the storm, click here—though be sure to verify the authenticity of any unknown organization's claims before contributing any money.
*Update 8/28 1:00 pm: A controlled water release of the rapidly rising Barker and Addicks reservoirs is impacting residents.
Your donation makes In These Times possible
This blog's mission is to provide the public service of helping make the issues that rural America is grappling with part of national discourse.