Climate Change Isn't a Hoax and Coastal Communities Need an Infrastructure Plan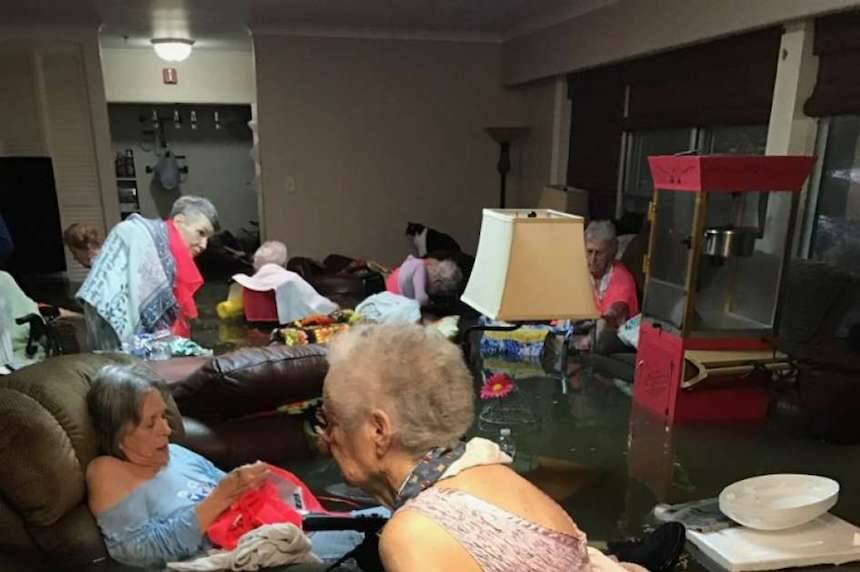 As of Sun­day evening, flights in and out of Hous­ton, Texas were ground­ed. All major inter­states were closed and free­way off-ramps in the nation's 4th largest city were being used as boat launch­es for offi­cial and unof­fi­cial res­cue efforts. In small­er com­mu­ni­ties like Dick­in­son, res­i­dents with flat bot­tom boats, try­ing not to hit their props on sub­merged cars, were using social media to track down neigh­bors — includ­ing senior cit­i­zens and strand­ed pets — who need­ed help evac­u­at­ing. Coastal towns such as Rock­port and Port Aransas are ​"void of func­tion­ing infra­struc­ture" and will be for weeks or months.
But this is only the beginning.
On Sun­day morn­ing, the Nation­al Weath­er Ser­vice (NWS), not known for hyper­bole, called the amount of rain­fall in South Texas ​"beyond any­thing expe­ri­enced." Lat­er that after­noon, Trop­i­cal Storm Har­vey, cur­rent­ly expect­ed to keep bring­ing rain through at least Wednes­day, had already dropped a mind-bog­gling 11 tril­lion gal­lons of water. Some mete­o­rol­o­gists now expect that vol­ume to double.
In short, when all is said and done, this may very well end up being the worst flood­ing event in U.S. his­to­ry. But as the right crit­i­cizes the left for politi­ciz­ing tragedies, and the left crit­i­cizes the right for refus­ing to acknowl­edge that cli­mate change con­tributes to these tragedies — noth­ing changes the fact that liv­ing at or near sea lev­el is increas­ing­ly dangerous.
Amid a nation­wide out­pour­ing of sup­port for those affect­ed by the storm, a revi­tal­ized dis­cus­sion about the role cli­mate change played in the ongo­ing dis­as­ter is also in full swing. This is espe­cial­ly so because Texas is known both for its eco­nom­ic depen­den­cy on fos­sil fuels and for elect­ing vocal cli­mate skep­tics—guys like Sen. Ted Cruz and Gov. Greg Abbott. In the mean­time, 100- and 1,000-year ​"extreme weath­er events" and cat­a­stroph­ic wild­fires are hap­pen­ing more and more fre­quent­ly. This begs the ques­tion: If get­ting the GOP to acknowl­edge this real­i­ty isn't an option, per­haps per­suad­ing them and their col­leagues to look into infra­struc­ture plans to pro­tect the mil­lions of Amer­i­cans liv­ing at or near sea lev­el is? This would, of course, need to be approached as a prac­ti­cal alter­na­tive to spend­ing bil­lions of dol­lars to fight end­less wars over­seas (or build­ing ridicu­lous walls between the Unit­ed States and Mexico).
The per­son­al sto­ries and images pour­ing out of Texas (in real­time thanks to social media) are shock­ing, sad, sur­re­al and inspir­ing. Here are a few: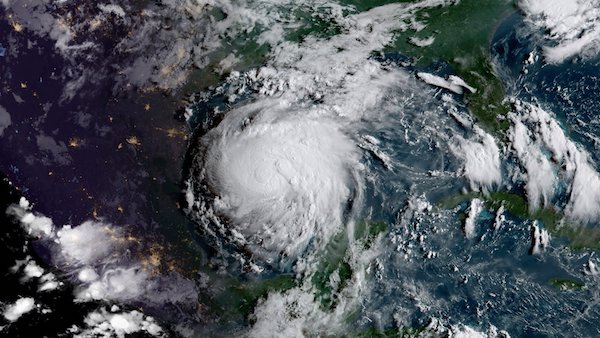 When Har­vey, a trop­i­cal storm first named on Aug. 17, swirled out of the Gulf of Mex­i­co and made land­fall in South Texas on Fri­day night, it was a ​"Cat­e­go­ry 4" hur­ri­cane with 130 mile per hour winds. Unlike most hur­ri­canes that quick­ly weak­en over land, a full two days lat­er Har­vey remains a trop­i­cal storm — one threat­en­ing to cir­cle back into the Gulf, strength­en and hit the same inun­dat­ed region again. The sys­tem is actu­al­ly being sus­tained by its own rain­fall — a phe­nom­e­non known as the ​"brown ocean" effect. This satel­lite image of Hur­ri­cane Har­vey was tak­en short­ly before it made land­fall on the night of August 25, 2017. (Image: @NASAGoddardPix / Twitter)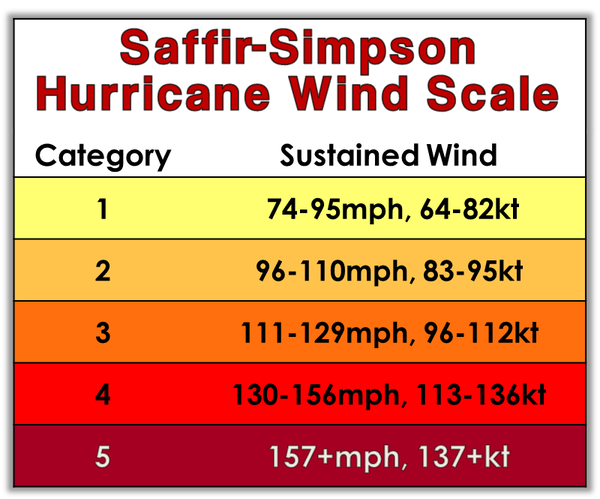 Accord­ing to the Saf­fir-Simp­son Hur­ri­cane Wind Scale, a Cat­e­go­ry 4 hur­ri­cane mak­ing land­fall means that, ​"Well-built framed homes can sus­tain severe dam­age with loss of most of the roof struc­ture and/​or some exte­ri­or walls. Most trees will be snapped or uproot­ed and pow­er poles downed. Fall­en trees and pow­er poles will iso­late res­i­den­tial areas. Pow­er out­ages will last weeks to pos­si­bly months. Most of the area will be unin­hab­it­able for weeks or months." (Info­graph­ic: Scoop​nest​.com)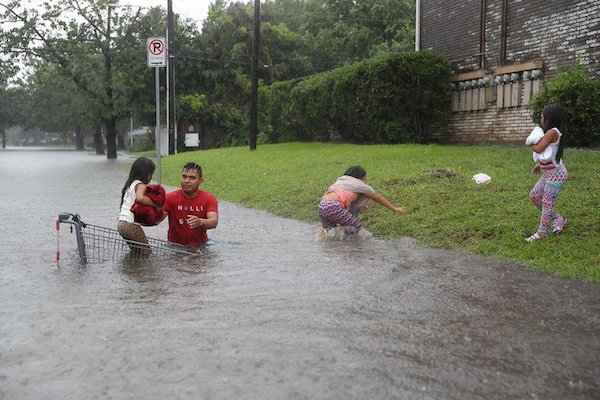 A man helps his kids out of the flood­wa­ters and onto dry land. (Image: @GQMagazine / Twitter)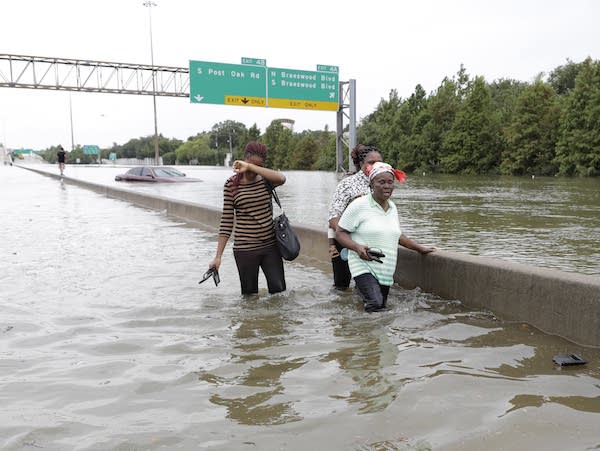 Evac­uees wade down a flood­ed sec­tion of Inter­state 610. (Image: mprnews​.org)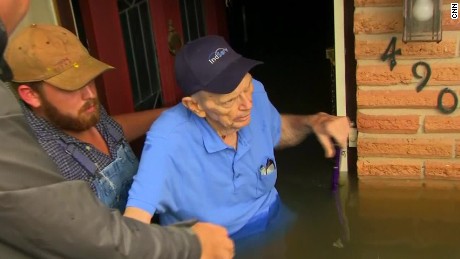 A vol­un­teer with a boat res­cues an elder­ly man and his wife who spent Sat­ur­day night in their flood­ed home. (Image: @CNN / Twitter)
The viral video of a Hous­ton man catch­ing a fish in his liv­ing room. (Video: YouTube)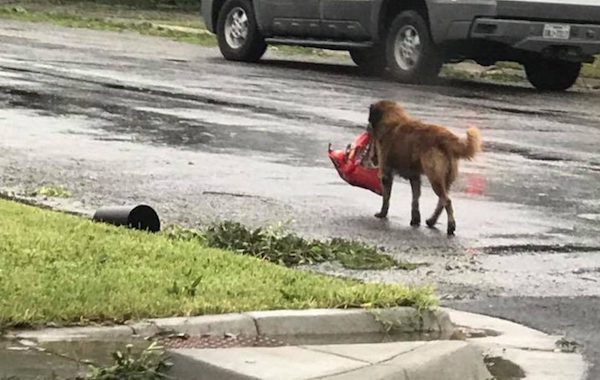 A pic­ture of a dog car­ry­ing a bag of food in its mouth also went viral on Sun­day after­noon. (Image: the​blaze​.com)
A video blog­ger's take on Hur­ri­cane Har­vey and the pol­i­tics of its after­math. (Video: Styxhexenhammer666/​ YouTube)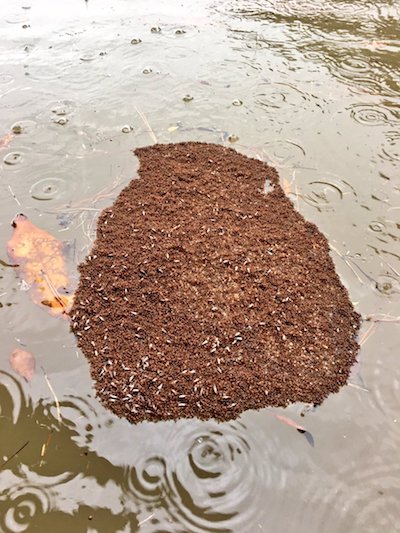 Texas fire ants stack them­selves on top of each oth­er to form a float­ing island until they reach dry land. (Image: @OmarVillafranca / Twitter)
For a time­line of Trop­i­cal Storm Har­vey's devel­op­ment, click here. For updates from the Nation­al Hur­ri­cane Cen­ter, click here. To learn more about the var­i­ous relief efforts under­way for peo­ple and ani­mals affect­ed by the storm, click here—though be sure to ver­i­fy the authen­tic­i­ty of any unknown orga­ni­za­tion's claims before con­tribut­ing any money.
*Update 8⁄28 1:00 pm: A con­trolled water release of the rapid­ly ris­ing Bark­er and Addicks reser­voirs is impact­ing res­i­dents.
This blog's mis­sion is to pro­vide the pub­lic ser­vice of help­ing make the issues that rur­al Amer­i­ca is grap­pling with part of nation­al discourse.