Donald Trump Flat Out Lied About the Economy In His State of the Union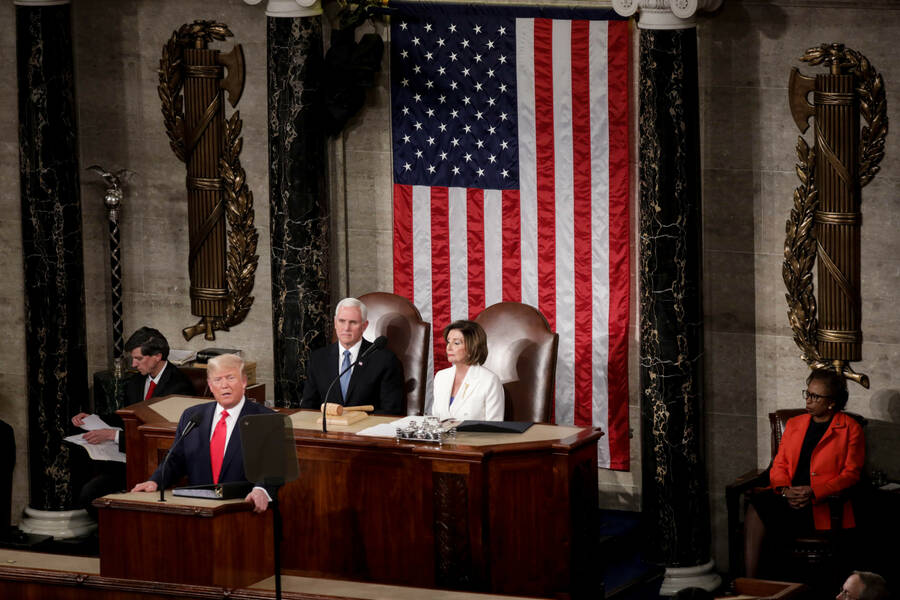 In his State of the Union address Tues­day night, Pres­i­dent Trump extolled the ​"blue-col­lar boom" in the econ­o­my along with his pur­port­ed ​"great Amer­i­can come­back." He made this claim based in part on two recent sig­na­ture trade deals — the Unit­ed States-Mex­i­co-Cana­da Agree­ment (USM­CA) and a ​"phase one" deal with Chi­na. Unfor­tu­nate­ly, both agree­ments will like­ly to lead to more out­sourc­ing and job loss for U.S. work­ers, and the facts just don't sup­port Trump's claims about the broad­er economy.
Trump comes from a world that has ardent­ly cham­pi­oned glob­al­iza­tion, like many of his pre­de­ces­sors. How­ev­er, that approach has dec­i­mat­ed U.S. man­u­fac­tur­ing over the past 20 years, elim­i­nat­ing near­ly 5 mil­lion good fac­to­ry jobs as shown in Fig­ure A, below. Near­ly 90,000 U.S. fac­to­ries have been lost as well.
Trump has not brought these jobs back, nor will his present poli­cies change the sta­tus quo. Glob­al­iza­tion, and Chi­na trade in par­tic­u­lar, have also hurt count­less com­mu­ni­ties through­out the coun­try, espe­cial­ly in the upper Mid­west, mid-Atlantic, and North­east regions. The nation has lost a gen­er­a­tion of skilled man­u­fac­tur­ing work­ers, many of whom have dropped out of the labor force and nev­er returned. All of this glob­al­ized trade has reduced the wages of rough­ly 100 mil­lion Amer­i­cans, all non-col­lege edu­cat­ed work­ers, by rough­ly $2,000 per year.
In addi­tion, more than half of the U.S. man­u­fac­tur­ing jobs lost in the past two decades were due to the grow­ing trade deficit with Chi­na, which elim­i­nat­ed 3.7 mil­lion U.S. jobs, includ­ing 2.8 mil­lion man­u­fac­tur­ing jobs, between 2001 and 2018. In fact, the Unit­ed States lost 700,000 jobs to Chi­na in the first two years of the Trump admin­is­tra­tion, as shown in our recent report. The phase one trade deal will not bring those jobs back, either.
In the State of the Union, Trump claimed that he's cre­at­ed a ​"great Amer­i­can come­back" and gen­er­at­ed a ​"blue-col­lar boom" with strong wage gains for low­er-income work­ers. As shown in Fig­ure B, below, glob­al­iza­tion has gen­er­at­ed huge wage gains for those in the top 20% and espe­cial­ly those in the top 10%, top 1%, and top 0.1% of the income dis­tri­b­u­tion. Aver­age wages for the top 20% increased $15 per hour (33.4%) over the past two decades. Wage gains for the bot­tom 80% ranged from $1.39 to $2.46 per hour (13.5% to 16.4%).
Don­ald Trump has failed to reverse these trends, and in many ways, has made them worse. In the past three years, the vast major­i­ty of wage gains have gone to work­ers in the top 20%, con­tin­u­ing the inequal­i­ty that has been well-estab­lished in the era of glob­al­iza­tion as shown in Fig­ure C, below. Over the past three years, work­ers in the top 20% enjoyed aver­age real wage gains of $2.61 per hour, five times the gains of work­ers in the bot­tom quin­tile and near­ly 3.5 times the gains enjoyed in the mid­dle 60%.
Wage gains were sig­nif­i­cant­ly larg­er for work­ers in the bot­tom 20% than they were for mid­dle-class work­ers, due large­ly to mea­sures such as high­er min­i­mum wages that took effect in 13 states and the Dis­trict of Colum­bia in 2018 and 19 states in Jan­u­ary 2019. These are poli­cies that were imple­ment­ed by state leg­is­la­tures and local gov­ern­ments around the coun­try to help off­set the effects of a decline in the real val­ue of the fed­er­al min­i­mum wage. They also helped off­set the neg­a­tive effects of dozens of efforts by the Trump Labor Depart­ment to weak­en labor stan­dards, attack work­er rights, and roll back wages.
Glob­al­iza­tion has reduced wages for work­ing Amer­i­cans by putting non-col­lege edu­cat­ed work­ers into a com­pet­i­tive race to the bot­tom in wages, ben­e­fits, and work­ing con­di­tions with low-wage work­ers in Mex­i­co, Chi­na, and oth­er low-pay, rapid­ly indus­tri­al­iz­ing coun­tries. The Trump administration's two trade deals don't change that real­i­ty. Work­ers count­ing on Trump to deliv­er a ​"great Amer­i­can come­back" have been left wait­ing at the station.
This piece was first pub­lished at the Eco­nom­ic Pol­i­cy Insti­tute.