The EPA Has Abandoned Its Duty To Protect the Environment. 'Rights of Nature' Laws Can Fill the Void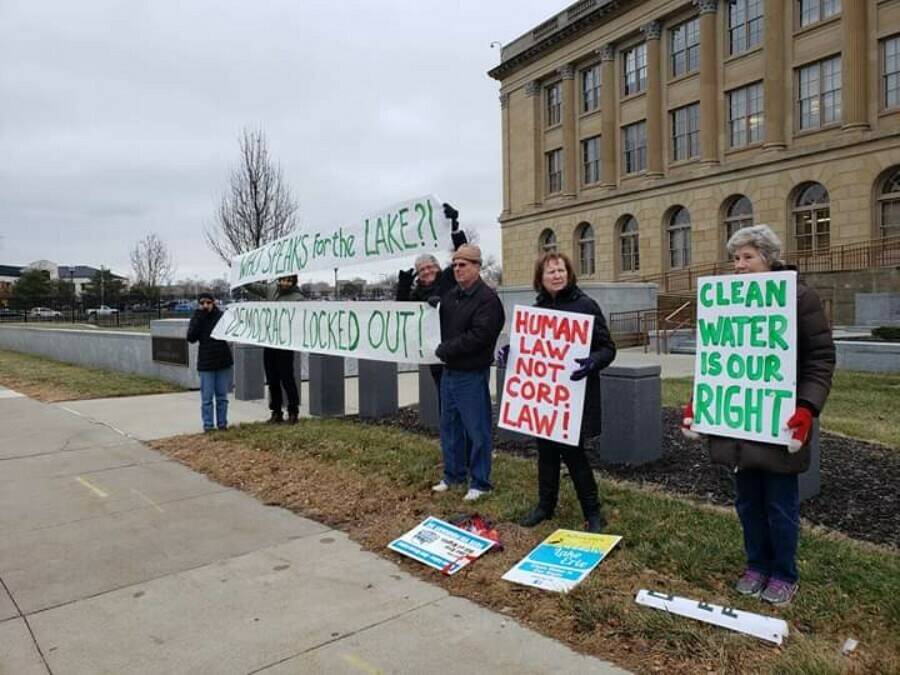 Author­i­tar­i­an gov­ern­ments often pre­pare laws they wish to pass and have them ​"ready to go" when oppor­tu­ni­ty strikes. That's what Fion­nu­ala Ni Aolain, a Unit­ed Nations Spe­cial Rap­por­teur on Coun­tert­er­ror­ism and Human Rights, recent­ly told the New York Times.
"They draft laws in advance and wait ​'for the oppor­tu­ni­ty of the cri­sis to be pre­sent­ed,'" Ni Aolain explained.
It's clear to us that greed-fueled bad actors are tak­ing this pan­dem­ic as just such an oppor­tu­ni­ty. Cor­po­rate lob­bies have qui­et­ly pushed through laws crim­i­nal­iz­ing fos­sil fuel protests. Con­gress approved an unprece­dent­ed and unnec­es­sary hand­out to cor­po­rate Amer­i­ca. Pipeline com­pa­nies want to clas­si­fy new pipelines as ​"essen­tial," includ­ing TC Ener­gy, which got the green light and began con­struct­ing the infa­mous Key­stone XL pipeline. The fed­er­al gov­ern­ment appears to be mulling a bailout for the fos­sil fuel indus­try. And, last but not least, the Trump admin­is­tra­tion ordered the Envi­ron­men­tal Pro­tec­tion Agency to stop enforc­ing anti-pol­lu­tion laws in some cas­es, remov­ing what ane­mic over­sight the EPA once held over cor­po­rate pol­luters, effec­tive­ly sus­pend­ing the agency while tak­ing action to roll back some envi­ron­men­tal pro­tec­tions permanently.
The EPA's response to the Covid-19 pan­dem­ic ― effec­tive­ly ceas­ing enforce­ment of fed­er­al envi­ron­men­tal laws ― will, regard­less of the moti­va­tions for this unprece­dent­ed deci­sion, neg­a­tive­ly impact peo­ples' lives. This means that many com­mu­ni­ties, and the life-giv­ing ecosys­tems they depend upon, are on their own.
In this moment, many peo­ple are in shock, and for good rea­son. For oth­ers, how­ev­er, this pan­dem­ic has not caused sys­tem fail­ure but mere­ly exposed it. Innu­mer­able com­mu­ni­ties across the U.S. know from first-hand expe­ri­ence that fed­er­al and state ​"reg­u­la­tions" do not safe­guard water, pub­lic health, and the ecosys­tems they rely on. Crit­i­cal­ly, they also under­stand the sys­tem of pol­lu­tion ​"per­mits" are a tool for the repres­sion of democracy.
State and fed­er­al envi­ron­men­tal laws have failed to avoid mass species die offs, can­cers, pub­lic health cat­a­stro­phes, per­va­sive pol­lu­tion, and the cli­mate emergency.
Legal­ized Harm
Under this sys­tem of law, com­mu­ni­ties are forced to accept activ­i­ties that are ​"per­mit­ted" by ​"envi­ron­men­tal" law. The demo­c­ra­t­ic pow­ers of such com­mu­ni­ties to gov­ern cor­po­ra­tions are super­seded by fed­er­al and state reg­u­la­tions and judge-made laws, like cor­po­rate ​"per­son­hood," that func­tion to both legal­ize things that harm peo­ple and the envi­ron­ment and pre­vent com­mu­ni­ties from pro­tect­ing themselves.
Native nations, as well, have been assault­ed by ​"envi­ron­men­tal" laws that ​"per­mit" and ​"reg­u­late" pipelines through sacred land. For decades, such per­mits have always super­seded the self-deter­min­ing author­i­ty of these nations, often enshrined in treaties, to say ​"no."
Part of the prob­lem is that old envi­ron­men­tal laws treat ecosys­tems as prop­er­ty and func­tion to legal­ize the sta­tus quo. They offer pol­luters a shield of legal pro­tec­tion through the ​"per­mit" process.
Rights of Nature
For years, many com­mu­ni­ties who have expe­ri­enced this sys­tem first­hand have felt aban­doned by their fed­er­al and state ​"envi­ron­men­tal" reg­u­la­tors. Many have tak­en their des­tiny into their own hands and stepped out­side the mod­ern par­a­digm of envi­ron­men­tal law. We must fol­low their lead.
In the past decade, mul­ti­ple Native nations and dozens of Unit­ed States munic­i­pal­i­ties have passed enforce­able Rights of Nature laws. Arguably, 2019 was the movement's biggest year in Unit­ed States his­to­ry. Here's a run­down of what hap­pened this past year:
The res­i­dents of Tole­do, Ohio adopt­ed the Lake Erie Bill of Rights, the first law in the U.S. to secure legal rights for a spe­cif­ic ecosystem.
Res­i­dents of Exeter and Not­ting­ham, New Hamp­shire enact­ed laws ele­vat­ing the rights of ecosys­tems above the rights of cor­po­rate polluters.
The Yurok tribe in the U.S. rec­og­nized legal rights of the Kla­math River.
The High Court in Bangladesh rec­og­nized legal rights of rivers.
The Nation­al Lawyers Guild amend­ed its con­sti­tu­tion to include the rights of ecosystems.
A New York assem­bly­man pro­posed a law to rec­og­nize the rights of Lake Erie.
The Youth Cli­mate Strike includ­ed Rights of Nature (and respect for indige­nous sov­er­eign­ty) in their list of demands.
Rights of Nature bills were intro­duced in Aus­tralia and the Philip­pines.

In Colom­bia, the Pla­ta Riv­er was rec­og­nized as a ​"sub­ject of rights."
Qui­et­ly, 2020 is shap­ing up to be anoth­er his­toric year.
Just ahead of the EPA announce­ment, for the first time in U.S. his­to­ry, a com­mu­ni­ty suc­cess­ful­ly pres­sured a state to enforce a local Rights of Nature law.
After sev­en years of com­mu­ni­ty activism, the Penn­syl­va­nia Depart­ment of Envi­ron­men­tal Pro­tec­tion (DEP) revoked a per­mit for a frack waste injec­tion well in Grant Town­ship, Penn­syl­va­nia. DEP offi­cials cit­ed Grant Township's Home Rule Char­ter, which banned injec­tion wells as a vio­la­tion of the Rights of Nature, as grounds for their reversal.
"Grant Township's Home Rule Char­ter bans the injec­tion of oil and gas waste flu­ids," the DEP wrote. ​"There­fore, the oper­a­tion of the [waste injec­tion] well as an oil and gas waste flu­id injec­tion well would vio­late that applic­a­ble law."
Our col­league Chad Nichol­son worked with Grant res­i­dents on the measure.
"This deci­sion," he said in a state­ment, ​"does not val­i­date the actions of the DEP, but rather vin­di­cates the resis­tance that com­mu­ni­ties like Grant have engaged in to force gov­ern­men­tal agen­cies into doing the right thing."
Time to Scale Up
We live in a moment when mul­ti­ple and rad­i­cal­ly dif­fer­ent futures are pos­si­ble. Some believe the pan­dem­ic is a once-in-a-gen­er­a­tion oppor­tu­ni­ty to remake soci­ety and build a more just and sus­tain­able future. Mean­while, author­i­tar­i­ans and cor­po­ra­tions are tak­ing advan­tage of the moment to con­cen­trate pow­er and secure their future profits.
In con­junc­tion with new enforce­able human rights to water, Rights of Nature is a ​"ready to go" peo­ples' par­a­digm shift. It is time to scale it up — cru­cial­ly — such that those rights nul­li­fy the prop­er­ty rights of cor­po­ra­tions when there is a conflict.
We are talk­ing about a course cor­rec­tion where­by the author­i­ty of human com­mu­ni­ties to gov­ern the pur­pose and behav­ior of cor­po­ra­tions is rec­og­nized and enforced. It means chang­ing the very pur­pose of the law that binds us togeth­er. It means think­ing about what is real­ly ​"essen­tial," and dri­ving that life-cen­tered eth­ic into the law.
Com­mu­ni­ties across the coun­try have already begun to rethink how human law treats the ecosys­tems our soci­eties depend on. This new par­a­digm is long overdue.
Kai Huschke is the North­west and Hawaii Orga­niz­er for the Com­mu­ni­ty Envi­ron­men­tal Legal Defense Fund. He recent­ly worked with res­i­dents of Lin­coln Coun­ty, Ore., who passed a bind­ing Rights of Nature law that suc­cess­ful­ly banned aer­i­al pes­ti­cide spray­ing for two years. He can be reached at kai@​celdf.​org.Simon Davis-Cohen is a writer and the research and com­mu­ni­ca­tions asso­ciate for the Com­mu­ni­ty Envi­ron­men­tal Legal Defense Fund.