Buried on the 18th page of a recent­ly updat­ed fed­er­al gov­ern­ment memo defin­ing which work­ers are crit­i­cal dur­ing the Covid-19 pan­dem­ic is a new cat­e­go­ry of essen­tial work­ers: defense indus­try per­son­nel employed in for­eign arms sales.
The new text indicates that the federal government deliberately expanded the scope of work for essential employees in the mid-April memo to include the "sale of U.S. defense articles and services for export to foreign allies and partners."
The memo, issued April 17, is a revised ver­sion of state­ments issued by the Cyber­se­cu­ri­ty and Infra­struc­ture Secu­ri­ty Agency and the Depart­ment of Defense in mid-March. In those, the defense indus­try work­force was deemed ​"essen­tial" along­side health­care pro­fes­sion­als and food pro­duc­ers, a broad des­ig­na­tion that prompt­ed crit­i­cism from a for­mer top acqui­si­tion offi­cial for the Pen­ta­gon, defense-spend­ing watch­dog groups, and work­ers them­selves. The orig­i­nal March mem­os made no men­tion of the tens of bil­lions of dol­lars in for­eign arms sales that U.S. com­pa­nies make each year.
The new text indi­cates that the fed­er­al gov­ern­ment delib­er­ate­ly expand­ed the scope of work for essen­tial employ­ees in the mid-April memo to include the ​"sale of U.S. defense arti­cles and ser­vices for export to for­eign allies and part­ners." In These Times spoke with numer­ous work­ers who instead say their plants could have shut down pro­duc­tion for clients both domes­tic and for­eign. The updat­ed April 17 memo was issued as the Unit­ed States report­ed more than 30,000 Covid-19 deaths, a num­ber that would come close to tripling in the fol­low­ing weeks.
The new memo, which says essen­tial work­ers are those need­ed ​"to main­tain the ser­vices and func­tions Amer­i­cans depend on dai­ly," also reflects what defense work­ers tell In These Times has been a real­i­ty through­out the pan­dem­ic: Work is ongo­ing on mil­i­tary-indus­tri­al shop floors across the coun­try, includ­ing on weapons for for­eign sales.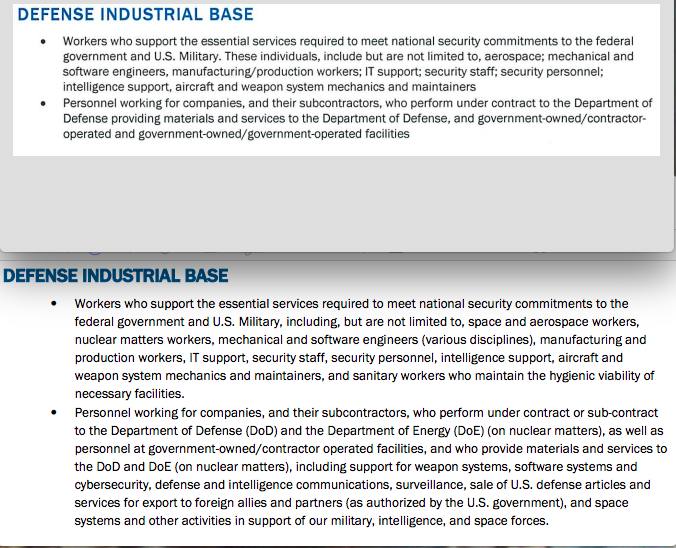 (A memo in March said essen­tial work­ers are those need­ed to ​"meet nation­al secu­ri­ty com­mit­ments to the fed­er­al gov­ern­ment and U.S. mil­i­tary." In April, the gov­ern­ment qui­et­ly updat­ed the memo to include a new line of essen­tial work: for­eign arms sales.)
Arms man­u­fac­tur­ing for export has con­tin­ued at a Lock­heed Mar­tin plant in Fort Worth, which has stayed open 24 hours a day dur­ing the pan­dem­ic and man­u­fac­tures the F‑35 fight­er jet. Asked by In These Times if F‑35 pro­duc­tion for inter­na­tion­al cus­tomers was ongo­ing in Fort Worth dur­ing the pan­dem­ic, a Lock­heed spokesman respond­ed that ​"there are no spe­cif­ic impacts to our oper­a­tions at this time." The com­pa­ny has a robust slate of domes­tic and for­eign orders to ful­fill for the F‑35 — the most expen­sive weapons pro­gram in U.S. his­to­ry, one the com­pa­ny now adver­tis­es at a price tag of at least $89 mil­lion per jet. This slate includes 98 for the Unit­ed States in the fis­cal year 2020 and scores for inter­na­tion­al buy­ers in Europe and the Asia-Pacif­ic region, accord­ing to a recent report on the F‑35 pro­gram from the Con­gres­sion­al Research Service.
An employ­ee at the Fort Worth plant told In These Times, ​"I don't think it should be des­ig­nat­ed essen­tial if we're not doing it for our own coun­try. I under­stand these oth­er coun­tries have put mon­ey into it. I do under­stand that. But these oth­er coun­tries are shut down, too," the work­er added, refer­ring to the major dis­rup­tions of eco­nom­ic activ­i­ties across the globe. The employ­ee said they have seen com­put­er mon­i­tors indi­cat­ing jets were des­tined for Japan and Aus­tralia in recent weeks.
In the first weeks after the coun­try shut down, the employ­ee says they and their fel­low work­ers asked them­selves, ​"Why don't we move these air­craft out of the way for a minute? And we have enough man­pow­er here we could make masks. We could make ven­ti­la­tors." But the com­pa­ny's pri­or­i­ties for its essen­tial work­ers, the employ­ee says, has been: ​"Let's get these jets and let's get them run­ning. Let's pump them out the door."
Sev­er­al defense indus­try work­ers told In These Times they believe on-site man­u­fac­tur­ing work at weapons plants for both for­eign and domes­tic use could have been sus­pend­ed at least for a mat­ter of weeks dur­ing the pan­dem­ic. They also said they wor­ry about the fea­si­bil­i­ty of keep­ing busy work­places safe and san­i­tary, and that they dis­trust employ­ers' meth­ods for han­dling virus cas­es that have emerged among workers.
Alarm over the expec­ta­tion to con­tin­ue report­ing to shop floors for hands-on jobs has opened a rift between defense con­trac­tors and their employ­ees, with the lat­ter feel­ing con­strained from speak­ing out pub­licly due to the con­fi­den­tial­i­ty sur­round­ing nation­al secu­ri­ty work. Sev­er­al work­ers, all con­cerned about the risks of plants stay­ing open, spoke with In These Times on the con­di­tion their names not be pub­lished, fear­ing reper­cus­sions or los­ing secu­ri­ty clearances.
Ellen Lord, the Pen­tagon's top weapons buy­er, said at an April 30 press con­fer­ence that of 10,509 major com­pa­nies tracked by the Defense Con­tract Man­age­ment Agency, just 93 were closed, while 141 had closed and reopened. While many in the defense indus­try can work remote­ly — a Lock­heed spokesper­son told In These Times by e‑mail that about 9,000 of its 18,000 employ­ees in Fort Worth are telecom­mut­ing — the thou­sands that remain on plant floors, work­ers say, are often blue-col­lar employ­ees whose jobs are hands-on. On an April 21 earn­ings call, out­go­ing Lock­heed Mar­tin CEO Mar­il­lyn Hew­son told investors that ​"our man­u­fac­tur­ing facil­i­ties are open and our work­force is engaged."
Con­cern for the safe­ty of that work­force prompt­ed Jen­nifer Esco­bar — a vet­er­an and wife of a Lock­heed Mar­tin employ­ee in Fort Worth who him­self is a dis­abled vet­er­an — to pub­licly denounce the com­pa­ny for stay­ing open dur­ing the pandemic.
More than 5,000 peo­ple have signed her peti­tion call­ing for the Fort Worth site to shut down and send employ­ees home with pay. A sim­i­lar peti­tion on behalf of Lock­heed Mar­tin employ­ees in Palm­dale, Calif., gar­nered hun­dreds of sig­na­tures. Esco­bar spear­head­ed the cam­paign, she says, for ​"every­body else who could­n't stand up because they have a fear of retal­i­a­tion from the employer."
Esco­bar also start­ed a GoFundMe page for the wid­ow of the Fort Worth site's first report­ed Covid-19 death. Claude Daniels, a mate­r­i­al han­dler, and his wife, also a Lock­heed employ­ee, had togeth­er spent about sev­en decades work­ing for the com­pa­ny, accord­ing to the Inter­na­tion­al Asso­ci­a­tion of Machin­ists and Aero­space Work­ers union.
The local machin­ists union report­ed in late April that the Fort Worth site had 12 con­firmed virus cas­es among Lock­heed and non-Lock­heed employ­ees. Since the plant has remained open dur­ing the pan­dem­ic, the com­pa­ny has respond­ed to the out­break by iden­ti­fy­ing and inform­ing work­ers who have been in prox­im­i­ty with an infect­ed employ­ee and ask­ing them to stay home, accord­ing to a Lock­heed spokesman.
But Esco­bar and one plant work­er said there are gaps in that response. For exam­ple, Esco­bar says there were instances in which a work­er was sent home while their spouse, also a com­pa­ny employ­ee, was not, despite the pre­sum­ably close con­tact the pair has in a shared liv­ing space. One Fort Worth work­er also said that while the com­pa­ny will remove an employ­ee who works with­in six feet of some­one who tests pos­i­tive, there are cas­es of peo­ple who work at greater dis­tances — the employ­ee gave the exam­ple of work­ers on either side of a jet's wings — who still share items dur­ing their shift.
"Even though we were shar­ing the same work­sta­tion, the same com­put­er, the same tool­box, that doesn't count," the employ­ee says.
In response to these con­cerns, Lock­heed Mar­tin told In These Times via email, ​"Our Facil­i­ties teams have increased clean­ing sched­ules with­in all our build­ings and cam­pus­es across Lock­heed Mar­tin, with a high con­cen­tra­tion on com­mon areas like lob­bies, restrooms, break­rooms and ele­va­tors. Upon learn­ing of prob­a­ble expo­sure, a con­tract­ed pro­fes­sion­al clean­ing and restora­tion com­pa­ny san­i­tizes the employee's work­space, sur­round­ing work­spaces, com­mon areas, and entrances and exits through­out the building."
Anger at the expec­ta­tion employ­ees con­tin­ue work­ing led one to spit on the com­pa­ny's gate in Fort Worth. Esco­bar says, ​"He was just real­ly upset that the com­pa­ny was treat­ing him like that."
Lock­heed Mar­tin spokesman Ken­neth Ross told In These Times that the com­pa­ny's secu­ri­ty team was aware of and inves­ti­gat­ing the report­ed spit­ting inci­dent. ​"Obvi­ous­ly, that kind of behav­ior is not fit­ting with what we're try­ing to do to cre­ate a Covid-19 safe envi­ron­ment," he said
One Fort Worth employ­ee infect­ed with the virus filmed a video of him­self from a hos­pi­tal bed that went viral and was viewed by many of his cowork­ers. In shar­ing his sto­ry, he also exposed a gap in the com­pa­ny's abil­i­ty to respond to the virus while main­tain­ing its floors open.
In Antho­ny Mel­chor's video, which has been viewed more than 16,000 times, he is inter­rupt­ed by coughs and wheezy breaths. ​"I'm cool on my stool, you know me," he says, warn­ing his fel­low work­ers that ​"this Covid ain't no bull­shit, man." He calls on them to san­i­tize their work areas and not go to work if they feel unsafe.
Dur­ing a week­end in ear­ly April, Mel­chor, who sus­pects he was exposed to the virus at work, began to have severe migraines. He woke up the next day in a pool of sweat. His doc­tor ordered a Covid-19 test, but his first result was a false neg­a­tive, which Mel­chor believes hap­pened because his nasal swab was too shal­low. After sev­er­al days passed and his con­di­tion wors­ened, his wife insist­ed he receive med­ical atten­tion. A sec­ond coro­n­avirus test then came back pos­i­tive, he said.
Mel­chor says his delay in inform­ing Lock­heed that he was pos­i­tive for the virus also meant his cowork­ers were delayed in being removed from the line. Asked whether work­ers are removed from the plant when an employ­ee shows symp­toms of the virus or only after one has test­ed pos­i­tive, a Lock­heed spokesman wrote that the com­pa­ny ​"identif[ies] and inform[s] any employ­ees who inter­act­ed with indi­vid­u­als exposed to or diag­nosed with Covid-19 while main­tain­ing confidentiality."
At a Lock­heed Mar­tin site in Greenville, S.C., where the com­pa­ny is cur­rent­ly pro­duc­ing F‑16s for Bahrain — the com­pa­ny appears to have only for­eign clients for the fight­er jet — one employ­ee expressed con­cern over how close work­ers get to one anoth­er when they often work in pairs on either side of a jet. The work­er also says it is ​"the nature of our busi­ness" to have employ­ees who fre­quent­ly trav­el, includ­ing out of the coun­try, lead­ing the work­er to fear what they may bring back to the work­place when they return.
"From a finan­cial stand­point I know it's not ben­e­fi­cial for us to be at home," the Greenville work­er says, ​"but the safe­ty of employ­ees to me should be most important."
Lock­heed's fight­er jets are among many defense prod­ucts that U.S. com­pa­nies export.
In addi­tion to Lock­heed Mar­tin, In These Times sub­mit­ted ques­tions to three oth­er defense firms about ongo­ing exports dur­ing Covid-19. Northrop Grum­man announced in its April 29 earn­ings call that the com­pa­ny had deliv­ered two Glob­al Hawk sur­veil­lance drones to South Korea that month. Asked about the pre­cau­tions the com­pa­ny took for the safe­ty of work­ers han­dling the drones in the final weeks lead­ing up to the April deliv­ery, a spokesper­son wrote that the com­pa­ny is ​"tak­ing extra­or­di­nary mea­sures to main­tain safe work­ing con­di­tions." The U.S. ambas­sador in Seoul tweet­ed a pic­ture of the sleek gray drone embla­zoned with Kore­an let­ters in an April 19 mes­sage con­grat­u­lat­ing those involved in its delivery.
Anoth­er con­trac­tor, Wichi­ta-based Tex­tron Avi­a­tion, told In These Times that, dur­ing Covid-19, the com­pa­ny ​"will con­tin­ue to sup­port our cus­tomers accord­ing to our fund­ed con­tract require­ments, which includes for­eign customers."
Jeff Abram­son, a senior fel­low at the Wash­ing­ton, D.C.-based Arms Con­trol Asso­ci­a­tion, says the pan­dem­ic does not appear to have caused any ​"devi­a­tion" from the Trump admin­is­tra­tion's pol­i­cy of pro­mot­ing for­eign arms sales. He notes that the State Depart­ment approved numer­ous poten­tial sales, includ­ing ones to con­tro­ver­sial clients like the Unit­ed Arab Emi­rates and the Philip­pines, in the midst of the glob­al pandemic.
"It cer­tain­ly seems that this admin­is­tra­tion is try­ing to get a mes­sage to indus­try that you are impor­tant. There will be work for you," Abram­son says.
Despite the essen­tial des­ig­na­tion, some Boe­ing defense-indus­tri­al sites buck­led under pres­sure as the virus spread and closed dur­ing the pan­dem­ic. A day after the death of an employ­ee infect­ed with the virus in Wash­ing­ton State, Boe­ing announced it would shut­ter its Puget Sound site, where some 70,000 peo­ple work on both com­mer­cial and defense air­craft. Boe­ing also shut down a Penn­syl­va­nia site that pro­duces mil­i­tary air­craft for two weeks, say­ing the step was ​"a nec­es­sary one for the health and safe­ty of our employ­ees and their communities."
When Boe­ing par­tial­ly reopened Puget Sound after about three weeks, the first pro­duc­tion it resumed was on defense prod­ucts. Asked if work was under­way on P‑6 patrol air­craft for for­eign clients such as South Korea and New Zealand, a com­pa­ny spokesper­son respond­ed, ​"We are eval­u­at­ing cus­tomer deliv­ery sched­ules and work­ing to min­i­mize impacts to our inter­na­tion­al customers."
Unlike the Unit­ed States, some coun­tries have allowed defense pro­duc­tion to shut down. Mex­i­co did not declare its defense indus­try essen­tial, prompt­ing a rebuke from the Pen­tagon's Ellen Lord, who wrote to the Mex­i­can for­eign min­istry regard­ing inter­rup­tions to sup­ply chains. Lord lat­er said she had seen a ​"pos­i­tive response" from Mex­i­co on resolv­ing the issue. F‑35 facil­i­ties in both Japan and Italy shut down for sev­er­al days in the ear­ly weeks of the pandemic.
Mel­chor, the Fort Worth employ­ee who is now recov­er­ing from Covid-19 at home, says he agrees with the defense-indus­tri­al base's des­ig­na­tion as essen­tial, includ­ing when that involves com­mit­ments to cus­tomers amongst U.S. allies. ​"I just also believe that our cus­tomers would have under­stood if there was a two-week delay or even a month delay because of this virus," he says.
He believes lead­er­ship is need­ed to address the issue in a uni­fied way and says debate about the cri­sis amongst work­ers, whom he called on in his video to ​"pull togeth­er," has become fractious.
"What I found inter­est­ing is the very thing that we build [is] to serve and pro­tect, for­eign and domes­tic, to pro­tect us from any type of evil or wrong­do­ing," Mel­chor says. ​"At what point does our com­pa­ny pro­tect us?"
An orig­i­nal ver­sion of this sto­ry said that U.S. com­pa­nies make for­eign arms sales in the order of $

180

bil­lion a year. While the U.S. State Depart­ment says that the U.S. gov­ern­ment man­ages the trans­fer of approx­i­mate­ly $

43

bil­lion in defense equip­ment to allies each year and pro­vides reg­u­la­to­ry approvals for more than $

136

bil­lion per year in defense sales abroad, oth­ers esti­mates of the vol­ume of U.S. arms sales abroad have dif­fered. A new report from the Cen­ter for Inter­na­tion­al Pol­i­cy says that the Unit­ed States made at least $

85

.

1

bil­lion in arms sales offers in

2019

. The report's authors call this fig­ure ​

"

a floor, not a ceil­ing" and said the num­ber is ​

"

almost assured­ly an under­count­ing" due to lack of trans­paren­cy in arms sales reporting.