Trump Is Trying to Make NAFTA Even Worse. It's Time to Throw Sand in the Gears.
Many on the Left have been deeply critical of the North American Free Trade Agreement (NAFTA) since before it was fast-tracked into law by former President Bill Clinton in 1994. Now, President Donald Trump's current plan to renegotiate NAFTA is poised to make the massive trade deal even worse.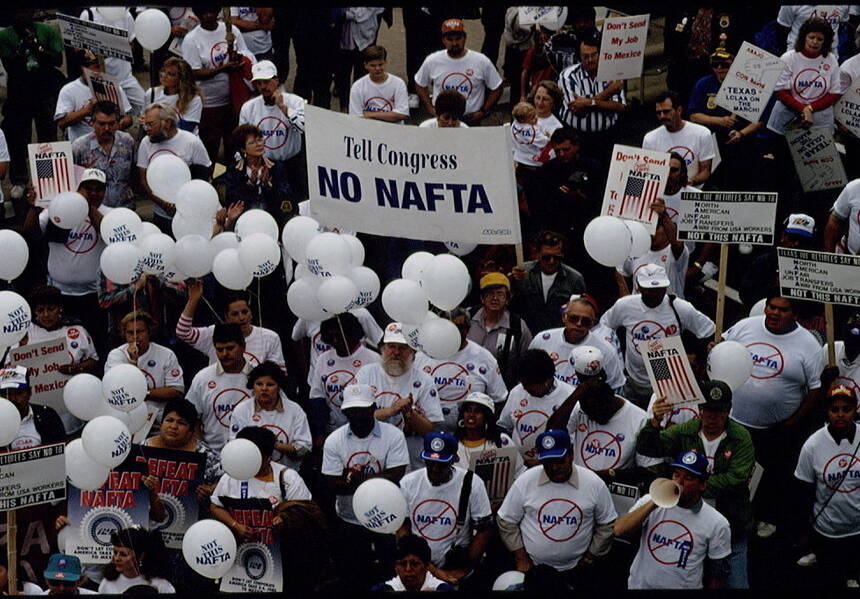 In late May, a loose coali­tion of civ­il soci­ety groups gath­ered in Mex­i­co City to dis­cuss this upcom­ing rene­go­ti­a­tion. Par­tic­i­pants includ­ed the AFL-CIO, Cana­di­an Labour Con­gress and over one hun­dred oth­er labor, envi­ron­men­tal, and immi­grant rights orga­ni­za­tions from across Mex­i­co, the Unit­ed States and Canada.
Trump is trying to use the same anti-establishment, pro-American rhetoric from his campaign to craft a neoliberal NAFTA renegotiation that will include everything demanded in the recently scuttled TPP.
The meet­ing pro­duced a joint dec­la­ra­tion oppos­ing a Trump-led NAF­TA rene­go­ti­a­tion and marked the kick­off of the lat­est inter­na­tion­al cam­paign against free-trade deals that ben­e­fit cor­po­ra­tions and polit­i­cal elites at the expense of work­ers, com­mu­ni­ties and our shared environment.
NAFTA's lega­cy is marred by lost jobs, low­er wages, increased inequal­i­ty and a litany of envi­ron­men­tal­ly destruc­tive prac­tices. While the peo­ple who gath­ered in Mex­i­co City have long opposed NAF­TA for its pro-cor­po­rate bent, a con­sen­sus emerged that Pres­i­dent Trump and his team are cook­ing up some­thing even worse.
Two ques­tions fol­low from this judg­ment: What can we do to stop Trump, and how can we use the moment to chal­lenge the pow­er­ful inter­ests that he represents?
The dan­gers of a Trump-led renegotiation
Trump cam­paigned and won the U.S. pres­i­den­tial elec­tion in no small part due to his anti-free-trade posi­tions. He gal­va­nized mil­lions of vot­ers for whom the con­sid­er­able promis­es of glob­al­iza­tion have long since giv­en way to the stark real­i­ties of ris­ing inequal­i­ty and declin­ing liv­ing standards.
After assum­ing the pres­i­den­cy, Trump decid­ed it was polit­i­cal­ly nec­es­sary to kill off the wild­ly neolib­er­al Trans-Pacif­ic Part­ner­ship (TPP) to appease his pop­u­lar base. This deci­sion was met with dis­may by near­ly all big cor­po­ra­tions and elites from both polit­i­cal parties.
But now, in an act of polit­i­cal judo, Trump is try­ing to use the same anti-estab­lish­ment, pro-Amer­i­can rhetoric from his cam­paign to craft a neolib­er­al NAF­TA rene­go­ti­a­tion that will include every­thing demand­ed in the recent­ly scut­tled TPP — and more. Com­merce Sec­re­tary Wilbur Ross, as well as oth­ers in Trump's admin­is­tra­tion, have been sur­pris­ing­ly straight­for­ward about these intentions.
For­mal notice of the intent to rene­go­ti­ate was sub­mit­ted to Con­gress on May 18. Fol­low­ing an oblig­a­tory 90-day ​"con­sul­ta­tion peri­od," nego­ti­a­tions are expect­ed to com­mence in the sec­ond half of August. A draft list of the Trump administration's pri­or­i­ties, sub­mit­ted to Con­gress in late March, gives us a win­dow into what we should expect.
A Trump-led rene­go­ti­a­tion will mean a strength­en­ing of heinous Investor-State Dis­pute Set­tle­ment (ISDS) mech­a­nisms, which allow cor­po­ra­tions to sue gov­ern­ments that ​"infringe" on prof­it-mak­ing oppor­tu­ni­ties, for exam­ple, by dar­ing to intro­duce anti-tobac­co leg­is­la­tion. It will mean stronger copy­right and intel­lec­tu­al prop­er­ty laws, in case you're not already spend­ing enough on your med­ica­tions. It will also mean fur­ther pri­va­ti­za­tion of the inter­net, greater cor­po­rate con­trol of e‑commerce, and most like­ly a new broad­side against net neutrality.
Mean­while, ​"investor incen­tives" will increase the lib­er­al­iza­tion of cap­i­tal flows and lead to the off­shoring of many thou­sands of jobs, in the ongo­ing glob­al race to find the most exploita­tive labor con­di­tions pos­si­ble. And, of course, this cer­e­mo­ny will be sealed with the rit­u­al sac­ri­fice of labor, human rights and envi­ron­men­tal reg­u­la­tions in each of the three sig­na­to­ry countries.
And let us not for­get that, while the TPP account­ed for 40 per­cent of the world's GDP, NAF­TA still rep­re­sents approx­i­mate­ly 25 per­cent. In 1994, NAF­TA set the stan­dard for two decades of ter­ri­ble inter­na­tion­al trade agree­ments, and pow­er bro­kers across the world hope this rene­go­ti­a­tion will restore busi­ness as usu­al and set a new stan­dard for decades to come.
Giv­en the pow­er of the Unit­ed States vis-à-vis its nego­ti­at­ing part­ners, this panora­ma might at first glance appear depress­ing. But we also should not for­get that the insur­gent cam­paign of Demo­c­ra­t­ic pri­ma­ry chal­lenger Bernie Sanders, which brought togeth­er mil­lions of peo­ple in oppo­si­tion to these types of free trade deals. While there are major dif­fer­ences between Trump and Sanders vot­ers, there is real agree­ment that these cor­po­rate-led deals are bad for ordi­nary people.
Here­in lies a real polit­i­cal oppor­tu­ni­ty that absolute­ly ter­ri­fies elites on both sides of the aisle. Around the NAF­TA rene­go­ti­a­tion there exists a gen­uine pos­si­bil­i­ty, in an oth­er­wise bad­ly frac­tured polit­i­cal land­scape, for a bipar­ti­san con­sen­sus against cor­po­rate and elite power.
Throw­ing sand in the gears
Know­ing that the rene­go­ti­a­tion of NAF­TA may well die at the bal­lot box — just as TPP and TTIP were killed off by pop­u­lar demand in the past year — the main goal for its pro­po­nents is to con­clude talks as quick­ly as pos­si­ble. This has been stat­ed clear­ly by lead trade rep­re­sen­ta­tives in each of the three coun­tries. Now, the first major chal­lenge comes not from the Unit­ed States, but from Mexico.
Mex­i­can gen­er­al elec­tions are sched­uled for July 2018, with pri­maries and the accom­pa­ny­ing polit­i­cal jock­ey­ing begin­ning this fall. With Pres­i­dent Enrique Peña Nieto's approval rat­ings sink­ing below 20 per­cent, the posi­tion of his ​"insti­tu­tion­al rev­o­lu­tion­ary" PRI, which has dom­i­nat­ed Mex­i­can pol­i­tics for near­ly 100 years, is con­sid­ered vulnerable.
The ear­ly fron­trun­ner for the upcom­ing pres­i­den­tial race, pop­u­lar for­mer Mex­i­co City May­or Andrés Manuel López Obrador, has staked out a pop­ulist, anti-estab­lish­ment posi­tion that places greater empha­sis on labor and envi­ron­men­tal rights, as well as nation­al sov­er­eign­ty. As his cam­paign advances, he is wide­ly expect­ed to take aim at a U.S.-led NAF­TA rene­go­ti­a­tion as a win­ning polit­i­cal wedge issue.
In this con­text, pro­gres­sive groups opposed to a cor­po­rate-led NAF­TA rene­go­ti­a­tion must adopt the same strat­e­gy that was so suc­cess­ful in the bat­tle against the TPP: throw­ing sand in the gears. While it was Trump who dealt the TPP its death blow, it was the hard work of pro­gres­sive civ­il soci­ety that shed light on this secre­tive deal, slowed its advance and ulti­mate­ly entan­gled it in the 2016 elec­tion — cor­rect­ly antic­i­pat­ing that pop­u­lar con­sen­sus would reject the agreement.
In Mex­i­co, this aim can be achieved by empha­siz­ing Trump's calls to ​"build the wall," as well as his racist char­ac­ter­i­za­tions of Mex­i­cans as rapists, crim­i­nals and job steal­ers. It can be done by pound­ing the sud­den­ly-vul­ner­a­ble Insti­tu­tion­al Rev­o­lu­tion­ary Par­ty (PRI) as a bunch of rob­ber-baron elites who are look­ing for one last score before they are flushed from power.
In Cana­da, a sim­i­lar strat­e­gy can be pur­sued by empha­siz­ing Prime Min­is­ter Justin Trudeau's ten­den­cies towards a pol­i­tics of sym­bol­ic resis­tance and sub­stan­tive acqui­es­cence. In this style of gov­er­nance there exists a gap that civ­il soci­ety can exploit. Trudeau very much val­ues his care­ful­ly cul­ti­vat­ed pub­lic image, but Cana­di­ans have seen the mate­r­i­al impacts of NAF­TA on their coun­try, and they now oppose the deal by a four-to-one mar­gin.
In the Unit­ed States, at least for now, the focus should be on the tremen­dous lack of trans­paren­cy that has char­ac­ter­ized ear­ly nego­ti­a­tions. 500 cor­po­rate trade advi­sors and TPP vet­er­ans are being active­ly con­sult­ed, while labor and civ­il soci­ety orga­ni­za­tions remain com­plete­ly shut out of the process. And of course, there is the his­tor­i­cal­ly unpop­u­lar fig­ure of Trump himself.
As Lori Wal­lach, direc­tor of Pub­lic Citizen's Glob­al Trade Watch divi­sion, has argued:
Trump's con­flicts of inter­est and self-deal­ing oppor­tu­ni­ties with NAF­TA rene­go­ti­a­tion are not hypo­thet­i­cal; the sprawl­ing Trump busi­ness empire has 14 Cana­di­an and two Mex­i­can invest­ments. Some of Trump's cloth­ing line is made in Mex­i­co. Trump won't divest his busi­ness hold­ings or release his tax returns, so unless he reveals his full Mex­i­can and Cana­di­an busi­ness deal­ings, we won't even know in whose inter­est these NAF­TA talks are being conducted.
Forg­ing a new pro­gres­sive consensus
These are some of the ear­ly strate­gic lines for oppos­ing NAF­TA and con­test­ing a Trump-led rene­go­ti­a­tion. But to build a more inte­gral pol­i­tics beyond mere oppo­si­tion, it behooves us to go a step fur­ther. If you accept the argu­ment that trade pol­i­cy could become a fer­tile ter­rain for grow­ing new coali­tions, it is only by artic­u­lat­ing pos­i­tive alter­na­tives that we will be able to make these coali­tions take root.
We must begin with a polit­i­cal frame that cre­ates space for Trump's sup­port­ers with­out mak­ing any con­ces­sions around the xeno­pho­bic rhetoric that the Pres­i­dent has thus far employed. This is not about Mex­i­cans, or any­body else, steal­ing U.S. jobs. It is rather about big cor­po­ra­tions and polit­i­cal elites exclud­ing the rest of us — from all three coun­tries — from our fair share of the pie.
To cre­ate this broad space for polit­i­cal con­ver­gence, we must demand an open con­sul­ta­tion process. This requires that labor and cli­mate jus­tice groups, rank-and-file work­ers, immi­grants, farm­work­ers, and small and mid-sized busi­ness own­ers have an oppor­tu­ni­ty to weigh in with their con­cerns. In addi­tion to these for­mal con­sul­ta­tions, civ­il soci­ety should help to ampli­fy these voic­es of con­cern through people's tri­bunals and oth­er pub­lic hear­ings. And this input should form the basis of an alter­na­tive vision for coop­er­a­tion between the three countries.
We should not meek­ly request that NAFTA's unen­force­able side agree­ments on labor and envi­ron­men­tal stan­dards be strength­ened around the edges. Rather, we must demand that work­er and cli­mate jus­tice in all three coun­tries be built into the foun­da­tions of all sub­se­quent com­mer­cial agreements.
In addi­tion, we must call for the deeply unpop­u­lar ISDS mech­a­nisms to be either elim­i­nat­ed or opened up so that com­mu­ni­ty groups, indi­vid­u­als and gov­ern­ments can bring law­suits against cor­po­ra­tions for labor and envi­ron­men­tal malfea­sance. Con­sumer pro­tec­tion must replace cor­po­rate inter­ests as the prin­ci­pal fac­tor in the rene­go­ti­a­tion of intel­lec­tu­al prop­er­ty laws, as well as the com­ing reg­u­la­tion of e‑commerce. Investor incen­tives should be van­quished, and instead of sim­ply request­ing that we ​"buy (cor­po­rate) Amer­i­can," we should demand that all three coun­tries ​"buy union," that they buy sus­tain­ably, and that they sup­port local, social and sol­i­dar­i­ty economies when possible.
Promi­nent labor, fair trade and envi­ron­men­tal groups have out­lined these and oth­er demands in great detail. Cru­cial­ly, these pro­pos­als are broad­ly pop­u­lar with the major­i­ty of peo­ple in all three coun­tries. The upcom­ing NAF­TA fight thus presents an oppor­tu­ni­ty to deal a blow to Trump's xeno­pho­bic rhetoric and neolib­er­al blue­print — and to begin the hard work of forg­ing a new pro­gres­sive consensus.
Ethan Ear­le
is a project man­ag­er for the Rosa Lux­em­burg Stiftung — New York Office. Fol­low him on Twit­ter at @EthanEarle.