Trump's Betrayal of the Kurds Is Terrible, But the Answer Is Not Endless War
Like millions of others, the Kurds are victims of disastrous U.S. interventions in the region.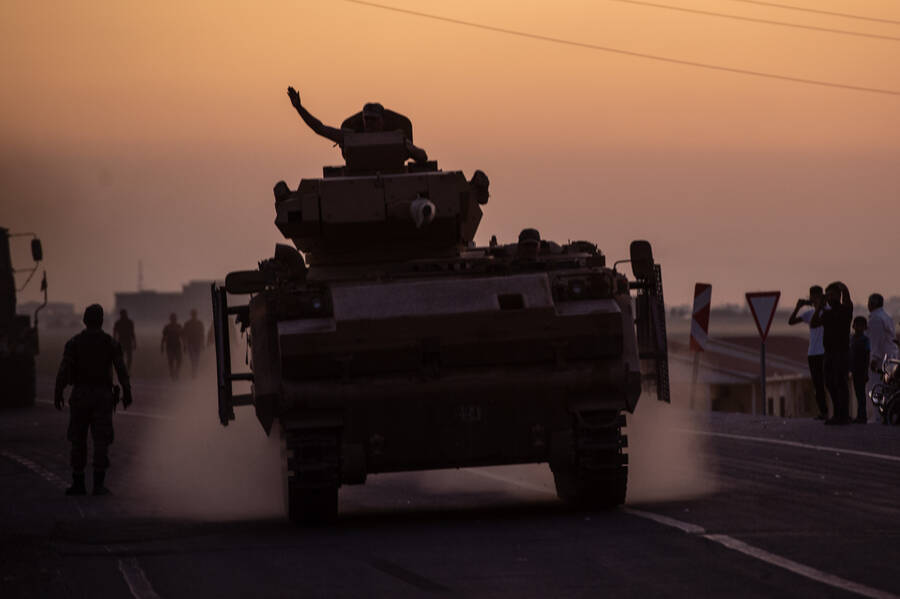 The biggest prob­lem with the U.S. with­draw­al of forces from the Syr­i­an bor­der with Turkey is that they were there in the first place.
It is sickening that the U.S. would knowingly deliver the Kurds to Turkish violence again today. But our outrage should not lead us to embrace the U.S. presence in Syria.
Trump's deci­sion hands over the Kur­dish-run region of north­ern Syr­ia to Turkey, a NATO ally with whom the U.S. has been con­duct­ing joint oper­a­tions at the bor­der. The move gave Turkey the green light to attack Kur­dish com­mu­ni­ties in the region, which is cur­rent­ly held by the Kur­dish YPG mili­tia. The bomb­ing has already begun, killing dozens and dri­ving tens of thou­sands to flee the advanc­ing Turk­ish assault. Mean­while, the U.S. has ordered an addi­tion­al 1,800 troops to Sau­di Ara­bia, putting lie to Trump's claims that the with­draw­al from north­ern Syr­ia had any­thing at all to do with end­ing ​"end­less wars" or troop deployments.
The Turk­ish gov­ern­ment has long been await­ing an oppor­tu­ni­ty to attack this region of Kur­dish auton­o­my, while some inside Turkey sup­port the Kur­dish strug­gle. The issue is also linked to the region's bur­geon­ing refugee cri­sis: Turkey is prepar­ing mass depor­ta­tions of Syr­i­an refugees cur­rent­ly in Turkey to the Syr­i­an side of the border.
Trump's aban­don­ment of the Kurds, U.S. allies who have fought ISIS at tremen­dous cost, has sparked bipar­ti­san out­rage — from Hillary Clin­ton to Trump's own for­mer UN ambas­sador Nik­ki Haley, who wrote on Twit­ter: ​"We must always have the backs of our allies, if we expect them to have our back. The Kurds were instru­men­tal in our suc­cess­ful fight against ISIS in Syr­ia. Leav­ing them to die is a big mis­take." Repub­li­can sen­a­tors Lind­sey Gra­ham and Mitch McConnell, usu­al­ly strong Trump sup­port­ers, also broke ranks with the president.
Yet the U.S. betray­al of the Kurds did not begin with Trump's announce­ment. Trump is only writ­ing the lat­est chap­ter in a shame­ful history.
Haley fin­ished her tweet with the hash­tag "#Turkey­Is­No­tOurFriend." But the fact is that Turkey, a NATO ally that has long pro­vid­ed air­space and col­lab­o­rat­ed in var­i­ous ways with the U.S. mil­i­tary, has been an impor­tant ally of the Unit­ed States for years. Turkey's vio­lence toward the Kur­dish peo­ple inside and out­side its bor­ders, and its government's esca­lat­ing repres­sion at home, has not com­pli­cat­ed this.
Accord­ing to the Secu­ri­ty Assis­tance Mon­i­tor, from 2002 to this year, the U.S. has giv­en Turkey more than $300 mil­lion in mil­i­tary aid. Through the ups and downs of the U.S.-Turkey rela­tion­ship, the aid keeps flow­ing and joint oper­a­tions between the coun­tries' two mil­i­taries have con­tin­ued. As Turkey begins its offen­sive in north­ern Syr­ia, it is like­ly doing so with Amer­i­can weapons.
The Kurds are state­less peo­ple who have faced vio­lence and dis­crim­i­na­tion in coun­tries through­out the Mid­dle East — not just Turkey. The U.S. has sig­naled sup­port for Kur­dish free­dom before, only to turn its back on their struggles.
In 1991, after the U.S. defeat­ed Sad­dam Hussein's forces in Iraq, Pres­i­dent George H.W. Bush encour­aged Kurds and oth­ers oppressed by the Iraqi gov­ern­ment to rise up and top­ple it — only for U.S. forces to give a green light for Hus­sein to crush the rebel­lion and stand by while his forces mer­ci­less­ly slaugh­tered tens of thou­sands, pre­fer­ring to nego­ti­ate a sep­a­rate U.S. cease­fire instead.
That 1991 cat­a­stro­phe came after Hussein's forces used chem­i­cal weapons against the Kur­dish city of Hal­ab­ja in 1988 as part of the geno­ci­dal Anfal cam­paign, which was also a response to Kur­dish resis­tance. Then too, thou­sands were killed. At the time, Hus­sein was an ally of the Unit­ed States.
These atroc­i­ties should be seen in the con­text of broad­er U.S. vio­lence in the region.
It is sick­en­ing that the U.S. would know­ing­ly deliv­er the Kurds to Turk­ish vio­lence again today. But our out­rage should not lead us to embrace the U.S. pres­ence in Syr­ia. As in Iraq and beyond, that mil­i­tary pres­ence — aimed at both defeat­ing ISIS and jock­ey­ing for a seat at the table in deter­min­ing Syria's future along­side oth­er region­al pow­ers — has been disastrous.
Amnesty Inter­na­tion­al has inves­ti­gat­ed, for exam­ple, the Pentagon's 2017 aer­i­al siege of the city of Raqqa, where the Islam­ic State was head­quar­tered. Amnesty con­clud­ed that U.S. forces act­ed with utter dis­re­gard for civil­ian life, killing and wound­ing thou­sands, and slaugh­ter­ing whole fam­i­lies. Jour­nal­ists Lama Al-Ari­an and Ruth Sher­lock have doc­u­ment­ed the grim life for Raqqa res­i­dents since. The U.S. also aban­doned these res­i­dents, freez­ing recon­struc­tion funds after leav­ing 70 to 80 per­cent of the city's build­ings destroyed.
Trump may be espe­cial­ly brutish in the naked­ness of his pow­er cal­cu­la­tions, and short­sight­ed in his out­look on U.S. strat­e­gy and rela­tion­ships. But the U.S. has always been guid­ed by what will advance its pow­er on the world stage — and to the extent that there is a debate in Washington's halls of pow­er about for­eign pol­i­cy at all, it is usu­al­ly about that.
If the U.S. wants to help the Kurds today, the answer is not more per­ma­nent war — that's part of what's made life so mis­er­able for Kurds and so many oth­ers across the Mid­dle East to begin with. Instead, it could sus­pend its mil­i­tary aid to Turkey, and end its racist exclu­sion of refugees.
Rever­sals and betray­als of allies are as com­mon as long-term alliances. Patent­ly uncom­mon are gen­uine com­mit­ments to democ­ra­cy and human rights.
This arti­cle was pro­duced in part­ner­ship with For­eign Pol­i­cy In Focus.
Khury Petersen-Smith
is the Michael Rat­ner Mid­dle East Fel­low at the Insti­tute for Pol­i­cy Studies.