After Reports of Sweetheart Deal for Billionaire Pedophile, Calls Grow on Trump Labor Sec. to Resign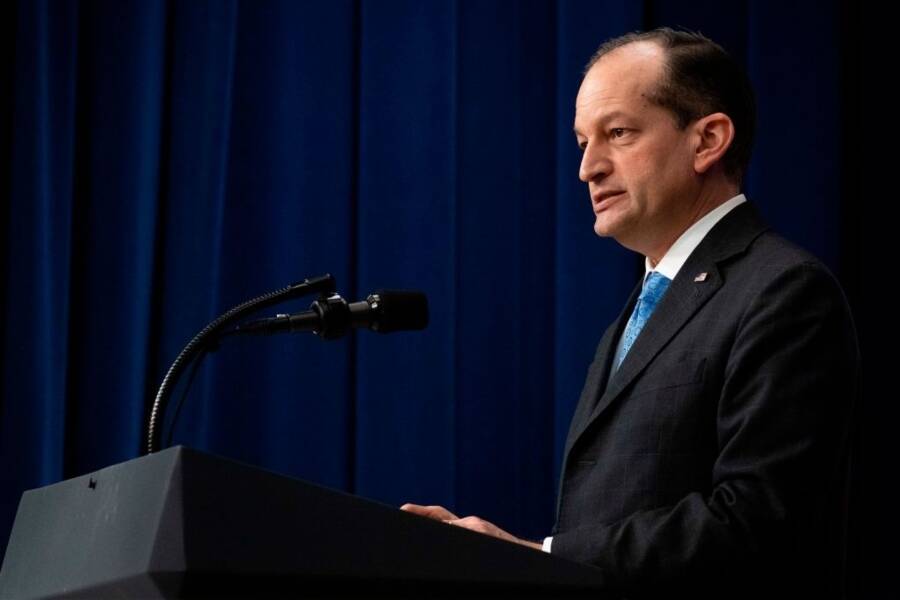 We wanted to make sure you didn't miss the announcement of our new Sustainer program. Once you've finished reading, take a moment to check out the new program, as well as all the benefits of becoming a Sustainer.

President Donald Trump's Labor Secretary Alexander Acosta is rumored to be on the short list of possible attorney general nominees, but he is now facing demands to resign immediately after an ​"incredibly disturbing" bombshell investigation by the Miami Herald on Wednesday revealed that — in his previous role as Miami's top prosecutor — Acosta ​"bent over backwards" to give a sweetheart plea deal to billionaire Jeffrey Epstein, who has been accused of sexually abusing dozens of underage girls.
"Epstein could have ended up in federal prison for the rest of his life," the Herald noted. But, thanks to Acosta, ​"an extraordinary plea" was struck that ​"conceal[ed] the full extent of Epstein's crimes" and allowed the billionaire hedge manager to skate by with just 13 months in county jail and a non-prosecution agreement.
"Court records reveal details of the negotiations and the role that Acosta would play in arranging the deal, which scuttled the federal probe into a possible international sex trafficking operation," the Herald found. ​"Among other things, Acosta allowed Epstein's lawyers unusual freedoms in dictating the terms of the non-prosecution agreement.
Victims of Epstein — who has been a friend of powerful political figures such as former President Bill Clinton and current President Donald Trump—"believe they've been silenced by a criminal justice system that stubbornly fails to hold Epstein and other wealthy and powerful men accountable," the Herald notes.
"As soon as that deal was signed, they silenced my voice and the voices of all of Jeffrey Epstein's other victims," said Courtney Wild, who told the Herald she was first abused by Epstein when she was 14.
Acosta's central role in shielding Epstein from punishment was immediately met with widespread fury and demands that he either step down or be impeached.
"It is horrifying that Acosta would be a member of good society again, let alone in the line of succession to the presidency," Jeff Hauser of the Center for Economic and Policy Research, wrote on Twitter—a sentiment that was widely echoed in response to the Herald​'s explosive investigation.
This story was originally published on Common Dreams.
Be a Sustainer
We surveyed thousands of readers and asked what they would like to see in a monthly giving program. Now, for the first time, we're offering three different levels of support, with rewards at each level, including a magazine subscription, books, tote bags, events and more—all starting at less than 17 cents a day. Check out the new Sustainer program.
Jake Johnson
is a staff writer for Common Dreams. Follow him on Twitter: @johnsonjakep