After Reports of Sweetheart Deal for Billionaire Pedophile, Calls Grow on Trump Labor Sec. to Resign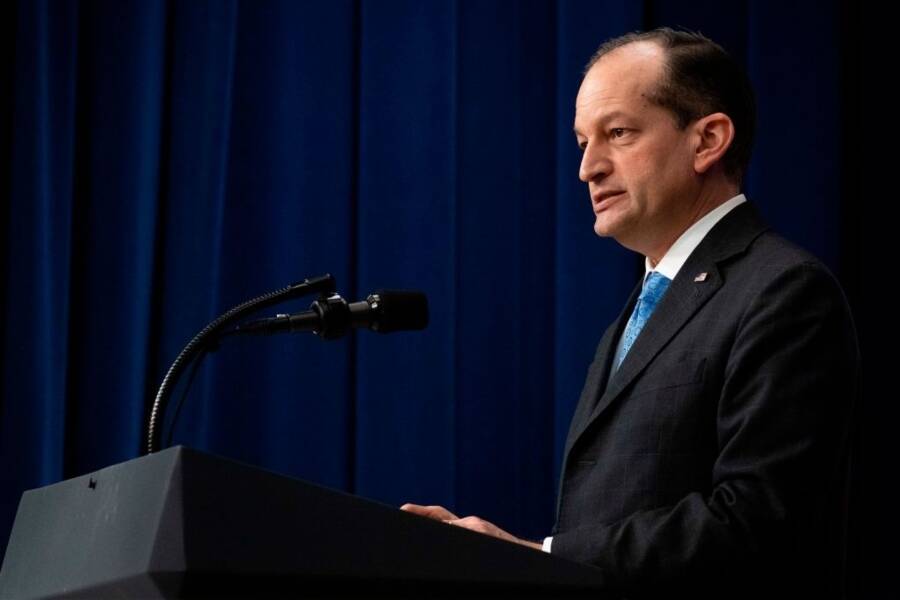 Pres­i­dent Don­ald Trump's Labor Sec­re­tary Alexan­der Acos­ta is rumored to be on the short list of pos­si­ble attor­ney gen­er­al nom­i­nees, but he is now fac­ing demands to resign imme­di­ate­ly after an ​"incred­i­bly dis­turb­ing" bomb­shell inves­ti­ga­tion by the Mia­mi Her­ald on Wednes­day revealed that — in his pre­vi­ous role as Miami's top pros­e­cu­tor — Acos­ta ​"bent over back­wards" to give a sweet­heart plea deal to bil­lion­aire Jef­frey Epstein, who has been accused of sex­u­al­ly abus­ing dozens of under­age girls.
"Epstein could have end­ed up in fed­er­al prison for the rest of his life," the Her­ald not­ed. But, thanks to Acos­ta, ​"an extra­or­di­nary plea" was struck that ​"conceal[ed] the full extent of Epstein's crimes" and allowed the bil­lion­aire hedge man­ag­er to skate by with just 13 months in coun­ty jail and a non-pros­e­cu­tion agreement.
"Court records reveal details of the nego­ti­a­tions and the role that Acos­ta would play in arrang­ing the deal, which scut­tled the fed­er­al probe into a pos­si­ble inter­na­tion­al sex traf­fick­ing oper­a­tion," the Her­ald found. ​"Among oth­er things, Acos­ta allowed Epstein's lawyers unusu­al free­doms in dic­tat­ing the terms of the non-pros­e­cu­tion agreement.
Vic­tims of Epstein — who has been a friend of pow­er­ful polit­i­cal fig­ures such as for­mer Pres­i­dent Bill Clin­ton and cur­rent Pres­i­dent Don­ald Trump—"believe they've been silenced by a crim­i­nal jus­tice sys­tem that stub­born­ly fails to hold Epstein and oth­er wealthy and pow­er­ful men account­able," the Her­ald notes.
"As soon as that deal was signed, they silenced my voice and the voic­es of all of Jef­frey Epstein's oth­er vic­tims," said Court­ney Wild, who told the Her­ald she was first abused by Epstein when she was 14.
Acosta's cen­tral role in shield­ing Epstein from pun­ish­ment was imme­di­ate­ly met with wide­spread fury and demands that he either step down or be impeached.
"It is hor­ri­fy­ing that Acos­ta would be a mem­ber of good soci­ety again, let alone in the line of suc­ces­sion to the pres­i­den­cy," Jeff Hauser of the Cen­ter for Eco­nom­ic and Pol­i­cy Research, wrote on Twit­ter—a sen­ti­ment that was wide­ly echoed in response to the Her­ald​'s explo­sive investigation.
This sto­ry was orig­i­nal­ly pub­lished on Com­mon Dreams.
Jake John­son
is a staff writer for Com­mon Dreams. Fol­low him on Twit­ter: @johnsonjakep