Calls Increase for Trump Labor Sec. Alexander Acosta To Resign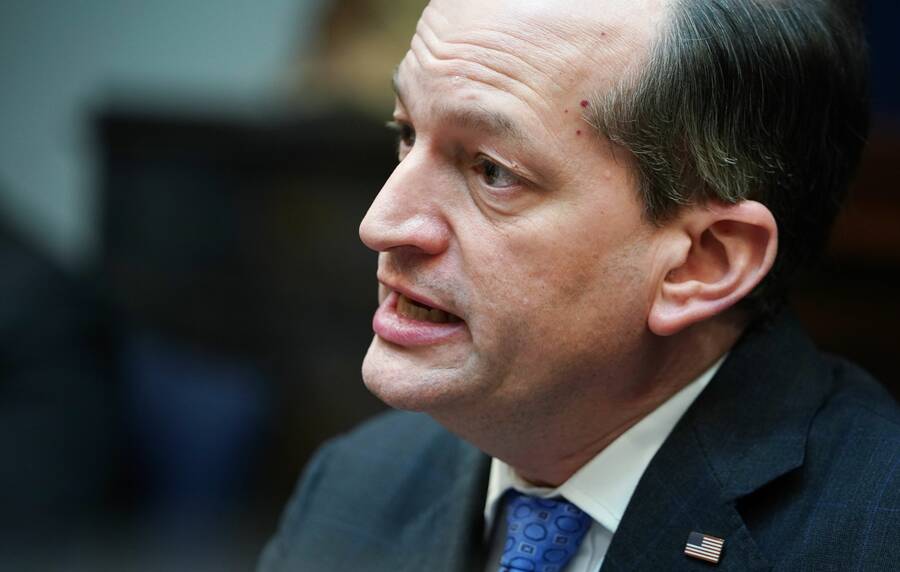 A U.S. District judge ruled Thursday that U.S. Labor Secretary Alexander Acosta committed a crime in 2007 when, as a U.S. prosecutor at the time, he secretly gave a lenient plea deal to a politically-connected billionaire accused of sex trafficking underage girls.
In a case brought by victims of billionaire and Trump associate Jeffrey Epstein, Judge Kenneth Marra found that Acosta and other federal prosecutors violated the Crime Victims' Rights Act by brokering a plea deal with Epstein, allowing him to serve only 13 months in a county jail for his crimes, and then sealing the agreement.
The ruling came nearly three months after the Miami Herald​'s explosive report on the plea deal, which prompted the Justice Department to begin an investigation into the prosecutors' conduct.
Marra's decision led to renewed calls for Acosta — who was appointed by President Donald Trump and who as head of the Labor Department is responsible for combating sex trafficking — to resign.
By sealing Epstein's plea agreement, Acosta stole from more than 30 of Epstein's victims — some of whom were as young as 13 when they were recruited by his paid employees and then coerced into sex acts by him — the chance to attend Epstein's sentencing and demand a harsher punishment.
"While the government spent untold hours negotiating the terms and implications of the [agreement] with Epstein's attorneys, scant information was shared with victims," Marra found.
"The government-aligned themselves with Epstein, working against his victims, for 11 years," Brad Edwards, the attorney representing the women who survived Epstein's abuse, told the Herald. ​"Yes, this is a huge victory, but to make his victims suffer for 11 years, this should not have happened. Instead of admitting what they did, and doing the right thing, they spent 11 years fighting these girls."
Epstein's victims and the U.S. government now have 15 days to come to a resolution following Marra's ruling.
This piece first appeared at Common Dreams.
Giving Tuesday: Support Progressive Journalism
Today is the single biggest day of the year for giving to nonprofits—last year, individual donors collectively gave more than $2.5 billion to nonprofit organizations in the U.S. alone on Giving Tuesday.
For In These Times, today also marks the kick-off of one of our most important fundraising drives ever.

Giving Tuesday began nearly a decade ago as a way to harness the power of collective giving and highlight the important work of nonprofit organizations. For In These Times, being a nonprofit is more than just a financial model. It is central to our very mission.
The traditional, for-profit news model was built on a foundation of corporate ad dollars. From the beginning, this has been a devil's bargain that limits what can be published by corporate media outlets and inevitably warps what they do print. In These Times is not beholden to any corporate interest.
Who are we beholden to? You—our community of readers. Support from readers allows In These Times to maintain our independence and speak truth to power. It is how we are able to continue publishing the stories readers—like you—want to read, and the voices that need to be heard in this political moment.

This Giving Tuesday, support independent, progressive journalism by making a tax-deductible donation to In These Times.
Julia Conley is a Maine-based staff writer for Common Dreams.
Giving Tuesday: Support Progressive Journalism