The Trump Admin's Approval of Medicaid Work Requirements Threatens the Lives of Poor People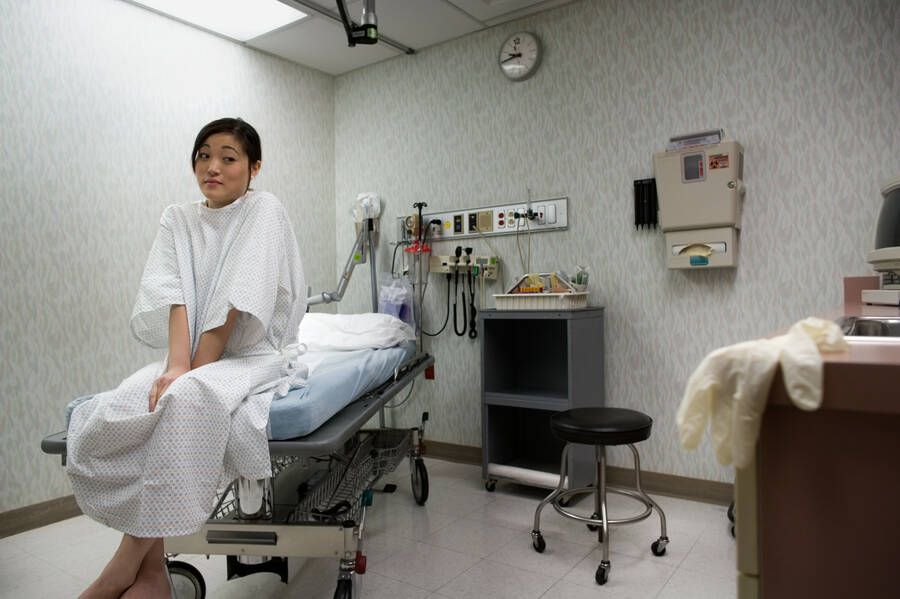 Less than a month after the GOP passed its $1.5 tril­lion tax bill that will dis­pro­por­tion­ate­ly ben­e­fit cor­po­ra­tions and the super rich, the Trump admin­is­tra­tion opened the door to a pol­i­cy that could gut Med­ic­aid. New guide­lines issued on Jan­u­ary 11 will allow states to require recip­i­ents to work in order to receive health­care ben­e­fits through the program.
In May 2017, Seema Ver­ma, the Trump-appoint­ed admin­is­tra­tor of the Cen­ters for Medicare and Med­ic­aid Ser­vices, issued a let­ter to gov­er­nors call­ing for ​"inno­va­tions" to the health­care pro­grams in order to enhance ​"human dig­ni­ty." But as stud­ies have shown, the type of work require­ments encour­aged by the agency are inef­fec­tive in reduc­ing pover­ty, and cre­ate bar­ri­ers to life-sav­ing services.
In response to the administration's deci­sion, the South­ern Pover­ty Law Cen­ter has said that it would file a legal chal­lenge. In a state­ment, the advo­ca­cy group called the work require­ment ​"an effort to cur­tail access to health insur­ance cov­er­age for our nation's most vul­ner­a­ble people."
On Fri­day, Ken­tucky received approval from the Trump admin­is­tra­tion to enforce Med­ic­aid work require­ments, the first among at least 10 states cur­rent­ly seek­ing to enact the change. These most­ly Repub­li­can-led states include Ari­zona, Arkansas, Indi­ana, Kansas, Maine, New Hamp­shire, North Car­oli­na, Utah and Wisconsin.
Tajah McQueen is a par­ent and a mem­ber of Ken­tuck­ians for the Com­mon­wealth, an orga­ni­za­tion fight­ing for tax reform to fund edu­ca­tion and healthy com­mu­ni­ties. McQueen recent­ly enrolled in Med­ic­aid after being laid off from her full-time cater­ing job.
"It's insult­ing to assume that because I don't have a job I don't have dig­ni­ty or respect for myself," says McQueen. ​"If any­thing took away my dig­ni­ty, it was being let go of my job with­out expla­na­tion, and liv­ing in a soci­ety that doesn't have bet­ter tools for peo­ple in these kinds of situations."
"It's scary," McQueen adds. ​"I suf­fer from depres­sion and anx­i­ety. If I lost Med­ic­aid, I wouldn't be able to afford to be able to pay for my med­ica­tion or go to ther­a­py. Not hav­ing my men­tal health under con­trol would hurt my capac­i­ty to apply for jobs, and han­dle the every­day life of being a parent."
Begin­ning in July, Ken­tucky will require recip­i­ents of Med­ic­aid to work or vol­un­teer 20 hours a week and pay a pre­mi­um to con­tin­ue to receive ben­e­fits. Though some recip­i­ents will be exempt from the work require­ments, includ­ing preg­nant women, pri­ma­ry care­givers of a depen­dent, full-time stu­dents and the dis­abled, Miran­da Brown, out­reach coor­di­na­tor at the Ken­tucky Equal Jus­tice Cen­ter, argues that the changes will cre­ate bar­ri­ers for many who would oth­er­wise qual­i­fy and who have no oth­er means of obtain­ing cov­er­age. ​"So many peo­ple who access Med­ic­aid live in rur­al areas where jobs and train­ing pro­grams are scarce and pub­lic trans­porta­tion is non-exis­tent," says Brown.
Dar­rion Smith is a mem­ber of Black Work­ers for Jus­tice, a statewide orga­ni­za­tion of Black work­ers in North Car­oli­na, as well as a region­al Vice Pres­i­dent of the UE Local 150, the North Car­oli­na pub­lic ser­vice work­ers union. Both orga­ni­za­tions are active in the Moral Mon­days move­ment, which has vocal­ly resist­ed North Carolina's refusal to expand Med­ic­aid under the Afford­able Care Act. Smith believes that North Carolina's pro­pos­al to fur­ther restrict Med­ic­aid is direct­ly con­nect­ed to the GOP's recent­ly passed tax bill.
"This is an attack on poor peo­ple and work­ing-class peo­ple. It's a way to cut back spend­ing on the Amer­i­can peo­ple in order to pay for tax cuts for cor­po­ra­tions and the wealthy," says Smith. ​"Look at the changes they made to TANF [Tem­po­rary Assis­tance for Needy Fam­i­lies] when they start­ed requir­ing peo­ple to show income. Stud­ies showed it did not increase hourly wages. It did not make employ­ment any more possible."
The Cen­ter on Bud­get and Pol­i­cy Pri­or­i­ties has report­ed that adding work require­ments to cash assis­tance pro­grams such as TANF has had the effect of mov­ing peo­ple off of ben­e­fits with­out pro­vid­ing oth­er long-term, sta­ble income, leav­ing a ​"sub­stan­tial share of fam­i­lies worse off."
Bill Hig­gins, an advo­cate with Home­less Voic­es for Jus­tice in Maine, points to the impact of work require­ments on the SNAP food assis­tance pro­gram in the state, which led to more than 9,000 peo­ple los­ing ben­e­fits when the require­ments went into effect in 2015. While rates of food inse­cu­ri­ty are falling in most states, in Maine those rates are ris­ing, and cur­rent­ly sit high­er than the nation­al average.
"Peo­ple will absolute­ly lose their ben­e­fits," Hig­gins says of the new Med­ic­aid require­ments. He argues that peo­ple expe­ri­enc­ing home­less­ness need hous­ing and health­care in order to obtain a job. ​"Get­ting peo­ple into a home need to be a first step. There are bar­ri­ers to employ­ment just from being home­less. Tak­ing away a ben­e­fit that helps them stay healthy is not going to help peo­ple get out of homelessness."
Home­less Voic­es for Jus­tice has ral­lied against oth­er pro­posed changes to Med­ic­aid in Maine, includ­ing manda­to­ry pre­mi­ums and co-pays. Hig­gins says the orga­ni­za­tion is com­mit­ted to fight­ing the new work require­ments as well.
Many sup­port­ers of these new work require­ments, includ­ing Kentucky's Repub­li­can Gov­er­nor Matt Bevin, admit that such changes will result in peo­ple los­ing ben­e­fits. Bevin's admin­is­tra­tion esti­mates that near­ly 100,000 peo­ple will lose access to Med­ic­aid in the five years after the require­ment goes into effect. This will­ing­ness to throw peo­ple off of cov­er­age demon­strates that sup­port­ers of the work require­ment are more inter­est­ed in gut­ting Med­ic­aid than in increas­ing either employ­ment or health­care access.
The Trump admin­is­tra­tion, for its part, appears will­ing to ignore stud­ies show­ing that indi­vid­u­als thrown off of Med­ic­aid will have no oth­er access to care, and as a result could face seri­ous ill­ness and pre­ma­ture death. After push­ing through a tax bill that will throw 13 mil­lion Amer­i­cans off of health­care, these new changes to Med­ic­aid are fur­ther proof that the admin­is­tra­tion is will­ing to pur­sue an agen­da of tax cuts for the rich while low-income Amer­i­cans are forced to pay the price.
Meaghan LaSala
orga­nizes for health care jus­tice with the South­ern Maine Work­ers' Cen­ter. Her writ­ing has appeared in Dis­patch, Alter­net, and YES! Magazine.