Mnuchin Is Now Trying to Destroy Airline Workers' Job Protections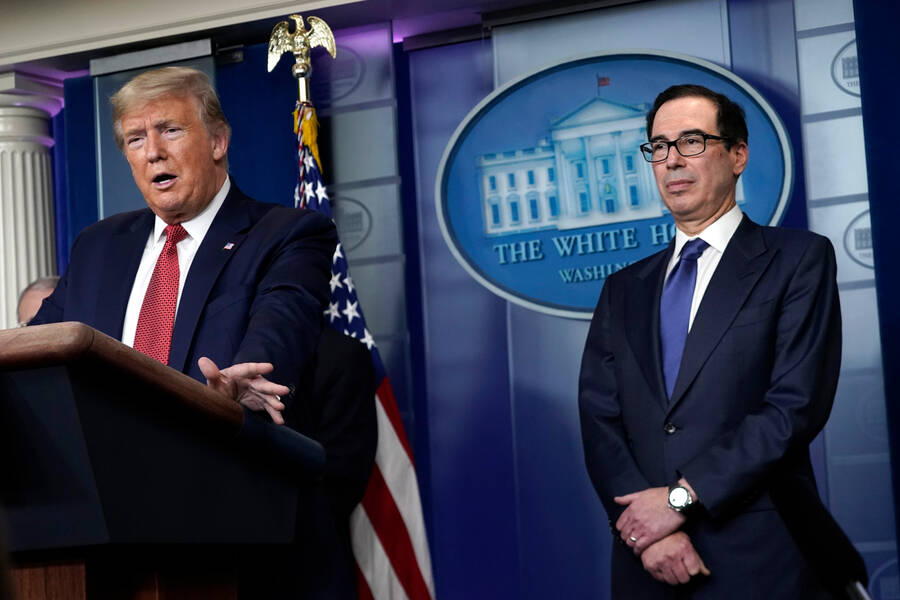 America's avi­a­tion work­ers won a huge vic­to­ry in the CARES Act. In the bill, Con­gress cre­at­ed a grants pro­gram that funds pay­checks and ben­e­fits for two mil­lion hourly work­ers who were going to lose their jobs while planes are ground­ed. This isn't a no-strings-attached cor­po­rate bailout for air­lines. The mon­ey goes direct­ly to flight atten­dants, pilots, mechan­ics, clean­ers, cater­ers, and wheel­chair atten­dants, so that we can stay on the job, on our health­care, and out of the unem­ploy­ment line. It should be a mod­el for how we help all work­ers impact­ed by coronavirus.
This bipar­ti­san agree­ment for work­ers-first relief could go off the rails now. At the eleventh hour, Sen. Pat Toomey (R‑PA) tried to sab­o­tage the pro­gram by requir­ing equi­ty stakes in exchange for the pay­roll grants, i.e. ​"war­rants." A last-minute com­pro­mise to pre­serve relief for work­ers made such war­rants entire­ly dis­cre­tionary. On Capi­tol Hill, that's what's called a poi­son pill. In the bill, Con­gress intend­ed that grants would actu­al­ly be grants. But Trump Trea­sury Sec­re­tary Steven Mnuchin, so far, has shown lit­tle incli­na­tion to respect the will of Con­gress. His pub­lic state­ments imply that in exchange for keep­ing work­ers on the pay­roll for six months, the fed­er­al gov­ern­ment could take stake in up to 40% of the airlines.
Under those con­di­tions, the air­lines will almost assured­ly refuse the grants. And it will cause more job loss­es than our indus­try has ever seen. If Sec­re­tary Mnuchin insists on con­di­tions that air­lines can't agree to, a mil­lion work­ers will get a pink slip in the near term and a total of two mil­lion will feel the pain of an indus­try in col­lapse on Pres­i­dent Trump's watch. That's the oppo­site of what Con­gress intend­ed and what the Pres­i­dent promised. The entire point of the relief bill is to save our jobs, keep peo­ple con­nect­ed to their ben­e­fits, and make sure avi­a­tion is ready to take off the minute we have this virus under control.
The fed­er­al gov­ern­ment can take an equi­ty stake in the air­lines through war­rants on the loans it pro­vides to the com­pa­nies instead. War­rants on loans make sense because when tax­pay­ers step in to sup­port a pri­vate com­pa­ny, the pub­lic deserves a share in the prof­its. That's worked out well in the past. After 9⁄11, when air­lines were reel­ing, the gov­ern­ment took war­rants in exchange for loans, and tax­pay­ers made mon­ey. Even the con­ser­v­a­tive econ­o­mist Dou­glas Holtz-Eakin of the Amer­i­can Action Forum, appoint­ed by Mitch McConnell to the Finan­cial Cri­sis Inquiry Com­mis­sion in 2009, agrees that war­rants on our pay­checks make no sense, say­ing, ​"far from pro­tect­ing work­ers, war­rants are a poten­tial assault on them."
War­rants aren't just destruc­tive to the relief pro­gram, they're unnec­es­sary. The tax­pay­er return on the grants pro­gram is clear: no lay­offs and no fur­loughs. Every dol­lar must go to wages and ben­e­fits. Two mil­lion work­ers keep pay­ing tax­es and stay off unem­ploy­ment. And by keep­ing us on the job and on the tax rolls, our work­force will help keep the avi­a­tion indus­try intact dur­ing this cri­sis, able to pro­vide essen­tial ser­vices dur­ing this nation­al emer­gency, and pre­pared to assist in the country's eco­nom­ic recov­ery as soon as the ​"all clear" sounds. If a mil­lion work­ers are sent home, it could take months to get our indus­try back on its feet, and delay the whole country's eco­nom­ic rebound. We don't want our econ­o­my sit­ting at the gate, wait­ing for a flight crew to arrive.
Final­ly, these war­rants are ter­ri­ble for the fly­ing pub­lic. If you think fly­ing is too expen­sive or too uncom­fort­able now, war­rants will make it much, much worse. Near­ly every­thing con­sumers hate about air trav­el today is a result of past bank­rupt­cies. With­out pay­roll assis­tance that allows work­ers to keep their jobs, we'll see more bank­rupt­cies and con­sol­i­da­tion in the indus­try. That means less com­pe­ti­tion, and more of the things con­sumers hate: small­er seats, few­er ameni­ties, and high­er and high­er fees. The worst thing we can do right now is make demands on the air­lines that will force lay­offs, reduc­tions in ser­vice, less com­pe­ti­tion and high­er fees.
Avi­a­tion work­ers are trained to respond in a cri­sis. We've returned mil­lions of Amer­i­cans home to shel­ter, deliv­ered crit­i­cal med­ical sup­plies to health­care work­ers on the front lines, and helped with the trans­port and care of coro­n­avirus patients. We will pro­tect access to air trav­el for small and rur­al com­mu­ni­ties and keep health­care sup­ply chains open. And we'll be ready to lift off and sup­port our eco­nom­ic recov­ery. But, to do that, we need our jobs. We oppose efforts to sab­o­tage this pro­gram and we'll keep fight­ing for avi­a­tion work­ers and all work­ing people.
Sara Nel­son
is the pres­i­dent of the Asso­ci­a­tion of Flight Atten­dants – Com­mu­ni­ca­tions Work­ers of America.