There's a Clear Way for Congress to Rebuke Trump on Saudi Arabia: End U.S. Support for the Yemen War
The Senate has the chance to stop U.S. complicity in the war in Yemen, while pushing back against Trump's plans for escalated military confrontation throughout the region.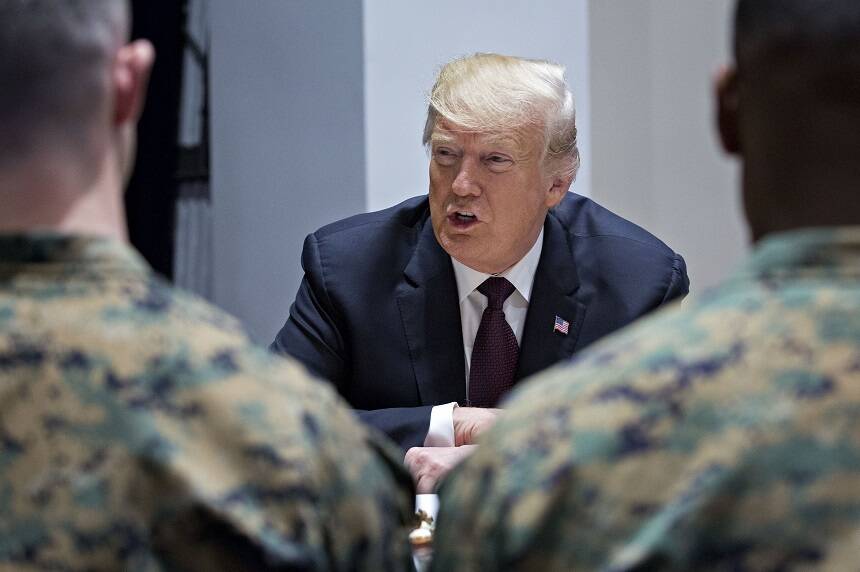 Last week's absurd state­ment from the White House was sup­posed to resolve any lin­ger­ing ques­tions about Wash­ing­ton Post con­trib­u­tor Jamal Khashoggi's mur­der by the Sau­di gov­ern­ment. Instead, the state­ment only made clear that Don­ald Trump will do noth­ing to hold Sau­di Ara­bia or Crown Prince Mohammed bin Salman (MbS) account­able — for his role in the Khashog­gi mur­der or his destruc­tive war in Yemen. For­tu­nate­ly, this week the Sen­ate can impose a real­i­ty check on the U.S. rela­tion­ship with Sau­di Ara­bia by vot­ing to end the shame­ful U.S. role in the Sau­di and Unit­ed Arab Emi­rates (UAE) war in Yemen.
If the bill passes, the Senate could stop the president's plan for more war in the region in its tracks.
Con­gres­sion­al impa­tience with the war in Yemen, which has been grow­ing over the last three years, came to a fever pitch when MbS's role in the mur­der of Khashog­gi became irrefutable. End­ing U.S. involve­ment in the war in Yemen has now become the de fac­to posi­tion of the Demo­c­ra­t­ic Par­ty. Attempts to force votes in the House and Sen­ate have attract­ed bipar­ti­san sup­port in Con­gress and from the Amer­i­can public.
Yet, as indi­cat­ed by his state­ment last week, Trump has dou­bled down on pro­tect­ing MbS because he and his cab­i­net have pinned their entire region­al strat­e­gy on Sau­di Ara­bia (and because of Trump's per­son­al busi­ness ties and inter­ests with Sau­di Ara­bia). Trump's appar­ent pref­er­ence for con­tin­u­ing his march to war with Iran over end­ing the blood­shed and famine in Yemen should expose the bipar­ti­san fail­ures of decades of U.S. for­eign pol­i­cy in the Mid­dle East. Indeed, Iran hawks expressed pub­lic dis­be­lief at the state­ment, but their out­rage rings hol­low. Even though Trump is bla­tant­ly break­ing with past pres­i­den­tial norms by ignor­ing a high-pro­file human rights vio­la­tion, he is mol­li­fy­ing those same hawks by qui­et­ly gear­ing up for a con­flict with Iran with the back­ing of the Gulf States and Israel.
Sim­i­lar­ly, a mea cul­pa from for­mer Oba­ma-era offi­cials on their role in start­ing U.S. sup­port for the war in Yemen — although wel­come — assert­ed that Iran was also to blame because of its role in ​"over­throw­ing the Yemeni gov­ern­ment." A true reck­on­ing with the Oba­ma administration's role in the destruc­tion of Yemen wouldn't have empha­sized Iran's role or the con­di­tion­al nature of U.S. sup­port. Rather, it would acknowl­edge that the U.S. strat­e­gy of prop­ping up of author­i­tar­i­ans through­out the region has brought about the very destruc­tion, mass mur­der, and human rights abus­es that exist today in Yemen and elsewhere.
No doubt the Oba­ma administration's fail­ure to tru­ly sup­port the peo­ple rather than gov­ern­ments dur­ing the Arab Spring was in part due to the influ­ence of Sau­di Ara­bia and the UAE, two coun­tries ter­ri­fied of demo­c­ra­t­ic change on their doorstep and the emer­gence of a polit­i­cal Islam that doesn't rely on the rule of a roy­al fam­i­ly. The Sau­di and UAE's lob­by machines in Wash­ing­ton have been around for years, quash­ing any con­gres­sion­al crit­i­cism, gar­ner­ing sym­pa­thy from jour­nal­ists, and until recent­ly act­ing behind a shroud of K Street lob­by­ing firms. Gulf state influ­ence has only mul­ti­plied under this admin­is­tra­tion through a coor­di­nat­ed front with Israel to push for an end to the Iran nuclear deal and foment a U.S.-led con­fronta­tion with Iran in var­i­ous venues across the region, includ­ing Yemen.
That's why the vote this week on the bipar­ti­san war pow­ers res­o­lu­tion on Yemen (S.J.Res. 54), led by Sen­a­tors Bernie Sanders (I‑VT), Mike Lee (R‑UT), and Chris Mur­phy (D‑CT), is crit­i­cal on so many lev­els. It's impor­tant to cod­i­fy the Defense Department's deci­sion to end U.S. refu­el­ing sup­port for the Sau­di-led coali­tion in Yemen and cut off all remain­ing U.S. mil­i­tary sup­port for the coali­tion, which includes U.S. tar­get­ing assis­tance and intel­li­gence shar­ing. Vot­ing to pass S.J.Res. 54 will also bind the admin­is­tra­tion to its stat­ed posi­tion of seek­ing a nego­ti­at­ed solu­tion to the con­flict and its call for a cease­fire with­in 30 days, and pre­vent the resump­tion of U.S. sup­port should talks or a cease­fire fal­ter. Mov­ing to per­ma­nent­ly end the U.S. mil­i­tary role in the con­flict would not only be a much-need­ed sig­nal to the coali­tion that U.S. sup­port is not uncon­di­tion­al and the war must end now, but also an impor­tant step toward reassert­ing the con­sti­tu­tion­al author­i­ty of Con­gress over war-making.
But this vote could sig­nal some­thing even more impor­tant. If the bill pass­es, the Sen­ate could stop the president's plan for more war in the region in its tracks. It could show that there are lim­its to the tired Wash­ing­ton con­sen­sus that mil­i­tary con­fronta­tion is worth throw­ing Amer­i­can val­ues and inter­na­tion­al norms out the win­dow to main­tain a hand-in-glove rela­tion­ship with bru­tal dic­ta­tors. It may also final­ly sig­nal that, at the very least, Con­gress final­ly rec­og­nizes that back­ing despots who kill dis­si­dents at home and abroad, starve mil­lions of civil­ians for ques­tion­able mil­i­tary advan­tages, and use threats to keep Wash­ing­ton silent is a tried-and-failed strat­e­gy that serves no one but the despots themselves.
This arti­cle first appeared on LobeL­og.
Kate Kiz­er
is the pol­i­cy direc­tor at Win With­out War. She is an expert on U.S. for­eign pol­i­cy and democ­ra­ti­za­tion in the Mid­dle East. Fol­low her on Twit­ter @KateKizer.