The Mass Protests of the Anti-Trump Resistance Are Starting to Win. Here's How.
From the airport protests to work stoppages, Americans are taking dramatic and disruptive actions that have scored real victories.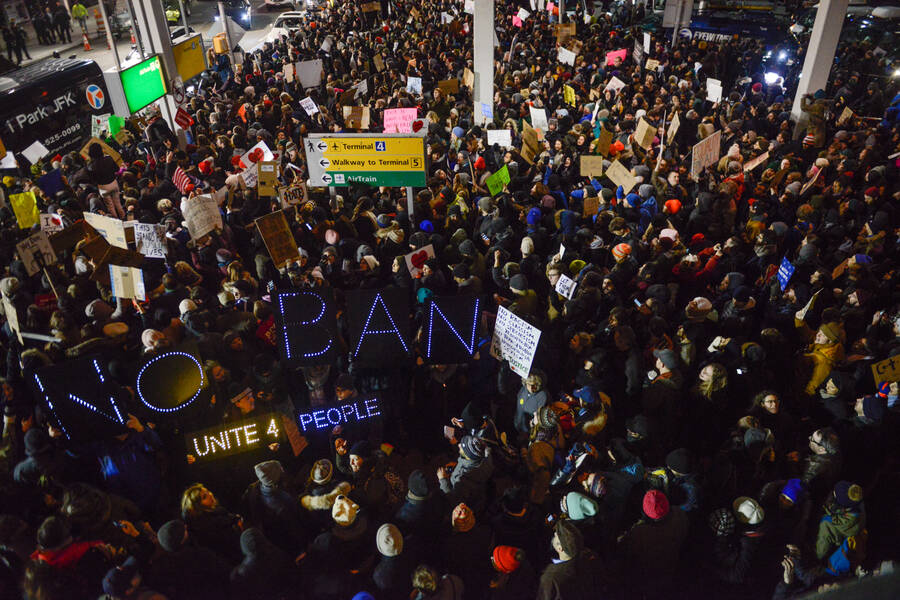 On New Year's Eve, as then President-elect Donald Trump was hosting a cadre of wealthy elites at his Mar-a-Lago estate in Florida, activist and filmmaker Valarie Kaur took to the pulpit at the historic Metropolitan AME Church in Washington, D.C., to offer words of hope in what to many Americans seemed the most hopeless of moments.
Rather than simply asking, "can he do that?" Americans are more and more starting to ask themselves, "can we do that?"
Just two months before, the country had witnessed millions upon millions of its citizens vote for an openly xenophobic and sexist bigot who ran as an authoritarian strongman, vaulting him to become the next U.S. president.
But Kaur, whose Sikh identity makes her more vulnerable than most to Trump's reactionary policies, was not there to mourn or to wallow. In a speech that has now been viewed more than four million times on Facebook, she instead made the case that this is a moment to seize — an opportunity for transformation.
"What if this darkness is not the darkness of the tomb, but the darkness of the womb? What if our America is not dead but a country that is waiting to be born?" Kaur asked.
Nearly a month into Trump's presidency, it's not a stretch to say that we may be witnessing a transformation, one being made in the streets and among the grassroots of America.
The nationwide Women's March on January 21 was likely the largest demonstration in U.S. history. Since, major cities have been overtaken by daily protests against Trump and the GOP's agenda.
More mass marches are planned for the coming months, including a March for Science on April 22, the People's Climate March on April 29 and an Immigrants' March on May 6. Members of Congress, Republican and Democrat, have had their phone lines, emails, offices and town hall meetings flooded by incensed constituents.
Dozens of grassroots political groups have formed, including the fast-growing Indivisible, focused on citizen lobbying of lawmakers, and Swing Left, founded to support progressive candidates running in 2018. Existing left organizations have seen their memberships swell, perhaps most remarkably the Democratic Socialists of America.
Divestment campaigns such as those targeting investors in the Dakota Access Pipeline are gaining steam, using direct economic pressure to influence policy.
Despite the lack of singular leadership, a protest movement has rapidly developed, one unseen in recent history. It's showing no signs of slowing — and scoring real victories.
First strikes
One of the most controversial policies of the nascent Trump administration has been the travel ban placed on immigrants and refugees from seven Muslim-majority countries. The protests at airports around the country that followed the announcement of the ban had an immediate effect, pushing the opposition to the front of nightly newscasts, directing massive donations to legal advocacy groups like the ACLU and showing the court system that there was vocal public resistance to the order.
On February 9, the Ninth Circuit Court of Appeals upheld a stay on the order, canceling its effects. The administration has suggested it may take its case to the Supreme Court, where it's unclear what action the justices would take. And Trump has claimed he may soon introduce a new similar order. But for now, the ban has been overturned.
Many other tangible wins have been scored by the mass resistance to Trump and the GOP majority's plans. They include dropping an effort to overturn congressional ethics rules, killing plans to sell off over three million acres of federal lands, the withdrawal from consideration for labor secretary by fast food CEO and notorious wage thief Andy Puzder, and much more.
But the resistance to Trump's agenda hasn't just reversed plans that were already in place. It has also helped to prevent policies that the administration otherwise would have likely pushed through.
Foremost on this front is the plan to repeal the Affordable Care Act, which Trump promised to take care of on ​"Day 1," when on the campaign trail. Instead, repeal efforts have been log jammed with legislators facing intense backlash from their constituents furious over the prospect of losing their care.
There are also the multiple draft executive orders that have been floated and leaked to the press, but not signed. These include further crackdowns on undocumented immigrants, including DREAMERs, and a dramatic rollback of rights for the LGBTQ community. Of course, Trump could still move forward with these orders, but the fact that they have been stalled, if not prevented altogether, is a testament to the power of the growing pushback against such repressive measures.
The new dissent
What has been remarkable about the protests that have engulfed the country over the past month isn't just the scope or even the regularity, but the creativity and novelty of tactics.
The airport protests brought the human crisis of the Muslim ban straight to the points of entry into the country, transforming what for many had previously been a benign transportation center into a seething political space. And the concurrent taxi driver strike at JFK airport had an immediate effect, showing solidarity through a widespread work stoppage that couldn't be ignored.
Yemeni bodega workers in New York went on strike across the city this month, with as many as 5,000 people amassing at Brooklyn's Borough Hall to protest Trump's immigration policies. And on Thursday, businesses nationwide shut down and thousands demonstrated as part of the ​"Day Without Immigrants" action, showing the economic power of America's immigrant population. In both cases, shop owners left messages on their doors explaining to customers why they weren't at work, connecting their protest directly with daily commerce.
Students have also played a major role, walking out of classes and taking to the streets as a show of force against the administration's policies.
These are but a few examples of the unorthodox actions that have popped up in recent weeks, and many more are set to come. On March 8, a national Women's Strike is being planned, which has gained the support of the organizers of the Women's March and has been previewed in outlets ranging from New York magazine to Teen Vogue.
These types of protests have the power to capture the imagination of those not previously involved in political organizing and can inspire them to act. As dissent takes new forms and moves into new spheres of people's lives, it's capable of spreading in ways previously unseen.
As the scholar and social movement historian Frances Fox Piven explains in her book Challenging Authority: How Ordinary People Change America:
Ordinary people exercise power in American politics mainly at those extraordinary moments when they rise up in anger and hope, defy the rules that ordinarily govern their daily lives, and, by doing so, disrupt the workings of the institutions in which they are enmeshed.
Whether at airports, schools, places of worship, workplaces or city centers, this may be what we are witnessing now.
Beyond mass action
Of course, the immediate and long-term challenges for those on the left remain vast. This is only the first month of a long four-year slog. On the horizon loom even more extreme measures to step up deportations, further criminalize Muslims, and gut climate regulations, along with a full-blown Republican-led assault on all the progressive gains made in recent years.
And so far this new protest movement has been primarily oppositional, responding to attacks posed by the new government. Any program to win power must also set out a bold vision of a different kind of society, one focused on the needs of working people that serves as a true alternative to the type of racist and corporate-dominated agenda currently being carried out.
If we are to see a ​"new birth" of this country, it will require not just a common enemy, but common principles and objectives that will advance equality and freedom, guiding the current upsurge of activism from marching in the streets towards implementing progressive policy that cuts to the heart of a fundamentally unequal economic and political system.
Yet, it is becoming clear that the shock of seeing Trump elected president — and shake the foundations of our democracy — has quickly moved beyond outrage into mass, coordinated protest.
Rather than simply asking, ​"can he do that?" Americans are more and more starting to ask themselves, ​"can we do that?" This is the form of inventive thinking, awakened by resistance to a demagogic leader, that can begin to chart a new direction. The next steps are up to us.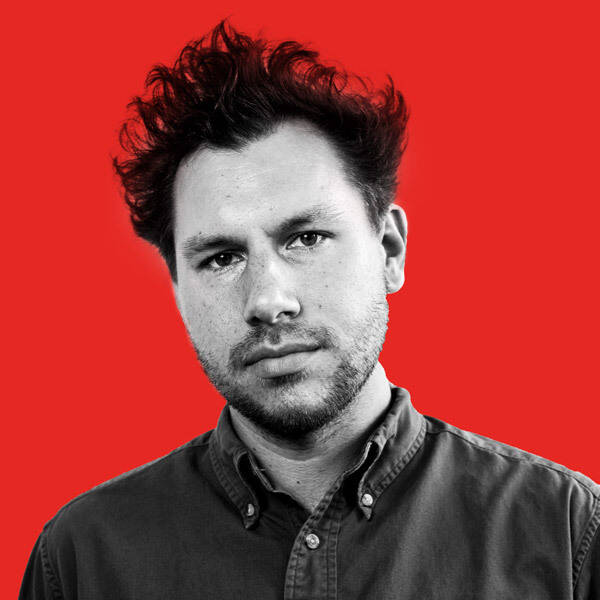 Miles Kampf-Lassin, a graduate of New York University's Gallatin School in Deliberative Democracy and Globalization, is a Web Editor at In These Times. Follow him on Twitter @MilesKLassin