The Mass Protests of the Anti-Trump Resistance Are Starting to Win. Here's How.
From the airport protests to work stoppages, Americans are taking dramatic and disruptive actions that have scored real victories.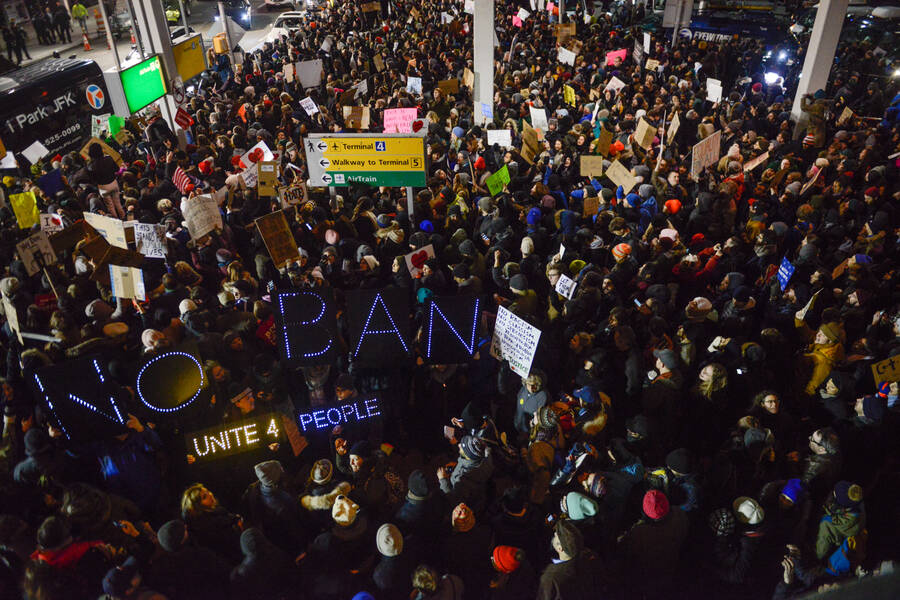 On New Year's Eve, as then Pres­i­dent-elect Don­ald Trump was host­ing a cadre of wealthy elites at his Mar-a-Lago estate in Flori­da, activist and film­mak­er Valar­ie Kaur took to the pul­pit at the his­toric Met­ro­pol­i­tan AME Church in Wash­ing­ton, D.C., to offer words of hope in what to many Amer­i­cans seemed the most hope­less of moments.
Rather than simply asking, "can he do that?" Americans are more and more starting to ask themselves, "can we do that?"
Just two months before, the coun­try had wit­nessed mil­lions upon mil­lions of its cit­i­zens vote for an open­ly xeno­pho­bic and sex­ist big­ot who ran as an author­i­tar­i­an strong­man, vault­ing him to become the next U.S. president.
But Kaur, whose Sikh iden­ti­ty makes her more vul­ner­a­ble than most to Trump's reac­tionary poli­cies, was not there to mourn or to wal­low. In a speech that has now been viewed more than four mil­lion times on Face­book, she instead made the case that this is a moment to seize — an oppor­tu­ni­ty for transformation.
"What if this dark­ness is not the dark­ness of the tomb, but the dark­ness of the womb? What if our Amer­i­ca is not dead but a coun­try that is wait­ing to be born?" Kaur asked.
Near­ly a month into Trump's pres­i­den­cy, it's not a stretch to say that we may be wit­ness­ing a trans­for­ma­tion, one being made in the streets and among the grass­roots of America.
The nation­wide Women's March on Jan­u­ary 21 was like­ly the largest demon­stra­tion in U.S. his­to­ry. Since, major cities have been over­tak­en by dai­ly protests against Trump and the GOP's agenda.
More mass march­es are planned for the com­ing months, includ­ing a March for Sci­ence on April 22, the People's Cli­mate March on April 29 and an Immi­grants' March on May 6. Mem­bers of Con­gress, Repub­li­can and Demo­c­rat, have had their phone lines, emails, offices and town hall meet­ings flood­ed by incensed constituents.
Dozens of grass­roots polit­i­cal groups have formed, includ­ing the fast-grow­ing Indi­vis­i­ble, focused on cit­i­zen lob­by­ing of law­mak­ers, and Swing Left, found­ed to sup­port pro­gres­sive can­di­dates run­ning in 2018. Exist­ing left orga­ni­za­tions have seen their mem­ber­ships swell, per­haps most remark­ably the Demo­c­ra­t­ic Social­ists of Amer­i­ca.
Divest­ment cam­paigns such as those tar­get­ing investors in the Dako­ta Access Pipeline are gain­ing steam, using direct eco­nom­ic pres­sure to influ­ence policy.
Despite the lack of sin­gu­lar lead­er­ship, a protest move­ment has rapid­ly devel­oped, one unseen in recent his­to­ry. It's show­ing no signs of slow­ing — and scor­ing real victories.
First strikes
One of the most con­tro­ver­sial poli­cies of the nascent Trump admin­is­tra­tion has been the trav­el ban placed on immi­grants and refugees from sev­en Mus­lim-major­i­ty coun­tries. The protests at air­ports around the coun­try that fol­lowed the announce­ment of the ban had an imme­di­ate effect, push­ing the oppo­si­tion to the front of night­ly news­casts, direct­ing mas­sive dona­tions to legal advo­ca­cy groups like the ACLU and show­ing the court sys­tem that there was vocal pub­lic resis­tance to the order.
On Feb­ru­ary 9, the Ninth Cir­cuit Court of Appeals upheld a stay on the order, can­cel­ing its effects. The admin­is­tra­tion has sug­gest­ed it may take its case to the Supreme Court, where it's unclear what action the jus­tices would take. And Trump has claimed he may soon intro­duce a new sim­i­lar order. But for now, the ban has been overturned.
Many oth­er tan­gi­ble wins have been scored by the mass resis­tance to Trump and the GOP majority's plans. They include drop­ping an effort to over­turn con­gres­sion­al ethics rules, killing plans to sell off over three mil­lion acres of fed­er­al lands, the with­draw­al from con­sid­er­a­tion for labor sec­re­tary by fast food CEO and noto­ri­ous wage thief Andy Puzder, and much more.
But the resis­tance to Trump's agen­da hasn't just reversed plans that were already in place. It has also helped to pre­vent poli­cies that the admin­is­tra­tion oth­er­wise would have like­ly pushed through.
Fore­most on this front is the plan to repeal the Afford­able Care Act, which Trump promised to take care of on ​"Day 1," when on the cam­paign trail. Instead, repeal efforts have been log jammed with leg­is­la­tors fac­ing intense back­lash from their con­stituents furi­ous over the prospect of los­ing their care.
There are also the mul­ti­ple draft exec­u­tive orders that have been float­ed and leaked to the press, but not signed. These include fur­ther crack­downs on undoc­u­ment­ed immi­grants, includ­ing DREAM­ERs, and a dra­mat­ic roll­back of rights for the LGBTQ com­mu­ni­ty. Of course, Trump could still move for­ward with these orders, but the fact that they have been stalled, if not pre­vent­ed alto­geth­er, is a tes­ta­ment to the pow­er of the grow­ing push­back against such repres­sive measures.
The new dissent
What has been remark­able about the protests that have engulfed the coun­try over the past month isn't just the scope or even the reg­u­lar­i­ty, but the cre­ativ­i­ty and nov­el­ty of tactics.
The air­port protests brought the human cri­sis of the Mus­lim ban straight to the points of entry into the coun­try, trans­form­ing what for many had pre­vi­ous­ly been a benign trans­porta­tion cen­ter into a seething polit­i­cal space. And the con­cur­rent taxi dri­ver strike at JFK air­port had an imme­di­ate effect, show­ing sol­i­dar­i­ty through a wide­spread work stop­page that couldn't be ignored.
Yemeni bode­ga work­ers in New York went on strike across the city this month, with as many as 5,000 peo­ple amass­ing at Brooklyn's Bor­ough Hall to protest Trump's immi­gra­tion poli­cies. And on Thurs­day, busi­ness­es nation­wide shut down and thou­sands demon­strat­ed as part of the ​"Day With­out Immi­grants" action, show­ing the eco­nom­ic pow­er of America's immi­grant pop­u­la­tion. In both cas­es, shop own­ers left mes­sages on their doors explain­ing to cus­tomers why they weren't at work, con­nect­ing their protest direct­ly with dai­ly commerce.
Stu­dents have also played a major role, walk­ing out of class­es and tak­ing to the streets as a show of force against the administration's policies.
These are but a few exam­ples of the unortho­dox actions that have popped up in recent weeks, and many more are set to come. On March 8, a nation­al Women's Strike is being planned, which has gained the sup­port of the orga­niz­ers of the Women's March and has been pre­viewed in out­lets rang­ing from New York mag­a­zine to Teen Vogue.
These types of protests have the pow­er to cap­ture the imag­i­na­tion of those not pre­vi­ous­ly involved in polit­i­cal orga­niz­ing and can inspire them to act. As dis­sent takes new forms and moves into new spheres of people's lives, it's capa­ble of spread­ing in ways pre­vi­ous­ly unseen.
As the schol­ar and social move­ment his­to­ri­an Frances Fox Piv­en explains in her book Chal­leng­ing Author­i­ty: How Ordi­nary Peo­ple Change Amer­i­ca:
Ordi­nary peo­ple exer­cise pow­er in Amer­i­can pol­i­tics main­ly at those extra­or­di­nary moments when they rise up in anger and hope, defy the rules that ordi­nar­i­ly gov­ern their dai­ly lives, and, by doing so, dis­rupt the work­ings of the insti­tu­tions in which they are enmeshed.
Whether at air­ports, schools, places of wor­ship, work­places or city cen­ters, this may be what we are wit­ness­ing now.
Beyond mass action
Of course, the imme­di­ate and long-term chal­lenges for those on the left remain vast. This is only the first month of a long four-year slog. On the hori­zon loom even more extreme mea­sures to step up depor­ta­tions, fur­ther crim­i­nal­ize Mus­lims, and gut cli­mate reg­u­la­tions, along with a full-blown Repub­li­can-led assault on all the pro­gres­sive gains made in recent years.
And so far this new protest move­ment has been pri­mar­i­ly oppo­si­tion­al, respond­ing to attacks posed by the new gov­ern­ment. Any pro­gram to win pow­er must also set out a bold vision of a dif­fer­ent kind of soci­ety, one focused on the needs of work­ing peo­ple that serves as a true alter­na­tive to the type of racist and cor­po­rate-dom­i­nat­ed agen­da cur­rent­ly being car­ried out.
If we are to see a ​"new birth" of this coun­try, it will require not just a com­mon ene­my, but com­mon prin­ci­ples and objec­tives that will advance equal­i­ty and free­dom, guid­ing the cur­rent upsurge of activism from march­ing in the streets towards imple­ment­ing pro­gres­sive pol­i­cy that cuts to the heart of a fun­da­men­tal­ly unequal eco­nom­ic and polit­i­cal system.
Yet, it is becom­ing clear that the shock of see­ing Trump elect­ed pres­i­dent — and shake the foun­da­tions of our democ­ra­cy — has quick­ly moved beyond out­rage into mass, coor­di­nat­ed protest.
Rather than sim­ply ask­ing, ​"can he do that?" Amer­i­cans are more and more start­ing to ask them­selves, ​"can we do that?" This is the form of inven­tive think­ing, awak­ened by resis­tance to a dem­a­gog­ic leader, that can begin to chart a new direc­tion. The next steps are up to us.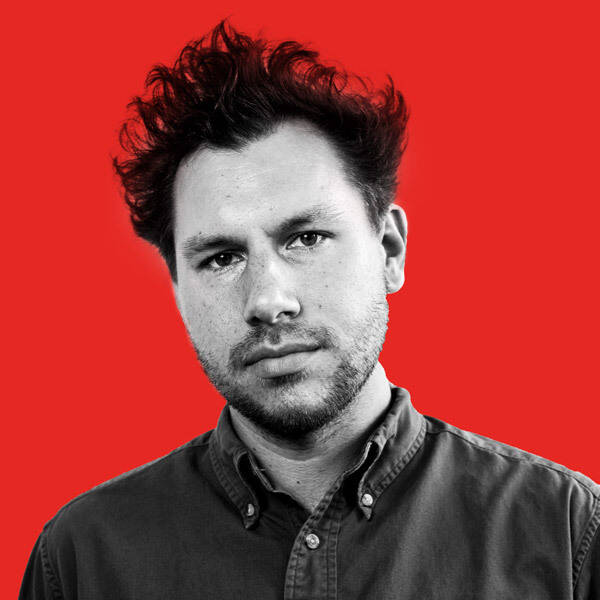 Miles Kampf-Lassin, a grad­u­ate of New York Uni­ver­si­ty's Gal­latin School in Delib­er­a­tive Democ­ra­cy and Glob­al­iza­tion, is a Web Edi­tor at In These Times. Fol­low him on Twit­ter @MilesKLassin