Trump's Visit Shows the U.S. Calls the Shots in South Korea. But Its People Intend To Resist.
It is up to the peace movement to rein in Trump on North Korea.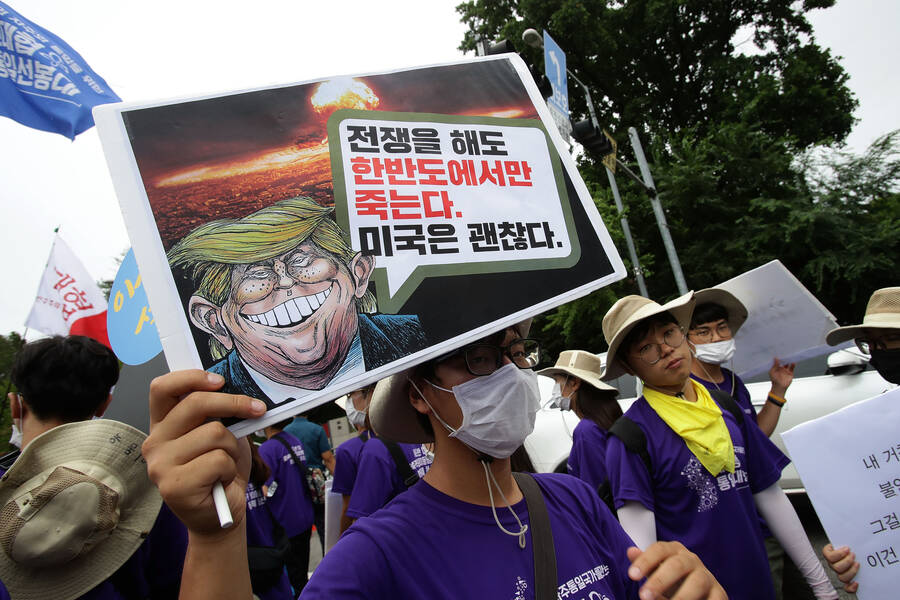 "Our goal is not war," U.S. Sec­re­tary of Defense James Mat­tis con­veyed across the Kore­an De-Mil­i­ta­rized Zone (DMZ) ahead of Pres­i­dent Trump's vis­it to Asia. That was a wise state­ment, giv­en that a U.S. war with North Korea would cause up to 300,000 civil­ian casu­al­ties in the first few days, accord­ing to a recent Con­gres­sion­al Research Ser­vice (CRS) report. And were nuclear weapons to be used, the CRS esti­mates 25 mil­lion peo­ple would be impacted.
Trump's visit to Pyongtaek is an opportunity to shine a light on the unequal relationship between Washington and Seoul.
As if that weren't omi­nous enough, while Pres­i­dent Don­ald Trump flew to Japan, the Pen­ta­gon sent a let­ter to Con­gress­man Ted Lieu clar­i­fy­ing that a war with North Korea would involve a ground inva­sion in order to locate and secure North Korea's nuclear reac­tors hid­den and buried deep through­out the coun­try. This was a clear sig­nal to Trump from the U.S. mil­i­tary: A war with North Korea would be dev­as­tat­ing and risk embroil­ing the entire region in World War III, as Repub­li­can Sen. Bob Cork­er has warned.
It's clear that many through­out the U.S. gov­ern­ment and mil­i­tary are try­ing to mit­i­gate the President's reck­less­ness as he trav­els to South Korea, where thou­sands will wel­come him with protests.
Anoth­er smart move was to pre­vent Trump from peer­ing across the De-Mil­i­ta­rized Zone (DMZ), as is cus­tom­ary for vis­it­ing U.S. pres­i­dents. The White House down­played this deci­sion, explain­ing that the DMZ has become ​"cliché," and instead Trump would vis­it Camp Humphreys, which ​"would make more sense in terms of the president's message."
I've stood on both sides of the DMZ. In 2015, I crossed the DMZ, among the most for­ti­fied bor­ders in the world, with 30 women peace­mak­ers, and there is noth­ing banal about it. With 1.2 mil­lion land­mines strewn across the 2.5‑mile-wide tract of land that extends from the west to east coast of the Kore­an Penin­su­la, armed North and South Kore­an sol­diers stand ready for war at a moment's notice. The barbed-wire fenc­ing lin­ing the DMZ is the bar­ri­er sep­a­rat­ing mil­lions of Kore­an fam­i­lies — and the site of Korea's divi­sion by Cold War pow­ers. Glo­ria Steinem, who crossed the DMZ with me, says, ​"There is no oth­er strip of land more sym­bol­ic of long-term division."
Yet, I could­n't agree more with the White House that Trump's vis­it to the U.S. Army Gar­ri­son Camp Humphreys in Pyong­taek, 40 miles south of Seoul, is more fitting.
More than a decade ago, I stood on the fer­tile land that Kore­an rice farm­ers tilled for gen­er­a­tions, which has since become part of the Camp Humphreys U.S. Army base. I had trav­eled to join in sol­i­dar­i­ty with the res­i­dents of Daechuri and Doduri, who had waged a fierce resis­tance to the expan­sion of the U.S. mil­i­tary base. Accord­ing to inves­tiga­tive jour­nal­ist Jon Let­man, the expan­sion of Camp Humphreys was part of a major realign­ment and con­sol­i­da­tion of U.S. bases, which involved ​"mov­ing tens of thou­sands of troops, their fam­i­lies and civil­ian con­trac­tors to U.S. Army Gar­ri­son Humphreys."
The Unit­ed States Forces Korea, which still main­tains near­ly 30,000 U.S. troops in South Korea, had announced in 2002 that it would triple Camp Humphreys from around 1,000 acres to more than 3,400 acres, mak­ing it the largest for­eign mil­i­tary base in the world. Iron­i­cal­ly, the expan­sion of the base in Pyong­taek took place dur­ing the height of South Korea's Sun­shine Pol­i­cy with the North. Wash­ing­ton saw its role on the Kore­an Penin­su­la shift from pri­mar­i­ly focus­ing on defend­ing South Korea to using bases there for train­ing and for­ward deploy­ment to oth­er conflicts.
Trump's vis­it to Pyong­taek is an oppor­tu­ni­ty to shine a light on the unequal rela­tion­ship between Wash­ing­ton and Seoul. It is also an oppor­tu­ni­ty to expose the Moon Jae-in administration's fail­ure to reject Trump's hard­line stance towards North Korea, even at the cost of South Korea's own security.
Vis­it­ing Pyong­taek was a defin­ing moment in my under­stand­ing of the ongo­ing costs of the unre­solved Kore­an War. I still vivid­ly recall greet­ing the vil­lagers with a del­e­ga­tion of U.S. peace activists, includ­ing Medea Ben­jamin and Cindy Shee­han. In the dark of night, we had crossed two mil­i­tary check­points to final­ly reach the vil­lagers in a barn they had trans­formed into a meet­ing place where they held their can­dle­light vig­ils and remind­ed them­selves night­ly why they were resist­ing. The Roh Moo Hyun admin­is­tra­tion want­ed to sup­press inter­na­tion­al atten­tion to the resis­tance against the U.S. base expan­sion, but we man­aged to get in.
As I looked across at the vil­lagers' browned and weath­ered faces, I apol­o­gized to them in my bro­ken Kore­an that their homes, the food they grew to feed their fam­i­lies and their ancient com­mu­ni­ty was being destroyed in the name of my government's nation­al secu­ri­ty. Kore­an grand­moth­ers, in their sev­en­ties and eight­ies, had tied them­selves to the roofs of their homes to pre­vent bull­doz­ers from demol­ish­ing them. They gath­ered night­ly in this barn which was dec­o­rat­ed with art­work their grand­chil­dren drew of their school and com­mu­ni­ty cen­ter which became piles of rubble.
After wag­ing a valiant, non-vio­lent cam­paign for more than five years, they lost. So did the vil­lagers of Gang­jeong on Jeju Island, off the coast of the Kore­an Penin­su­la, who fought for years to block the con­struc­tion of a naval base which now docks Aegis destroy­er ships con­nect­ed to the U.S. mis­sile defense system.
Res­i­dents of Seongju, a city 135 miles south of Seoul, just lost an intense bat­tle to pre­vent the instal­la­tion of the U.S. Ter­mi­nal High Alti­tude Area Defense (THAAD) mis­sile defense sys­tem, which the Trump admin­is­tra­tion forced through dur­ing the polit­i­cal vac­u­um before the elec­tion of the lib­er­al Pres­i­dent Moon. Although most Seongju res­i­dents have his­tor­i­cal­ly vot­ed along con­ser­v­a­tive lines, they now hold up signs say­ing, ​"Hey U.S. — are you friends or occu­pa­tion troops?"
Seongju res­i­dents see them­selves caught in the cross­fire between North and South Korea — and between the Unit­ed States and Chi­na. ​"The deploy­ment of THAAD will increase ten­sions between South and North Korea and make the uni­fi­ca­tion of Korea more dif­fi­cult," Ham Soo-yeon, a res­i­dent of Seongju, told In These Times.
Giv­en that more than 75 per­cent of South Kore­ans think Trump is dan­ger­ous, accord­ing to a recent Pew sur­vey, the U.S. president's vis­it to Pyong­taek is a sober­ing reminder of Seoul's client rela­tion­ship with Wash­ing­ton, includ­ing not hav­ing wartime oper­a­tional con­trol over its own mil­i­tary. Eighty per­cent of South Kore­ans want inter-Kore­an rec­on­cil­i­a­tion, but Pres­i­dent Moon can't improve inter-Kore­an rela­tions by blind­ly fol­low­ing Washington's max­i­mum pres­sure, rang­ing from aggres­sive mil­i­tary drills rehears­ing decap­i­ta­tion strikes to fur­ther iso­lat­ing Pyongyang with even more sanc­tions. Moon has an over­whelm­ing man­date from the can­dle­light rev­o­lu­tion that reject­ed his predecessor's hawk­ish poli­cies towards North Korea and swept him into power.
There are some signs that Moon is begin­ning to push back against the Unit­ed States. Seoul recent­ly thawed rela­tions with Bei­jing, which had chilled over the U.S. THAAD deploy­ment, by refus­ing addi­tion­al launch­ers from the Unit­ed States. Moon also informed Mat­tis that South Korea wants the return of wartime oper­a­tional con­trol from Wash­ing­ton. In a speech last week, Moon affirmed that mil­i­tary action against North Korea ​"shall not be tak­en" with­out Seoul's consent.
Trump's vis­it rais­es ques­tions about the soul of South Korea. Will Seoul be a will­ing ser­vant to U.S. designs to fur­ther alien­ate its north­ern half, or pur­sue an inde­pen­dent pol­i­cy towards rec­on­cil­i­a­tion? This remains yet to be seen.
In the mean­time, until Pres­i­dent Moon is will­ing to press ahead with a new pol­i­cy, includ­ing his ear­li­er promise to sign a Peace Treaty to for­mal­ly end the Kore­an War, it's up to the anti-war and peace move­ments to rein in Trump's war on Korea. Today, hun­dreds of major U.S., South Kore­an and Japan­ese civ­il soci­ety orga­ni­za­tions released a joint state­ment call­ing upon their gov­ern­ments to avert war with North Korea through poli­cies that could lead to region­al peace. Fol­low­ing an online teach-in Women Cross DMZ con­duct­ed on Octo­ber 25 with lead­ing peace activists from Japan and South Korea, I was among a hand­ful of peace activists who wrote the state­ment ahead of Trump's vis­it to Asia.
The strug­gle to end the Kore­an War is about avert­ing a poten­tial­ly dev­as­tat­ing con­flict that would imper­il mil­lions of lives and engulf the region into a nuclear war. It's about allow­ing the North and South Kore­an gov­ern­ments and peo­ple to over­come divi­sions, peace­ful­ly co-exist and even­tu­al­ly reuni­fy. At stake are fun­da­men­tal ques­tions about how we define secu­ri­ty in this ever-ter­ri­fy­ing era of cli­mate-change-induced nat­ur­al dis­as­ters, includ­ing mas­sive flood­ing and fires.
This strug­gle for human­i­ty, for the eco­log­i­cal health of our plan­et, and the preser­va­tion of the things that give our lives mean­ing is embod­ied in the words of the vil­lage leader from Pyong­taek, Mr. Kim Ji-Tae. Dur­ing the height of the villager's resis­tance, when asked by the South Kore­an Min­istry of Defense how much he would be will­ing to sell his land for the U.S. base expan­sion, Kim replied, ​"The price must include every grain of rice grown and har­vest­ed here. It must include all of our efforts to grow them, as well as our whole life here, includ­ing our sighs, tears and laugh­ter. The price must include the stars, which have wit­nessed our grief and joy, and the wind, which has dried our tears."
Chris­tine Ahn
is a pol­i­cy ana­lyst with exper­tise in Korea, glob­al­iza­tion, mil­i­tarism, women's rights and phil­an­thropy. She is co-founder of the Korea Pol­i­cy Insti­tute (KPI), Korea Peace Net­work, and Kore­an Amer­i­cans for Fair Trade. She is the glob­al coor­di­na­tor for Women Cross DMZ.