Trump's Jobs Claims in His State of the Union Speech Simply Don't Add Up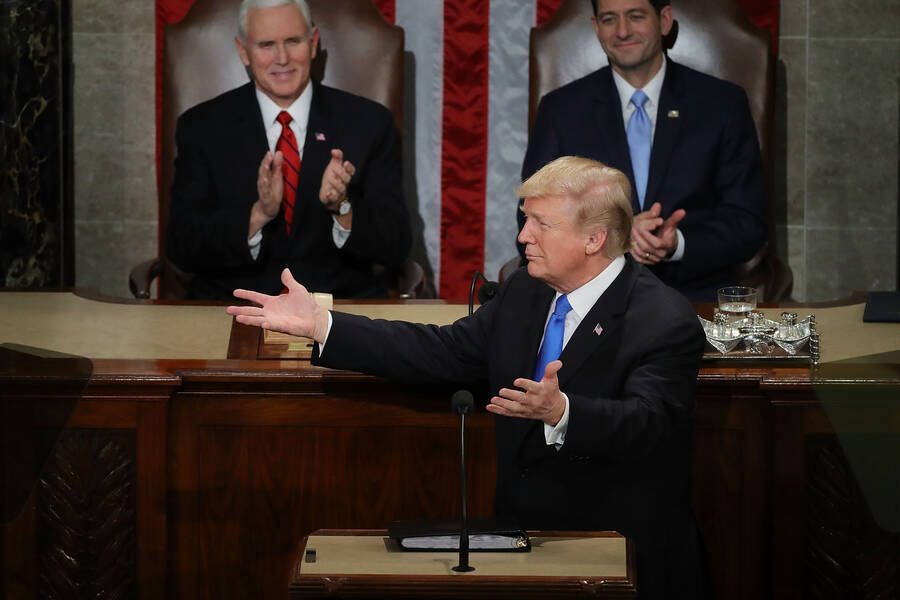 In his first offi­cial State of the Union address to Con­gress on Tues­day, Pres­i­dent Trump boast­ed about a ​"new tide of opti­mism" that ​"was already sweep­ing across our land" when he was elect­ed. One of the suc­cess­es that he was eager to claim is adding more jobs to the economy.
"Since the elec­tion we have cre­at­ed 2.4 mil­lion new jobs, includ­ing 200,000 new jobs in man­u­fac­tur­ing alone," he bragged. ​"Tremen­dous numbers."
Lat­er on, he claimed cred­it for com­pa­nies ​"build­ing and expand­ing plants" in this coun­try, ​"some­thing we haven't seen for decades."
"This is all news Amer­i­cans are unac­cus­tomed to hear­ing," he added. ​"For many years, com­pa­nies and jobs were only leav­ing us. But now they are roar­ing back, they're com­ing back, they want to be where the action is, they want to be in the Unit­ed States of Amer­i­ca." Appar­ent­ly, his very pres­ence in the Oval Office is to thank.
But while Trump has over­seen steady job growth, it has by no means been record-break­ing. It's hard to see how Trump could take cred­it for jobs added to the econ­o­my before he laid foot in the White House, so it's more accu­rate to say that the econ­o­my added 2.1 mil­lion jobs over the course of 2017, accord­ing to data from the Bureau of Labor Sta­tis­tics. Even so, in Pres­i­dent Obama's last year in office the econ­o­my saw the cre­ation of 2.2 mil­lion jobs. In fact, 2017 rep­re­sent­ed the low­est lev­el of job growth in sev­en years.
It's also not clear that Trump could be cred­it­ed with help­ing cre­ate many of these new jobs any­way. So far, his major pol­i­cy achieve­ment has been sign­ing the Repub­li­can tax bill into law at the end of Decem­ber 2017, what he dubi­ous­ly called dur­ing his speech ​"the biggest tax cuts and reforms in Amer­i­can his­to­ry." While Repub­li­cans argue that the mon­ey saved by large cor­po­ra­tions will be used to make invest­ments in their work­forces through cre­at­ing jobs and rais­ing pay, it's far too ear­ly to find out whether that will actu­al­ly hap­pen. Instead, many econ­o­mists expect cor­po­rate exec­u­tives to use the sav­ings to reward them­selves and their share­hold­ers. A num­ber of com­pa­nies have already said as much about their plans.
Trump has repeat­ed­ly boast­ed of cre­at­ing or sav­ing mil­lions of jobs sin­gle-hand­ed­ly by cajol­ing cor­po­rate exec­u­tives or strik­ing deals with them. In late 2016, before he took office, Trump flew to Indi­anapo­lis, Ind. to vis­it a Car­ri­er plant that was plan­ning to move jobs to Mex­i­co. Trump and Vice Pres­i­dent Mike Pence, the for­mer gov­er­nor of Indi­ana, promised the com­pa­ny mil­lions in state tax breaks along with few­er fed­er­al reg­u­la­tions and tax­es. In cel­e­brat­ing the ​"deal," Trump and Pence bragged that they had saved Amer­i­can jobs at the fac­to­ry from being moved overseas.
But hun­dreds of work­ers at that plant did, in fact, lose their jobs. Only 730 Car­ri­er jobs were pre­served in the plant where Trump did his pho­to op, while about 1,250 were lost. The last employ­ees to be hit by the lay­offs clocked in for their final shifts just two-and-a-half weeks ago.
"We were hop­ing some­one would inter­vene, but appar­ent­ly it nev­er hap­pened," Duane Oreskovic, one of the last Car­ri­er employ­ees to lose his job, pre­vi­ous­ly told In These Times. Frank Sta­ples, anoth­er Car­ri­er work­er who recent­ly lost his job, put it this way: ​"I would say to Trump, ​'You made a deci­sion and ran on a cam­paign promise that you were going to help the Amer­i­can work­er. Stand up and do it.' "
Trump has made repeat­ed promis­es about job cre­ation, but most of those pledges have sim­i­lar­ly van­ished into thin air over his first year in office. ProP­ub­li­ca recent­ly found that while Trump has claimed to have saved or cre­at­ed near­ly 2.4 mil­lion posi­tions, only 206,000 — or less than 9 per­cent of what he's tried to take cred­it for — have actu­al­ly mate­ri­al­ized. Just 136,000 of those were brand new jobs, not just warmed over press releas­es about jobs that had been pre­vi­ous­ly planned. In total, ProP­ub­li­ca found that Trump could only be direct­ly cred­it­ed with cre­at­ing 63,000.
Pres­i­dents don't have much pow­er, gen­er­al­ly speak­ing, to sig­nif­i­cant­ly change the course of the econ­o­my them­selves. The fac­tors that do mat­ter are large­ly out­side of their hands, such as pro­duc­tiv­i­ty growth or oil spikes. But Trump still wants per­son­al cred­it for his­to­ry shat­ter­ing job cre­ation. The facts sim­ply don't back him up.
Bryce Covert
, a con­tribut­ing op-ed writer at the
New York Times
, has writ­ten for
The New Repub­lic, The Nation,
the
Wash­ing­ton Post
, the
New York Dai­ly News
,
New York Mag­a­zine
and
Slate
, and has appeared on ABC, CBS, MSNBC and NPR. She won a
2016
Excep­tion­al Mer­it in Media Award from the Nation­al Women's Polit­i­cal Caucus.