Trump's Calls for Voter Intimidation Are Already Being Heeded. Here's How to Respond.
We could see a deluge of Trump-sponsored voter intimidation on Election Day. Protecting our democracy requires stopping it in its tracks.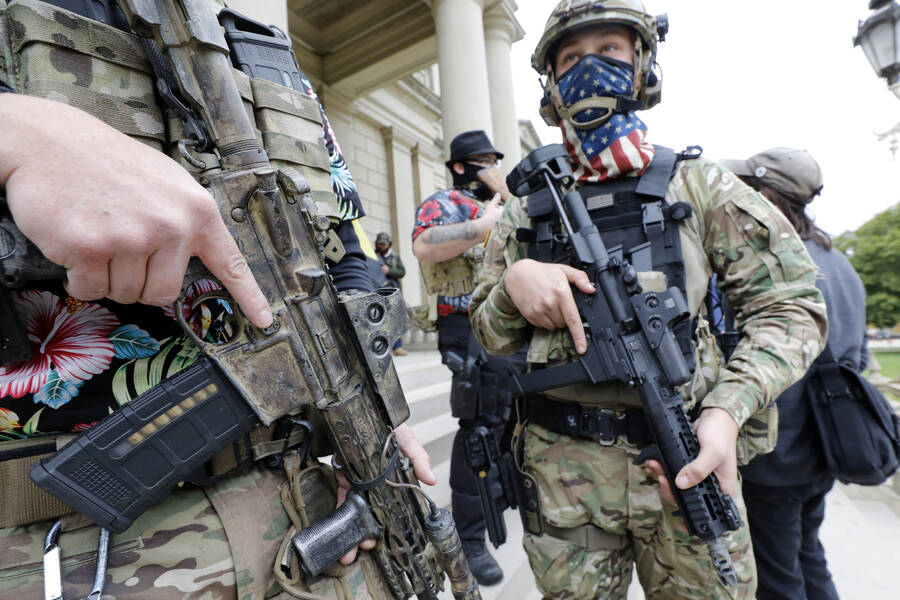 With one week to go before Election Day, civil liberties groups and officials in multiple battleground states are issuing stark warnings about the potential for voter intimidation at the polls — particularly directed against Black and Latino voters.
Throughout his reelection campaign, President Donald Trump has repeatedly made baseless claims that the Democrats intend to ​"steal" the election through widespread voter fraud. At the September 29 debate with Democratic nominee Joe Biden, Trump urged his supporters to ​"go into the polls and watch very carefully," while also telling the Proud Boys — a white supremacist group that regularly engages in violence—to ​"stand back and stand by."
While certified poll watchers are allowed to observe voting locations to ensure their party has a fair chance, any attempts to intimidate, threaten or coerce voters is a violation of federal law.
The Republican Party has a history of intentionally blurring the line between legitimate poll watching and illegal voter intimidation, which is why a 1982 consent decree prohibited the party for decades from using poll monitors without first getting court approval. In 2017, a federal judge lifted those restrictions, and now the Republicans plan to dispatch an army of 50,000 poll watchers in 15 key states to challenge ballots from voters they deem ​"suspicious."
Meanwhile, the FBI and law enforcement officials in several swing states are preparing for the possibility of polling locations being overrun by armed, pro-Trump vigilantes and self-styled ​"militias" — similar to the domestic terrorist group that hatched a recently foiled plot to kidnap and murder Michigan Gov. Gretchen Whitmer.
Already, armed Trump supporters set up camp outside a polling site in Florida, while a private security company attempted to recruit former U.S. Special Forces personnel to ​"guard" voting locations in Minnesota. In Philadelphia last week, the Trump campaign admitted to secretly videotaping voters at ballot drop-off locations, something Pennsylvania Attorney General Josh Shapiro says could amount to illegal voter intimidation.
To prevent such intimidation, groups such as the American Civil Liberties Union (ACLU) and Georgetown University's Institute for Constitutional Advocacy and Protection (ICAP) are encouraging voters to know their rights and be able to identify what constitutes illegal intimidation at the polls.
An ACLU fact sheet and guide to voting rights explain that it is illegal for anyone to aggressively interrogate you about your citizenship or criminal record at a polling location. It is also illegal for anyone to display false or misleading signs about so-called ​"voter fraud," to falsely represent oneself as an election official, or to spread misinformation about voter requirements (like telling voters they are required to speak English or pass a test in order cast a ballot — which is not true in any state).
Though certified poll watchers are usually allowed inside polling sites, they are not allowed to follow you into a voting booth or to a voting machine. If your voting qualifications are challenged by a legitimate poll watcher, you can still cast a regular ballot after giving a statement swearing to your qualifications. If you are not found on the list of registered voters, you still have the right to cast a provisional ballot — and many states allow same-day voter registration.
The ICAP has put together fact sheets for all 50 states explaining how to identify illegal ​"militias" at polling locations. Based on Supreme Court rulings in 1886 and 2008, the Second Amendment does not protect unauthorized paramilitary groups. In every state, the only lawful militia is the state militia. Federal law prohibits the presence of the military or armed federal officers at voting locations, except for the specific purpose of repelling ​"armed enemies of the United States."
In Ohio, the League of Women Voters is coordinating ​"peacekeeper teams" of clergy and social workers to deescalate any tensions that arise at voting sites. In Philadelphia, District Attorney Larry Krasner is strengthening his office's election task force to try to stop attempted Election Day intimidation in its tracks.
Voters in any state who encounter harassment, intimidation, or coercion at the polls can report it to the election judges on site and to local election officials, and call the national Election Protection Hotline at 866-OUR-VOTE or 888-VE-Y-VOTA (Spanish).
As a 501©3 non­prof­it pub­li­ca­tion, In These Times does not oppose or endorse can­di­dates for polit­i­cal office.
Jeff Schuhrke has been a Working In These Times contributor since 2013. He has a Ph.D. in History from the University of Illinois at Chicago and a Master's in Labor Studies from UMass Amherst. Follow him on Twitter: @JeffSchuhrke