The Insurance Industry Would Make a Killing From Trumpcare
Trump and Ryan's AHCA is disliked by almost everyone besides private health insurers. There's a reason for that.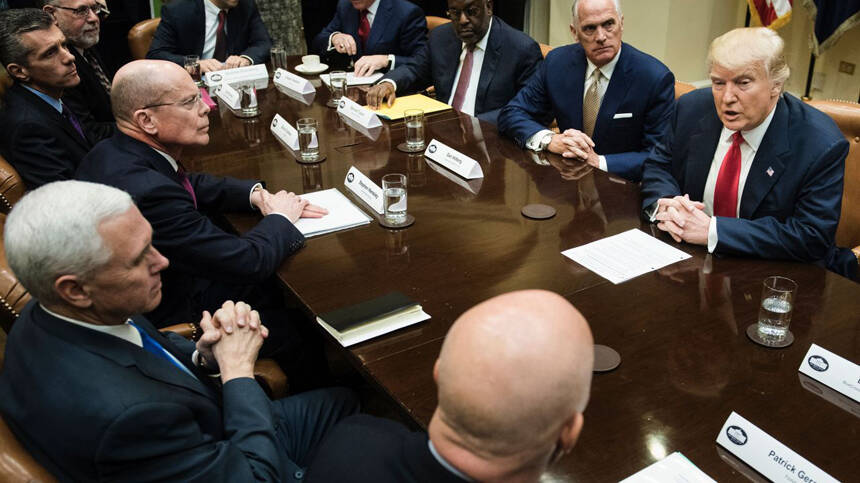 There's been a lot of talk about just who was hurt and helped by Oba­macare and who will prof­it or be imper­iled by the next phase of health care leg­is­la­tion. Yet health insur­ance exec­u­tives have been curi­ous­ly silent about the House GOP plan to repeal and replace Oba­macare. While the Amer­i­can Med­ical Asso­ci­a­tion and the Amer­i­can Hos­pi­tal Asso­ci­a­tion, among many oth­ers, have come out against it, insur­ers have clear­ly made a strate­gic deci­sion not to show their hand.
Now that the insurance executives have more friends in Washington than during the Obama years, they smell an opportunity to get rid of most of those pesky new rules.
But know this: They love it. Their fin­ger­prints are all over what the Repub­li­cans are call­ing the Amer­i­can Health Care Act. Arguably the only thing they don't like about House Speak­er Paul Ryan's Ayn Ran­dish cre­ation is the way the plan would slash fund­ing for the Med­ic­aid pro­gram. That's not because insur­ance exec­u­tives are more com­pas­sion­ate for the poor than they've been in the past; it's because a grow­ing per­cent­age of their prof­its now comes from Med­ic­aid. In fact, more than half of the big insur­ers' rev­enues is now com­ing from the gov­ern­ment, not the pri­vate sec­tor. And they're fine with that.
Make no mis­take, health insur­ance lob­by­ists also helped shape the Afford­able Care Act. Most notably, they were able to get a pro­vi­sion stripped from the bill that would have cre­at­ed a gov­ern­ment-run insur­ance plan (the ​"pub­lic option") to com­pete with pri­vate insur­ers. But they didn't get every­thing they wanted.
It gets rid of those pesky new rules on con­sumer protection
Over insur­ers' objec­tions, the ACA was enact­ed with impor­tant con­sumer pro­tec­tions. Thanks to the ACA, insur­ers can no longer charge old­er peo­ple more than three times as much as younger peo­ple for the same pol­i­cy, and they can't allo­cate more than 20 per­cent of what we pay in pre­mi­ums to prof­its and admin­is­tra­tive activ­i­ties like sales and mar­ket­ing. It's also now ille­gal for insur­ers to deny peo­ple cov­er­age because of a pre-exist­ing con­di­tion. And poli­cies sold now must cov­er sev­er­al ​"essen­tial ben­e­fits," a pro­vi­sion that out­lawed junk insurance.
Now that the insur­ance exec­u­tives have more friends in Wash­ing­ton than dur­ing the Oba­ma years, they smell an oppor­tu­ni­ty to get rid of most of those pesky new rules. Don't think for a minute that the ACA's reg­u­la­tions have been a big drag on prof­its. Even with those con­sumer pro­tec­tions, most insur­ance com­pa­nies have report­ed record prof­its dur­ing the Oba­macare years, and their investors are con­sid­er­ably richer.
The ACA was real­ly the Health Insur­ance Prof­it Pro­tec­tion and Enhance­ment Act
I saw that com­ing. When I tes­ti­fied before a House com­mit­tee dur­ing the health care reform debate in 2009, I warned that if Con­gress passed a reform law that did not cre­ate a pub­lic insur­ance plan, they might as well rename their bill the Health Insur­ance Prof­it Pro­tec­tion and Enhance­ment Act.
And boy, have those prof­its been pro­tect­ed and enhanced. Here's just one exam­ple: The share price of the biggest health insur­er, Unit­ed­Health Group, has increased more than 1,000 per­cent since the ear­ly days of the Oba­ma administration.
Oba­ma him­self had said that a pub­lic option was need­ed ​"to keep health insur­ers hon­est." He was right. Insur­ance com­pa­ny exec­u­tives can­not be trust­ed to put the inter­ests of their cus­tomers first. The evi­dence before Oba­macare was abun­dant, espe­cial­ly in the indi­vid­ual mar­ket, where peo­ple who can't get health insur­ance through an employ­er must go to buy coverage.
In anoth­er appear­ance before Con­gress, I told the Sen­ate Com­merce Com­mit­tee that dur­ing the 20 years I worked for insur­ance com­pa­nies, ​"I saw how they con­fuse their cus­tomers and dump the sick — all so they can sat­is­fy their Wall Street investors."
Not only were they able to dump the sick through a pre­vi­ous­ly com­mon prac­tice of rescind­ing cov­er­age when a pol­i­cy­hold­er was diag­nosed with a dis­ease like breast can­cer, they did all they could through their exten­sive under­writ­ing prac­tices to avoid sell­ing cov­er­age in the first place to any­one who might need expen­sive care.
It was because insur­ers could declare a sig­nif­i­cant per­cent­age of the pop­u­la­tion ​"unin­sur­able" and can­cel poli­cies when they thought they might have to pay for cost­ly treat­ments that the indi­vid­ual mar­ket pre-Oba­macare was quite profitable.
"

Enhance share­hold­er value"
It is a myth that the big for-prof­it insur­ers like the ones I worked for have an inter­est in pro­vid­ing all of us with access to afford­able care. That would con­flict with their top pri­or­i­ty, which, as I quick­ly learned in my cor­po­rate job, is to ​"enhance share­hold­er val­ue." That is why sev­er­al of the big insur­ers start­ed bail­ing from the Oba­macare exchange mar­kets last year after con­gres­sion­al Repub­li­cans elim­i­nat­ed the addi­tion­al pay­ments the ACA had set aside for insur­ers while the indi­vid­ual mar­ket was becom­ing more sta­ble, pre­dictable and fair. Nev­er mind those same insur­ers were reap­ing big prof­its from the government's Med­ic­aid and Medicare pro­grams, thanks in large part to the ACA's expan­sion of Med­ic­aid.
It is also a myth that the for-prof­its are even still in the insur­ance busi­ness in a sig­nif­i­cant way. Over the past sev­er­al years, employ­ers and the gov­ern­ment have assumed the risk of insur­ing most of us. While you might see the name Cigna on your insur­ance card, if your cov­er­age is through your job, chances are your employ­er is tech­ni­cal­ly your insur­er and Cigna just admin­is­ters your ben­e­fits (for a hefty fee, of course). It's not unusu­al for more than 80 per­cent of a big for-profit's rev­enues to come from these ​"admin­is­tra­tive ser­vices only" con­tracts with employers.
These com­pa­nies had rel­a­tive­ly lit­tle inter­est in the indi­vid­ual mar­ket pre-Oba­macare because they — not an employ­er or gov­ern­ment — would have to assume the risk of pay­ing med­ical expens­es for indi­vid­ual mar­ket cus­tomers. To reduce the risk of hav­ing to pay med­ical claims, insur­ers went to great lengths to avoid sell­ing cov­er­age to peo­ple who might need it. In my home state of Ten­nessee, even the big non­prof­it Blue­Cross BlueShield of Ten­nessee refused to sell poli­cies to more than a third of appli­cants before the Oba­macare rule pro­hibit­ing that prac­tice went into effect. And once you were turned down by one insur­er, the chances of get­ting cov­er­age from anoth­er com­pa­ny were slim to none. If you had a pre-exist­ing con­di­tion pre-Oba­macare, the insur­ance indus­try could declare you ​"unin­sur­able." They might as well have said, ​"You're dead to me."
Insur­ers also reduced their risk by charg­ing old­er peo­ple five to 10 times as much as younger peo­ple for the same pol­i­cy. Some states allowed them to charge even more. As a con­se­quence, the ​"pool" of peo­ple in the indi­vid­ual mar­ket pre-Oba­macare had more young peo­ple than today for one sim­ple rea­son: peo­ple in their 40s, 50s and ear­ly 60s sim­ply couldn't afford the premiums.
Good­bye indi­vid­ual man­date, hel­lo insur­ance gap
It is clear House Repub­li­cans del­e­gat­ed the draft­ing of big chunks of their Amer­i­can Health Care Act to insur­ance indus­try lob­by­ists. Yes, their bill gets rid of the much-vil­i­fied indi­vid­ual man­date (which insur­ers insist­ed be includ­ed in Oba­macare), but it replaces it with some­thing more prof­itable to insur­ers. Under the GOP plan, if there is a gap in your cov­er­age of 63 days or longer, insur­ers can charge you 30 per­cent more when you reap­ply. This is the GOP/​insurance indus­try stick to dis­cour­age peo­ple from going with­out insur­ance. The prob­lem is that many peo­ple will go 63 days or longer with­out cov­er­age because of a job loss. When you're unem­ployed, being able to pay health insur­ance pre­mi­ums can quick­ly become a finan­cial hard­ship, if not an impos­si­bil­i­ty. The tax cred­its the Repub­li­can bill would pro­vide wouldn't be enough to help a lot of peo­ple. It's a devi­ous way of elim­i­nat­ing unde­sir­ables from the risk pool over time.
The bill would also allow insur­ers to once again dis­crim­i­nate against old­er peo­ple by allow­ing them to charge five times more than younger peo­ple. And it would give them more ​"ben­e­fit design flex­i­bil­i­ty" — an indus­try euphemism for allow­ing insur­ers to once again sell poli­cies with sky-high deductibles and skimpi­er benefits.
The bill would also allow insur­ers to spend a small­er per­cent­age of our pre­mi­um dol­lars on med­ical care, free­ing up more for prof­its. And to put a bow around the whole pack­age, the bill would repeal a pro­vi­sion of the ACA that lim­its to $500,000 the amount of exec­u­tive pay insur­ance com­pa­nies can deduct on their fed­er­al taxes.
Now you know why insur­ers haven't joined doc­tors and hos­pi­tals and many oth­ers in con­demn­ing the Amer­i­can Health Care Act. Over­all, it would be a big win for health insur­ance com­pa­nies, the big for-prof­its in par­tic­u­lar. And, of course, their top exec­u­tives and shareholders.