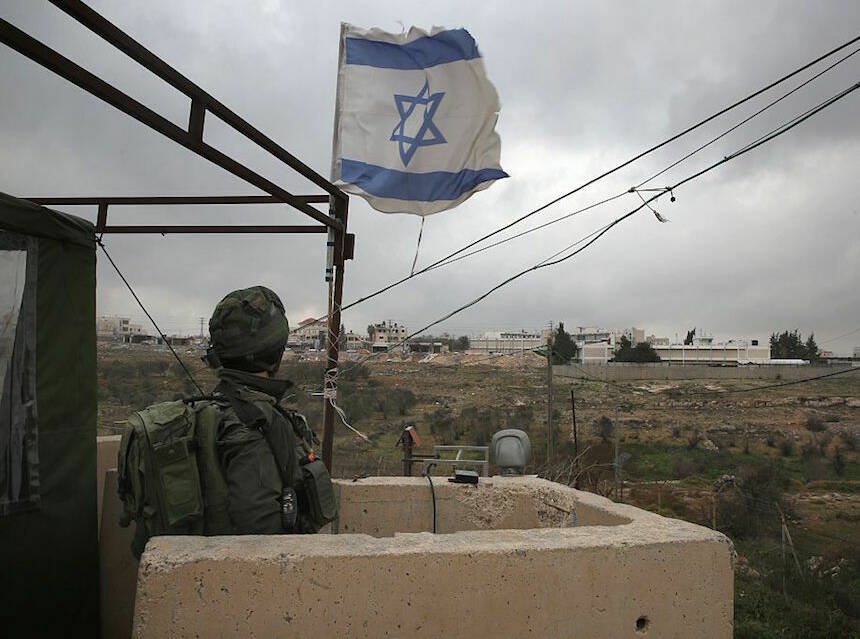 Pres­i­dent Don­ald Trump's choice of David Fried­man — his for­mer bank­rupt­cy lawyer — as U.S. ambas­sador to Israel has sparked con­tro­ver­sy amongst sup­port­ers of Pales­tin­ian rights.
Advocates fear that the appointment sends a signal to the Israeli settler movement that encroachment upon Palestinian land will get little meaningful pushback from the United States.
Left-lean­ing Jew­ish groups J Street and Jew­ish Voice for Peace have blast­ed Fried­man for rais­ing mil­lions of dol­lars for an Israeli set­tle­ment in the West Bank. The U.S. Cam­paign for Pales­tin­ian Rights says Fried­man is ​"unfit" because he has spo­ken approv­ing­ly of Israeli annex­a­tion of the West Bank.
Fried­man, whose Sen­ate con­fir­ma­tion hear­ing is set for Thurs­day, is the pres­i­dent of Amer­i­can Friends of Bet El Yeshi­va, a pro-set­tle­ment non­prof­it based in For­est Hills, N.Y. Trump and his son-in-law Jared Kushner's fam­i­ly foun­da­tion are among the nonprofit's donors. It has poured mil­lions of dol­lars into infra­struc­ture, includ­ing a news out­let and reli­gious schools, for Bet El, a hard­line hill­top set­tle­ment north of the Pales­tin­ian city of Ramallah.
Set­tle­ments are one of the major flash­points in the Israeli-Pales­tin­ian con­flict because they are built on Pales­tin­ian land and dis­place Pales­tin­ian res­i­dents. Friedman's pro-set­tle­ment stance puts him at odds with inter­na­tion­al law, under which the set­tle­ments are con­sid­ered ille­gal, and with past U.S. admin­is­tra­tions, which have con­sis­tent­ly opposed set­tle­ment con­struc­tion as harm­ful to the Israel-Pales­tin­ian peace process.
Don­ald Trump's elec­tion has embold­ened the set­tler move­ment, which sees Trump and his advis­ers as sym­pa­thet­ic to its cause. On Jan­u­ary 24, the Israeli gov­ern­ment announced approval for 2,500 new set­tler hous­ing units in the occu­pied West Bank.
Pres­i­dent Trump has sent mixed sig­nals on his posi­tion on set­tle­ments, but recent­ly told an Israeli paper he doesn't think they are good for peace.
How­ev­er, his cho­sen ambas­sador may be direct­ly aid­ing the planned expan­sion. Twen­ty of the 2,500 new units are slat­ed for Bet El — and appear to be under­writ­ten in part by a dona­tion from Amer­i­can Friends of Bet El Yeshi­va. In 2015, Friedman's orga­ni­za­tion gave about $666,000 to the Israeli group Sukkat Ova­dia Yeshi­va of Bet El. That group put cash behind plans for the five-sto­ry build­ing with 20 apart­ments, accord­ing to Hag­it Ofran, the direc­tor of the Israeli group Peace Now​'s Set­tle­ment Watch project.
These apart­ment units are par­tic­u­lar­ly con­tro­ver­sial because they are ille­gal­ly built on pri­vate Pales­tin­ian land — as opposed to land that the Israeli mil­i­tary con­fis­cat­ed for the pur­pos­es of build­ing set­tle­ments. (The ille­gal­i­ty of build­ing on pri­vate Pales­tin­ian land, how­ev­er, is begin­ning to change. Ear­li­er this month, the Israeli Par­lia­ment passed a law that would, over the next six months, retroac­tive­ly legal­ize many set­tle­ments on pri­vate land.)
Trump is appar­ent­ly still work­ing out his pol­i­cy on Israeli set­tle­ments. But advo­cates fear that the appoint­ment of Fried­man sends a sig­nal to the Israeli set­tler move­ment that encroach­ment upon Pales­tin­ian land will get lit­tle mean­ing­ful push­back from the Unit­ed States.
The mon­ey trail
Amer­i­can Friends of Bet El Yeshi­va is one of dozens of sim­i­lar U.S. pro-set­tle­ment non­prof­its whose donors receive tax write-offs from the U.S. gov­ern­ment, despite the gov­ern­men­t's his­toric oppo­si­tion to set­tle­ment construction.
Some of these non­prof­its go beyond fund­ing set­tle­ment infra­struc­ture to fund­ing secu­ri­ty oper­a­tions. An inves­ti­ga­tion in the March issue of In These Times looks into one such char­i­ty, called the One Israel Fund.
Based in the sub­urb of Cedarhurst, New York, the One Israel Fund has, since 2001, raised at least $26 mil­lion for a vari­ety of West Bank set­tle­ments. The mon­ey does not just go towards con­struc­tion of homes and oth­er insti­tu­tions in the occu­pied West Bank. In These Times found that at least $960,000 went to secu­ri­ty personnel.
These secu­ri­ty guards are not a typ­i­cal police force. Trained by the Israeli mil­i­tary, but paid by the set­tle­ments, these live-in civil­ian secu­ri­ty guards form what is essen­tial­ly a state-sanc­tioned, mil­i­ta­rized neigh­bor­hood watch pro­gram. The bound­aries of that neigh­bor­hood, how­ev­er, can be blur­ry: Guards often ven­ture out into sur­round­ing Pales­tin­ian vil­lages. In These Times found that these guards harass, intim­i­date and threat­en to kill Pales­tini­ans — and face vir­tu­al­ly no account­abil­i­ty for their actions.
David Friedman's appoint­ment as U.S. ambas­sador to Israel has put set­tle­ment non-prof­its in an uncom­fort­able spot­light. This rais­es an oppor­tu­ni­ty to con­sid­er their grounds for tax-exempt sta­tus, as well as the broad­er U.S. role in fur­ther­ing Pales­tin­ian dis­pos­ses­sion and displacement.
Alex Kane
is a New York-based free­lance jour­nal­ist who writes on U.S. for­eign pol­i­cy in the Mid­dle East.