As Grand Jury Date Looms, Labor Groups Support Subpoenaed Activists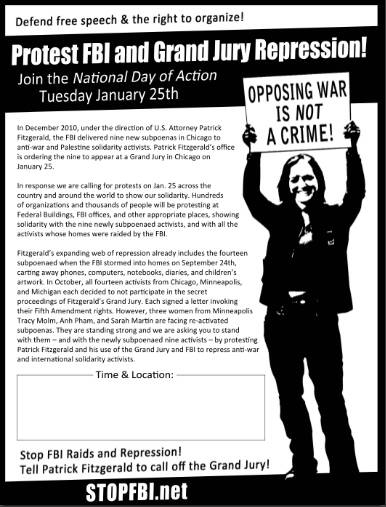 On Tuesday January 25, union members will be among those standing in solidarity outside Chicago's federal court building with other protesters. The're resisting grand jury subpoenas that they describe as part of a fishing expedition aimed at the anti-war movement, which has also ensnared labor activists.
At least 18 unions or labor councils have passed resolutions supporting those resisting the subpoenas and others targeted since September as part of the grand jury investigation, which is directed by U.S. Attorney Patrick Fitzgerald's office. (See In These Times' January issue cover story on the FBI raids here.) Tuesday is the day nine activists subpoenaed after September are due to testify, but they have all refused to cooperate with the grand jury, says Jim Fennerty of the National Lawyers Guild, who is working with some of the activists subpoenaed in September.
In early January, the 30,000-member Chicago Teachers Union (CTU) — led by a progressive leadership slate since elections last year — passed a resolution calling the operation ​"an assault on the First Amendment rights of every union fighter, solidarity activist or anti-war campaigner."
The Greater New Haven Labor Council also in January passed a resolution, echoing the demands laid out by most union resolutions that the government:
1. Stop using the national security laws to intimidate people from using their 1st amendment rights.
2. Immediately return all confiscated materials: computers, cell phones, papers, documents, personal belongings, etc.
3. End the Grand Jury proceedings and FBI raids against trade union, anti-war and international solidarity activists.
A number of SEIU locals and the SEIU Illinois State Council have also passed resolutions. In September, FBI agents raided the home of AFSCME member Stephanie Weiner and her husband Joe Iosbaker — chief steward and member of the executive board of SEIU Local 73, based at the University of Illinois at Chicago — removing hard drives, personal items and even their children's drawings. They were both subpoenaed by the grand jury, but refused to testify.
SEIU Illinois State Council's resolution calls on President Obama to investigate the motivation and circumstances of the raids, and says:
Whereas, these FBI raids have all the earmarks of a fishing expedition and whereas the FBI has a terrible history including the Palmer Raids, the McCarthy hearings, J. Edgar Hoover, the Civil Rights movement and mark a new and dangerous chapter in the protracted assault on the First Amendment rights of every union fighter, international solidarity activist or anti-war campaigner…

(The council is ) publicly expressing its grave concern that these raids might be the beginning of a new and dangerous assault on the 1st Amendment rights of every union fighter, international solidarity activist or anti-war campaigner.
Iosbaker noted the support from many mainstream labor organizations represents a stark difference from decades past. ​"It's a new phenomena – during the Vietnam War, labor was gung ho," he said. AFL-CIO founding president George Meany famously supported President Nixon's invading Cambodia and other moves. However, other labor leaders, including UAW head Walter Reuther, opposed the Vietnam War.
The national group U.S. Labor Against the War (USLAW) has drawn connections between labor struggles in the U.S. and in countries targeted by the U.S. military in the past decade, with campaigns opposing the Iraq and Afghanistan wars, supporting veterans rights in the U.S. and labor rights in Iraq, Iran and other countries. USLAW's website says:
The policy of Permanent War has been based on lies and false promises to the American people and lucrative contracts to large corporations. This is coupled with a strategy of unbridled economic globalization with so-called ​"Free Trade" Agreements aimed at exploiting workers abroad, controlling natural resources and destroying jobs and communities at home.

War has become a strategy for advancing the interests of U.S. corporations in international markets.
People targeted by the FBI think the investigation was launched in the Twin Cities leading up to protests at the Republican National Convention in 2008, and branched out to include international solidarity activities with Colombia and Palestine. While Iosbaker doesn't think labor organizations have been a specific target of the investigation, he said it is likely ​"bleeding over" to labor groups involved in the anti-war movement and other campaigns. Ten of the 14 people whose homes were searched are union members.

"Anyone who was involved in protesting the RNC is considered a security threat," Iosbaker said. ​"The war on terror is being used as justification for repression here at home."
The Rise of a New Left
"An engrossing, behind-the-scenes account of our decade's breakout political movement." –Atossa Araxia Abrahamian
For a limited time, when you donate $30 or more to support In These Times, we'll send you a copy of the new book, The Rise of a New Left: How Young Radicals Are Shaping the Future of American Politics, by Raina Lipsitz.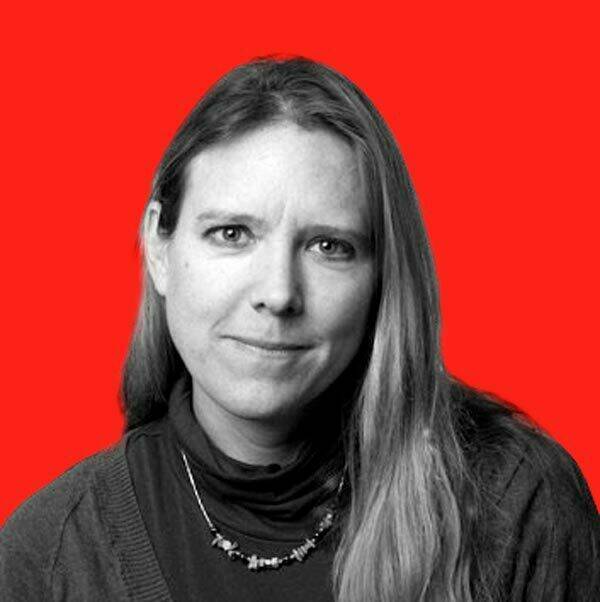 Kari Lydersen is a Chicago-based journalist, author and assistant professor at Northwestern University, where she leads the investigative specialization at the Medill School of Journalism, Media, Integrated Marketing Communications. Her books include Mayor 1%: Rahm Emanuel and the Rise of Chicago's 99%.