Turkey Arrests Public-Sector Unionists Under Broad Terror Law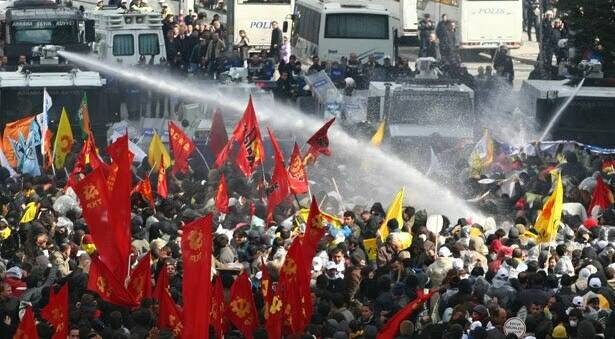 ISTAN­BUL, Turkey — They were upfront and loud, not unusu­al behav­ior for dis­con­tent­ed labor unions anywhere.
They had com­plained about the puny wage increas­es the Turk­ish gov­ern­ment was offer­ing its pub­lic work­ers. Nor did they like new edu­ca­tion laws that they claimed hurt stu­dents and teach­ers. And they had voiced their views about plen­ty of gov­ern­ment polices affect­ing not just workers.
But ear­ly one morn­ing last June when police raid­ed the homes and offices of mem­bers of the Con­fed­er­a­tion of Pub­lic Ser­vice Work­ers, (KESK), round­ing up 69 union lead­ers and activists, their arrests had noth­ing to do with labor-law violations.
They were charged under Turkey's ter­ror laws with have hav­ing links to the Kur­dis­tan Com­mu­ni­ties Union (KCK), an alleged plan­ning wing of the out­lawed Kur­dish Work­ers' Par­ty (PKK). Thou­sands of Turks have been swept up in arrests aimed at the KCK, accord­ing to Turk­ish newspapers.
In no time Turk­ish labor groups along with inter­na­tion­al unions protest­ed the arrests, say­ing the union mem­bers, near­ly all of who are Kur­dish, have noth­ing to do with ter­ror. Rather, they say, the gov­ern­ment is pun­ish­ing them for their exer­cise of free speech as well as their oppo­si­tion to its policies.
​"They are not being inves­ti­gat­ed for any­thing relat­ed to ter­ror­ism," says Emma Sin­clair-Webb, Human Rights Watch's Turkey representative.
The heart of the prob­lem, Sin­clair-Webb says, is Turkey's anti-ter­ror laws. They are ​"very broad­ly drawn," allow­ing the gov­ern­ment to eas­i­ly link peo­ple to ter­ror groups. ​"You only have to go to a demon­stra­tion," she says, to be snared in the government's dragnet.
And as bat­tles with Kur­dish mil­i­tants have grown and ten­sions increased between the gov­ern­ment and Turkey's Kur­dish minori­ties, Turk­ish jour­nal­ists and human rights activist say the gov­ern­ment is tar­get­ing more and more Kurds whose only crime is their sympathies.
Indeed, Metin Iriz, the labor group's attor­ney, says that all but two of the arrest­ed union mem­bers are Kurds. Women account for about 20 of those arrested.
​"There's no proof. If there is, they (the gov­ern­ment) would tell us," says Iriz. ​"They were arrest­ed because of the Kur­dish prob­lem…. The gov­ern­ment is clean­ing up the Kur­dish opposition."
But a For­eign Affairs Min­istry offi­cial, not­ing that KESK is an anti-gov­ern­ment union, refut­ed the claim that the union lead­ers are being wrong­ly held. He point­ed out that a court had reject­ed appeals for their release from lawyers who had argued there was no con­crete evi­dence. Because doc­u­ments in the case have not been filled, the offi­cial added that the gov­ern­ment could not com­ment about the charges.
Since the arrests, how­ev­er, six more union mem­bers have been arrest­ed and sev­en released pend­ing the court case, accord­ing to Turk­ish news reports.
KESK is the third-largest fed­er­a­tion of pub­lic sec­tor labor unions with about 250,000 mem­bers, accord­ing to Iriz. It rep­re­sents teach­ers, nurs­es, doc­tors, trans­porta­tion work­ers and gov­ern­ment employ­ees. Dri­ven by a strong left­ist stance, it has often clashed with the right-lean­ing gov­ern­ment and suf­fered a series of arrests of its mem­bers in recent years.
While the Turk­ish econ­o­my has boomed in recent years, Turk­ish unions have steadi­ly shrunk to about 10 per­cent of the work­force, accord­ing to Turk­ish jour­nal­ists and labor experts. In its lat­est report on human rights in Turkey, the U.S. State Depart­ment not­ed ​"gov­ern­ment restric­tions and inter­fer­ence lim­it­ed the abil­i­ty of unions to con­duct their activ­i­ties, includ­ing col­lec­tive bargaining."
As for the fate of the arrest­ed union leader and activists, attor­ney Iriz was pessimistic.
​"They will wait in jail for two years before their cas­es come to court and they will get 11 years in prison," Iriz pre­dicts. ​"This is Turkey."
The Pulitzer Cen­ter for Cri­sis Report­ing pro­vid­ed sup­port for this reporting.
Stephen Franklin is a for­mer labor and work­place reporter for the Chica­go Tri­bune, was until recent­ly the eth­nic media project direc­tor with Pub­lic Nar­ra­tive in Chica­go. He is the author of Three Strikes: Labor's Heart­land Loss­es and What They Mean for Work­ing Amer­i­cans (2002), and has report­ed through­out the Unit­ed States and the Mid­dle East.