Turning Strategy into Victory
How CODEPINK convinced America's mayors to adopt their first antiwar resolution since the Vietnam War.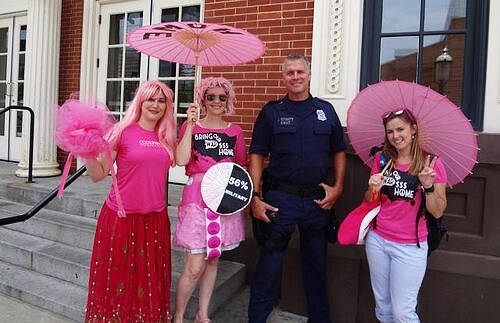 You can weed and till the ground all you want, but if there is no clear plan as to what to plant, well, that's a lot of back-breaking work without much to show for it – other than some good-looking dirt. After nearly a decade of organizing in response to the so-called ​"war on terror," mostly with the national women-led antiwar organization CODEPINK, I am asking myself some difficult questions: Do we, as a movement, know how to organize for victory? What does it feel like to actually effect positive, long-lasting change, rather than just condemn deaths in Afghanistan and Iraq, weakened civil liberties, environmental ravages and job losses?
No matter how lean our movement feels, we can build on these victories. So bake some cupcakes and approach city council representatives about a War Dollars Home resolution.
During the last 10 years, I whole-heartedly participated in audacious actions aimed at altering culture and challenging people to imagine a different and better world. At times this felt like the closest thing to change I could get my hands on. At times it felt far from adequate. But I am heartened by a recent rare success: the United States Conference of Mayors' historic adoption in June of the ​"Resolution Calling on Congress to Redirect Military Spending to Domestic Priorities."
The campaign for the national resolution worked because it identified achievable goals and strategically targeted power-holders. It's all the more remarkable because a bad-ass group of women, including CODEPINK members, were behind it (full disclosure: I occasionally work for CODEPINK as a consultant). The campaign aimed to strengthen the intersections of social movements by illuminating how the military-industrial-complex – and the endless wars it loves to fight – has indirectly ravaged American cities. Its path to success shows how real change can happen.
Maine would like its money back, please
I don't think I've ever seen Lisa Savage's real hair, though I'm fairly certain she doesn't don her signature cotton-candy pink beehive wig at all times. Savage is a teacher and longtime peace activist. As Maine's CODEPINK coordinator, she is possibly the most charming thorn-in-the-side of the state's two congressional representatives and any local officials who dare to be short-sighted. She rolls with a creative cupcake-baking crowd who began building momentum at the state level in 2008 to address the predictably disastrous effects of then-Senator Obama's campaign promises to escalate in Afghanistan.
No one has taken credit for coining the phrase ​"bring our war dollars home," according to Savage. But on Martin Luther King Jr. Day in 2010, those words launched a statewide effort to pass War Dollars Home city council resolutions. The resolution was drafted by members of the Maine peace coalition at a kitchen table, and was eventually adopted in locations across Maine (including one inspired school district), cities in Massachusetts and Hartford, Conn. The point was to encourage people to connect the pinch they feel in their wallets and communities with the $126 billion the United States spends annually on war and the more than 6,000 U.S. troop deaths in Iraq and Afghanistan that have resulted from some of that spending.
By October 2010, the national women-led peace group CODEPINK heeded Maine's call (due in no small part to Savage's organizing talents and persuasive nature) and literally took up the pink banner of Bring Our War Dollars Home, just in time to bring the message to the One Nation March in Washington, D.C. (video of which is here). CODEPINK's local coordinators' listserv was abuzz. A snazzy t-shirt was made. The message had traction – it was just a matter of how to translate that energy into a winnable campaign. After months of strategy calls and brainstorming, CODEPINK tried on the idea of a nationwide push to pass War Dollars Home city council resolutions.
CODEPINK co-founder Jodie Evans spent the next few months trying to convince Los Angeles Mayor Antonio Villaraigosa to support a resolution. In March of this year, Villaraigosa, the new president of the Conference of Mayors (USCM), told Evans that if she could get 10 mayors to sign on as co-sponsors, he would lead a resolution about redirecting military spending back to U.S. cities at the June conference in Baltimore.
Why would such a resolution matter? Well, the conference's purpose remains the same as when it was founded in 1932: advocate for urban citizens' needs by lobbying federal policymakers. (USCM first convened in Detroit, where big city mayors gathered to try to mitigate the misery spawned by the Great Depression; Roosevelt's New Deal incorporated many of the mayors' ideas.) The ​"adopted policies" – resolutions passed at the annual conference – become advocacy priorities of city governments around the country, and the USCM lobbies for those priorities in Congress.
Ready. Set. Go!
With the clear goal of lining up 10 supportive mayors, C.J. Minster was brought on CODEPINK's staff in March 2011 to oversee the effort (her background in international communications and conflict resolution came in handy). Using the successful Maine city council resolution as a template, another kitchen table resolution was born (they make for great resolution writing). The Bring Our War Dollars Home Resolution calls on the president and Congress ​"to end the wars as soon as strategically possible and bring these war dollars home to meet vital human needs…" It demands that tax dollars spent abroad be devoted to urgent domestic needs.
After Villaraigosa withdrew as lead sponsor to focus on immigration reform efforts in May, Eugene, Oregon Mayor Kitty Piercy became the lead sponsor. ​"Mayors call on our country to begin the journey… focusing our national resources on building security and prosperity here at home," the resolution said. The fact that Piercy couldn't even attend the conference in Baltimore – Eugene had to cut $20 million from their city's budget in the last three years and could not afford the travel costs – sadly illustrated why so many mayors around the country would support the goals of the resolution. America's cities are hurting; federal aid is in steep decline and as of the June conference, at least 18 states were cutting aid to local governments. With the burst housing bubble driving down property taxes (another big issue at the conference), the $126 billion a year the wars cost struck many mayors as offensive. Villaraigosa may have said it best: ​"That we would build bridges in Baghdad and Kandahar and not Baltimore and Kansas City absolutely boggles the mind."
After two months of nonstop coordination with activists to create a great coalition of ally organizations, dozens of mayoral policy liaisons, and a ready and willing Baltimore activist coalition, the Bring Our War Dollars Home Resolution dream team was in place. On June 16, the first day of the conference, the resolution sailed through the Metro Economies committee and was picked up by media outlets all over the world. The deleterious effects of a tanking economy and skewed national priorities became the story of the conference; the resolution put America's struggling cities in their true national context.
When the full conference participated in a voice vote on June 20 during the event's closing hours, only one mayor verbally dissented, and more than 1,200 communities adopted the measure. It was the first time since the Vietnam War that America's mayors had called for an end to war.
Back to (winning) the future
The USCM promptly delivered the resolution to the White House after the conference (President Obama was added as the premier recipient after the full conference debate. While inevitably all policies the USCM adopts can't retain the same priority level, the fact that Villaraigosa and USCM CEO Tom Cochran both vigorously supported the war dollars resolution could mean it has a fighting chance of staying at the top of the conference's pile.
Since June, Los Angeles and Seattle have passed city council resolutions based on the conference's Bring Our War Dollars Home resolution. In total, seven city councils have passed similar resolutions and more are being introduced in municipalities around the nation. City councils in New York and Maryland are currently working on their own resolutions. Obviously, U.S. troops are still abroad; but significant reductions to the Pentagon's budget appear likely to come out of the deficit-reduction deal Congress and President Obama reached at the end of July. No matter how lean our movement feels, we can build on these victories. Hell, take a page from the Maine playbook – bake some cupcakes and approach allied city council representative about a War Dollars Home resolution.
There is room for the symbolic as we, the peace movement, (re)define success. The Bring Our War Dollars Home campaign, led by unconventional women, shows how the symbolic can move from idea to sparkly banner to strategy to victory. It shows how a campaign can shift how activists interact and achieve concrete goals. The cliché is worth repeating: think globally, act locally!
Gloria Steinem once said, ​"No one is going to hand you equality." The same can be said about peace. I don't want to fight for peace (duh); I want to make sure that the seeds I'm planting will bear fruit to fill us up in new ways. A wise woman with a pink beehive once said, ​"This is collaborative work. If it succeeds, it's because the quality and the collaboration is strengthened by each woman who jumps on."
Be one of the first
Help kick off the new era of In These Times! Without a media that brings people together and creates a written record of the struggles of workers, their voices will be fragmented and forgotten.
The mission of In These Times is to be that written record, and to guide and grow those movements.
We have a lot of work ahead of us, and that work starts today. Early support is the most valuable support, and that's why we're asking you to pitch in now. If you are excited for this new era of In These Times, please make a donation today.
Dana Balicki
is a media specialist and organizer with a passion for telling stories focused on today's critical issues of peace and social justice. She is the former National Campaign Director and Communications Coordinator for CODEPINK Women for Peace. Her website is at
www​.dan​a​bal​ic​ki​.com
.