Twinkie-Maker Hostess Fires 18,000 People: Blames Long-Suffering Workers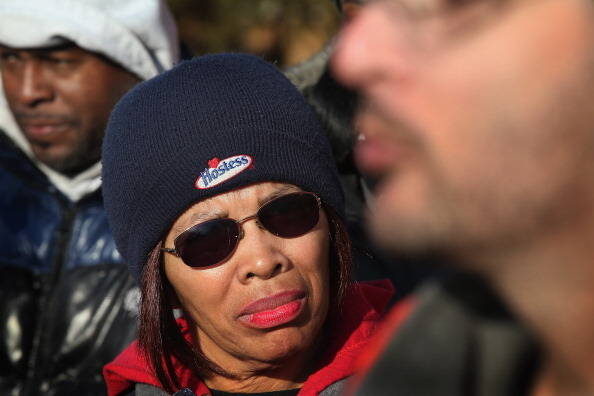 Today, the own­ers of Host­ess Brands—the com­pa­ny that makes wide­ly rec­og­nized baked goods such as Twinkies and Won­der Bread—made good on a long­stand­ing threat to close down oper­a­tions, elim­i­nat­ing as many as 18,000 jobs.
Com­pa­ny spokesper­son Lance Ignon told Work­ing In These Times that some 22 bak­eries around the nation com­plet­ed their last pro­duc­tion runs ear­ly on Fri­day morn­ing, while deliv­ery dri­vers fin­ished their final routes this after­noon. The com­pa­ny has no plans to resume operations.
In a state­ment, Host­ess CEO Greg Ray­burn blamed the shut­down on a strike this week by the Bak­ery, Con­fec­tionery, Tobac­co Work­ers and Grain Millers Inter­na­tion­al Union (BCT­GM).
How­ev­er, his scape­goat­ing of the union obscures a larg­er and more com­pli­cat­ed sto­ry of cor­po­rate mis­man­age­ment and naked greed. In fact, the com­pa­ny has been in severe finan­cial dis­tress for more than a decade, man­age­ment has been in dis­ar­ray, and vul­ture cap­i­tal­ists have been cir­cling in search of finan­cial prey.
Host­ess might be con­sid­ered an ​"old econ­o­my" com­pa­ny in the sense that it man­u­fac­tured, pro­duced and mar­ket­ed pop­u­lar cakes to a mass mar­ket. In its newest incar­na­tion—under the slick­er, greed­i­er sen­si­bil­i­ty of Wall St.—it is some­thing else altogether.
Host­ess claims that a BCGTM strike begun on Novem­ber 9 was the com­pa­ny's undo­ing. The strike start­ed at four scat­tered Host­ess plants and spread across the coun­try, forc­ing 11 bak­ery clo­sures, accord­ing to Ignon.
The union, how­ev­er, notes that the strike came only after months of fruit­less con­tract nego­ti­a­tions and the impo­si­tion by Host­ess of ​"dra­con­ian cuts" to wages and ben­e­fits. Pri­or to that, employ­ees of Host­ess were work­ing under reduced incomes for almost 10 years. From 2004 to 2008 the com­pa­ny, then called Inter­state Bak­eries, went through a Chap­ter 11 bank­rupt­cy in which all union work­ers took forced cuts.
BCT­GM Pres­i­dent Frank Hurt was not avail­able for com­ment on today, but told Work­ing In These Times ear­li­er this week that the BCGTM strike was the ​"trag­ic" result of the company's ill-con­ceived plan to bust the unions, dis­mem­ber the com­pa­ny and sell off the pieces to high­est bid­ders. Host­ess man­agers have made clear that they care lit­tle for the hard­ships imposed on the work­ers, Hurt said, leav­ing the union no choice but to strike in hopes of the bring­ing the com­pa­ny back to the bar­gain­ing table.
Hurt has made oth­er com­ments over the last three months in which he made clear that he believes the own­ers of the com­pa­ny have no real desire to return the ail­ing Host­ess to prof­itabil­i­ty. Rather, they want to strip the com­pa­ny of its valu­able assets while dis­card­ing the long-term employ­ees and finan­cial liabilities.
Host­ess con­firmed at least part of Hurt's analy­sis on Fri­day when the com­pa­ny also announced it wants to move quick­ly to sell its bak­eries, dis­tri­b­u­tions facil­i­ties, retail out­lets and ​"pop­u­lar brands."
Accord­ing to an arti­cle in Friday's Kansas City Busi­ness Jour­nal, that means the com­pa­ny will sell brand names such as Host­ess, Twinkies, Won­der Bread, Ding Dongs and Ho Hos. Food indus­try ana­lyst John Stout Jr. believes such sales would allow oth­er busi­ness­es to resume prof­itable man­u­fac­tur­ing of these prod­ucts in oth­er facilities.
Such a plan will require the approval of Judge Robert Drain of the U.S. Bank­rupt­cy Court for the South­ern Dis­trict of New York. Host­ess filed a Chap­ter 11 bank­rupt­cy peti­tion in Judge Drain's court ear­ly this year, and under bank­rupt­cy law most major busi­ness deci­sions at Host­ess require his approval. Indeed, the impo­si­tion of the bru­tal wage and ben­e­fit cuts on BCT­GM mem­bers was specif­i­cal­ly approved by Judge Drain in October.
Host­ess spokesper­son Ignon said the com­pa­ny plans to be back in Judge Drain's court next week to seek his okay for mea­sures to fur­ther wind down oper­a­tions. Host­ess will not seek a for­mal con­ver­sion to a Chap­ter 7 liq­ui­da­tion pro­ceed­ing, but rather a con­tin­u­a­tion of the sta­tus quo, in which the cur­rent own­ers and man­agers main­tain con­trol of the com­pa­ny, he said.
What­ev­er hap­pens in Judge Drain's bank­rupt­cy court next week, an esti­mat­ed 18,000 Host­ess work­ers will have no job to return to Monday.
The com­pa­ny has been main­tain­ing a pay­roll of 18,300 to 18,500 work­ers, Ignon says, and most were laid off Fri­day. An unde­ter­mined num­ber of man­age­r­i­al and admin­is­tra­tive work­ers will be retained for the imme­di­ate future, he adds, but it is too ear­ly to give exact numbers.
About 5,000 BCT­GM work­ers will lose their jobs, along with 7,500 mem­bers of the Inter­na­tion­al Broth­er­hood of Team­sters and hun­dreds of mem­bers of ten oth­er unions rep­re­sent­ing small­er sec­tors of the Host­ess workforce.
CEO Rayburn's Fri­day state­ment made no men­tion of any assis­tance that the com­pa­ny plans to offer the new­ly job­less employees.
Bruce Vail
is a Bal­ti­more-based free­lance writer with decades of expe­ri­ence cov­er­ing labor and busi­ness sto­ries for news­pa­pers, mag­a­zines and new media. He was a reporter for Bloomberg BNA's Dai­ly Labor Report, cov­er­ing col­lec­tive bar­gain­ing issues in a wide range of indus­tries, and a mar­itime indus­try reporter and edi­tor for the Jour­nal of Com­merce, serv­ing both in the newspaper's New York City head­quar­ters and in the Wash­ing­ton, D.C. bureau.