New Twinkies Will Have a Missing Ingredient: Union Labor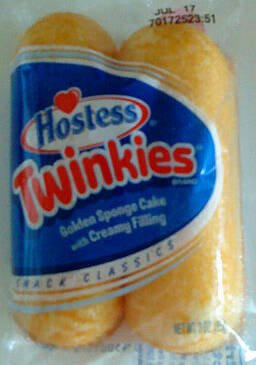 The new own­ers of Twinkies snack cakes announced last week they will re-open four shut­tered pro­duc­tion plants in the com­ing months, but have no inten­tion of doing busi­ness with the labor unions that have rep­re­sent­ed the work­ers at those bak­eries for generations.
When Host­ess went bank­rupt in Novem­ber, prompt­ing head­lines like ​"Who Killed the Twinkie?", man­age­ment blamed labor for the snack cake's demise, while unions pre­dict­ed that the com­pa­ny would be chopped up and sold at a prof­it to spec­u­la­tors who would speed­i­ly put the lucra­tive Twinkie brand back on the shelves. That's just what has happened.
An exec­u­tive of the new own­er­ship group — pri­vate equi­ty firms Metropolous & Co. and Apol­lo Glob­al Man­age­ment — announced that pro­duc­tion will resume at four, or pos­si­bly five, plants pur­chased from Host­ess Brands as part of a $410 mil­lion bank­rupt­cy sale ear­li­er this year.
The new com­pa­ny intends to hire about 1,500 work­ers at sites in Indi­anapo­lis, Empo­ria, Kan., Schiller Park, Ill., and Colum­bus, Ga., and may reopen a fifth bak­ery in Los Ange­les, accord­ing to exec­u­tive C. Dean Metropolous. For­mer union­ized work­ers at the bak­eries may apply for their old jobs, but no union con­tracts are in place, nor are any expect­ed to be signed in the fore­see­able future, he indicated.
Michael Cramer, exec­u­tive vice pres­i­dent of Host­ess Brands LLC, was more blunt. ​"We're sure not going to invite the unions in. We don't have to do it," he told NBC News.
Some 18,000 employ­ees at Host­ess were thrown out of work in Novem­ber 2012 when the for­mer own­ers closed 33 bak­eries and relat­ed facil­i­ties. Most work­ers were mem­bers of the Team­sters, the Bak­ery, Con­fec­tionery, Tobac­co Work­ers and Grain Millers (BCT­GM) union, or sev­er­al oth­er unions rep­re­sent­ing small, wide­ly-dis­persed bar­gain­ing units. At the time, Host­ess man­agers blamed the clo­sures on a strike by BCT­GM mem­bers protest­ing cuts in pay and ben­e­fits being imposed by the com­pa­ny. BCT­GM, in turn, blamed ​"near­ly a decade of finan­cial and oper­a­tional mismanagement."
In response to the reopen­ing announce­ment, BCT­GM Pres­i­dent David Dur­kee issued the fol­low­ing statement:
We are extreme­ly dis­ap­point­ed to see neg­a­tive state­ments from com­pa­ny exec­u­tives about the union sta­tus of its future employ­ees. Ide­al­ly, we would like to see as many of our mem­bers hired as pos­si­ble. We believe their com­bi­na­tion of expe­ri­ence, ded­i­ca­tion and know-how will give the new own­ers the chance to get high qual­i­ty snack cakes back in the marketplace.

The BCT­GM remains focused on ensur­ing that the new Host­ess Brands own­er­ship under­stands that the snack cakes at the cen­ter of this new com­pa­ny are inex­tri­ca­bly linked to the hands that make them — and have made them for gen­er­a­tions. We know that our work­ers have a crit­i­cal role to play in pro­tect­ing and enhanc­ing some of America's most valu­able con­sumer brands.

We all want the same out­come: that the brands should pros­per and endure. This is what the next stage of this saga is all about — imple­ment­ing a new own­er­ship and man­u­fac­tur­ing struc­ture wor­thy of the brands them­selves and America's man­u­fac­tur­ing prowess.
Durkee's state­ment appears to reflect dis­ap­point­ment that the new own­ers of Twinkies, as well as the buy­ers of oth­er Host­ess prop­er­ties such as Won­der Bread, have turned a deaf ear to his repeat­ed pub­lic state­ments that BCT­GM would work with new own­ers to reestab­lish the bak­eries and re-employ thou­sands of BCT­GM members.
The Metropolous/​Apollo com­bi­na­tion bought only that part of Host­ess direct­ly relat­ed to the pro­duc­tion of Twinkies and sweet snacks such as Ding Dongs, Ho Hos, Donettes, Zingers and Host­ess Cup Cakes. Oth­er parts of the com­pa­ny were split off and sold to oth­er bak­ery oper­a­tors. Flow­ers Foods, for exam­ple, bought 20 Host­ess bak­eries con­fig­ured for the pro­duc­tion of breads and rolls, and Grupo Bim­bo bought oth­er plants sim­i­lar­ly designed for bread production.
Both Flow­ers and Grupo Bim­bo oper­ate a mixed set of pro­duc­tion facil­i­ties, some of which are union­ized and some of which are non-union. BCT­GM spokesper­son Cor­ri­na Chris­tensen said the union had no com­ment at this time on the prospects of reach­ing new union agree­ments with those oth­er wo companies.
Bruce Vail
is a Bal­ti­more-based free­lance writer with decades of expe­ri­ence cov­er­ing labor and busi­ness sto­ries for news­pa­pers, mag­a­zines and new media. He was a reporter for Bloomberg BNA's Dai­ly Labor Report, cov­er­ing col­lec­tive bar­gain­ing issues in a wide range of indus­tries, and a mar­itime indus­try reporter and edi­tor for the Jour­nal of Com­merce, serv­ing both in the newspaper's New York City head­quar­ters and in the Wash­ing­ton, D.C. bureau.