49,000 Striking Auto Workers Should Vote No on "Two-Tier." Here's Why.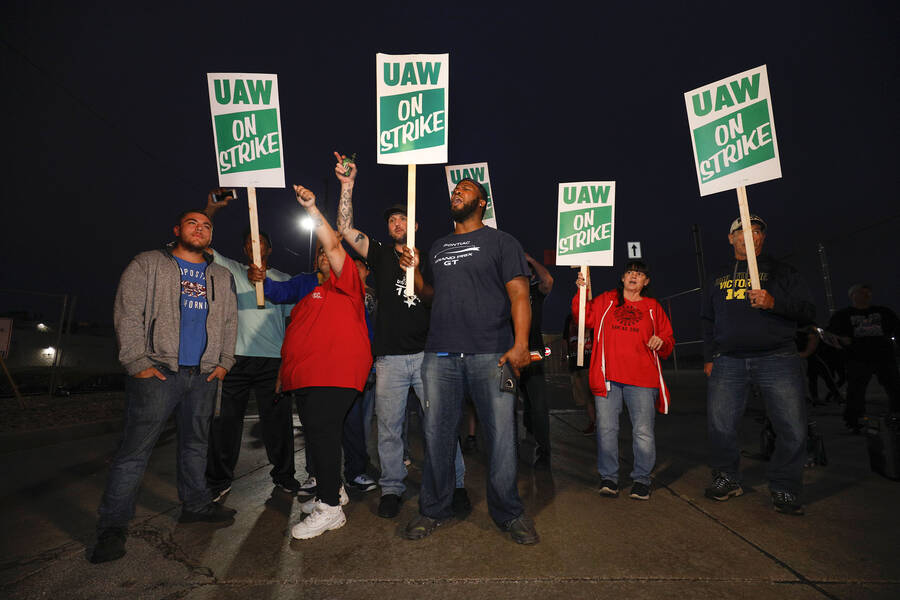 Auto work­ers on strike since mid­night at Gen­er­al Motors are between a rock and a hard place — a huge­ly prof­itable com­pa­ny mak­ing out­ra­geous demands for con­ces­sions and a union lead­er­ship that made no plan for win­ning a strike and has not even told mem­bers what they're going out for. Pick­et signs say sim­ply ​"UAW on Strike."
Over the last decades many oth­er unions have taught them­selves how to do con­tract cam­paigns and strikes, with mem­bers on board from the get-go. But to look at the UAW's con­fronta­tion with GM this week, you'd think none of that expe­ri­ence had ever happened.
Not a but­ton was dis­trib­uted in the plants. Mem­bers heard not a word from lead­ers about bar­gain­ing goals. There was no sur­vey of the mem­ber­ship, no con­tract action teams, no bar­gain­ing bul­letins to keep mem­bers in the loop. No ​"prac­tice pick­et­ing," no turn-down of over­time, no out­reach to the pub­lic, no open bargaining.
As they have for decades, UAW offi­cials played their cards close to the vest, with only man­age­ment allowed a peek. Mem­bers knew only what they read in the media, explained mate­ri­als han­dler Sean Craw­ford in Flint.
And yet 49,000 UAW mem­bers are angry enough with GM's arro­gance and down­right oppres­sion that they are ready to strike.
BIG CON­CES­SIONS DEMANDED
Local 598 in Flint broke the embar­go when it report­ed that GM wants mem­bers to pay more for health insur­ance and is offer­ing a less-than-infla­tion raise. Worse, it wants no move­ment on its odi­ous tiered sys­tem that has flood­ed the plants with low­er-paid out­side con­trac­tors, a sub­sidiary called GM Sub­sys­tems, and temps — GM employ­ees with no rights.
Beth Baryo, a for­mer temp and now an ​"in pro­gres­sion" (sec­ond-tier) work­er in Bur­ton, Michi­gan, said that temps are allowed to miss only three days of work per year, unpaid, with advance approval, and can be forced to work sev­en-day weeks.
At the GM Tech Cen­ter where she works, out­side Detroit, said Jessie Kel­ly, there are 1,300 work­ers employed by GM and 550 employed by Ara­mark, doing work that used to be GM workers'.
GM was bailed out by tax­pay­ers to the tune of $50 bil­lion in 2009. It made over $8 bil­lion in prof­its last year, while pay­ing no fed­er­al income tax­es yet gift­ing CEO Mary Bar­ra $22 mil­lion. For GM to demand con­ces­sions from its over­worked employ­ees now is a sign that it thinks the UAW is an easy foe.
After all, UAW Pres­i­dent Gary Jones may be dis­tract­ed. His house and that of for­mer Pres­i­dent Den­nis Williams were both searched by the FBI August 28. Jones' top lieu­tenant before he became pres­i­dent, Vance Pear­son, was charged with using union funds for per­son­al lux­u­ries, and it's wide­ly believed that Jones and Williams will be next. Pear­son was the sixth UAW offi­cial to be recent­ly charged or con­vict­ed of graft.
Craw­ford said as the strike kicked off, ​"Yes, the UAW is cor­rupt. It's dis­gust­ing beyond belief. But this is not about them. It's about us. We can and will clean house. But we have a more imme­di­ate fight on our hands right now."
Kel­ly too want­ed to ral­ly the troops against GM: ​"If some­body in the union abused their pow­er, their future is already set out for them. Ours is not, ours is up in the air. All we can do is be there for each oth­er because if we lose sight… GM will win because we were focus­ing on the wrong fight right now."
Mitch Fox, now at Romu­lus Engine, his third GM plant after shut­downs and lay­offs, is sick­ened by the cor­rup­tion. He hopes lead­ers' dis­re­pute could be a motive for the strike: ​"With every­thing that's going on, maybe they'll try hard­er to gain our respect back; hope­ful­ly that's the plan."
But if past con­tracts are an indi­ca­tion, the pact Jones nego­ti­ates is sure to be weak.
YOU CAN VOTE NO
With top lead­ers dis­cred­it­ed but refus­ing to step away, GM strik­ers have just one tool to use between their rock and their hard place: their right to vote no. They can do what Chrysler work­ers did in 2015: orga­nize to turn down a con­tract that enshrined the two-tier system.
In 2015 rank-and-file Chrysler work­ers, with no union sup­port, made leaflets and T‑shirts, cre­at­ed Face­book groups to share their sto­ries, and ral­lied out­side infor­ma­tion­al meetings.
They did what no one thought pos­si­ble in the UAW and vot­ed Williams's offer down 2 – 1, over­com­ing his defi­ant dec­la­ra­tion that ​"end­ing two-tier is bull­shit!" and win­ning a par­tial vic­to­ry. The offer was improved, estab­lish­ing a grow-in for sec­ond-tier work­ers to full pay (though still with­out pen­sions or the same health care plan).
Soon after the Chrysler vote, per­haps embold­ened by the ​"no" vote at Chrysler, GM skilled trades work­ers reject­ed their pact as well, by almost 60 per­cent, win­ning some improve­ments. (Pro­duc­tion work­ers vot­ed yes by 58 percent.)
In 2015 what the automak­ers did with one hand they took away with anoth­er, though — a less-noticed pro­vi­sion also increased the use of temps.
"I'm vot­ing no on any con­tract pro­pos­al that doesn't give a path­way to equal­i­ty for every GM/ UAW mem­ber," said Craw­ford. ​"This is a sacred prin­ci­ple. It is the very mean­ing of the word union. This oppor­tu­ni­ty might not come again."