Uber's Attempt To Silence Its Drivers May Have Just Backfired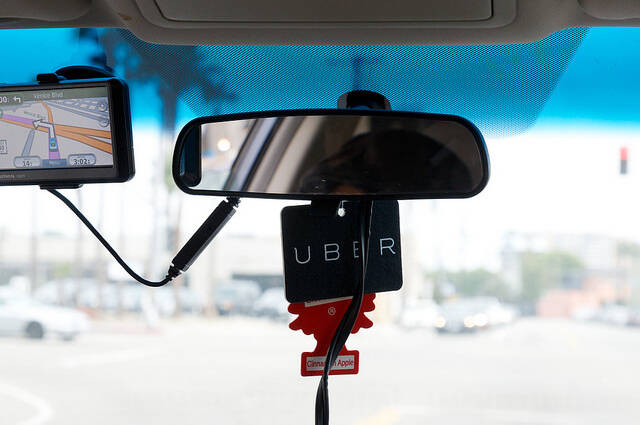 Much has been made over how Uber, the car ser­vice that enables users to hail a car with­in min­utes of press­ing a few keys on their smart­phones, is jump­start­ing the ​"gig-econ­o­my." Fre­quent­ly lost amid the dis­cus­sion over dis­rupt­ing exist­ing indus­tries, how­ev­er, is the fact that work­ers in this new econ­o­my often get the short-shrift. That fact was made extreme­ly evi­dent in a recent order against the com­pa­ny writ­ten by U.S. Dis­trict Judge Edward M. Chen in which he found that the terms Uber impos­es upon its dri­vers as a con­di­tion of dri­ving for the com­pa­ny, includ­ing a forced arbi­tra­tion clause, are uncon­scionable and unen­force­able under Cal­i­for­nia law. In plain Eng­lish, he ruled that the pro­vi­sions were so unfair and one-sided in favor of Uber that they could not be enforced in a court of law.
The case was brought by Ronald Gillette and Abdul Mohamed, who began dri­ving for Uber in Cal­i­for­nia in 2013 and in Boston in 2012, respec­tive­ly. Not only do rid­ers arrange their rides via smart­phone, but dri­vers also arrange to work for Uber via smart­phone. When Gillette and Mohamed decid­ed to work for Uber, they logged on to the app to join the Uber ​"fleet" and a mes­sage popped up on their screens ask­ing if they agree to ​"all the con­tracts" list­ed. If they indi­cat­ed they agreed, anoth­er mes­sage popped up that said ​"PLEASE CON­FIRM THAT YOU HAVE REVIEWED ALL THE DOC­U­MENTS AND AGREE TO ALL THE NEW CON­TRACTS." The two choic­es were ​"YES, I AGREE" and ​"NO." After click­ing the ​"YES, I AGREE" option, both Gillette and Mohamed gained access to the app and began dri­ving for Uber.
Gillette was sub­se­quent­ly ter­mi­nat­ed by Uber because "'some­thing had come up' on his con­sumer back­ground report." Mohamed's access to the app was sub­se­quent­ly revoked ​"at least in part as a ​'result of infor­ma­tion obtained [by defen­dants] through [a] Con­sumer Report­ing Agency'," and he lost his abil­i­ty to pick up pas­sen­gers as an Uber dri­ver. This was only the begin­ning of their trou­bles with Uber.
To under­stand how forced arbi­tra­tion squeezes work­ers and deprives them of the pro­tec­tions oth­er­wise guar­an­teed by law, we have to get into a bit of legalese. The terms to which Gillette and Mohamed agreed by click­ing the ​"YES, I AGREE" option on their phones includ­ed a clause stip­u­lat­ing that any dis­pute between Uber and the dri­ver will be resolved in an arbi­tra­tion pro­ceed­ing rather than in open court.
As almost any first year law stu­dent can tell you, a par­ty is bound by the con­tract she signs. Even if a court deter­mines that a con­tract was valid­ly made, how­ev­er, there are a num­ber of bases upon which courts can deem con­tracts unen­force­able. These include, among oth­ers, con­tracts con­sid­ered to be against the law, con­tracts signed under duress and con­tracts that are unconscionable.
For exam­ple, a court wouldn't enforce a con­tract in which one par­ty con­tracts with anoth­er to com­mit a crime because the agree­ment is against the law. A court would not enforce a con­tract signed by some­one with a gun to their head as that would clear­ly con­sti­tute duress. Although there is no one test to deter­mine if a con­tract is uncon­scionable, ​"gross inequal­i­ty of bar­gain­ing pow­er, togeth­er with terms unrea­son­ably favor­able to the stronger par­ty," may lend cre­dence to an argu­ment that a con­tract or a par­tic­u­lar clause with­in it is unconscionable.
After eval­u­at­ing Uber's arbi­tra­tion pro­vi­sion, Judge Chen found that the clause was, in fact uncon­scionable, and thus unen­force­able. In com­ing to this deci­sion, Judge Chen reviewed all of the lan­guage in Uber's con­tracts, tak­ing read­ers of his opin­ion on a tour of the worst aspects of this one-sided deal.
First, the clause pro­hib­it­ed the plain­tiffs from bring­ing enforce­ment actions on behalf of oth­er indi­vid­u­als — an essen­tial tool for enforc­ing civ­il rights laws — as pro­vid­ed for by Cal­i­for­nia state law.
Sec­ond, the clause required the plain­tiffs to pay a por­tion of the arbitrator's costs and fees, where­as in court they would not have to pay a judge for his or her time.
Third, the clause required that any arbi­tra­tion pro­ceed­ing be con­fi­den­tial, con­trary to open access to court proceedings.
Fourth, in a brazen move, while Uber denied its dri­vers access to court and forced them to pro­ceed to arbi­tra­tion, it carved out a pro­vi­sion which enabled the com­pa­ny to bring a case in court under cer­tain circumstances.
Fifth, and last, the pro­vi­sion allowed Uber to mod­i­fy the terms of the con­tract at any time, with­out grant­i­ng its dri­vers the same ability.
Arbi­tra­tion is an alter­na­tive method of dis­pute res­o­lu­tion that bypass­es our civ­il jus­tice sys­tem. It can be an appro­pri­ate forum when it is know­ing­ly and vol­un­tar­i­ly agreed to by the indi­vid­ual as well as the com­pa­ny after a dis­pute arises.
But a recent study found that out­comes in arbi­tra­tion for work­ers — win rates, dam­age awards, and set­tle­ment amounts — are stark­ly infe­ri­or to out­comes work­ers receive when they go to court. As one fed­er­al judge lament­ed in a forced arbi­tra­tion case, ​"there is a rea­son that arbi­tra­tion is the favored venue of many busi­ness­es for decid­ing employ­ment dis­putes, and it is not to ensure that employ­ees are afford­ed the best chance to have their claims adju­di­cat­ed by a judge or jury picked from the community."
Arbi­tra­tion pro­ceed­ings are not gov­erned by the same rules of pro­ce­dure which exist in a court pro­ceed­ing and are designed to ensure fair­ness and due process. For exam­ple, those who have been wronged are gen­er­al­ly able to gain access to the key doc­u­ments that the oth­er side pos­sess­es and that are often cru­cial to prove their cas­es. In con­trast, arbi­tra­tion pro­ceed­ings are often secret and deprive aggriev­ed indi­vid­u­als the oppor­tu­ni­ty to present their case to a jury of their peers. Because arbi­tra­tion pro­ceed­ings are secret and not pub­lic, they shield com­pa­nies that break the law from pub­lic account­abil­i­ty and scruti­ny. And arbi­tra­tion claus­es fre­quent­ly pro­hib­it indi­vid­u­als from appeal­ing a rul­ing against them.
Even worse is the fact that forced arbi­tra­tion claus­es such as the one used by Uber are on the rise. In 2010, 27 per­cent of non-union­ized work­ers—or 36 mil­lion peo­ple — were sub­ject to forced arbi­tra­tion claus­es. That fig­ure is like­ly much high­er now as the Supreme Court has issued two deci­sions in recent years that have made arbi­tra­tion even more favor­able to employers.
Indeed, man­age­ment-side attor­neys have writ­ten about how forced arbi­tra­tion claus­es help their clients' bot­tom lines, espe­cial­ly those pro­vi­sions that include lan­guage ban­ning work­ers or con­sumers from join­ing togeth­er to form a class to obtain col­lec­tive relief. A 2015 report by a nation­al man­age­ment firm shows that the per­cent­age of employ­ers using forced arbi­tra­tion and class action bans more than dou­bled from 21% in 2011 to almost 46% in 2014.
If Uber had its way, its dri­vers would be bound to address dis­putes with the com­pa­ny through forced arbi­tra­tion in a secret, pri­vate tri­bunal. The dri­vers would also be pro­hib­it­ed from join­ing togeth­er in class action suits — which is often the only way indi­vid­u­als can hold large com­pa­nies account­able for their wrongdoing.
Thank­ful­ly, Judge Chen rec­og­nized the unfair­ness that ​"per­me­at­ed" Uber's terms with Gillette, Mohamed, and the oth­er dri­vers in their law­suit and found it unen­force­able. Uber has appealed the case to the Ninth Cir­cuit Court of Appeals — remem­ber, the kind of appeal that is not allowed under forced arbi­tra­tion — so we will soon find out if oth­er judges share Judge Chen's per­spec­tive on what is fair and what is not.
For the record, Uber doesn't stop at impos­ing forced arbi­tra­tion on its dri­vers. Uber also refus­es to clas­si­fy its dri­vers as employ­ees and treats them instead as inde­pen­dent con­trac­tors, who are not enti­tled to the rights and pro­tec­tions afford­ed employ­ees. We need updat­ed laws to han­dle these new employ­ment arrange­ments that are becom­ing more and more fre­quent in our shar­ing econ­o­my. Until we have such laws, dri­vers like Gillette and Mohamed will not only be denied the basic rights and ben­e­fits asso­ci­at­ed with being clas­si­fied as employ­ees; they will con­tin­ue to be sub­ject to a sham sys­tem of jus­tice in which they can­not have their claims heard in open court with the basic pro­tec­tions afford­ed by a court proceeding.
Clark Tay­lor
is the Paul H. Tobias Attor­ney Fel­low at The Employ­ee Rights Advo­ca­cy Insti­tute For Law
&
Policy.