Please Let's Never Call Uber "The Future of Work" Ever Again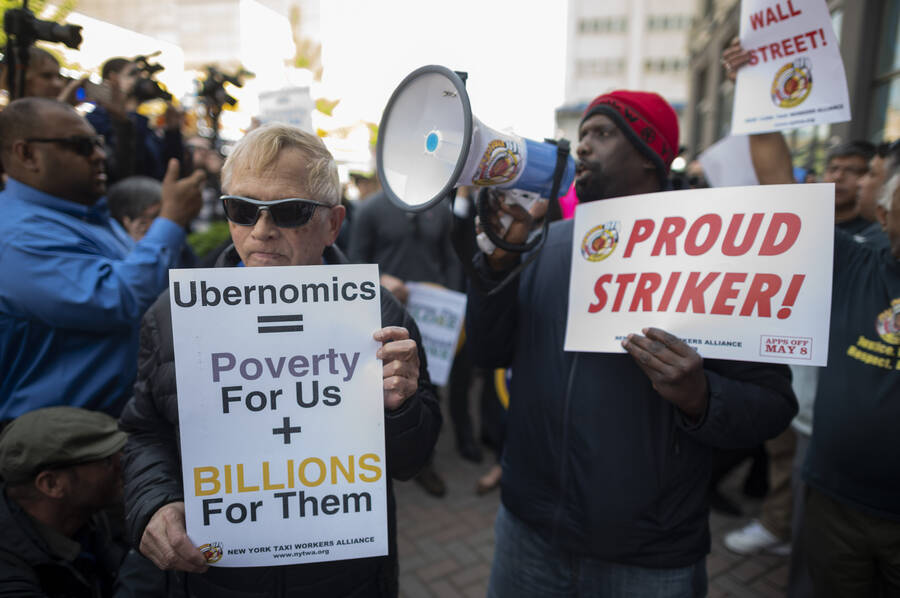 It was back in 2015 that Oba­ma admin­is­tra­tion alum David Plouffe, fresh­ly decamped to Sil­i­con Val­ley, first sug­gest­ed that the gig econ­o­my was ​"the future of work."
On-demand plat­forms like Uber will con­tin­ue to grow, Plouffe declared, because they've found a new means to offer work­ers some­thing they des­per­ate­ly need: an easy way to make a quick buck in a tough econ­o­my. While Uber wasn't pro­vid­ing health­care or over­time pay to its dri­vers — deemed ​"part­ners" by the com­pa­ny — it offered them flexibility.
"When you look at the full pic­ture of how peo­ple are tru­ly using these plat­forms and seiz­ing these eco­nom­ic oppor­tu­ni­ties," wrote Plouffe in a Medi­um post, ​"it's clear that this is much more of an oppor­tu­ni­ty to be seized than a prob­lem to be solved."
"The future of work" soon became the phrase that launched a thou­sand con­fer­ence pan­els. Even though gig work­ers com­prise no more than one per­cent of the U.S. work­force, accord­ing to the lat­est esti­mates, Sil­i­con Val­ley has attempt­ed to prop­a­gate the myth that we have entered a brave new world where the old rules no longer apply — those rules being basic labor pro­tec­tions and col­lec­tive bar­gain­ing rights.
But the defin­ing fea­ture of the gig econ­o­my has nev­er been work­ers accept­ing jobs through an app on their phone: it's that they work with no ben­e­fits, no job secu­ri­ty and no unions. And it's this mod­el of the future, in which work­ers are more ful­ly fun­gi­ble, that is being pro­mot­ed not only by tech acolytes, but also by tra­di­tion­al employ­ers and the Amer­i­can Right.
A March report from the Nation­al Employ­ment Law Project (NELP) details how hotel chains Mar­riott and Hilton, as well as the right-wing Amer­i­can Leg­isla­tive Exchange Coun­cil and the Cato Insti­tute, have thrown their weight behind ​"a far-reach­ing, mul­ti-mil­lion-dol­lar influ­ence cam­paign" to rewrite work­er clas­si­fi­ca­tion stan­dards at every lev­el of government.
As the NELP report explains, ​"Gig com­pa­nies are sim­ply using new-fan­gled meth­ods of labor medi­a­tion to extract rents from work­ers, and shift risks and costs onto work­ers, con­sumers, and the gen­er­al public."
Yet despite all this effort, rideshare dri­vers nation­wide took a page out of the labor movement's play­book on Wednes­day and went on strike.
Kathrine Federo­va, who dri­ves for both Uber and Lyft, has actu­al­ly been on strike three times as a mem­ber of Chica­go Rideshare Advo­cates. As a full-time account­ing stu­dent, Federo­va says she does appre­ci­ate the flex­i­bil­i­ty the plat­forms pro­vide. ​"But lots of peo­ple need flex­i­bil­i­ty in their jobs for lots of rea­sons, and Uber and Lyft take advan­tage of that," she told In These Times.
Chica­go Rideshare Advo­cates, a work­er-run group orga­nized pri­mar­i­ly through social media, has orga­nized a hand­ful of labor actions in recent years, and first began plan­ning Wednesday's strike in coor­di­na­tion with a sim­i­lar group in Los Ange­les. Through dri­ver Face­book groups, as well as a wide­ly shared tweet from pres­i­den­tial can­di­date Bernie Sanders, the coor­di­nat­ed action spread to dozens of major cities.
Dri­vers were already angry about a declin­ing share of fees, unpre­dictable surge pric­ing and deac­ti­va­tions. But Uber's state­ments ahead of their $90 bil­lion ini­tial pub­lic offer­ing (IPO) — set to begin trad­ing on Fri­day — incensed them fur­ther. In fil­ings with the SEC, the com­pa­ny wrote that ​"we expect dri­ver dis­sat­is­fac­tion will gen­er­al­ly increase" as it removes incen­tives ​"to improve our finan­cial per­for­mance" and keep returns for investors healthy.
"Dri­vers are talked [about as if they are] lia­bil­i­ties and not the actu­al heroes that built their empire," Bhairavi Desai, founder of the New York Taxi Work­ers Alliance (NYT­WA), told AM New York. ​"We're send­ing a mes­sage that dri­vers need to come first." Mem­bers of NYT­WA, which orga­nizes with both tra­di­tion­al taxi and rideshare dri­vers, went on strike Wednes­day morn­ing dur­ing ear­ly rush hour traf­fic from 7 a.m. to 9 a.m.
Uber said in a state­ment that it planned to hand out approx­i­mate­ly $300 mil­lion in bonus­es ​"to acknowl­edge Dri­vers who have par­tic­i­pat­ed in [its] suc­cess" ahead of the IPO.
But dri­vers say those bonus­es of a few hun­dred dol­lars per per­son are a drop in the buck­et. They also only apply to more senior dri­vers. Lyft award­ed bonus­es to dri­vers who have com­plet­ed more than 10,000 rides. Barb Lloyd, anoth­er orga­niz­er of Chica­go Rideshare Asso­ciates who has been dri­ving for six years, says she has giv­en more than 9,990 rides but got nothing.
Rideshare dri­vers began stag­ing small strikes in 2014, and soon after, Sil­i­con Val­ley stepped in to offer its own alter­na­tive to an actu­al union. In 2016, Uber announced that it would rec­og­nize and fund a ​"driver's guild" affil­i­at­ed with the Inter­na­tion­al Asso­ci­a­tion of Machin­ists and Aero­space Work­ers union.
Telling­ly, the Koch Broth­ers-backed anti-union Mack­inac Cen­ter also called the guild a ​"mod­el that could pull the anti­quat­ed union mod­el into the 21st cen­tu­ry." As Chris Brooks report­ed in a 2016 Labor Notes arti­cle, the asso­ci­a­tion has no col­lec­tive bar­gain­ing rights and promised not to insti­gate strikes among dri­vers in exchange for Uber's blessing.
Instead of strik­ing this week, the dri­vers' guild announced that it would hold a ral­ly in sol­i­dar­i­ty with strik­ing work­ers. The guild also respond­ed to a recent spate of dri­ver sui­cides by launch­ing a new ​"dri­ver well­ness" hot­line and offer­ing free counseling.
The ben­e­fits of this mod­el pale in com­par­i­son to the ground­break­ing wins secured by the NYT­WA, which last year helped achieve the nation's first min­i­mum wage for Uber and Lyft dri­vers in New York City. Wednesday's strike, and Uber and Lyft's ner­vous­ness about the risk it pos­es to their prof­itabil­i­ty, fur­ther demon­strates that the ride share behe­moths remain vul­ner­a­ble to tra­di­tion­al labor organizing.
Uber is not, as its advo­cates fre­quent­ly claim, a ground­break­ing new employ­ment mod­el. In fact, it's bare­ly even a busi­ness mod­el at all. As Doug Hen­wood recent­ly detailed in Jacobin, the com­pa­ny is not prof­itable, and its entire plan for becom­ing so depends on con­tin­u­ing to reel in new investors while unrav­el­ing labor reg­u­la­tions and, per­haps even­tu­al­ly, can­ni­bal­iz­ing the pub­lic trans­porta­tion sector.
That's an unsa­vory future, but, as Wednesday's nation­wide strike sug­gests, it can still be avoid­ed through good, old-fash­ioned col­lec­tive action.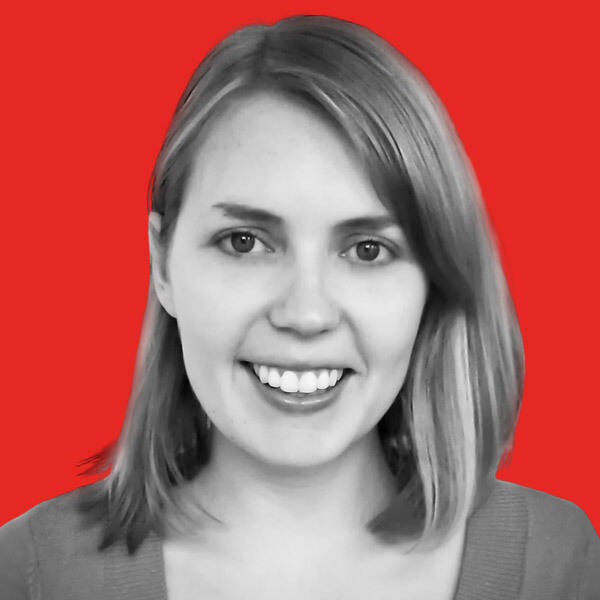 Rebec­ca Burns
is an award-win­ning inves­tiga­tive reporter whose work has appeared in The Baf­fler, the Chica­go Read­er, The Inter­cept and oth­er out­lets. She is a con­tribut­ing edi­tor at In These Times. Fol­low her on Twit­ter @rejburns.