Uber's Business Model: Screwing Its Workers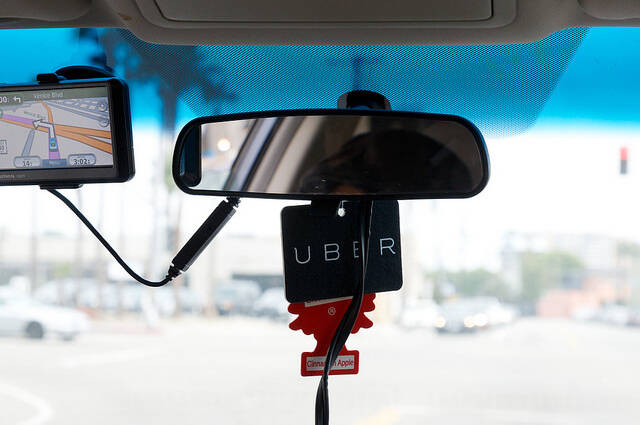 Kazi dri­ves a Toy­ota Prius for Uber in Los Ange­les. He hates it.
He bare­ly makes min­i­mum wage, and his back hurts after long shifts. But every time a pas­sen­ger asks what it's like work­ing for Uber, he lies: ​"It's like own­ing my own busi­ness; I love it."
Kazi lies because his job depends on it. After pas­sen­gers fin­ish a ride, Uber asks them to rate their dri­ver on a scale from one to five stars. Dri­vers with an aver­age below 4.7 can be deac­ti­vat­ed — tech-speak for fired.
Gabriele Lopez, an LA Uber dri­ver, also lies. ​"We just sit there and smile, and tell every­one that the job's awe­some, because that's what they want to hear," said Lopez, who's been dri­ving for UberX, the company's low-end car ser­vice, since it launched last summer.
In fact, if you ask Uber dri­vers off the clock what they think of the com­pa­ny, it often gets ugly fast. ​"Uber's like an exploit­ing pimp," said Arman, an Uber dri­ver in LA who asked me to with­hold his last name out of fear of ret­ri­bu­tion. ​"Uber takes 20 per­cent of my earn­ings, and they treat me like shit — they cut prices when­ev­er they want. They can deac­ti­vate me when­ev­er they feel like it, and if I com­plain, they tell me to fuck off."
In LA, San Fran­cis­co, Seat­tle, and New York, ten­sion between dri­vers and man­age­ment has bub­bled over in recent months. And even though Uber's busi­ness mod­el dis­cour­ages col­lec­tive action (each work­er is tech­ni­cal­ly in com­pe­ti­tion with each oth­er), some dri­vers are band­ing together.
Uber dri­vers in LA, the largest ride-shar­ing mar­ket in the coun­try, helddozens of protests over the sum­mer to oppose rate cuts. Late last month, dri­vers work­ing with Team­sters Local 986 launched the Cal­i­for­nia App-based Dri­vers Asso­ci­a­tion (CADA), a sort of Uber dri­vers union. Uber work­ers in Seat­tle have staged their own protests and have formed the Seat­tle Ride-Share Dri­vers Asso­ci­a­tion. Just last week in New York City, dri­vers for the lux­u­ry UberBlack ser­vice threat­ened to strike and suc­cess­ful­ly reversed a com­pa­ny deci­sion that would have forced them to pick up cheap­er and less lucra­tive UberX rides. On Mon­day, dri­vers protest­ed again.
"We want the com­pa­ny to under­stand that we are not just ants," Joseph DeWolf, a mem­ber of CADA's lead­er­ship coun­cil, told me at the Team­sters Union hall in El Monte, Cal­i­for­nia. ​"What we want is a liv­ing wage, an open chan­nel of com­mu­ni­ca­tion with the com­pa­ny, and basic respect." DeWolf said CADA is sign­ing up mem­bers, col­lect­ing dues, and plans to strike in LA if Uber refus­es to come to the nego­ti­at­ing table.
It won't be easy. Dri­vers are going up against a bur­geon­ing goliath val­ued at around $18 bil­lion. The com­pa­ny just hired David Plouffe, who man­aged Barack Obama's pres­i­den­tial cam­paigns; it's active in 130 cities; and if com­pa­ny exec­u­tives are to be believed, it dou­bles its rev­enue every six months.
Uber makes that mon­ey by rely­ing on a net­work of thou­sands of dri­vers who are not tech­ni­cal­ly employ­ees of the com­pa­ny, but rather inde­pen­dent con­trac­tors — the com­pa­ny calls them ​"dri­ver-part­ners" — who receive a per­cent­age of its fares.
From the very begin­ning, Uber attract­ed dri­vers with a bait-and-switch. Take the company's launch in LA: In May 2013, Uber charged cus­tomers a fare of $2.75 per mile (with an addi­tion­al 60¢ per minute under eleven mph). Dri­vers got to keep 80 per­cent of the fare. Work­ing full time, dri­vers could make a liv­ing wage: between 15 and $20 an hour.
Dri­vers rushed to sign up, and thou­sands leased and bought cars just to work for Uber — espe­cial­ly immi­grants and low-income peo­ple des­per­ate for a well-pay­ing job in a ter­ri­ble econ­o­my. But over the last year, the com­pa­ny has faced stiff com­pe­ti­tion from its arch-rival, Lyft. To raise demand and push Lyft out of the LA mar­ket, Uber has cut UberX fares near­ly in half: to $1.10 per mile, plus 21¢ a minute.
Uber dri­vers have no say in the pric­ing, yet they must car­ry their own insur­ance and foot the bill for gas and repairs — a cost of 56¢ per mile, accord­ing to IRS esti­mates. With Uber's new pric­ing mod­el, dri­vers are forced to work under razor-thin mar­gins. Arman, for instance, made about $20 an hour just a year ago. And now? Some days he doesn't even break min­i­mum wage.
His expe­ri­ence is quite com­mon among LA Uber dri­vers I spoke to. For many, dri­ving for Uber has become a night­mare. Arman often works up to sev­en­teen hours a day to bring home what he used to make in an eight-hour shift. When he emailed Uber to com­plain about his plum­met­ing pay, he said the com­pa­ny blew him off. Uber's atti­tude is that dri­vers are free to stop work­ing if they are dis­sat­is­fied, but for dri­vers like Arman who've invest­ed seri­ous mon­ey in their cars, quit­ting isn't an option.
"These dri­vers are very vul­ner­a­ble if they do not band togeth­er." Dan McK­ib­bin, the Team­sters' West Coast orga­niz­er, told me. ​"Right now they have no one to pro­tect them."
The com­pa­ny wouldn't speak to me about CADA, the Team­sters, or how it deals with dri­ver griev­ances. But it seems to brush off every­one else too. Ear­li­er this sum­mer, when CADA leader DeWolf met with William Barnes, Uber's LA direc­tor, Barnes alleged­ly laughed in his face.
As DeWolf recount­ed, when he told Barnes that dri­vers planned to orga­nize with the Team­sters, Barnes respond­ed, ​"Uber would nev­er nego­ti­ate with any group that claims to rep­re­sent drivers."
Uber repeat­ed­ly ignored my request for com­ment on this exchange. Instead, the com­pa­ny issued a state­ment accus­ing the Team­sters of try­ing to ​"line their cof­fers" with new Uber-dri­ving members.
Uber claims there's no need for a union; it instead asks dri­vers to trust that the com­pa­ny acts in their best inter­est. Uber refused to show me com­plete data detail­ing aver­age hourly com­pen­sa­tion for dri­vers. It does claim, how­ev­er, that UberX dri­vers are mak­ing more mon­ey now than before this summer's price cuts.
"The aver­age fares per hour for a Los Ange­les UberX dri­ver-part­ner in the last four weeks were 21.4% high­er than the Decem­ber 2013 week­ly aver­age," Uber spokesper­son Eva Behrend told me. ​"And dri­vers on aver­age have seen fares per hour increase 28% from where they were in May of this year."
I couldn't find a sin­gle dri­ver who is mak­ing more mon­ey with the low­er rates.
What's clear is that for Uber dri­vers to get by, they're going to have to take on more rides per shift. Uber implic­it­ly con­cedes as much: ​"With price cuts, trips per hour for part­ner-dri­vers have increased with high­er demand," Behrend said.
So while dri­vers make less per fare, Uber sug­gests they recoup loss­es by just dri­ving more miles. That may make sense for an Uber ana­lyst crunch­ing the num­bers in Sil­i­con Val­ley, but for dri­vers, more miles means hus­tling to cram as many runs into a shift as pos­si­ble to make the small mar­gins worthwhile.
"These days, I won't even stop to take a shit, I just dri­ve — some­times for up to fif­teen hours a day," a dri­ver named Dan told me after pulling an all-nighter bring­ing drunk peo­ple home from bars. ​"It's humiliating."
Low­er rates also means they pay more out of their own pock­ets for gas, and their cars depre­ci­ate in val­ue faster because they're dri­ving extra miles.
Mean­while, Uber acts as if it's doing dri­vers a favor by offer­ing them work in the first place. Uber CEO Travis Kalan­ick, who loves giv­ing inspi­ra­tional talks about inno­va­tion, often claims that Uber helps peo­ple ​"become small busi­ness own­ers." But work­ing long shifts and fork­ing over 20 per­cent of fares to a group of Sil­i­con Val­ley app-engi­neers doesn't real­ly count as own­ing a small business.
"They think we are a bunch of losers who can't find bet­ter jobs," DeWolf said. ​"That's why they treat us like robots — like we are replaceable."
Uber, of course, dis­putes this char­ac­ter­i­za­tion. ​"Uber suc­ceeds when our part­ner-dri­vers suc­ceed," Behrend said.
But that is just emp­ty spin: dri­vers aren't part­ners — they are labor­ers exploit­ed by their com­pa­ny. They have no say in busi­ness deci­sions and can be fired at any time. Instead of pay­ing its employ­ees a wage, Uber just pock­ets a por­tion of their earn­ings. Dri­vers take all the risks and front all the costs — the car, the gas, the insur­ance — yet it is exec­u­tives and investors who get rich.
Uber is part of a new wave of cor­po­ra­tions that make up what's called the ​"shar­ing econ­o­my." The premise is seduc­tive in its sim­plic­i­ty: peo­ple have skills, and cus­tomers want ser­vices. Sil­i­con Val­ley plays match­mak­er, churn­ing out apps that pair work­ers with work. Now, any­one can rent out an apart­ment with AirBnB, become a cab­bie through Uber, or clean hous­es using Homejoy.
But under the guise of inno­va­tion and progress, com­pa­nies are strip­ping away work­er pro­tec­tions, push­ing down wages, and flout­ing gov­ern­ment reg­u­la­tions. At its core, the shar­ing econ­o­my is a scheme to shift risk from com­pa­nies to work­ers, dis­cour­age labor orga­niz­ing, and ensure that cap­i­tal­ists can reap huge prof­its with low fixed costs.
There's noth­ing inno­v­a­tive or new about this busi­ness mod­el. Uber is just cap­i­tal­ism, in its most naked form.
First pub­lished at Jacobin.
In These Times is proud to fea­ture con­tent from Jacobin, a print quar­ter­ly that offers social­ist per­spec­tives on pol­i­tics and eco­nom­ics. Sup­port Jacobin and buy a sub­scrip­tion for just $19.
Avi Ash­er-Schapiro
is a free­lance writer based in Oak­land. He was a
2011
 – 
2012
Ful­bright Fel­low in Cairo and his writ­ing has appeared in Salon, Muf­tah, Prospect, and the SF Bay Guardian.