The Wave of Militant Teacher Strikes Has Gone Global. Just Look at the UK.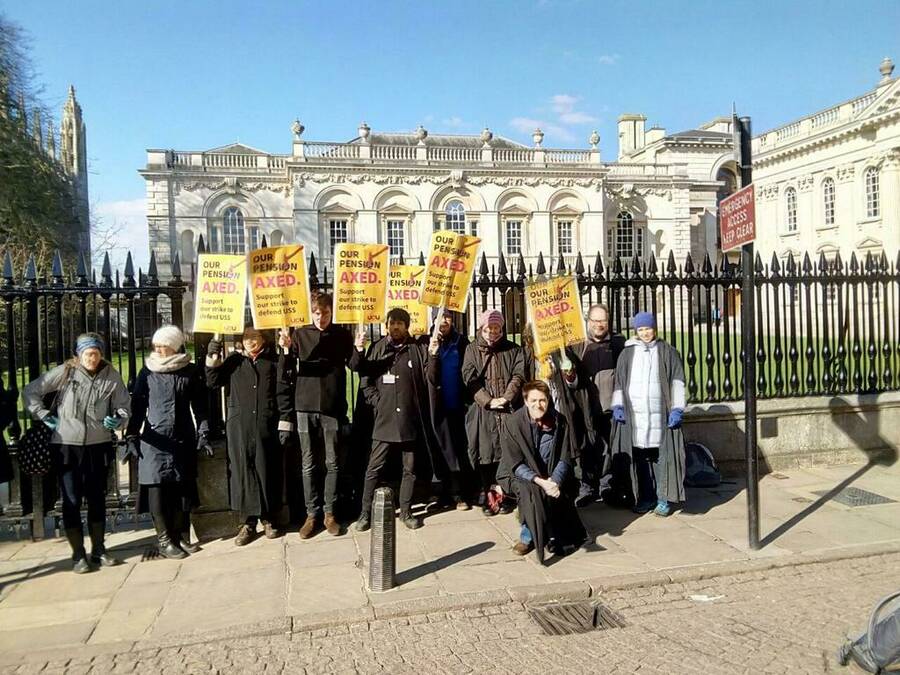 The wave of mil­i­tant teacher actions that began in West Vir­ginia is now spread­ing through­out the Unit­ed States, to Okla­homa, Ken­tucky and, poten­tial­ly soon, Ari­zona. Teach­ers in these and oth­er states are fight­ing back against aus­ter­i­ty mea­sures that have, in recent decades, led to pay cuts, reduced job secu­ri­ty and wors­en­ing work­ing con­di­tions. Their rebel­lion is a sign to oth­er work­ers: if you want to beat back attacks on your wages and con­di­tions, your best choice is to strike.
And these actions haven't been con­fined to the Unit­ed States. On Feb­ru­ary 22, the same day that West Vir­ginia teach­ers began their walk­out, more than 40,000 lec­tur­ers, researchers, tech­ni­cal and aca­d­e­m­ic-relat­ed staff went on strike at 61 British uni­ver­si­ties. Three oth­er uni­ver­si­ties joined them the fol­low­ing week.
The strike was called by the Uni­ver­si­ty and Col­lege Union (UCU), in response to pro­pos­als by uni­ver­si­ty man­agers to cut pen­sions for high­er edu­ca­tion work­ers at just under half of Britain's 130 uni­ver­si­ties. The pro­posed changes would have turned the Uni­ver­si­ty Super­an­nu­a­tion Scheme (USS), which cov­ers about 300,000 active and retired uni­ver­si­ty work­ers, from a defined-ben­e­fit plan, where employ­ers col­lec­tive­ly guar­an­tee a cer­tain lev­el of pay­ment to retirees, to a defined-con­tri­bu­tion pen­sion plan, which mere­ly guar­an­tees a cer­tain lev­el of con­tri­bu­tions. The UCU esti­mat­ed that these changes could cost a new lec­tur­er £208,000 over the course of their retire­ment, or near­ly £9,600 per year.
To protest the pro­posed pen­sion cuts, the UCU planned 14 days of indus­tri­al action over four weeks to esca­late pres­sure on uni­ver­si­ty man­agers and their rep­re­sen­ta­tive body, Uni­ver­si­ties UK. The first week of action saw two strike days; the sec­ond saw three, the third four, and all five work­ing days in the fourth week. Dur­ing those four weeks, come snow or icy rain, the num­ber of lec­tur­ers, tech­ni­cal and aca­d­e­m­ic-relat­ed staff on the pick­et lines only increased. Thou­sands of new mem­bers have joined the union since the strike began.
On the eve of the UCU strike, a YouGov poll showed that uni­ver­si­ty stu­dents over­whelm­ing­ly sup­port­ed the teacher-led action. Stu­dents have since joined them on pick­et lines, and at more than 20 uni­ver­si­ties they have occu­pied key build­ings on cam­pus to ramp up the pres­sure on their Vice-Chan­cel­lors (top man­agers) to meet the union's demands. The pub­lic has also not turned against the strik­ers, cer­tain­ly not on the pick­et lines or in the press. Even the Finan­cial Times, a reli­able mouth­piece for the City of Lon­don and no friend of the unions, has cast seri­ous doubt on the wis­dom of the pro­posed pen­sion changes.
Uni­ver­si­ties UK, mean­while, has seen its uni­ty threat­ened. The Vice-Chan­cel­lor of New­cas­tle Uni­ver­si­ty, Chris Day, had few sec­on­ders when, on the first day of the strike, he announced his full sup­port for strik­ing work­ers. Since then, more than half of the 64 Vice-Chan­cel­lors at uni­ver­si­ties affect­ed by the dis­pute joined Day in urg­ing Uni­ver­si­ties UK to either drop their pro­posed changes alto­geth­er or return to nego­ti­a­tions with the UCU. Six days into the strike, on Feb­ru­ary 27, Uni­ver­si­ties UK agreed to arbi­tra­tion with the union through ACAS, a pub­licly-run con­cil­i­a­tion service.
As in West Vir­ginia, strik­ing UCU mem­bers are chal­leng­ing an edu­ca­tion mod­el that short-changes teach­ers. Many younger uni­ver­si­ty staff face years of low-paid and tem­po­rary work before they can access a secure job. By plac­ing in jeop­ardy one of their few remain­ing priv­i­leges, a pen­sion, Uni­ver­si­ties UK has encour­aged uni­ver­si­ty work­ers to bring their oth­er griev­ances to the forefront.
The enor­mous growth since 1999 of aca­d­e­mics work­ing on short-term, casu­al and tem­po­rary con­tracts, the rough­ly 15 per­cent drop in the real wages of aca­d­e­m­ic staff since 2009, the gen­der and racial imbal­ances in acad­e­mia, the bureau­crat­ic reor­ga­ni­za­tions that have plagued admin­is­tra­tive staff at many uni­ver­si­ties, and the steep hikes in tuition fees since 2010, are now the stuff of pick­et-line conversation.
For­mer­ly pas­sive aca­d­e­m­ic staff have become active. Their dis­cus­sions have moved beyond the imme­di­ate issues at stake in this strike. They are imag­in­ing an alter­na­tive uni­ver­si­ty sys­tem free from busi­ness meth­ods, pre­car­i­ous labor, cor­po­rate con­trol and inflat­ed man­age­r­i­al salaries.
And the dis­pute has helped to trans­form the UCU. In pre­vi­ous dis­putes, some branch pres­i­dents were lucky if they could con­vince half the local com­mit­tee to stand duty on pick­et lines. Now the pick­ets swell with staff and stu­dents, and UCU mem­bers are tak­ing a more active role in deter­min­ing the direc­tion of the union. This increased involve­ment by rank-and-file mem­bers was on full dis­play when the UCU and Uni­ver­si­ties UK reached a pro­vi­sion­al agree­ment on March 12, fol­low­ing two weeks of arbitration.
In return for a three-year tran­si­tion­al arrange­ment in which the USS would remain a defined-ben­e­fits scheme, the agree­ment weak­ened every oth­er ele­ment of the pen­sion plan. The accru­al rate, used to cal­cu­late final ben­e­fits for the pen­sion, dropped from 1⁄75 to 1⁄85 per year, as did the salary thresh­old, from £55,000 to £42,000. Ben­e­fits were indexed to infla­tion, but only up to 2.5 per­cent— at a time when infla­tion in the UK hov­ers around 3 per­cent. The agree­ment also estab­lished that strike pay would be docked, but the UCU would nev­er­the­less ​"encour­age" its mem­bers to resched­ule class­es. That demand was not only imprac­ti­cal, because uni­ver­si­ties' teach­ing space already strains at full capac­i­ty, it was also an insult, because it meant extra work for no pay.
The new­ly mobi­lized union mem­ber­ship would have none of it. With the slo­gan ​"no capit­u­la­tion," thou­sands of UCU mem­bers ensured that dozens of local branch­es vot­ed to reject the agree­ment on the same day it was pub­lished. When the High­er Edu­ca­tion Com­mit­tee (HEC) of the UCU met to con­sid­er the deal on March 13, hun­dreds of strik­ers protest­ed out­side the com­mit­tee room and local branch­es of the UCU reject­ed the agreement.
The HEC reject­ed the agree­ment too. The strike con­tin­ued until the four-week East­er break began in mid- or late-March (depend­ing on the uni­ver­si­ty) when teach­ing came to a halt. Dur­ing that break, on March 23, Uni­ver­si­ties UK pre­sent­ed the union with a sec­ond proposal.
The new deal would put in place an inde­pen­dent body of pen­sion experts, half appoint­ed by the union and half by the employ­ers, which would inves­ti­gate the finan­cial state of the USS fund. Uni­ver­si­ties UK guar­an­teed that the scheme would remain ​"broad­ly com­pa­ra­ble" with cur­rent arrange­ments, an ambigu­ous phrase that does not inspire trust in many UCU mem­bers. At a meet­ing on March 28, the High­er Edu­ca­tion Com­mit­tee vot­ed to send the deal out to the mem­ber­ship for a vote.
This sec­ond deal has cre­at­ed more divi­sion among union mem­bers than the first. The UCU Gen­er­al Sec­re­tary, Sal­ly Hunt, has made it clear that she sup­ports the new deal. In an email to the mem­ber­ship she wrote that ​"the employ­ers have tak­en their ​'defined con­tri­bu­tion' pro­pos­al off the table," and that the prospect for wring­ing any more con­ces­sions out of Uni­ver­si­ties UK ​"are low." Some local branch­es, and mem­bers in infor­mal polls, have indi­cat­ed their desire to accept the proposal.
Many oth­er local branch­es, mean­while, have passed motions call­ing for a rejec­tion of the deal, and grass­roots groups on social media have mobi­lized against it. They fall into two camps. The first wants to ​"revise and resub­mit," to seek fur­ther assur­ances from Uni­ver­si­ties UK about future pen­sion arrange­ments before they agree to the deal. The sec­ond camp wants ​"no detri­ment," an upfront guar­an­tee that any changes to the pen­sion scheme will not come at work­ers' expense. Both camps will vote ​"reject."
The bal­lot clos­es on Fri­day, April 13. If UCU mem­bers reject the deal, their strike will con­tin­ue into the sum­mer. What­ev­er option they choose, they have shown their man­agers, and their union lead­ers, that they will not sim­ply roll over when faced with fur­ther cuts to their pay, pen­sions, con­tracts and conditions.
And their exam­ple could soon spread to British ele­men­tary and high school teach­ers. Mem­bers of two major teach­ers' unions, the Nation­al Edu­ca­tion Union (NEU) and the Nation­al Asso­ci­a­tion of School­mas­ters Union of Women Teach­ers (NASUWT), vot­ed at their annu­al con­fer­ences in late March to take sus­tained strike action if they do not receive a sub­stan­tial pay rise this year.
The bat­tle to pro­tect pub­lic edu­ca­tion is heat­ing up across the globe, and strug­gles in one place are feed­ing into strug­gles in anoth­er. West Vir­ginia teach­ers dis­played this when they tweet­ed pic­tures express­ing their sol­i­dar­i­ty with strik­ing British uni­ver­si­ty staff from the state capi­tol in Charleston, W.Va.
Nor is the bat­tle restrict­ed to the Eng­lish-speak­ing world. Uni­ver­si­ty staff in Fin­land, for exam­ple, went on strike in late Feb­ru­ary over pay, fol­low­ing ear­li­er strikes by uni­ver­si­ty staff in aus­ter­i­ty-wracked Greece. Edu­ca­tors in the Glob­al South face even greater chal­lenges, and greater odds — yet school teach­ers in Gabon, Guinea and Cameroon, to take only three African exam­ples, have gone on strike in the past year. Brazil­ian teach­ers are cur­rent­ly fight­ing to pro­tect their pensions.
Teach­ers in West Vir­ginia helped to light a fire that is now spread­ing from state to state, and from coun­try to coun­try. The UCU strike is one exam­ple among many of the pow­er of the work­ing class to use col­lec­tive action to chal­lenge aus­ter­i­ty, pay stag­na­tion and pre­car­i­ous work — and to pro­tect pub­lic edu­ca­tion for gen­er­a­tions to come.
Steven Parfitt
is a Teach­ing Fel­low at Lough­bor­ough Uni­ver­si­ty in the UK. He has writ­ten exten­sive­ly on the his­to­ry of the British and Amer­i­can labor move­ments, espe­cial­ly the glob­al his­to­ry of the Knights of Labor.