UIC Faculty: We're Striking for Students
Two faculty members at the University of Illinois-Chicago give a firsthand account of why they're striking.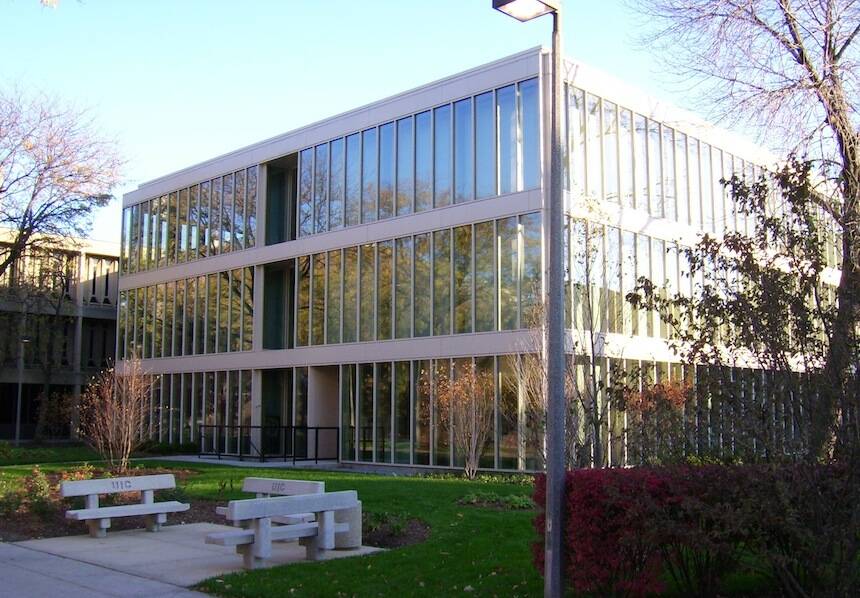 Reprint­ed with per­mis­sion from Jacobin magazine.
Unlike the flagships of state universities around the country (never mind selective private colleges), we don't think our job is mainly to educate the children of the upper middle class.
On Feb­ru­ary 18, the tenure track and non-tenure track fac­ul­ty who make up the Uni­ver­si­ty of Illi­nois-Chica­go fac­ul­ty union UICUF Local 6456 will walk out of the class­room and onto the pick­et line for a two-day strike. Bar­ring a dra­mat­ic change-of-heart by uni­ver­si­ty admin­is­tra­tors at the bar­gain­ing table the week­end, it will be the first fac­ul­ty strike at a major research uni­ver­si­ty in a very long time.
Most of the state research insti­tu­tions that have unions got them in the 1960s and 1970s, but, in a renewed push to orga­nize cam­pus labor, UIC and the Uni­ver­si­ty of Ore­gon just won cer­ti­fi­ca­tion in the past few years. Ore­gon got to their con­tract pret­ty quick­ly; we've not been as lucky. What we hope now is that, after two years of fight­ing us fol­lowed by a year and a half of stonewalling on our con­tract nego­ti­a­tions, the Illi­nois Board of Trustees will final­ly start seri­ous bar­gain­ing on the main issues that divide us.
To under­stand why we're strik­ing, it's use­ful to know a bit about UIC. It is, indeed, a major research uni­ver­si­ty, but ​"large, strug­gling under-fund­ed research uni­ver­si­ty" would be more accu­rate. We're more like Wayne State, Tem­ple or Brook­lyn Col­lege, say, than Berke­ley or Michi­gan, or even the Uni­ver­si­ty of Illi­nois at Urbana-Champaign.
But main­ly, we like it that way. Unlike the flag­ships of state uni­ver­si­ties around the coun­try (nev­er mind selec­tive pri­vate col­leges), we don't think our job is main­ly to edu­cate the chil­dren of the upper mid­dle class.
If you look at col­lege enroll­ments, almost all the top pub­lic schools enroll a large pro­por­tion of stu­dents from well-off fam­i­lies. At Michi­gan, for exam­ple, more stu­dents (16.9 per­cent) report a fam­i­ly income of over $250,000 than under $50,000 (15.6 per­cent). That's why the Edu­ca­tion Trust calls these schools ​"Engines of Inequal­i­ty."
But at UIC, that num­ber is nowhere near as high. Only about a third of our stu­dents come from fam­i­lies mak­ing over $60,000, and many of our stu­dents are from immi­grant fam­i­lies, live at home, hold full- or part-time jobs and even have chil­dren of their own.
What this means is that we char­ac­ter­is­ti­cal­ly enroll stu­dents whose prepa­ra­tion, as reflect­ed in their ACT scores, isn't as good as the stu­dents at places like Urbana-Cham­paign. (Fam­i­ly income is a very good pre­dic­tor of ACT scores.) And we have some real prob­lems with reten­tion (fam­i­ly income is a good pre­dic­tor of reten­tion, as well).
But the UIC fac­ul­ty and the UIC admin­is­tra­tion are com­plete­ly unit­ed on the fact that we don't think that the way to solve these prob­lems is by get­ting ​"stronger" (which is to say, rich­er) stu­dents. In fact, when we put togeth­er a ​"Strate­gic Think­ing Report" back in 2005, we explic­it­ly said we're not look­ing to recruit ​"bet­ter" stu­dents; we want to do a bet­ter job of edu­cat­ing the stu­dents we have.
The UIC fac­ul­ty is com­mit­ted to that mis­sion. And the whole point of the strike is to help us ful­fill it.
Start with the reten­tion prob­lem. The biggest falling off is between the first and sec­ond years of col­lege, so our admin­is­tra­tion is (right­ly) con­cerned with the first year expe­ri­ence. What cours­es do first year stu­dents take? Who teach­es those courses?
Every enter­ing UIC stu­dent takes at least one writ­ing course; most take two. Not sur­pris­ing­ly, our writ­ing cours­es are over­whelm­ing­ly taught by lec­tur­ers (i.e. non-tenure track fac­ul­ty), on year-to-year con­tracts and paid a stan­dard salary of $30,000. Fur­ther­more, although the admin­is­tra­tion car­ries on end­less­ly about the impor­tance of mer­it, they're unwill­ing to man­date a pro­mo­tion track for non-tenure track fac­ul­ty, the whole point of which would be to reward merit.
So what exact­ly does it mean to insist on the impor­tance of the first year expe­ri­ence and then pay the peo­ple most respon­si­ble for that expe­ri­ence a wage that vir­tu­al­ly requires them to work a sec­ond job? What does it mean to claim you want to reward the best and the hard­est work­ing when you not only won't pro­mote them, but you won't even pro­vide a posi­tion they could in the­o­ry be pro­mot­ed to? You're short-chang­ing both the fac­ul­ty and the students.
The tenure track fac­ul­ty, of course, is bet­ter paid. But a quar­ter of those fac­ul­ty mem­bers make less than $75,000, and anoth­er quar­ter make less than $90,000. The medi­an salary of all fac­ul­ty at UIC is about $65,000 — less than what the aver­age Chica­go pub­lic school teacher makes.
And this is not because our fac­ul­ty are just start­ing out in their careers. On the con­trary, with few­er tenure track appoint­ments get­ting made, the tenure track fac­ul­ty skews old­er; there­fore, we have salary com­pres­sion — the effect of years of no rais­es com­bined with the effects of infla­tion and no cost-of-liv­ing increas­es. But the Board of Trustees has been as reluc­tant to deal seri­ous­ly with this issue as it has been with those $30,000 a year non-tenure track minimums.
These are bread and but­ter issues. They don't even speak to the loss of auton­o­my and con­trol that fac­ul­ty are expe­ri­enc­ing in neolib­er­al­ized work­forces, to ques­tions like what aca­d­e­m­ic free­dom means to peo­ple on one-year con­tracts or to the pol­i­tics of reduc­ing uni­ver­si­ties to noth­ing but sup­posed instru­ments of eco­nom­ic development.
His­tor­i­cal­ly, the admin­is­tra­tion of the uni­ver­si­ty was a func­tion of fac­ul­ty who were cho­sen to man­age the run­ning of depart­ments. The Dean was Dean of Fac­ul­ty — cho­sen by and behold­en to the peo­ple who actu­al­ly teach stu­dents. But with the bureau­cra­ti­za­tion of the uni­ver­si­ty and the growth of the uni­ver­si­ty as cor­po­ra­tion, deans, provosts, and their myr­i­ad vice-provosts have become man­age­ment. This now-bloat­ed seg­ment of the uni­ver­si­ty makes deci­sions about the wel­fare of fac­ul­ty and stu­dents. A recent study shows that non-fac­ul­ty jobs have grown by 27 per­cent while fac­ul­ty lines remain flat or decreasing.
The term ​"shared gov­er­nance" is invoked to dis­guise this evis­cer­a­tion of pow­er but what it main­ly means is that fac­ul­ty sen­ates can ​"advise" the admin­is­tra­tion and the admin­is­tra­tion can then do what­ev­er it wants. To call shared gov­er­nance real gov­er­nance is like say­ing your dog has an equal say in how your house­hold is run because some­times when he whines he gets fed.
One of our issues in this strike is to take back deci­sion-mak­ing pow­er over the issues that mat­ter to us — cur­ricu­lum, teach­ing con­di­tions, the dis­tri­b­u­tion of monies and the like. The admin­is­tra­tion is fight­ing fero­cious­ly to retain that pow­er — since giv­ing it up would in effect be return­ing it from man­age­ment to workers.
But are pro­fes­sors real­ly work­ers? When we were orga­niz­ing, the admin­is­tra­tion kept telling us we weren't — we were pro­fes­sion­als. And, in fact, at UIC, we belong to the Illi­nois Fed­er­a­tion of Teach­ers, which does indeed describe itself as a ​"Union of Pro­fes­sion­als." If you've done any work on the his­to­ry of pro­fes­sion­al­iza­tion, you know that one of the orig­i­nal points of the whole con­cept of the pro­fes­sion­al — as it applied to min­is­ters, doc­tors, lawyers and pro­fes­sors — was to dis­tin­guish them from workers.
But what we've all begun to real­ize is that, what­ev­er it meant in the late 19th and ear­ly 20th cen­tu­ry, in the 21st cen­tu­ry that dis­tinc­tion is pure ide­ol­o­gy. Pro­fes­sion­als are work­ers — and pro­fes­sors are workers.
That's a hard les­son to learn. In orga­niz­ing our union in the first place, many (espe­cial­ly tenure track) pro­fes­sors were reluc­tant to join, see­ing them­selves the way the admin­is­tra­tion want­ed us to see our­selves: as pro­fes­sion­als who shouldn't be lumped togeth­er with pub­lic school teach­ers, uni­ver­si­ty staff, fast food work­ers, even our own non-tenure track colleagues.
But the Admin­is­tra­tion has been help­ful, treat­ing us as bad­ly at the bar­gain­ing table as they treat UIC's oth­er unions.
And UIC's oth­er unions have been even more help­ful, since they under­stand per­fect­ly well not only that they are work­ers but that we are, too. Recent­ly, our IFT rep­re­sen­ta­tive Nick Chris­ten came back from an SEIU meet­ing where he'd spo­ken to sev­er­al hun­dred mem­bers about our impend­ing strike.
​"In the audi­ence," he report­ed, ​"were work­ers from all over the Chica­go region includ­ing UIC, the City of Chica­go, home aides and hos­pi­tal employ­ees. Dozens of them vol­un­teered to take time out of their days to stand in sol­i­dar­i­ty with us dur­ing our strike, and in the case of one home care aide who makes about $22,000 a year, take an unpaid half-day off to march with us. Why? Obvi­ous­ly, because it is the right thing to do."
It is the right thing to do. We can't get jus­tice for our fac­ul­ty unless our union fights for our fac­ul­ty. But unless our union becomes part of a larg­er move­ment, fight­ing for home care aides mak­ing $22,000 a year as well as adjuncts mak­ing $30,000 a year, and for Chica­go pub­lic school teach­ers mak­ing $75,000 a year as well as Chica­go pub­lic col­lege teach­ers mak­ing $80,000 a year, we can't get jus­tice at all.
We have to end the divide-and-con­quer men­tal­i­ty of cor­po­rate man­age­ment and real­ize again the peren­ni­al mes­sage of labor and unions — we're all in this together.
In These Times is proud to fea­ture con­tent from Jacobin, a print quar­ter­ly that offers rad­i­cal per­spec­tives on pol­i­tics and eco­nom­ics. Sup­port Jacobin and buy a four-issue sub­scrip­tion for just $19.