Understanding Student Debt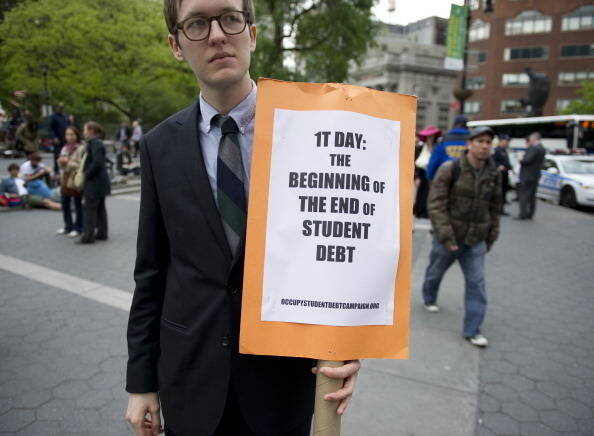 Yesterday, the level of American student debt passed the trillion dollar mark. There was little mention of the milestone in the mainstream media, but the Occupy Student Debt Campaign and its allies marked the occasion with ​"1T Day," a national day of action. A few hundred gathered in New York's Union Square and demonstrations were held in 20 other cities.
It's a start, but it doesn't come close to the scale of the problem. That's an important juxtaposition: student debt and the crisis of higher education more generally is more pronounced in the United States than elsewhere in the developed world, but the level of student organization and resistance is lower here. Part of the trouble is awareness. To do my part, I've assembled a quick dossier.
Required Reading:
Dissent​'s Jeffrey Williams has compared student debt to the ​"spirit of indentured servitude" in some of the best essays on the topic, including ​"Debt Education: Bad for the Young, Bad for America" and ​"Occupying Student Debt."
The reason that debt has increased so much and so quickly is that tuition and fees have increased, at roughly three times the rate of inflation. Tuition and fees have gone up from an average of $924 in 1976, when I first went to college, to $6,067 in 2002. The average encompasses all institutions, from community colleges to Ivies. At private universities, the average jumped from $3,051 to $22,686. In 1976, the tuition and fees at Ivies were about $4,000; now they are near $33,000. The more salient figure of tuition, fees, room, and board (though not including other expenses, such as books or travel to and from home) has gone up from an average of $2,275 in 1976, $3,101 in 1980, and $6,562 in 1990, to $12,111 in 2002. At the same rate, gasoline would now be about $6 a gallon and movies $30.
Also in Dissent, Mike Konczal synthesizes the three crises in higher education affordability and offers a progressive alternative.
Free public universities would function like the proposed ​"public option" of healthcare reform. If increased demand for higher education is causing cost inflation, then spending money to reduce tuition at public universities will reduce tuition at private universities by causing them to hold down tuition to compete. This public option would reduce informational problems by creating a baseline of quality that new institutions have to compete with, allowing for a smoother transition to new competitors. And it allows for democratic control over one of the basic elements of human existence — how we gather information and share it among ourselves.
For a decidedly less social-democratic take, Malcolm Harris' engaging N+1 piece from last year is also worth a read. In it he identifies an ​"education bubble."
[W]hile college applicants' faith in the value of higher education has only increased, employers' has declined. According to Richard Rothstein at The Economic Policy Institute, wages for college-educated workers outside of the inflated finance industry have stagnated or diminished. Unemployment has hit recent graduates especially hard, nearly doubling in the post-2007 recession. The result is that the most indebted generation in history is without the dependable jobs it needs to escape debt.
The state of the job market for college graduates looms in New Inquiry co-editor Atossa Araxia Abrahamian's ​"Going Lebron."
I still don't understand why the agency recruited a philosophy major over a subservient fifteen-year-old. My tenth-grade self would have been much happier — and more productive — in the noisy backroom full of computer servers and fans. Not too long ago, I would have cranked up the volume and reveled in Courtney Love's screeching. But I was in college.

Instead I went home and read a lot of Marx.
And finally there's Sarah Jaffe's Alternet offering, a piece that draws on a wealth of labor statistics.
The story is the same around the country. The economy is stagnant, the job market terrible, and graduates who used to believe their degrees would lead to good jobs are struggling. Meanwhile, the unforgiving student loan system continues to penalize them for their inability to pay.
The Resistance:
Campaign for the Future of Higher Education
Occupy Student Debt Campaign (I critiqued some of their rhetoric here)
Student Debt Serfdom:
And for the visually inclined, last month, I spoke on a Jacobin and Dissent co-sponsored panel on the politics of student debt. The discussion, chaired by Sarah Leonard, also featured Sarah Jaffe, Andrew Ross, Annie Spencer, and Jeffrey Williams.
Bhaskar Sunkara
is the founding editor of Jacobin magazine. Follow him on Twitter: @sunraysunray.