Undocumented Farmworkers Are Refusing Covid Tests for Fear of Losing Their Jobs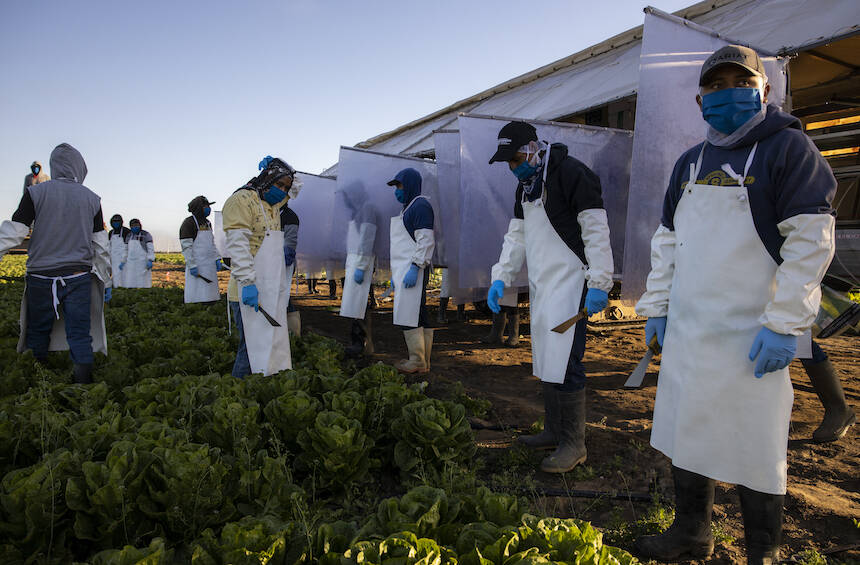 As states reopen for busi­ness, the coro­n­avirus is explod­ing among Amer­i­ca's 2.5 mil­lion farm­work­ers, imper­il­ing efforts to con­tain the spread of the dis­ease and keep food on the shelves just as peak har­vest gets underway.
The fig­ures are stark. The num­ber of Covid-19 cas­es tripled in Lanier Coun­ty, Ga., after one day of test­ing farm­work­ers. All 200 work­ers on a sin­gle farm in Evensville, Tenn., test­ed pos­i­tive. Yaki­ma Coun­ty, Wash., the site of recent farm­work­er strikes at apple-pack­ing facil­i­ties, now boasts the high­est per capi­ta infec­tion rate on the West Coast. Among migrant work­ers in Immokalee, Fla.—who just fin­ished pick­ing toma­toes and are on their way north to har­vest oth­er crops — 1,000 peo­ple are infected.
The grow­ing num­bers reflect the lack of safe­ty guide­lines for work­ers who labor shoul­der to shoul­der in the fields, trav­el side by side in vans, and sleep by the dozens in bunks and bar­racks. On June 2, the CDC and OSHA announced rec­om­men­da­tions to help pro­tect agri­cul­tur­al work­ers, fol­low­ing in the foot­steps of Wash­ing­ton, Ore­gon and Cal­i­for­nia. But there is still no nation­al­ly coor­di­nat­ed, manda­to­ry response or track­ing of the dis­ease among farmworkers.
The spike in cas­es is, in part, a result of increased test­ing. But that points to a new dan­ger emerg­ing that could make out­breaks even hard­er to con­tain: Some farm­work­ers are refus­ing to be test­ed for Covid-19.
Eva Galvez is a physi­cian at the Vir­ginia Gar­cia Memo­r­i­al Health Cen­ter, a clin­ic that serves 52,000 most­ly Lati­no patients in the agri­cul­tur­al regions that cra­dle Port­land, Ore. When the clin­ic dis­cov­ered in April that Lati­nos were test­ing pos­i­tive for Covid-19 at twen­ty times the rate of oth­er patients, Galvez pin­point­ed farm­work­er com­mu­ni­ties as one of the hotspots. So she worked with the Ore­gon Law Cen­ter to secure statewide hygiene and social dis­tanc­ing rules. (The rules are set to expire Octo­ber 24.) Pro­vi­sions include enhanc­ing safe­ty in employ­er-pro­vid­ed hous­ing, which In These Times has found is fuel­ing out­breaks among farm­work­ers nationwide.
But Galvez has oth­er wor­ries now. ​"Although our clin­ic has plen­ty of capac­i­ty to test, many peo­ple won't want to be test­ed," she says. ​"Because if they're pos­i­tive they can't go to work."
"The virus is a scar­let let­ter," says Rey­na Lopez, exec­u­tive direc­tor of Pineros y Campesinos Unidos de Noroeste (PCUN). The 7,000-member farm­work­er union is based in Mar­i­on Coun­ty, Ore., which ranks third in the state for coro­n­avirus cas­es per capita.
"Not only is there no paid leave [if you can't work], but no job," Lopez says. ​"That tells farm­work­ers they don't have an incen­tive to tell peo­ple that they are feel­ing sick. The biggest fear is not nec­es­sar­i­ly the virus itself; it's [not] being able to pro­vide for family."
It is an unde­ni­able cri­sis. But Amer­i­ca is reap­ing what it has sown. Decades of anti-immi­grant poli­cies will make the coro­n­avirus extra­or­di­nar­i­ly dif­fi­cult to con­tain for a vul­ner­a­ble pop­u­la­tion which has been forced deep in the shadows.
As work­ers in an indus­try with few unions, a lack of basic work­er pro­tec­tions, and a work­force that is esti­mat­ed to be at least 48% undoc­u­ment­ed immi­grants, farm­work­ers have many rea­sons to fear los­ing their jobs. Most lack health insur­ance, sick leave, unem­ploy­ment insur­ance, and legal sta­tus, and they sup­port extend­ed fam­i­lies here and abroad on pover­ty wages. Test­ing and social dis­tanc­ing guide­lines may help pre­vent ill­ness, but can­not pre­vent job loss. Per­son­al pro­tec­tion is no sub­sti­tute for social protections.
Trump admin­is­tra­tion poli­cies have exac­er­bat­ed the sit­u­a­tion. Irene de Bar­raicua of Líderes Campesinas, a Cal­i­for­nia-based farm­work­er orga­ni­za­tion for women, says some farm­work­ers are not seek­ing health care because of the ​"pub­lic charge" rule that threat­ens to deny green cards to those who rely on pub­lic ser­vices. H2A work­ers, who com­prise over a quar­ter mil­lion work­ers whose tem­po­rary visas are tied to their employ­ers, could be deport­ed if they lose their jobs. Even the ​"essen­tial work­er" let­ters that some farm­ers pro­vid­ed to undoc­u­ment­ed work­ers to show ICE in the hope of pre­vent­ing arrests dur­ing the pan­dem­ic have back­fired, Irene says.Workers inter­pret­ed the let­ter as a sign that raids would increase.
Now the coro­n­avirus has upend­ed agri­cul­tur­al pro­duc­tion in ways that fur­ther threat­en jobs.
The Sali­nas Val­ley in Cal­i­for­nia is nick­named ​"America's Sal­ad Bowl" for its 1.4 mil­lion acres of farm­land that grow every­thing from arti­chokes to zuc­chi­ni. But this year let­tuce, straw­ber­ries, cau­li­flower, and spinach are rot­ting in fields as agribusi­ness­es unable to piv­ot from insti­tu­tion­al to con­sumer sales cut their loss­es by cut­ting workers.
Sinthia, 40, whose last name is being with­held to pro­tect her­self, her fam­i­ly and her job, is from Gua­na­ju­a­to, Mex­i­co, and sup­ports two chil­dren, her moth­er, a quadraplegic sis­ter, and a broth­er who is deaf, mute and blind. Before Covid-19, Sinthia, who is a mem­ber of Líderes Campesinas, packed box­es of broc­coli for up to 62 hours a week in Mon­terey Coun­ty. Now her hours have been sliced in half. The restau­rants and schools that pur­chased pro­duce from her employ­er, PGM Pack­ing, are shut­tered due to the coro­n­avirus. ​"There is no mar­ket, no place to sell, no orders," Sinthia says.
One hun­dred miles to the south­east, it is the work­force that has been halved at a vine­yard in Kern Coun­ty, where Pao­la, 30, works. Twen­ty of 40 work­ers were fired in order to meet social dis­tanc­ing guide­lines. ​"There is more pres­sure to get the work done now," Pao­la says. A for­mer teacher from Sinaloa, Mex­i­co, Pao­la says her pay is the same but her expens­es have increased. Her two school-aged chil­dren eat all their meals at home now and she has to sup­port her recent­ly unem­ployed par­ents. Out of fear of infect­ing them, Pao­la quit her sec­ond, night-shift job at a pis­ta­chio pack­ing facil­i­ty when a co-work­er test­ed pos­i­tive. ​"It was wor­ri­some, scary, stress­ful," Pao­la says.
"It's a very des­per­ate sit­u­a­tion. They don't have food. Many are being laid off," says de Bar­raicua . ​"Farm­ers are decid­ing to let their crops rot. They're also let­ting the work­ers rot."
Farm­work­ers also fear they could be stig­ma­tized by co-work­ers and that boss­es could fire their entire crew, which often includes fam­i­ly and friends from their hometown.
"We are hear­ing from advo­cates that work­ers would enter ​'death pacts' where if they become sick they keep it to them­selves because the entire camp will shut down," says Lori John­son, man­ag­ing attor­ney at the farm­work­er unit of Legal Aid of North Carolina.
Rebe­ca Velazquez is a for­mer farm­work­er and an orga­niz­er with Mujeres Luchadores Pro­gre­sis­tas, an orga­ni­za­tion for women farm­work­ers based in Wood­burn, Ore. One mem­ber, she says, was hav­ing a cough­ing fit at work when the own­er of the farm walked by and told her to leave. Her super­vi­sor said she need­ed to get test­ed for Covid-19. Two days lat­er he told her not to both­er: the entire crew of 30 work­ers had been laid off because of her. Anoth­er woman, Rebe­ca says, was shunned by co-work­ers upon return­ing to the work­place after being very ill with Covid-19. She left to work else­where and is keep­ing her ill­ness a secret out of fear of discrimination.
Luis Jimenez, 38, a dairy work­er in Avon, New York, says work­ers are in a bind. They have been told if they get sick and don't say any­thing they will get fired. But if they do say some­thing they may still lose their job. ​"The [boss­es] don't have a plan if work­ers get infect­ed," says Luis. ​"No plan to quar­an­tine, no plan to feed them, no plan to take them to the hospital."
An explo­sion in cas­es among vul­ner­a­ble farm­work­ers could over­whelm rur­al health­care facil­i­ties and threat­en the nation­al food sup­ply. The thin plas­tic line now sep­a­rat­ing work­ers in the fields is not enough to halt a pan­dem­ic or cure a dis­eased sys­tem. Increased pro­tec­tions for work­ers — includ­ing paid sick leave, unem­ploy­ment com­pen­sa­tion, and afford­able hous­ing and health­care — are essen­tial if the spread of Covid-19 is to be curbed.
"We don't want to be called essen­tial." Sinthia says. ​"Show us with proof that we are essen­tial. We need bet­ter work­ing con­di­tions, bet­ter liv­ing con­di­tions, a bet­ter life."