Union Actors and Musicians Fight Trump's Attacks on the Arts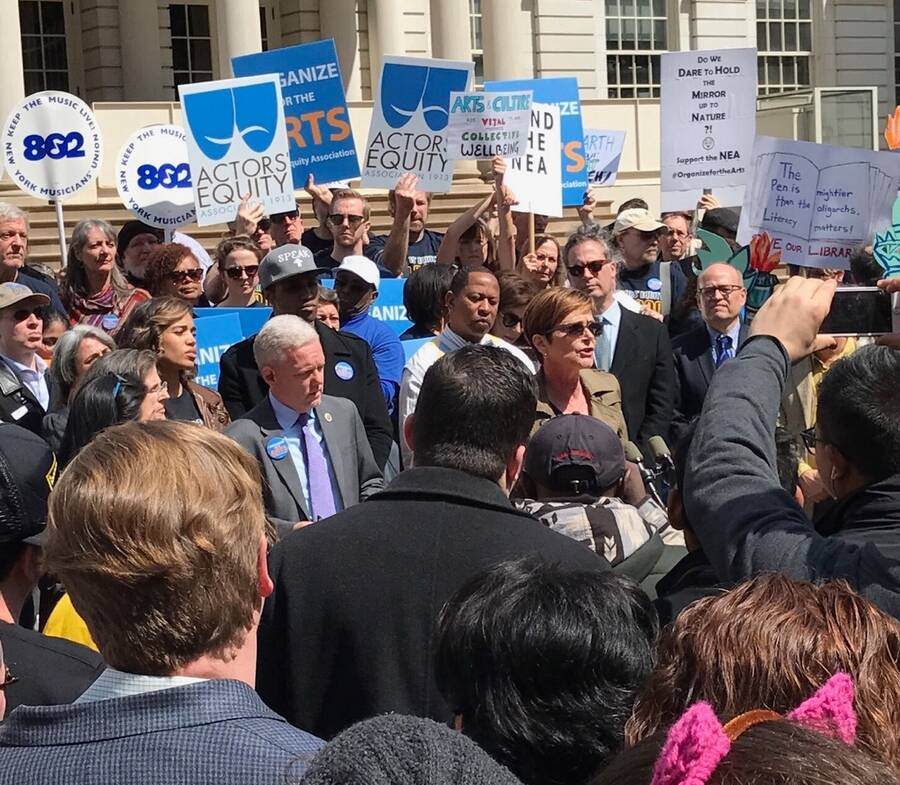 If Pres­i­dent Don­ald Trump is seri­ous about cre­at­ing jobs in the nation's heart­land then he needs to rethink his own pro­pos­al to elim­i­nate fed­er­al fund­ing for the Nation­al Endow­ment for the Arts (NEA), the agency that helps fund the not-for-prof­it groups behind thou­sands of the the­ater and music pro­duc­tions seen every year in mid­dle America.
That's the analy­sis of lead­ers of the labor unions Actors' Equi­ty and Amer­i­can Fed­er­a­tion of Musi­cians, two orga­ni­za­tions that could see employ­ment among their mem­bers crip­pled if the cuts in Trump's so-called ​"skin­ny bud­get" are enact­ed into law. The cur­rent NEA annu­al bud­get of $148 mil­lion is small but impor­tant, they say.
Mary McColl, exec­u­tive direc­tor of Actors' Equi­ty, which rep­re­sents more than 50,000 stage actors and stage man­agers, says that most mem­bers work in non-prof­it orga­ni­za­tions, out­side of the com­mer­cial enter­tain­ment cap­i­tals of New York and Los Ange­les. They don't rely exclu­sive­ly on NEA fund­ing for their pay­checks, she says, but the NEA is crit­i­cal in the mix of pub­lic and pri­vate fund­ing that keeps live the­ater per­for­mances com­ing year after year in the country's small­er cities.
"The NEA is like a stamp of approval," McColl explains.
NEA grants allow a typ­i­cal the­ater troupe to get match­ing funds from state or city gov­ern­ments, cor­po­ra­tions and phil­an­thropists, accord­ing to McColl. In this way, NEA funds act as ​"seed mon­ey" that is cru­cial in sus­tain­ing the­ater groups in small cities where the local econ­o­my is too weak to pro­vide full support.
Small cities and towns will be hit the hard­est by Trump's pro­posed defund­ing of the NEA, McColl says.
"This is an unbe­liev­ably reck­less and irre­spon­si­ble idea from some­one who wrote The Art of the Deal. The pres­i­dent says he wants to cre­ate jobs — he can start by pro­tect­ing our nation's invest­ment in mid­dle class art jobs," she says.
The argu­ment in favor of NEA fund­ing as a sus­tain­er of jobs in mid­dle Amer­i­ca was sim­i­lar­ly artic­u­lat­ed last month in Wash­ing­ton, D.C., by Actors' Equi­ty Pres­i­dent Kate Shin­dle, a for­mer Miss Amer­i­ca beau­ty queen and self-described Republican.
"There is so much irrefutable evi­dence that the arts serve as an eco­nom­ic engine, even and espe­cial­ly in cities and towns whose fac­to­ries or indus­try jobs have dis­ap­peared. All togeth­er, the arts are a $700 bil­lion indus­try employ­ing direct­ly 4.7 mil­lion Amer­i­cans and mil­lions more indi­rect­ly," she told a press con­fer­ence March 16.
Shindle's press con­fer­ence was unusu­al. The union is gen­er­al­ly ​"qui­et" on polit­i­cal and social issues, McColl says, ​"But we are far less qui­et (now) than we have ever been before … Our mem­bers are look­ing to us to step out," in the face of this new attack.
Ray Hair, pres­i­dent of the 80,000-member Amer­i­can Fed­er­a­tion of Musi­cians (AFM), tells In These Times that ​"the dam­age would be irrepara­ble," if Trump's pro­pos­als go through.
The mem­ber­ship of AFM mir­rors that of Actors' Equi­ty in the sense that many work for non-prof­it orga­ni­za­tions where NEA grants pro­vide the key­stone in a broad­er fund­ing mix. Hair says there are at least 200 sym­pho­ny orches­tras spread around the coun­try that would be seri­ous­ly endan­gered by defund­ing the NEA.
In addi­tion, union musi­cians per­form at the­ater pro­duc­tions and at local fes­ti­vals that are often the pre­mier arts events in small­er cities. These events are val­ued stim­u­lants to the local econ­o­my and help main­tain a source of steady employ­ment for pro­fes­sion­al musicians.
Hair also says his mem­bers are sim­i­lar to those of Actors' Equi­ty in the sense that near­ly 100 per­cent of them have worked for non-prof­its linked to NEA fund­ing at some point in their careers.
"Any pro­fes­sion­al musi­cian who has been in this busi­ness for a while will have per­formed in a venue that has been sup­port­ed by NEA," he says. ​"The NEA doesn't sup­port their careers direct­ly, but, in a sense, it makes them possible."
It's against the rules for NEA staff to lob­by for the agency's own bud­get, agency spokes­woman Vic­to­ria Hut­ter tells In These Times, but NEA believes that its fund­ing is impor­tant in sup­port­ing local jobs. The agency has been work­ing close­ly with the Com­merce Department's Bureau of Eco­nom­ic Analy­sis to com­pile data. The fig­ures com­piled thus far are not spe­cif­ic enough to pre­cise­ly esti­mate the jobs impact of with­draw­ing fund­ing from NEA, Hut­ter says, but clear­ly there would be an impact.
Trump's defund­ing pro­pos­als aimed at the arts are not con­fined to the NEA. They also extend to the Nation­al Endow­ment for the Human­i­ties and the fed­er­al Cor­po­ra­tion for Pub­lic Broadcasting.
The Depart­ment for Pro­fes­sion­al Employ­ees, AFL-CIO (DPE) is coor­di­nat­ing a coali­tion of unions to fight the pro­pos­als for all three agen­cies. In a press release, DPE pres­i­dent Paul Almei­da stat­ed: ​"Our unions' mem­bers include actors, musi­cians, stage­hands, and many oth­er pro­fes­sion­al in diverse com­mu­ni­ties in all 50 states. Trump's pro­posed cuts to the NEA, NEH, and CPB will hurt many of these hard-work­ing Amer­i­cans and we are unit­ed in our effort to ensure Con­gress pre­serve fed­er­al arts funding."
The coali­tion includes 10 unions in addi­tion to Actors' Equi­ty and AFM: Amer­i­can Guild of Musi­cal Artists, Amer­i­can Guild of Vari­ety Artists, Direc­tors Guild of Amer­i­ca, Guild of Ital­ian Amer­i­can Actors, Inter­na­tion­al Alliance of The­atri­cal Stage Employ­ees (IATSE), Inter­na­tion­al Broth­er­hood of Elec­tri­cal Work­ers (IBEW), Office and Pro­fes­sion­al Employ­ees Inter­na­tion­al Union (OPEIU), Screen Actors Guild-Amer­i­can Fed­er­a­tion of Tele­vi­sion and Radio Artists (SAG-AFTRA), Stage Direc­tors and Chore­o­g­ra­phers Soci­ety and Writ­ers Guild of America.
Bruce Vail
is a Bal­ti­more-based free­lance writer with decades of expe­ri­ence cov­er­ing labor and busi­ness sto­ries for news­pa­pers, mag­a­zines and new media. He was a reporter for Bloomberg BNA's Dai­ly Labor Report, cov­er­ing col­lec­tive bar­gain­ing issues in a wide range of indus­tries, and a mar­itime indus­try reporter and edi­tor for the Jour­nal of Com­merce, serv­ing both in the newspaper's New York City head­quar­ters and in the Wash­ing­ton, D.C. bureau.