Union: Chicago Adjuncts Fired for Organizing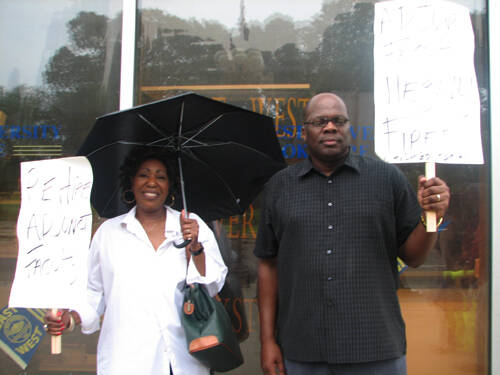 Administrators filing into East-West University in downtown Chicago for an end-of-quarter retreat Monday morning had to walk through a crowd of angry adjunct professors and students from several downtown universities, including East-West adjuncts who had recently lost their positions in what they see as ​"blatant" retribution for union organizing.
Curtis M. Keyes Jr., Erma Faire-Doeing and more than 50 other adjunct professors at East-West University provide what university administrators and independent analysts have billed as one of the state's best bargains at a private university — a quality education with focus on multiculturalism and global affairs for a student body which is majority African American and the first generation in their families to attend college.
For their efforts, they have been among the lowest paid professors in the city, according to Illinois Education Association-NEA union organizer Tom Suhrbur. They earn substantially less per credit hour than the school's 14 or so full-time faculty, they haven't gotten a raise in six years and they have no seniority rights, job security or say in university plans.
So starting in January 2009, East-West adjuncts started organizing with the Illinois Education Association-NEA union. This spring they moved for a vote, though they later withdrew their request, with plans to hold the vote in the fall since the academic quarter was drawing to a close.
"We want to strengthen working conditions and have a voice in key decisions that affect our students," said Keyes, noting that adjuncts are only paid twice a quarter — a full six weeks after midterm and final grades are submitted.
As the quarter wrapped up all adjuncts were told they would have to reapply for their jobs and would have individual meetings with the chancellor to determine their futures at the school. Faire-Doeing said her meeting was short and sweet - she turned in a freshly edited resume, her skills were praised and she was sent off with a handshake.
Then on June 9, Keyes — who hadn't even had his meeting yet — and six other adjuncts received emails saying their services would not be needed. Keyes and Faire-Doeing already had summer classes scheduled. Keyes teaches sociology and U.S. history. Faire-Doeing, who is working on her second doctorate, teaches psychology and behavioral science. As seven of the eight were actively involved in the union organizing drive, they see it as clear retaliation. The union is considering filing unfair labor practice charges. Keyes notes that the firings are especially offensive since the student body is about 70 percent African American, and six of the eight fired adjuncts are African American. And the school has received $10 million in state and federal grants, according to its website.
The Illinois Education Association-NEA represents adjuncts at 10 Chicago colleges and universities including Columbia College, Roosevelt University and city colleges. The union has gained significant wage increases and some seniority guarantees and other rights at each location, with some of the organizing drives considered legendary in Chicago labor circles.
"Compared to the schools with union contracts, (East-West) is at the bottom," said Suhrbur. ​"Their pay is lower than any other four-year institution I know of."
Higher education institutions are shifting increasingly to adjunct labor, freeing themselves of benefits and tenure obligations while dooming highly qualified and experienced professors to a low-paid, hectic existence shuttling between schools, using their cars as messy mobile offices.
"We have to meet with students in the halls," said Keyes, noting that professors go overboard to provide individual attention and extra help to students — many of them Chicago Public Schools graduates — who did not have access to a high quality high school education.
Organizing adjuncts is especially difficult because of their vulnerability. Most are assigned classes on a semester to semester basis, and are afraid to alienate administrators who could simply cut their workload with little explanation.
Labor historian and University of Illinois labor studies professor Joe Berry said he has never seen a situation quite like the East-West debacle, where adjuncts were suddenly told they are not employees and fired abruptly, even with classes already scheduled. He and Suhrbur said the outcome of this struggle could be precedent-setting.
"If they get away with this, the other schools will think they can too, organizing in this sector will be deeply hindered," Berry said. ​"It could even threaten existing unions. These people are real heroes. These may not be good jobs or full-time jobs, but people depend on this income, especially in this economic climate. Things that used to be side jobs are now essential to someone's living. So for them to take a stand is incredibly courageous."
Keyes said they will continue pushing for unionization and better conditions for East-West adjuncts despite the firings.
"This is all protected activity, but still people are scared for their jobs," said Suhrbur. ​"The question is will people still be willing to stand up for themselves?"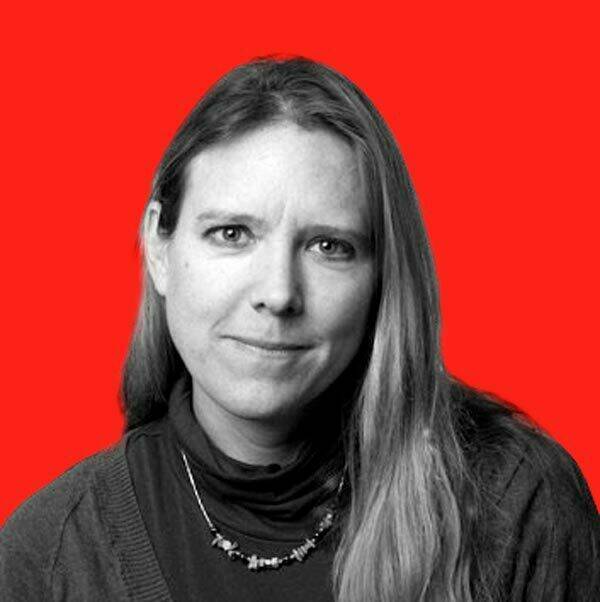 Kari Lydersen
is a Chicago-based reporter, author and journalism instructor, leading the Social Justice
&
amp; Investigative specialization in the graduate program at Northwestern University. She is the author of Mayor
1
%: Rahm Emanuel and the Rise of Chicago's
99
%.