Union Declares Itself a "Sanctuary," Promises to Protect All Members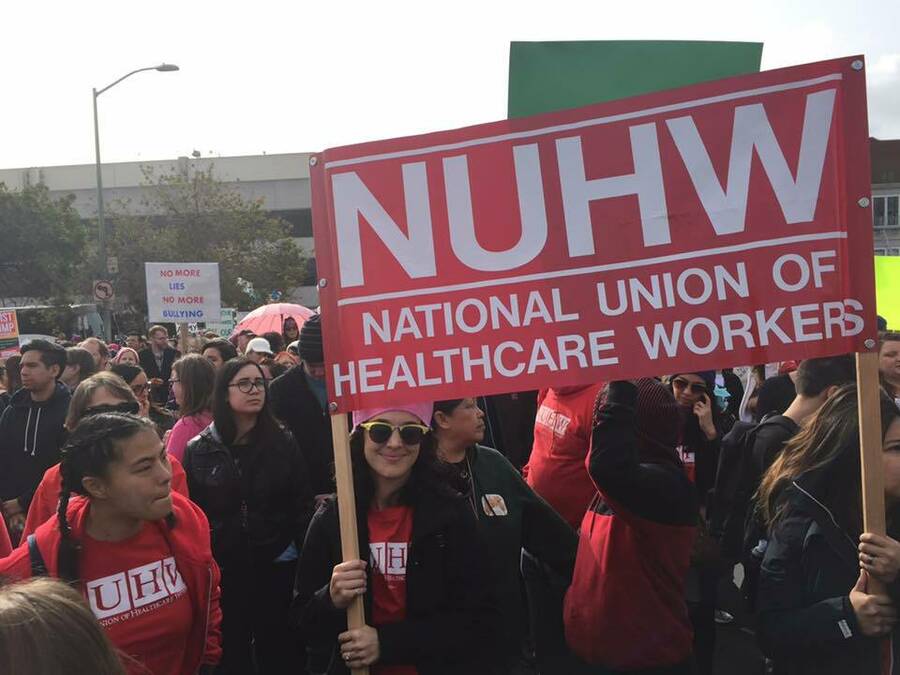 This arti­cle was first post­ed by Labor Notes.
I had no mon­ey and spoke no Eng­lish when I ille­gal­ly crossed the bor­der into Cal­i­for­nia 23 years ago, but I worked hard and fought for the right to stay here.
Had I made that har­row­ing jour­ney this year, I'm sure I'd be deport­ed right back into the crosshairs of the Hon­duran government's death squads that had tar­get­ed me and many oth­er com­mu­ni­ty organizers.
Instead I quick­ly won a grant of polit­i­cal asy­lum — and lat­er received full Amer­i­can citizenship.
I know I'm one of the lucky ones. At the San Fran­cis­co hos­pi­tal where I work, nine out of 10 mem­bers of my union are for­eign-born. We nev­er ask any­one about their immi­gra­tion sta­tus, but I know sev­er­al green card hold­ers who are get­ting ready to apply for cit­i­zen­ship now that their place in Amer­i­ca seems less secure.
Peo­ple might think the Bay Area is one big pro­tec­tive cocoon for immi­grants, but that's not the case. The sub­urb where I live is not a sanc­tu­ary city. And my elect­ed coun­ty sher­iff con­tracts with the Depart­ment of Home­land Secu­ri­ty to house peo­ple await­ing depor­ta­tion hearings.
Who can my co-work­ers count on if Immi­gra­tion and Cus­toms Enforce­ment (ICE) agents come look­ing for them or their fam­i­ly mem­bers? Our union, thankfully.
Pro­tect­ing each other
As Pres­i­dent Trump was prepar­ing to bar Syr­i­an refugees and bol­ster his depor­ta­tion force, the Nation­al Union of Health­care Work­ers was con­ven­ing mem­bers across Cal­i­for­nia to dis­cuss how best to pro­tect each other.
These weren't always easy con­ver­sa­tions, but we emerged with a con­sen­sus that we would declare our­selves a ​"sanc­tu­ary union" and that pro­tect­ing our mem­bers from Trump's depor­ta­tion drag­net would be as high a pri­or­i­ty as defend­ing them from man­age­ment retaliation.
To ful­fill that mis­sion, our union is part­ner­ing with a Bay Area immi­gra­tion rights law firm to advise and rep­re­sent mem­bers and their rel­a­tives at risk of depor­ta­tion. We're also edu­cat­ing mem­bers on their rights. Every­one has the right not to answer ques­tions from immi­gra­tion agents, and the right to deny agents entry to your home unless they have a signed warrant.
Like­wise, we are review­ing our records to make sure we aren't pre­serv­ing any data that could reveal a member's immi­gra­tion sta­tus, and we are refus­ing to vol­un­tar­i­ly share any infor­ma­tion about our mem­bers with ICE officers.
Stand­ing up to the state is not some­thing I take light­ly. In Hon­duras, I worked as a com­mu­ni­ty orga­niz­er for human rights orga­ni­za­tions that helped peo­ple resist land seizures and oth­er unlaw­ful acts. I saw lawyers, orga­niz­ers, and union lead­ers killed by drug deal­ers, police offi­cers, and gov­ern­ment-backed thugs.
When a sol­dier at a gov­ern­ment check­point in 1994 made it clear that my life also was in dan­ger, I fled to the U.S., leav­ing behind my wife and young daugh­ter. We were reunit­ed lat­er that year after I was grant­ed asylum.
I don't think that Amer­i­ca under Trump will devolve into the Hon­duras I left behind. But for many of us, it's a much scari­er place than it used to be.
Defend­ing patients too
By declar­ing itself a sanc­tu­ary, our union isn't just mak­ing us feel safer — it's giv­ing mem­bers a safe space to dis­cuss what's hap­pen­ing in our coun­try and help make a difference.
Dur­ing the union meet­ing I attend­ed in San Fran­cis­co ear­li­er this year, two mem­bers ques­tioned becom­ing a sanc­tu­ary union, fear­ful that we would be ​"pro­tect­ing crim­i­nals." It fell to me and anoth­er mem­ber to explain that our goal wasn't to hide our undoc­u­ment­ed broth­ers and sis­ters, but to guar­an­tee them a fair hearing.
I wish every­one in our union agreed that our country's immi­gra­tion laws are unfair, and that there should be a path toward legal­iza­tion for undoc­u­ment­ed peo­ple. Unfor­tu­nate­ly, that's not the case. But with the Trump admin­is­tra­tion push­ing for expe­dit­ed depor­ta­tions that bypass immi­gra­tion courts, we can all ral­ly around the prin­ci­ple that every­one has the right to qual­i­ty rep­re­sen­ta­tion and due process.
We have anoth­er goal in becom­ing a sanc­tu­ary union: to make our work­places sanc­tu­ar­ies, as well. We are encour­ag­ing the hos­pi­tals, clin­ics, and nurs­ing homes where we work to adopt poli­cies that pro­tect patients and care­givers alike. That includes employ­ers refus­ing to share infor­ma­tion with immi­gra­tion agents and refus­ing to let them inside health care facilities.
A Feb­ru­ary arti­cle in the health care jour­nal STAT report­ed that one Bay Area clin­ic serv­ing most­ly immi­grant patients had seen appoint­ment can­cel­la­tions dou­ble, because patients feared putting them­selves at risk for depor­ta­tion. Though ICE has a pol­i­cy to avoid actions at sen­si­tive areas includ­ing health care facil­i­ties, schools, and places of wor­ship, in Feb­ru­ary agents removed a Sal­vado­ran woman from a Texas hos­pi­tal where she was await­ing treat­ment for a brain tumor. Anoth­er alleged ICE raid occurred at a church-run hypother­mia shel­ter in Virginia.
Many of our mem­bers will nev­er march against Trump or protest a law passed by a Con­gress that's 3,000 miles away — but they've nev­er been shy about stand­ing up for their co-work­ers and their patients. If our employ­ers won't shield our co-work­ers and patients from a racist pres­i­dent, they should expect a fight from this sanc­tu­ary union.
Por­firio Quin­tano
is an envi­ron­men­tal ser­vices aide at Sut­ter Health's Cal­i­for­nia Pacif­ic Med­ical Cen­ter and an elect­ed rank-and-file mem­ber of the Nation­al Union of Health­care Work­ers' exec­u­tive board.