Rahm the Grinch? Janitors Say Emanuel Is Stealing Their Christmas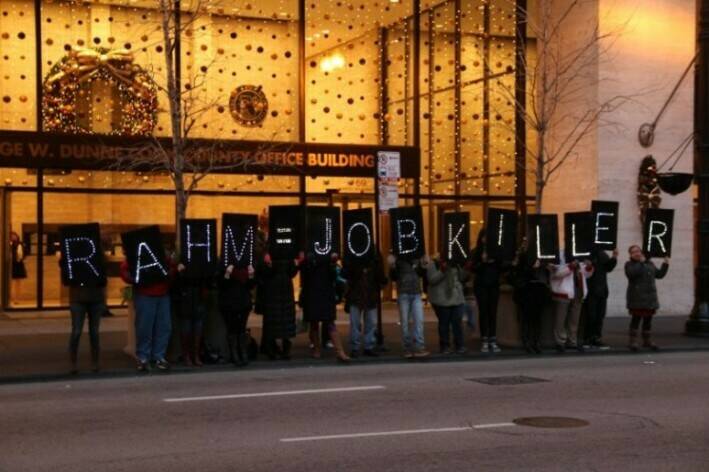 CHICAGO — On Tuesday evening, downtown Chicago was in full holiday mode as people perused the Christkindlmarket under the city's towering Christmas tree. But one twinkling array of lights drew double takes from shoppers and revelers. Fourteen people, lined up in front of a county building, held placards that spelled in blue lights: ​"RAHM = JOBKILLER."
The sign‐​holders—union janitors who clean Chicago's O'Hare airport — say that thanks to Mayor Rahm Emanuel, they won't be able to celebrate the holidays this year. About 300 janitors and window washers represented by SEIU Local 1 are slated to lose their jobs on Dec. 15, when the union contractor that employed them, Scrub Inc., is replaced by another firm. The mayor went with a cheaper bid from United Maintenance Co., which offers lower wages with no promise of full‐​time work. The five‐​year, $99 million contract was awarded Oct. 31, and in early December, Scrub workers received pink slips saying Dec. 15 would be their last day.
​"Ho, ho, HO, Rahm Emanuel has got to go!" chanted several hundred janitors and their supporters as they marched through City Hall and the Christkindlmarket, before assembling in front of the city's Christmas tree. ​"They took our jobs and they took our pay, right before the hol‐i‐day!"
Many carried signs or sported buttons reading, ​"Rahm Emanuel, Job Killer." One woman held a poster mapping out the reported Mob ties of United Maintenance, the firm hired to replace Scrub.
​"What our mayor is doing is a sin and a shame," Dr. Rev. Calvin S. Morris told the crowd. Invoking Emanuel's Jewish heritage, the long‐​time civil-rights and interfaith leader added, ​"When you move in the season of Christmas and Hanukkah…This man who knows the travails of people, who comes from a tradition of people who've struggled…to put profits over people is a sin and a shame."
This wasn't the janitors' first protest with a celebratory theme — on Nov. 29, Emanuel's 53rd birthday, they sang Happy Birthday to the mayor in three languages, holding candles and a cake outside his home.
Call for protections
As janitors and their supporters pleaded with Emanuel to revisit his decision on the O'Hare contract, they also called for passage of a proposed ordinance designed to protect workers in the future.
The Responsible Bidders Ordinance would apply to all city contracts over $50,000 for window‐​washing, security and janitorial services. It would guarantee insurance, prevailing wages and other protections for workers employed by private contractors doing city jobs. It would limit and in some cases ban such contracts from going to firms that have been cited for violations of labor law, and would mandate that new contractors hire existing workers for at least a trial period. Such provisions are already often part of a city's request for proposals, but backers of the ordinance say they should be mandated. An SEIU fact sheet explains:
Without the ordinance, Chicago workers are subject to sudden job loss at no fault of their own, drastically reduced wages, elimination of all health insurance benefits (driving all workers in to the tax payer funded Cook County Health System), and elimination of all other benefits such as sick days and retirement security.
On the morning of the Tuesday protest, four Chicago aldermen joined two soon‐​to‐​be‐​laid‐​off janitors in a press conference at City Hall, where they called on the mayor and city council to pass the ordinance. The following morning, Chicago Federation of Labor president Jorge Ramirez and other labor leaders held a press conference before the monthly city council meeting to argue for the ordinance. Ramirez, who has been an ally of Emanuel's on other issues, demanded the rebidding of the O'Hare contract and passage of the Responsible Bidders Ordinance, ​"under which our communities will thrive, [rather than being in] a race to the bottom."
While a comfortable majority of 31 of the 50 aldermen have signed on to the ordinance, Alderman Nick Sposato noted that without mayoral support it can easily remain stuck in a ​"dark hole," unable to pass out of a committee as needed for a full council vote. Currently the proposal is indeed stalled in the Committee on Workforce Development and Audit, which is chaired by a mayoral loyalist, Alderman Patrick O'Connor.
Along with Sposato, Aldermen Rick Muñoz, Scott Waguespack and Roderick Sawyer on Tuesday described the janitorial contract as part of a larger trend wherein Emanuel's administration is slashing ​"middle‐​class" union jobs and replacing them with low‐​paid positions in the name of minor savings for taxpayers or — in the case of the janitors — for airlines, which pay fees that fund the O'Hare contracts.
​"The city might be saving a little money here, but at what cost?" asked Muñoz. ​"In being fiscally responsible are we being socially irresponsible?" He lamented that the city would ​"put these families out on the street" in order ​"to save a nickel here and a nickel there."
The aldermen also expressed concern over the layoffs of 34 former employees of the city's water department call center. The city saved $100,000 by outsourcing the work to a Japanese firm. Sawyer said he was promised Emanuel's administration would try to find new city jobs for the employees, which include his constituents. But, he tells In These Times, as of Tuesday no new jobs had been confirmed.
​"There's a very disturbing trend here with the way things have been happening in this administration," said Waguespack. ​"It's not only not Chicagoan but also very un‐​American to bring in companies that cut wages to provide so‐​called more efficient services."
A holiday without a job
Janitors Jermaine Samples and Mildred Rueda, formerly employed by Scrub Inc., told reporters at City Hall on Tuesday that they both turned in applications for jobs with United Maintenance, despite the severe pay cut and lack of benefits, but have not heard back. ​"We had to stand in line like the general public to apply for our jobs — people were lining up at 5 a.m," said Samples.
United Maintenance spokesperson Steve Patterson told In These Times that the company does not have applications on file from Samples and Rueda, and that United Maintenance is hiring about 100 former Scrub employees. He said the company, which hires at different offices in the city, set aside three days specifically to collect applications from Scrub workers.
However, workers who talked with In These Times indicated that they were not clearly notified about when and where to apply for jobs with United Maintenance. One worker who asked her name not be used — she still hopes to get her job back — told In These Times that she went to the specified office on the city's South side but was told that application forms had run out and that she should send in her resume. She did, she said, and has not heard back. She's worked at the airport for almost nine years, and doesn't know what she'll do if she isn't rehired. She told In These Times she got only one hour of sleep in the 24 hours before the rally; after her evening shift at the airport she spent all day fruitlessly seeking new work.
​"They're taking my job away from me and giving it to someone else; it's not fair," said Rueda, 35. ​"People tell us we do a wonderful job, but we're living check to check and barely making it." Currently, after seven years at the airport, Rueda, 35, makes $15.80 per hour.
Under United Maintenance's contract with the city, starting janitors must be offered the base ​"prevailing wage" as determined by the state Department of Labor: $11.90 an hour. Under the prevailing wage provisions, workers will advance to $15.30 an hour by their fifth year. While that pay is not a lot lower than what current workers are making under their union contract, janitors and their supporters point out it isn't fair for workers with years of experience to have to reapply for their jobs and, if they are hired, drop back to starting wages. (Window washers' base wage rates are higher, $17.65 per hour.) Moreover, the union believes most of these jobs will be part-time..
​"These are people who are making $40,000 or $50,000 a year, paying taxes, many of them the only breadwinner in their family," said Waguespack. ​"And you're telling them to find another job, to go fish."
​"They're not going to be able to go to Boeing and get one of these jobs the mayor is bringing in," he added, referring to the Emanuel administration touting the creation of tens of thousands of new jobs, largely through relocating corporate headquarters to downtown Chicago. Critics have noted that many of these ​"corporate" jobs — not open to people like Rueda and Samples — are also already filled by people hired when the companies' headquarters were in the suburbs.
Rueda told reporters that, starting Friday, she will look for new work. When asked what she will do for the holidays, she said, ​"I'm grateful to have my family, but in terms of celebrating, there will not be any."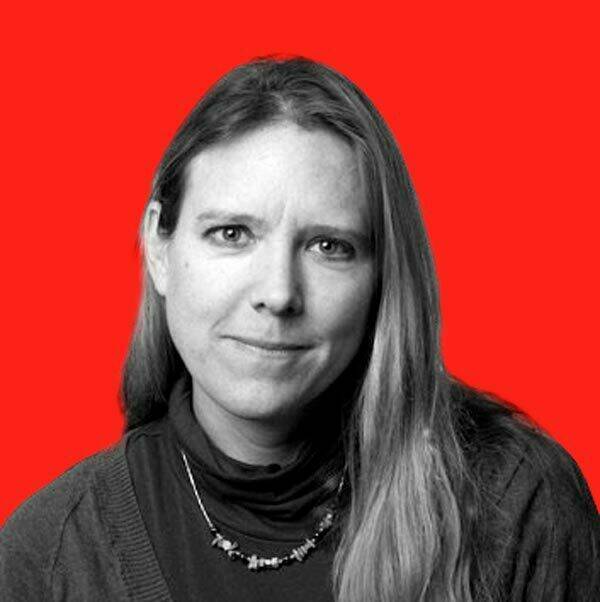 Kari Lydersen
is a Chicago-based reporter, author and journalism instructor, leading the Social Justice
&
amp; Investigative specialization in the graduate program at Northwestern University. She is the author of Mayor
1
%: Rahm Emanuel and the Rise of Chicago's
99
%.