Union Membership Is Down Again—But It Still Pays To Be a Member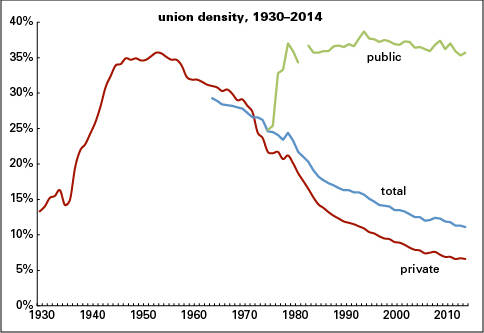 The Bureau of Labor Sta­tis­tics is just out with its fig­ures on union mem­ber­ship in 2014. Over­all mem­ber­ship, aka den­si­ty, fell to 11.1% of the work­force, from 11.3% in 2013. The decline was more than entire­ly the result of slip­page in the pri­vate sec­tor, down from 6.7% to 6.6%. Pub­lic sec­tor den­si­ty, per­haps sur­pris­ing­ly, rose, from 35.3% to 35.7%. Since pri­vate sec­tor employ­ment is more than five times that of the pub­lic sec­tor, the pri­vate sec­tor decline dom­i­nat­ed the pub­lic sector's rise, pro­duc­ing the over­all drop.
Above is a graph of union den­si­ty over time. Cur­rent pri­vate sec­tor den­si­ty is half what it was in 1930, just before the great surge in mem­ber­ship dur­ing the Depres­sion. Its rate of decline has slowed over the last decade, but there's no sign of a turn­around. And despite the uptick in pub­lic sec­tor den­si­ty last year, the line has been essen­tial­ly flat for 30 years.
By age group, union mem­ber­ship rose only among the youngest (16−24) and old­est (65+) cohorts. The decline was sharp­er for adult men (-0.3 point) than women (-0.1). By race/​ethnicity, den­si­ty declined among whites (-0.2), blacks (-0.4), and His­pan­ics (-0.2), but rose a full per­cent­age point for Asians.
Den­si­ty declined for most occu­pa­tion­al and indus­try groups, with some inter­est­ing excep­tions. By occu­pa­tion, man­age­ment, law, health­care prac­ti­tion­ers, and sales all bucked the down­ward trend; by indus­try, broadcasting/​telecommunications; arts, enter­tain­ment, and recre­ation; accom­mo­da­tions; and bars and restau­rants all rose (though the last just bare­ly). The lists of gain­ers are at odds with the tra­di­tion­al image of unions. Efforts to orga­nize retail showed lit­tle pay­off, as den­si­ty fell 0.2 point. With­in the pub­lic sec­tor, union mem­ber­ship rose at the fed­er­al and local lev­els, and declined at the state lev­el — it looks like that's where the effort to destroy pub­lic sec­tor union­ism is hav­ing its effect.
Union sta­tus mat­ters for wages: over­all, union­ized work­ers earned 27% more than nonunion (mea­sured by medi­an week­ly earn­ings for full-time work­ers). The effect was espe­cial­ly pro­nounced for weak­er, more dis­crim­i­nat­ed-against demo­graph­ic groups. The youngest group, aged 16 – 24, enjoyed a 28% union pre­mi­um; the advan­tage declined with each suc­ces­sive cohort, down to 12% for the 65+ set. Women aged 25 and old­er enjoyed a 27% pre­mi­um, com­pared to 15% for men. White men (16 and over) had a 20% union advan­tage, com­pared with 32% for white women; for black men, the pre­mi­um was 29%, com­pared to 34% for black women; and for His­pan­ics, it was 44% for men and 46% for women. Asian men were a notable excep­tion, with the union­ized earn­ing 5% less than the non-union­ized — but Asian women showed a 14% union premium.
It's no won­der employ­ers hate unions so much. As pro­found­ly flawed as Amer­i­can unions are, they can vast­ly improve the wages and work­ing con­di­tions for their members.
Note: all the fig­ures above refer to union mem­bers; they don't include the 1.2% of the work­force that is rep­re­sent­ed by unions with­out being mem­bers. If you include them, all the trends are almost iden­ti­cal to what's out­lined above.
First post­ed at Left Busi­ness Observ­er.