Union Moves Ahead at American University: "Time To Bring Academia into the 21st Century"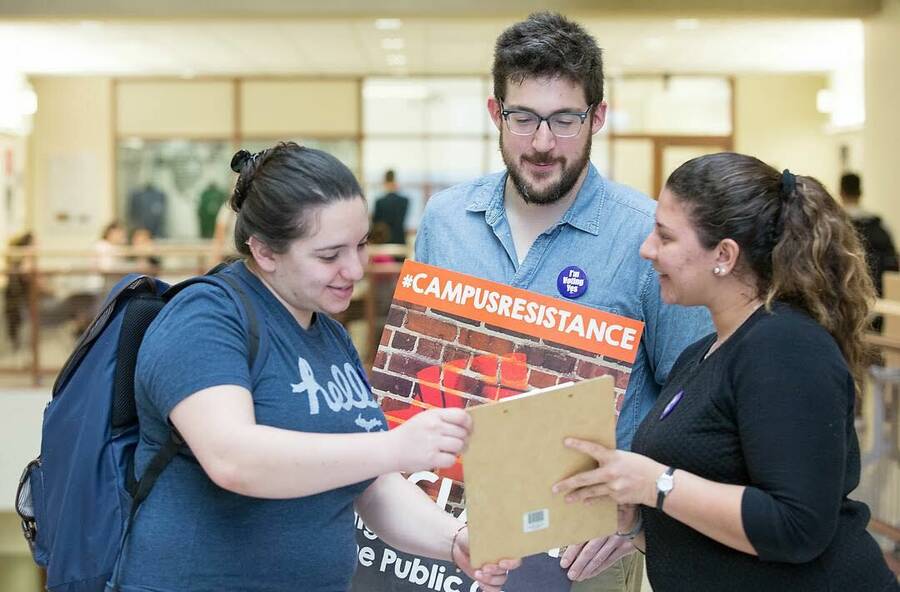 Graduate students who work as faculty assistants at American University (AU) in Washington, D.C., are forging ahead in their efforts to form a union, despite the uncertainty caused by President Donald Trump's conflicting signals on federal labor policy and anxiety among some foreign students over his anti-immigrant rhetoric.
Backed by Service Employees International Union (SEIU) Local 500, the students filed for an election with the National Labor Relations Board (NLRB) late last month. According to the NLRB petition, the union seeks to represent about 700 students serving as ​"Teaching Assistants, Research Assistants, Graduate Assistants, Laboratory Assistants Teaching Apprentices, Dean's Fellows, Instructors, Graders, Preceptors, Section Leaders, and Tutors" at AU's Washington, D.C., campus. Voting will be conducted by mail and begin March 20.
The student workers want to vote as soon as possible, says Scott Patrick, a member of the union organizing committee. Some 300 graduate employees have already signed cards indicating their desire for an election, he says, and union advocates feel confident they can win.
"It's time to bring academia into the 21st century in terms of how it treats its labor force," says Patrick.
He believes compensation is probably the biggest issue among graduate students seeking unionization.
"It's treated as normal that you live on ramen noodles and a couple of energy drinks a day," Patrick says. ​"I like AU a lot, but in terms of how we are treated as workers, there could be a lot of improvement."
AU Provost Scott Bass issued a memo March 1 informing the college community of the likelihood of an election. The memo was vague on AU union policy, but stated it ​"respects that, under the law, graduate students have the right to organize and engage in collective bargaining." A spokeswoman for the school declined to offer further comment.
Patrick says the organizing campaign has been active on the AU campus since September, shortly after the NLRB issued its landmark decision in the Columbia case, which affirmed the right of graduate employees to organize. The momentum of the campaign was set back, however, with Trump's election. Uncertainty about whether a Trump-controlled NLRB would reverse Columbia was widely expressed, Patrick says, as were fears that Trump's anti-immigrant rhetoric would be used against foreign graduate students on campus.
"The international students worried about their immigration status. A lot of the students come from a very different civil society that is repressive," of labor rights, Patrick says. He estimates that about 30 percent of AU graduate students are originally from other countries.
"We even had a bunch of them who wanted something in writing saying it won't affect their immigration status," Patrick says, because they feared losing their visas or university grants for openly supporting a union.
An AU election for graduate workers would be the first in the nation's capital, which has become a hotbed of organizing activity since Columbia. Campaigns assisted by SEIU Local 500 are well underway at George Washington University, Catholic University of America and at other campuses. The American Federation of Teachers (AFT) is also active with graduate students looking to unionize and recently formed an alliance with a graduate worker committee at Georgetown University.
Such campaigns are sprouting nationally and the AFT is involved in organizing graduate workers at Cornell, Northwestern, Princeton, University of Chicago and University of Pennsylvania. AFT is already the largest graduate employee union, representing some 25,000 graduate workers on 22 campuses across nine states, a union spokesman tells In These Times. The United Auto Workers is also active, with high-profile efforts underway at Columbia, Harvard, New York University and elsewhere. SEIU's national ​"Faculty Forward" organization has announced a nationwide campaign for graduate students and is currently engaged in a hotly contested NLRB election at Duke University in Durham, North Carolina.
Back at AU, a group of graduate students explained in a public letter why they want a union.
"We provide American University with vital, inexpensive labor serving the university, yet most of us struggle to make ends meet in the fifth most expensive city in the country," they said. ​"Years of frustration have taught us that the only way to effectively channel our demands is by uniting together to form a union so we may sit down with the administration as equals and bargain a contract that will improve our working conditions."
The letter concludes: ​"This is about making AU the best it can be."
The Rise of a New Left
"An engrossing, behind-the-scenes account of our decade's breakout political movement." –Atossa Araxia Abrahamian
For a limited time, when you donate $30 or more to support In These Times, we'll send you a copy of the new book, The Rise of a New Left: How Young Radicals Are Shaping the Future of American Politics, by Raina Lipsitz.

Bruce Vail
is a Baltimore-based freelance writer with decades of experience covering labor and business stories for newspapers, magazines and new media. He was a reporter for Bloomberg BNA's Daily Labor Report, covering collective bargaining issues in a wide range of industries, and a maritime industry reporter and editor for the Journal of Commerce, serving both in the newspaper's New York City headquarters and in the Washington, D.C. bureau.