Union Moves Ahead at American University: "Time To Bring Academia into the 21st Century"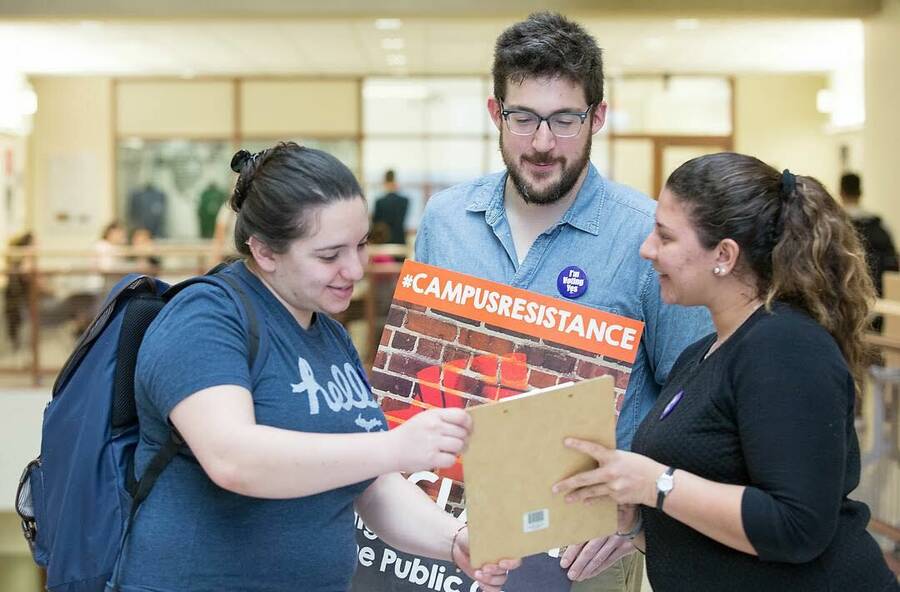 Grad­u­ate stu­dents who work as fac­ul­ty assis­tants at Amer­i­can Uni­ver­si­ty (AU) in Wash­ing­ton, D.C., are forg­ing ahead in their efforts to form a union, despite the uncer­tain­ty caused by Pres­i­dent Don­ald Trump's con­flict­ing sig­nals on fed­er­al labor pol­i­cy and anx­i­ety among some for­eign stu­dents over his anti-immi­grant rhetoric.
Backed by Ser­vice Employ­ees Inter­na­tion­al Union (SEIU) Local 500, the stu­dents filed for an elec­tion with the Nation­al Labor Rela­tions Board (NLRB) late last month. Accord­ing to the NLRB peti­tion, the union seeks to rep­re­sent about 700 stu­dents serv­ing as ​"Teach­ing Assis­tants, Research Assis­tants, Grad­u­ate Assis­tants, Lab­o­ra­to­ry Assis­tants Teach­ing Appren­tices, Dean's Fel­lows, Instruc­tors, Graders, Pre­cep­tors, Sec­tion Lead­ers, and Tutors" at AU's Wash­ing­ton, D.C., cam­pus. Vot­ing will be con­duct­ed by mail and begin March 20.
The stu­dent work­ers want to vote as soon as pos­si­ble, says Scott Patrick, a mem­ber of the union orga­niz­ing com­mit­tee. Some 300 grad­u­ate employ­ees have already signed cards indi­cat­ing their desire for an elec­tion, he says, and union advo­cates feel con­fi­dent they can win.
"It's time to bring acad­e­mia into the 21st cen­tu­ry in terms of how it treats its labor force," says Patrick.
He believes com­pen­sa­tion is prob­a­bly the biggest issue among grad­u­ate stu­dents seek­ing unionization.
"It's treat­ed as nor­mal that you live on ramen noo­dles and a cou­ple of ener­gy drinks a day," Patrick says. ​"I like AU a lot, but in terms of how we are treat­ed as work­ers, there could be a lot of improvement."
AU Provost Scott Bass issued a memo March 1 inform­ing the col­lege com­mu­ni­ty of the like­li­hood of an elec­tion. The memo was vague on AU union pol­i­cy, but stat­ed it ​"respects that, under the law, grad­u­ate stu­dents have the right to orga­nize and engage in col­lec­tive bar­gain­ing." A spokes­woman for the school declined to offer fur­ther comment.
Patrick says the orga­niz­ing cam­paign has been active on the AU cam­pus since Sep­tem­ber, short­ly after the NLRB issued its land­mark deci­sion in the Colum­bia case, which affirmed the right of grad­u­ate employ­ees to orga­nize. The momen­tum of the cam­paign was set back, how­ev­er, with Trump's elec­tion. Uncer­tain­ty about whether a Trump-con­trolled NLRB would reverse Colum­bia was wide­ly expressed, Patrick says, as were fears that Trump's anti-immi­grant rhetoric would be used against for­eign grad­u­ate stu­dents on campus.
"The inter­na­tion­al stu­dents wor­ried about their immi­gra­tion sta­tus. A lot of the stu­dents come from a very dif­fer­ent civ­il soci­ety that is repres­sive," of labor rights, Patrick says. He esti­mates that about 30 per­cent of AU grad­u­ate stu­dents are orig­i­nal­ly from oth­er countries.
"We even had a bunch of them who want­ed some­thing in writ­ing say­ing it won't affect their immi­gra­tion sta­tus," Patrick says, because they feared los­ing their visas or uni­ver­si­ty grants for open­ly sup­port­ing a union.
An AU elec­tion for grad­u­ate work­ers would be the first in the nation's cap­i­tal, which has become a hotbed of orga­niz­ing activ­i­ty since Colum­bia. Cam­paigns assist­ed by SEIU Local 500 are well under­way at George Wash­ing­ton Uni­ver­si­ty, Catholic Uni­ver­si­ty of Amer­i­ca and at oth­er cam­pus­es. The Amer­i­can Fed­er­a­tion of Teach­ers (AFT) is also active with grad­u­ate stu­dents look­ing to union­ize and recent­ly formed an alliance with a grad­u­ate work­er com­mit­tee at George­town University.
Such cam­paigns are sprout­ing nation­al­ly and the AFT is involved in orga­niz­ing grad­u­ate work­ers at Cor­nell, North­west­ern, Prince­ton, Uni­ver­si­ty of Chica­go and Uni­ver­si­ty of Penn­syl­va­nia. AFT is already the largest grad­u­ate employ­ee union, rep­re­sent­ing some 25,000 grad­u­ate work­ers on 22 cam­pus­es across nine states, a union spokesman tells In These Times. The Unit­ed Auto Work­ers is also active, with high-pro­file efforts under­way at Colum­bia, Har­vard, New York Uni­ver­si­ty and else­where. SEIU's nation­al ​"Fac­ul­ty For­ward" orga­ni­za­tion has announced a nation­wide cam­paign for grad­u­ate stu­dents and is cur­rent­ly engaged in a hot­ly con­test­ed NLRB elec­tion at Duke Uni­ver­si­ty in Durham, North Carolina.
Back at AU, a group of grad­u­ate stu­dents explained in a pub­lic let­ter why they want a union.
"We pro­vide Amer­i­can Uni­ver­si­ty with vital, inex­pen­sive labor serv­ing the uni­ver­si­ty, yet most of us strug­gle to make ends meet in the fifth most expen­sive city in the coun­try," they said. ​"Years of frus­tra­tion have taught us that the only way to effec­tive­ly chan­nel our demands is by unit­ing togeth­er to form a union so we may sit down with the admin­is­tra­tion as equals and bar­gain a con­tract that will improve our work­ing conditions."
The let­ter con­cludes: ​"This is about mak­ing AU the best it can be."
Bruce Vail
is a Bal­ti­more-based free­lance writer with decades of expe­ri­ence cov­er­ing labor and busi­ness sto­ries for news­pa­pers, mag­a­zines and new media. He was a reporter for Bloomberg BNA's Dai­ly Labor Report, cov­er­ing col­lec­tive bar­gain­ing issues in a wide range of indus­tries, and a mar­itime indus­try reporter and edi­tor for the Jour­nal of Com­merce, serv­ing both in the newspaper's New York City head­quar­ters and in the Wash­ing­ton, D.C. bureau.