Unions Can't Beat Right to Work Just By Calling It 'Unfair'—They Must Fight for Everyone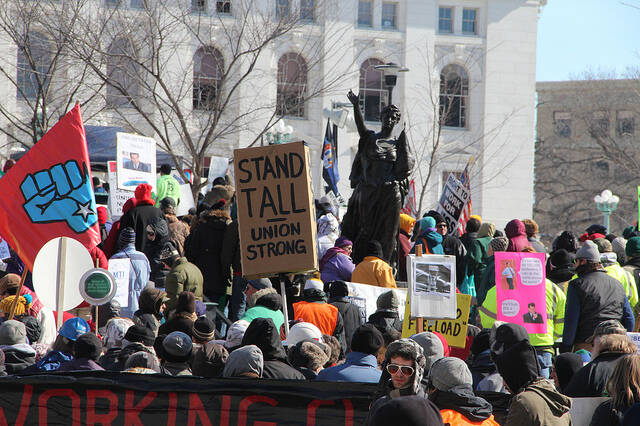 This post first appeared at Labor Notes.
Wis­con­sin is now the 25th state to adopt a so-called ​"right-to-work" law, which allows work­ers to ben­e­fit from col­lec­tive bar­gain­ing with­out hav­ing to pay for it.
It joins Michi­gan and Indi­ana, which both adopt­ed right to work in 2012. Sim­i­lar ini­tia­tives, or vari­ants, are spread­ing to Illi­nois, Ken­tucky, Maine, Mis­souri, New Hamp­shire, New Mex­i­co and West Vir­ginia—and the Nation­al Right to Work Com­mit­tee and the Amer­i­can Leg­isla­tive Exchange Coun­cil prob­a­bly have a well-devel­oped list of addi­tion­al targets.
With­out aggres­sive action, the right-to-work tsuna­mi will sweep more states. To defeat it, the first step is com­mit­ting to fight back, rather than resign­ing our­selves to what some say is inevitable.
Everyone's Inter­ests
We'll have to go beyond what we've most­ly been say­ing so far, which is that right to work is ​"unfair" or ​"wrong."
That argu­ment cer­tain­ly works for most union house­holds and many of our com­mu­ni­ty allies. But the real chal­lenge is to con­vince a much broad­er pub­lic that a strong (and fair­ly-fund­ed) labor move­ment is in their inter­est and worth pre­serv­ing. Clear­ly most Amer­i­cans aren't yet convinced.
Many unions over the last few years have under­tak­en impor­tant cam­paigns along these lines. For exam­ple, teach­ers unions have posi­tioned them­selves as defend­ers of qual­i­ty pub­lic edu­ca­tion. Refin­ery work­ers have struck for pub­lic safe­ty.
Nurs­es and health care unions have fought for safe staffing to improve the qual­i­ty of care. And most notably, the Ser­vice Employ­ees (SEIU) and oth­ers have waged the ​"Fight for $15" for fast food and oth­er low-wage workers.
In its own way, each union is work­ing hard to be a cham­pi­on of the entire work­ing class. Yet with the excep­tion of SEIU's Fight for $15, each is essen­tial­ly focused on the issues of its core con­stituen­cy at work. This still lim­its the public's per­cep­tion of labor.
Sup­port­ers of right to work cyn­i­cal­ly play on the resent­ment many work­ers feel about their declin­ing stan­dard of liv­ing. Absent a union con­tract, the vast major­i­ty have few, if any, ways to address it. To most, orga­niz­ing looks impos­si­ble and pol­i­tics looks broken.
Work­ers' under­stand­able frus­tra­tion is fer­tile ground for the far right, which promis­es to improve the busi­ness cli­mate and cre­ate more jobs by strip­ping union mem­bers of their power.
Thus, when we antic­i­pate right to work's next tar­gets, the best defense should be a good offense — one that clear­ly posi­tions labor as a force for the good of all workers.
'

Just Cause for All'

Here's one approach that would put labor on the offen­sive: an ini­tia­tive for a new law pro­vid­ing all work­ers with due process rights to chal­lenge unjust dis­ci­pline and dis­charge, ​"Just Cause for All."

Such a law would take aim at the ​"at-will" employ­ment stan­dard cov­er­ing most non-union work­ers in the U.S. At-will employ­ees can be fired for any rea­son and at any time — with­out just cause.

While such a major expan­sion of work­ers' rights as Just Cause for All would be unlike­ly to pass in most state leg­is­la­tures — Mon­tana did it in 1987, but it's still the only one — it could become law in states that allow bal­lot initiatives.

A well-orches­trat­ed attack on the at-will employ­ment stan­dard would force the extreme, anti-work­er, and big busi­ness inter­ests who back right to work to respond. If noth­ing else, imag­ine how com­pet­ing ini­tia­tives would force a debate. On one side, extend­ing due process pro­tec­tions and increased job secu­ri­ty to all work­ers: a real right-to-work bill. On the oth­er side, tak­ing away fair share con­tri­bu­tions for col­lec­tive bargaining.

This strat­e­gy isn't untest­ed. When the Coors beer dynasty backed a right-to-work bal­lot ini­tia­tive in Col­orado in 2008, labor col­lect­ed sig­na­tures for a counter-ini­tia­tive, ​"Allow­able Rea­sons for Employ­ee Dis­charge or Sus­pen­sion," which would have over­turned at-will employ­ment. (Labor also sup­port­ed a pro­pos­al that would have pro­vid­ed afford­able health insur­ance to all employ­ees and a mea­sure to allow work­ers injured on the job to sue for dam­ages in state courts.)

Fear­ing that the just cause pro­pos­al might pass, cen­trist busi­ness peo­ple offered a deal. In exchange for labor with­draw­ing its pro­pos­al, they pro­vid­ed finan­cial sup­port and man­pow­er that helped labor defeat right to work in Col­orado. (For more on this sto­ry, read Ray­mond L. Hogler's ​"The 2008 Defeat of Right to Work in Col­orado: Is it the End of Sec­tion 14(b)?" in Labor Law Jour­nal.)

While it's unfor­tu­nate that the labor ini­tia­tive didn't go before Col­orado vot­ers, the result was still encour­ag­ing — and instruc­tive. By cham­pi­oning the inter­ests of all work­ers, labor split busi­ness and blunt­ed the right-to-work effort.

To win back ​"fair-share" par­tic­i­pa­tion in the three new right-to-work states and stop fur­ther attacks, we'll need well-planned cam­paigns that include grass­roots mobi­liza­tion, direct action, paid and earned media, and focused elec­toral work.

Just Cause for All cam­paigns should be part of the strat­e­gy. Even if we lose, cam­paigns for due process and job secu­ri­ty for all will help shift the debate on right to work, leave the labor move­ment stronger — and make labor and its allies once again the cham­pi­ons of the ​"99%."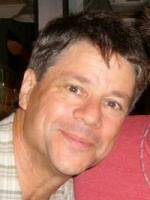 Rand Wil­son
is pol­i­cy and com­mu­ni­ca­tions direc­tor at SEIU Local
888
in Boston.