Labor Day this year comes at a turn­ing point for the pro­gres­sive move­ment, with redou­bled efforts to push for health reform and the right to orga­nize work­ers under the pro­posed Employ­ee Free Choice Act.
In both cas­es, the union move­ment and Democ­rats have had to spend time and resources push­ing back against mis­in­for­ma­tion, bul­ly­ing tac­tics and the lies of the GOP and its cor­po­rate allies, so that win­ning both key reforms now present unions with tough polit­i­cal obsta­cles to over­come – even as the labor move­ment is tak­ing a tougher stance against mem­bers of Con­gress who won't back gen­uine reforms.
The AFL-CIO's orga­niz­ing direc­tor, Stew­art Acuff, remains con­fi­dent of suc­cess, in part because of grass­roots orga­niz­ing efforts: ​"We're going to get both done this year."
And he summed up what's at stake in both fights: ​"We're bat­tling to turn around Amer­i­ca and cre­ate an econ­o­my that works for all."
But what the coun­try is fac­ing instead is what a new book writ­ten by the Nation­al Employ­ment Law Project and oth­er advo­ca­cy groups call the ​"gloves-off econ­o­my." The report is a com­pan­ion to a new study by NELP and oth­er groups on the wide­spread bro­ken labor laws for low-income work­ers.
In this econ­o­my, as described by a New York Dai­ly News colum­nist Errol Louis:
Behind the finan­cial woes afflict­ing mil­lions of Amer­i­cans — unem­ploy­ment, lousy wages, bank­rupt­cy and fore­clo­sure — lies a phe­nom­e­non some schol­ars are call­ing ​"the gloves-off economy."

The term, used as the title of a new book and a pair of stud­ies released this week, describes a bareknuck­led attack on basic employ­ment laws in one indus­try after another…

Right now, employ­ers vio­late the laws with near-impunity.

The Oba­ma admin­is­tra­tion shows every sign of tak­ing the mat­ter seri­ous­ly. But enforce­ment is only part of the battle.

The buy­ing pub­lic also must demand an end to the gloves-off econ­o­my. Restau­rants, retail­ers and oth­er com­pa­nies that steal from their employ­ees end up under­min­ing the entire economy.

We can­not build a healthy econ­o­my if mil­lions are work­ing for wages that leave them in per­pet­u­al pover­ty, unable to afford a car, a home or a decent edu­ca­tion for their children.

Left unchecked, the wide­spread use of gloves-off tac­tics will creep up the wage scale, putting clerks and mid­dle man­agers at ever-greater risk of being down­sized, out­sourced or just plain ripped off.

That's no way to run an econ­o­my. Or a democracy.
Ear­li­er this week, Arlene Holt Bak­er, the AFL-CIO's exec­u­tive vice pres­i­dent, put the polit­i­cal chal­lenges in a broad­er con­text in a media con­fer­ence call that also unveiled the new sur­vey on young work­ers' eco­nom­ic free-fall, with one-third of them under 35 forced to live at home with their parents.
She declared:
We have mas­sive cam­paigns devot­ed to the pas­sage of the Employ­ee Free Choice Act and health care reform. Over August we've con­tin­ued to mobi­lize around these two key pri­or­i­ties... More than 18,000 union mem­bers attend­ed 400 town halls in the month of August alone.

Union fam­i­lies have made close to 200,000 phone calls and writ­ten over 250,000 let­ters this year to sen­a­tors and rep­re­sen­ta­tives about health care and work­ers' free­dom to form unions and bar­gain for a bet­ter life.

This Labor Day week­end, over 100,000 union mem­bers will make a push for health care and the Employ­ee Free Choice Act at cel­e­bra­tions around the country.

As Con­gress comes back into ses­sion our efforts will inten­si­fy. Work­ers are invig­o­rat­ed and are ready for round two of the fight.
The events this week­end include a ral­ly and march for health and labor reform in rur­al Cov­ing­ton, VA., where the AFL-CIO's Acuff (who expects a 6,000 per­son turnout) will be joined by Gov. Kaine and the Demo­c­ra­t­ic can­di­date for gov­er­nor Creigh Deeds; a Labor Day pic­nic in Cincin­nati, where AFL-CIO Pres­i­dent John Sweeney and Sec­re­tary Trea­sur­er Richard Trum­ka will be attend­ing with Pres­i­dent Oba­ma; a Pitts­burgh Labor Day parade with Vice Pres­i­dent Biden; and dozens of health­care ral­lies and fairs pro­mot­ed by SEIU with the mes­sage for leg­is­la­tors to ​"Send Them Back to Wash­ing­ton" to pass health­care reform — with a pub­lic option.
As SEIU announced before this weekend's events:
"This Labor Day, noth­ing is more crit­i­cal to work­ing fam­i­lies – and we could do no greater hon­or to Sen­a­tor Kennedy's mem­o­ry– than pass­ing the sort of health insur­ance reform that would make him proud. The bot­tom line is sim­ple: we can­not restore eco­nom­ic bal­ance and bring pros­per­i­ty to all Amer­i­cans with­out dras­ti­cal­ly bring­ing down health­care costs and ensur­ing that all Amer­i­cans are guar­an­teed qual­i­ty, afford­able health­care," said SEIU Inter­na­tion­al Pres­i­dent Andy Stern.

On Labor Day week­end, SEIU will par­tic­i­pate in large-scale events across the coun­try to call for health­care reform, includ­ing this Sat­ur­day, Sept 5, when thou­sands will gath­er in Indi­anapo­lis, and on Mon­day, when SEIU will join with Pres­i­dent Oba­ma in Cincinnati.
Part of the Labor Day reded­i­ca­tion to reform is the strong new empha­sis by the labor move­ment on reach­ing out to young work­ers and minori­ties. That's a theme being pressed by Trum­ka, who's he expect­ed to be elect­ed AFL-CIO pres­i­dent at the federation's con­ven­tion in Pitts­burgh, start­ing Sept. 13.
As USA Today writer Chuck Raasch observed:
[Trum­ka] point­ed to the labor movement's grow­ing diver­si­ty and to the AFL-CIO's fre­quent polls that show more young peo­ple are look­ing to the labor move­ment to help solve their problems.

"I think we have more cred­i­bil­i­ty than cor­po­rate lead­ers right now, or cor­po­rate CEOs, or Wall Street types," he said.

When the AFL-CIO meets in Pitts­burgh Sept. 13 – 17, Trum­ka, now the AFL-CIO's sec­re­tary-trea­sur­er, is expect­ed to replace Sweeney, who is retir­ing after 14 years lead­ing the nation's largest labor coali­tion through trou­bling times…

"We are reach­ing out to young work­ers. We are going to make a real pitch to African-Amer­i­cans that are liv­ing in pover­ty," Trum­ka said. ​"Our goal, and we are going to try to push on this, is to try to speak for all work­ers, union and non-union."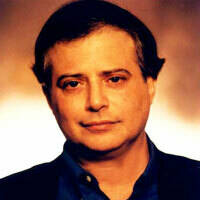 Art Levine
, a con­tribut­ing edi­tor of
The Wash­ing­ton Month­ly
, has writ­ten for
Moth­er Jones
,
The Amer­i­can Prospect
,
The New Repub­lic, The Atlantic
, Slate​.com, Salon​.com and numer­ous oth­er publications.