A Working-Class Strategy for Defeating White Supremacy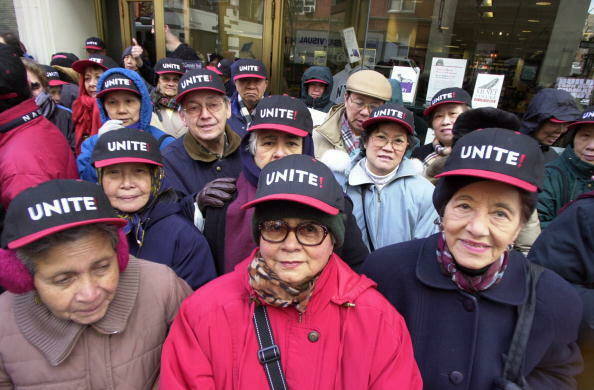 Ever since the earth-shak­ing elec­tion of Don­ald Trump, there have been innu­mer­able arti­cles argu­ing that Democ­rats brought this upon them­selves by los­ing white, work­ing-class vot­ers in the Mid­west. These arti­cles have been met with a tor­rent of essays urg­ing Democ­rats to focus on becom­ing the par­ty of diver­si­ty. And, com­ing back from the dead like a bloat­ed zom­bie corpse is Mark Penn and Andrew Stein's New York Times piece call­ing for a return to Clin­ton­ian centrism.
All of these dis­cus­sions imply that pro­gres­sives can either fight for vot­ers from the work­ing class or com­mu­ni­ties of col­or — but not both at once. This line of think­ing demon­strates a pro­found lack of faith in democ­ra­cy and the electorate's abil­i­ty to smell bullshit.
As a sea­soned union orga­niz­er, I often ask myself whether the pun­dits offer­ing the afore­men­tioned opin­ions have ever actu­al­ly spent time talk­ing to work­ing-class peo­ple. By this, I mean all work­ing-class peo­ple. Con­trary to the nar­ra­tive put forth in the main­stream — and even some left — media, some of the most sig­nif­i­cant work con­fronting homo­pho­bia, sex­ism and racism has been done by work­ing-class peo­ple of all eth­nic­i­ties through col­lec­tive strug­gle in the labor movement.
My first sub­stan­tive labor move­ment work was as a union orga­niz­er with California's SEIU Local 250 — a health­care work­ers' indus­tri­al union, the­o­ret­i­cal­ly rep­re­sent­ing all non-man­age­ment per­son­nel in hos­pi­tals and nurs­ing homes. In prac­tice, the union most­ly rep­re­sent­ed those clas­si­fi­ca­tions except reg­is­tered nurs­es, who were gen­er­al­ly rep­re­sent­ed by the wide­ly-respect­ed Cal­i­for­nia Nurs­es Asso­ci­a­tion. Local 250's mem­ber­ship was racial­ly diverse, with strong rep­re­sen­ta­tion from African-Amer­i­can, Lati­no, Fil­ipino and white work­ers. Stan­dards were gen­er­al­ly good for a union work­place: free health­care, pen­sions, time off and com­pet­i­tive wages.
My first instruc­tions at Local 250 were pret­ty sim­ple: Go recruit 10 per­cent of the mem­ber­ship at the hos­pi­tal to serve on the nego­ti­at­ing team, and get them ready to lead the entire hos­pi­tal out on strike in two months. These were strong direc­tives deliv­ered with about as much sub­tle­ty. At the time, the union was engaged in a mas­sive, coor­di­nat­ed con­tract cam­paign to achieve min­i­mum staffing stan­dards. This meant that as many as 30 hos­pi­tals would be bar­gain­ing and per­haps strik­ing in coordination.
As a union staffer, one of my myr­i­ad job duties was to have meet­ings with mem­bers and mem­ber lead­ers, guid­ed by a small pam­phlet titled, ​"What is a Union?" This pam­phlet empha­sized that a union is ​"an orga­ni­za­tion of work­ers who all work for the same employ­er and act col­lec­tive­ly to keep the boss from doing things that the work­ers do not want and to get the boss to do things that the work­ers do want."
My job was to explic­it­ly talk about racism, sex­ism, eth­no­cen­trism, homo­pho­bia and reli­gious intol­er­ance as spe­cif­ic bar­ri­ers to a strong union. A good union mem­ber can't com­plain about Mex­i­cans ​'tak­ing jobs' while also ask­ing Lati­no col­leagues to make com­mon cause with him.
My expe­ri­ence was that union mem­bers took this seri­ous­ly. Not only have I watched white men tell oth­er men that sex­u­al harass­ment has no place in their union, but — even more sig­nif­i­cant­ly — I have wit­nessed peo­ple devel­op gen­uine curios­i­ty about peo­ple from dif­fer­ent cul­tures. Lati­no house­keep­ers start­ed eat­ing with Fil­ipino nurs­ing depart­ment staff and try­ing to get to know more about where oth­er peo­ple come from.
One sto­ry stands out. In prepar­ing for the strike, a num­ber of the African-Amer­i­can kitchen work­ers kept telling me that the Fil­ipino nurs­ing assis­tants ​"were weak" and would not stand up to man­age­ment. For­tu­nate­ly, one won­der­ful African-Amer­i­can female shop stew­ard, Phyl­lis, pulled them all aside and said that such eth­no­cen­tric dis­cus­sion had no place in our union. When the strike final­ly hap­pened, not a sin­gle Fil­ipino scabbed. In fact, Fil­ipinos were the most ded­i­cat­ed pick­eters, earn­ing them acco­lades from every­one in the union.
Along sim­i­lar lines, I can think of one very reli­gious cer­ti­fied nurs­ing assis­tant, Gra­cie, who had strong feel­ings about homo­sex­u­al­i­ty. We had sev­er­al open­ly LGBTQ mem­bers, includ­ing two men and two women who held promi­nent posi­tions as offi­cers in the union. I led a dis­cus­sion about how homo­pho­bia has no place in the union, dur­ing which Gra­cie said that her pas­tor believes being gay is wrong. Because every­one had an inter­est in unit­ing to fight against man­age­ment, the LGBTQ lead­ers very respect­ful­ly told her of their human­i­ty, their hopes and dreams — and how they want­ed most of the same things that she did. Over time and through the strug­gle of fight­ing along­side her col­leagues, Gra­cie not only changed her per­cep­tion of her cowork­ers, but also became an ally for LGBTQ peo­ple in her community.
As an orga­niz­er, I learned that peo­ple often only make the effort to chal­lenge their prej­u­dices when they are engaged in strug­gle with oth­ers. This is not to excuse the hor­rif­ic racism and sex­ism that has been exac­er­bat­ed by the right-wing pop­ulism of the Trump cam­paign. Instead, we need to reach work­ing peo­ple with authen­tic left-wing pop­ulism, which will win against the pho­ny rightwing vari­ety every time.
To advance anti-racism on the macro scale, we need to col­lec­tive­ly engage in pop­u­lar strug­gle, root­ed in a left plat­form that is rel­e­vant and intu­itive for poor and work­ing peo­ple. There should be an imme­di­ate cre­ation of a hope­ful, broad-based mis­sion that is winnable, which will serve to expand the resis­tance move­ment and cre­ate an orga­nized major­i­ty to kill per­ni­cious nation­al­ism, mas­querad­ing as populism.
By embrac­ing pop­u­lar, left posi­tions with a viable plan to win them, we can build sup­port for basic civ­il rights. Ulti­mate­ly, this isn't just about win­ning elec­tions: It's about cre­at­ing a mass move­ment that acts col­lec­tive­ly to win. Let's build rela­tion­ships, go orga­nize and actu­al­ly get reg­u­lar peo­ple excit­ed about pol­i­tics again. That's how we do the real work to change people's hearts and minds on race, gen­der, sex­u­al iden­ti­ty and ethnicity.
Gabriel Kristal
has been orga­niz­ing unions across the coun­try for the past
18
years. With his expe­ri­ence direct­ing NLRB elec­tions, nego­ti­at­ing con­tracts and win­ning suc­cess­ful strikes from Cal­i­for­nia to Mon­tana, he is very inter­est­ed in what moves ordi­nary work­ing peo­ple to stand up to pow­er. Cur­rent­ly, he lives in upstate New York on a farm with his film­mak­er wife, chick­ens, cats, and Aus­tralian Shep­herd named Hugo.