The Fight Against Racism Starts in the Union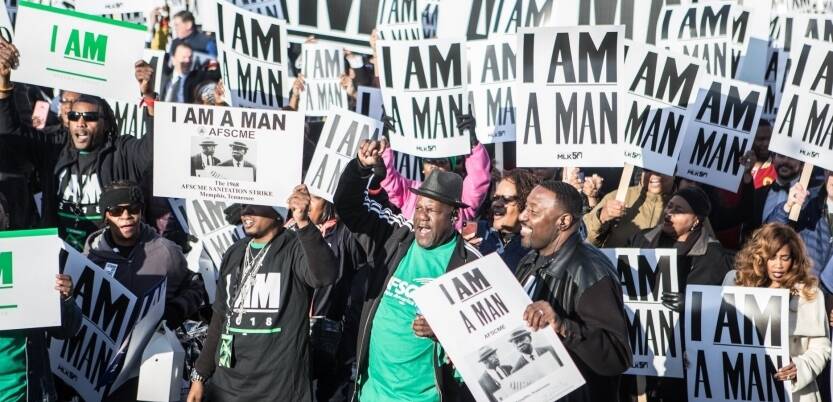 "In your union or work­place, what's a sit­u­a­tion where you've observed or expe­ri­enced racism?" That's the first ques­tion we ask peo­ple to dis­cuss, in groups of three, as part of a Race and Labor train­ing that our state labor coun­cil has offered for 29 local unions and labor coun­cils so far in Wash­ing­ton state.
Some sto­ries are dra­mat­ic, like the mem­ber of col­or who was threat­ened with phys­i­cal vio­lence after win­ning union office. Oth­er are more sub­tle, the kind of inci­dents that can weigh on you when they're repeat­ed over and over. A Black union staffer often inter­acts with mem­bers by phone or email; when she lat­er meets them in per­son, she is told, ​"Oh, you're not how I pic­tured you."
After one or two peo­ple share pow­er­ful sto­ries, oth­er hands start shoot­ing into the air.
This work­shop isn't sim­ply a diver­si­ty train­ing. It's designed to look at the his­to­ry of racism in our coun­try and in our labor move­ment. We talk about how racism shows up in our work­places, our fam­i­ly and com­mu­ni­ty life, and even our unions; how racial cat­e­gories his­tor­i­cal­ly have served the inter­ests of employ­ers; and how divide-and-con­quer ham­pers orga­niz­ing today.
Once we've accept­ed those truths, the next ques­tion is, what can lead­ers do to change them? The work­shop is very prac­ti­cal. We want folks to leave with real ideas for what they can do.
Par­tic­i­pants brain­storm solu­tions in four areas: bar­gain­ing, orga­niz­ing, union cul­ture, and com­mu­ni­ty con­nec­tions. We also dis­cuss how to answer union sis­ters and broth­ers who aren't con­vinced racial jus­tice has any­thing to do with union pol­i­tics. One small-group activ­i­ty is to write a per­sua­sive speech you might give to your exec­u­tive board.
Peo­ple leave feel­ing hope­ful. One old­er gen­tle­man told me he'd been through a num­ber of diver­si­ty and racial equi­ty work­shops, but this was the only one that made him feel he could do some­thing about it. Anoth­er per­son said she'd been afraid even to talk about racism, for fear of say­ing the wrong thing. Now she knew how to start.
How we started
Our state isn't very diverse — and its labor lead­ers are even less so. Out of 15 cen­tral labor coun­cils in Wash­ing­ton, only one has a prin­ci­pal offi­cer who is a per­son of col­or. Only a hand­ful of the 600 affil­i­ate union locals do, either.
The project start­ed with a res­o­lu­tion that passed our con­ven­tion in 2015. It called on the state labor coun­cil pres­i­dent to take up AFL-CIO Pres­i­dent Trumka's call to have ​"a seri­ous and open-end­ed con­ver­sa­tion about what we can do, about what we should do" about race and the labor movement.
The res­o­lu­tion made clear that we should dis­cuss how racism affects not just our indi­vid­ual beliefs, but also the poli­cies and prac­tices that shape our unions. For instance, who gets into the union — is it tough unless your father or uncle was a mem­ber? Who is con­sid­ered for lead­er­ship roles?
A spe­cial com­mit­tee con­vened in 2016. With the help of long­time labor activist Bill Fletch­er and our state's Labor Edu­ca­tion Research Cen­ter, the com­mit­tee devel­oped a sev­en-hour Race and Labor workshop.
Get lead­ers on board
Some of our largest affil­i­ates have sent lead­ers and staff through the train­ing, includ­ing Food and Com­mer­cial Work­ers (UFCW) Local 21, the state AFSCME fed­er­a­tion, and the state Teach­ers (AFT).
It's not easy to sell a sev­en-hour work­shop to union offi­cers. But we ask them to resist the urge to mod­i­fy the work­shop to fit a 90-minute con­fer­ence sched­ule. Real con­ver­sa­tions take time.
Some lead­ers have a nat­ur­al incli­na­tion to stick to lunch­box issues: wages, ben­e­fits, and work­ing con­di­tions. But here's one argu­ment why this top­ic mat­ters to a union's self-inter­est: Before the Janus deci­sion, a large pub­lic sec­tor union did a nation­al mem­ber sur­vey. It found that union favor­a­bil­i­ty was the high­est among African Amer­i­can work­ers — but also that, giv­en the oppor­tu­ni­ty, they were the most like­ly to leave the union.
To me that sug­gests that many African-Amer­i­can work­ers rec­og­nize the val­ue of the labor move­ment, but don't see a place for them­selves in our insti­tu­tions. I sus­pect oth­er peo­ple of col­or may feel the same way.
It's per­son­al for me. As I often tell peo­ple, it was my mom's union job that got us off wel­fare and gave her the dig­ni­ty that comes from being able to pay bills and pro­vide for your fam­i­ly. So I believe in the labor move­ment. I know what a dif­fer­ence it can make. If we con­tin­ue not address­ing racism, we cre­ate a weak­ness in our move­ment. I don't want to let that happen.
Goal: 100 percent
In 2017 we offered our first two-day train-the-train­er work­shops with 100 union lead­ers and staff. We did it twice more this spring.
The first day, par­tic­i­pants go through the Race and Labor work­shop. We ask union prin­ci­pal offi­cers to attend this first day, so that they ​"buy in" to the process. The sec­ond day, prin­ci­pal offi­cers may leave, while the facil­i­ta­tors assigned from their locals (usu­al­ly union staffers) stick around to learn the cur­ricu­lum, includ­ing the goals of each sec­tion, and to dis­cuss how adults learn.
Labor coun­cil del­e­gates passed our Race and Labor 2.0 res­o­lu­tion in 2017, mov­ing into wider imple­men­ta­tion. They set ambi­tious goals — by the end of 2018, half our union affil­i­ates' exec­u­tive board and staff mem­bers should have attend­ed the work­shop; by 2019, three­quar­ters; and by 2020, all of them.
They also resolved that we should train 30 ​"cer­ti­fied train­ers" ready to take the work­shop around the state. We're devel­op­ing that train­ing now.
The next step is a Race and Labor sum­mit in Sep­tem­ber. We'll be bring­ing togeth­er 100 young work­ers of col­or plus allies to devel­op a toolk­it that might include con­tract lan­guage, sam­ple poli­cies, and plans for addi­tion­al train­ing. We'll ask, ​"If we didn't have to deal with insti­tu­tion­al racism in our move­ment, what would that look like — and how do we get there?"
This arti­cle first appeared on Labor Notes.
April Sims
is the polit­i­cal and strate­gic cam­paigns direc­tor of the Wash­ing­ton State Labor Coun­cil. She pre­sent­ed a ver­sion of the Race and Labor work­shop at the
2018
Labor Notes Conference.