Unite Here and Hyatt Hotels Reach Broad Peace Agreement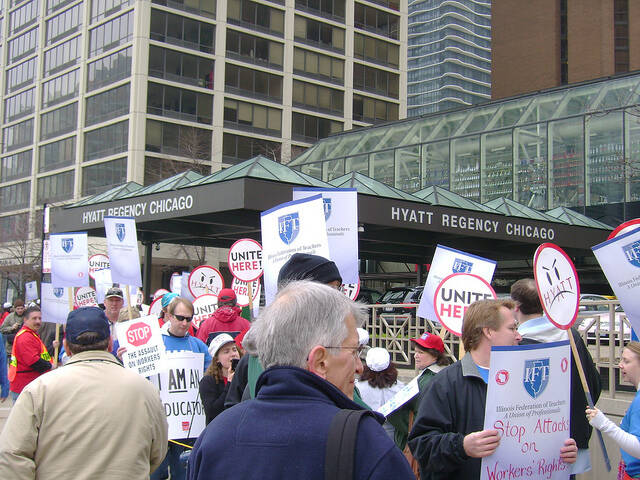 Hospitality workers union Unite Here has reached an expansive labor agreement with Hyatt Hotels Corp that is expected to end a years-long series of workplace struggles that has attracted attention around the country and across the globe.
The agreement is aimed at ending the union's ​'Hyatt Hurts' global boycott campaign by settling outstanding labor contract issues at nine broadly scattered hotels and creating a path forward for new union organizing efforts at a select number of the company's non-union facilities, Unite Here President Donald Taylor tells Working In These Times.
​"We feel good about this, but obviously there is still work to do," to repair relations with Hyatt, Taylor says. ​"This campaign has been going on for four years and it was pretty clear that neither side was going to cave…For both sides, a better way…was to reach a compromise," he says.
Full details of the agreement will be released only gradually, Taylor says, as union members are briefed on the specific provisions and ratification votes are held in the four cities where new contracts are being finalized. Those include Hyatt's home city of Chicago, Los Angeles, San Francisco and Honolulu. In all of these cities, the union says, new contracts will provide wage increases and broad protections for existing pension and health care benefits that had previously been under attack by the company.
​"We are delighted that our associates in Chicago, Los Angeles, San Francisco and Waikiki will have [new] contracts and the pay raises that go with them," states Doug Patrick, Hyatt's senior vice president of human resources. Those contracts will cover about 3,000 union workers at nine separate hotels in the four cities, the company says, and will extend to 2018.
Once the new contracts have been ratified, Unite Herewill end its highly publicized global boycott of the Hyatt chain, Taylor says. That should take 4 to 6 weeks, the union leader indicates. A neutrality agreement to allow organizing at select non-union Hyatt hotels will go forward at that time as well.
The boycott gained many strong backers, from the National Organization for Women to the National Football League Players Association.
The campaign even reached into the White House, with President Barack Obama receiving criticism for his appointment of Hyatt heir Penny Pritzker as U.S. Secretary of Commerce. Pritzker, the daughter of Hyatt co-founder Donald Pritzker, claimed to have no influence on the chain's day-to-day business affairs, despite serving on the board of directors and owning some 10 million shares of company stock. During the nomination process, Pritzker promised to remove herself from Hyatt's board once she is confirmed by the U.S. Senate.
Taylor says there is no connection between the Pritzker's confirmation last week and announcement of the Hyatt deal this week. ​"Speaking for the union, I can tell you that it didn't have any effect on us at all. I can't speak for Hyatt though," he says.
As part of the compromise between Unite Here and Hyatt, the union is dropping demands that the company agree to ​"card check" certification procedures at a number of hotels where the union has new organizing campaigns underway. The card check, in which union certification is achieved by collecting signed cards from a majority of workers who want a union, has long been staunchly opposed by Hyatt. The two sides have agreed to a compromise, Taylor says, in which secret ballot elections will be held under the direction of an independent third-party arbitrator. Hyatt will agree not to actively campaign against the union, as it has in the past, he indicates.
Unite Here's concession on card check was key to the agreement, Hyatt's Patrick indicates. ​"Hyatt has long maintained that our associates should have the right to vote on whether they wish to be represented by a union. We are pleased that our associates will continue to have the opportunity to vote whether or not they wish to be represented by Unite Here. The voting process will take place at those locations where Hyatt and Unite Here agree to it," he tells Working In These Times in an e-mail message.
One aspect of the national agreement that is being held close to the vest is the location of the different hotels where new organizing elections are to be scheduled. Taylor confirms rumors that the high profile organizing campaign at the Hyatt Regency Baltimore is among them, but declines to name any of the others.
Taylor concludes by saying that the national agreement does not cover all of the Hyatt hotels where the union and the company have clashed, so observers can expect to see union activism continuing in some places. ​"Some campaigns will continue, but we want to diminish the skirmishing in some markets," he says, without offering much detail. ​"Hopefully, the national agreement will lead to better understanding all around," so that remaining points of contention can be resolved more easily over time, he suggests.
Bruce Vail
is a Baltimore-based freelance writer with decades of experience covering labor and business stories for newspapers, magazines and new media. He was a reporter for Bloomberg BNA's Daily Labor Report, covering collective bargaining issues in a wide range of industries, and a maritime industry reporter and editor for the Journal of Commerce, serving both in the newspaper's New York City headquarters and in the Washington, D.C. bureau.