Unite Here Campaign Takes Flight at Baltimore-Washington Airport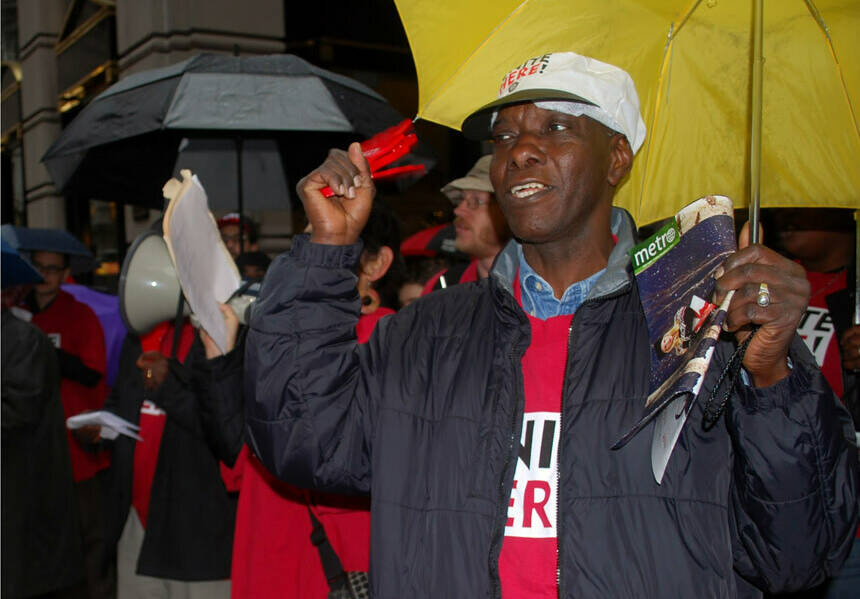 During President Barack Obama's December 4 speech about income inequality to the Center for American Progress, he named ​"airport workers" among the many Americans who struggle with low wages and long hours. It's unlikely that Obama was aiming his shout-out at union campaigners at Baltimore-Washington International Thurgood Marshall Airport (BWI) — but given their recent flurry of activity, maybe he should have been.
At BWI, Unite Here, which represents hospitality workers throughout the United States and Canada, is ramping up its organizing campaign to a critical stage. The campaign focuses on food and service workers in the airport, most of whom would easily match Obama's description of Americans who ​"work their tails off" at poverty level wages.
Yaseen Abdul-Malik is one of those BWI workers. Now 28, he was first recruited by the Baltimore-based Unite Here Local 7 two years ago, when organizing at BWI was largely clandestine. Now, he's become a public face for airport employees — and he says he's trying to ​"break the shackles of fear" that hold many of them back from demanding the better wages and working conditions they deserve.
Currently holding down two restaurant jobs at the airport, Abdul-Malik has already tangled with one of the country's foremost symbols of low pay: McDonald's. When the manager of the BWI McDonald's franchise got wind of the worker organizing, Abdul-Malik reports, she threatened to close the store if the employees joined a union. Ultimatums like these are a violation of the National Labor Rights Act, so earlier this year, the employees and the union forced the manager to back down under the warning of a challenge at the National Labor Relations Board (NLRB).
By winning the fight, Abdul-Malik says, ​"We were able to show people that there is nothing to be afraid of. I'm proud to be able to say that."
Action in favor of concession workers at the NLRB has been a recurring element of Unite Here's campaign at BWI. In addition to the local McDonald's franchisee, Lavan Enterprises, the union has threatened unfair labor practice charges against a number of other individual concession operators. Some have been settled privately while others — notably a charge against regional restaurant chain Silver Diner, where employees say a manager ​"engaged in coercive physical contact" with workers engaging in legal union organizing — are still the subject of ongoing actions at the NLRB, according to Unite Here spokesperson Meghan Cohorst.
But while NLRB action may be effective against specific instances of illegal anti-union activity, it's not enough to accomplish Unite Here's goal of broader systemic change at BWI. So in 2014, Unite Here's campaign efforts will largely focus on a company called AirMall, which has a contract with airport managers to handle most of the concessions across the sprawling airport site. The contract allows AirMall to act as a landlord to Lavan Enterprises, Silver Diner, and others, collecting rents and profits without actually employing airport workers directly.
According to Abdul-Malik, a critical goal of the campaign is to hammer out a ​"labor peace" agreement with AirMall that could set the groundwork for better labor conditions at BWI. Elements of such an agreement might include minimum wage rates, basic non-wage benefits, some job security guarantees and removal of barriers to unionization. And because, he says, "[AirMall] has a lot of control over the vendors," the individual concession companies would be obliged to operate under this established structure.
Establishing good terms, however, might not be easy. AirMall executives have been resisting any such agreement thus far, Abdul-Malik reports. And though AirMall has the power to require its concessionaires to improve labor conditions, observes Nate Horrell, a New York-based researcher for Unite Here, improvements are unlikely as long as it won't engage in labor issues.
When contacted for this story, AirMall representatives confirmed the company's refusal to deal with the union.
But organizers haven't given up hope yet. Hoping to call more attention to the issue, Horrell helped organize a December 6 street demonstration in New York aimed at AirMall's owners, a financial conglomerate called Prospect Capital Corporation. He also notes that because AirMall occupies a strategic spot between the concession companies and the owners of the airport itself — in this case, the Maryland Aviation Administration (MAA), a unit of the state government — it's bound to Maryland's political leaders as well as Prospect Capital's shareholders on Wall Street.
With that in mind, workers and their advocates have also been pressuring Maryland's political leaders to help them in their struggle. In addition to Gov. Martin O'Malley's direct control over the MAA, the state's legislative leaders can exert their own influence over the organization through the budgeting process and other measures. Heartened by O'Malley's public criticism of AirMall for not doing more to improve working conditions at BWI, Unite Here representatives have been busy lobbying legislators to do the same.
The union has been looking for support from candidates in the state gubernatorial election scheduled for 2014, given that O'Malley will not be running again; they're also prepared to defend workers' rights in the case of labor-related legislation in the coming year, including any laws to raise the minimum wage.
Overall, the BWI campaign is making progress at several levels, Cohorst concludes. The on-the-ground organizing effort has built support for workers at McDonald's, Silver Diner and elsewhere, while the corporate-targeted initiative of the campaign is increasing pressure on AirMall. And the timing appears good for elected officials to make their influence felt, as well. Unite Here is not predicting any quick and dramatic success, but there is some optimism the union's sustained efforts may begin to pay off in the new year.
For a limited time: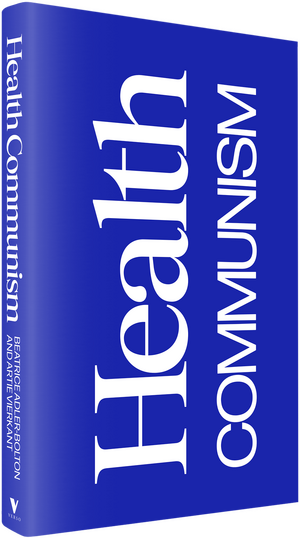 Donate $25 or more to support In These Times and we'll send you a copy of Health Communism.
A searing analysis of health and illness under capitalism from hosts of the hit podcast "Death Panel," Health Communism looks at the grave threat capitalism poses to global public health, and at the rare movements around the world that have successfully challenged the extractive economy of health.
"This is a book you should read before you die, because the ideas synthesized by Adler-Bolton and Vierkant could save our collective lives." –Jon Shaffer
Bruce Vail
is a Baltimore-based freelance writer with decades of experience covering labor and business stories for newspapers, magazines and new media. He was a reporter for Bloomberg BNA's Daily Labor Report, covering collective bargaining issues in a wide range of industries, and a maritime industry reporter and editor for the Journal of Commerce, serving both in the newspaper's New York City headquarters and in the Washington, D.C. bureau.