How Trump's Anti-Immigrant Hate Is Galvanizing Hotel Workers to Fight Back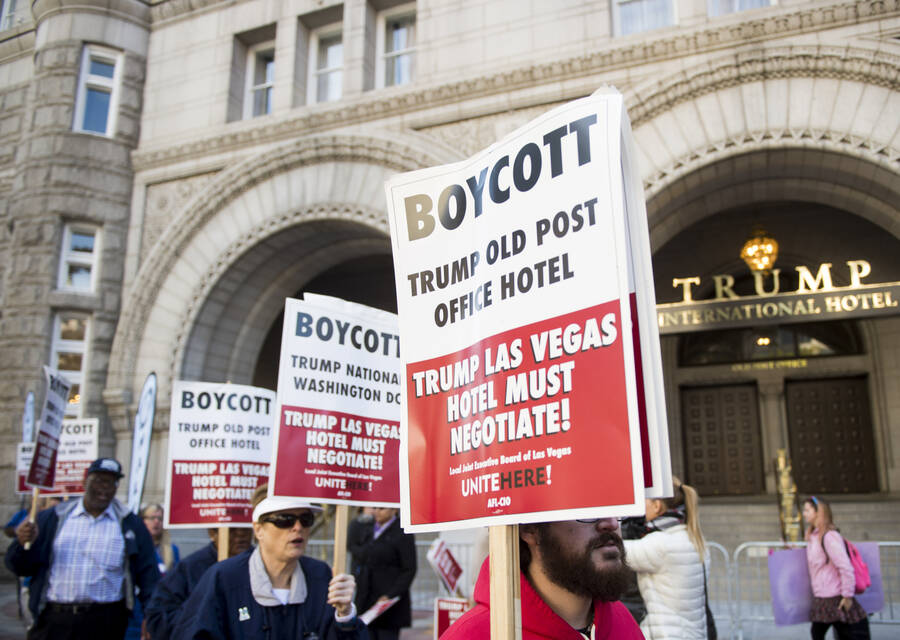 No friend of labor or work­ing-class immi­grants, Pres­i­dent Don­ald Trump is nev­er­the­less pro­vid­ing a back-hand­ed boost to the hotel work­ers' union UNITE HERE by help­ing it sign up new mem­bers at its union locals around the coun­try. Trump's threats to pun­ish immi­grants has prompt­ed more and more work­ers to look to the union as a way to pro­tect them­selves in an uncer­tain polit­i­cal cli­mate, UNITE HERE lead­ers say.
The boost is pow­er­ful enough that 2017 is prov­ing to be a ban­ner year for new orga­niz­ing at the union. Spokesper­son Rachel Gumpert says UNITE HERE is lead­ing the field among big unions, with major recruit­ing efforts under­way. Some 12,000 new mem­bers have been signed up since the begin­ning of the year, she tells In These Times, mak­ing 2017 the best year for new orga­niz­ing in recent memory.
The claim was high­light­ed on Octo­ber 19, when UNITE HERE staged street actions in 40 cities across North Amer­i­ca. Timed to coin­cide with the open­ing of the AFL-CIO con­ven­tion in St. Louis, the actions were designed to empha­size the link between work­ers' rights and immi­grants' rights as Trump attacks both.
"Don­ald Trump's anti-immi­grant rhetoric, and more impor­tant­ly his anti-immi­grant poli­cies, have gal­va­nized immi­grant work­ers to take action to secure basic pro­tec­tions for them­selves and their fam­i­lies," says Gumpert.
"In the work­place, this means union­iz­ing," she con­tin­ues. ​"UNITE HERE is proud to rep­re­sent tens of thou­sands of immi­grants. And in a nation­al polit­i­cal moment where law-abid­ing immi­grants who have con­tributed to their com­mu­ni­ties and local economies for decades are being deport­ed for years-old non-vio­lent mis­de­meanors, we're proud to be doing new orga­niz­ing in work­places across Amer­i­ca to help pro­tect immi­grant workers."
The addi­tion­al 12,000 mem­bers bumps up total UNITE HERE mem­ber­ship to rough­ly 285,000. The union report­ed a mem­ber­ship of 272,963 to the U.S Depart­ment of Labor last year, com­pared to 264,104 in 2015. UNITE HERE is the fastest grow­ing union in the AFL-CIO, the labor federation's spokesper­son Car­olyn Bobb tells In These Times.
Most of the growth is among hotel and casi­no work­ers, although there have also been gains in food ser­vice jobs, includ­ing the orga­niz­ing win for cafe­te­ria work­ers at the Men­lo Park, Calif., head­quar­ters of social media giant Face­book. In July, more than 500 of those work­ers joined UNITE HERE Local 19, based in near­by San Jose.
More typ­i­cal has been the progress at the MGM Gold Strike Casi­no in Tuni­ca, Miss., where UNITE HERE is orga­niz­ing in coali­tion with sev­er­al oth­er unions. The coali­tion has been report­ing slow but steady progress at the casi­no (near Mem­phis, Tenn.), and Gumpert indi­cates the union is count­ing this as one of its vic­to­ries this year.
Anoth­er south­ern vic­to­ry took place in New Orleans, where about 500 work­ers at the Hilton River­side Hotel vot­ed in ear­ly Octo­ber for UNITE HERE rep­re­sen­ta­tion. Local jour­nal­ist Richard Thomp­son pro­duced an overview of union orga­niz­ing in the city's tourism indus­try for The New Orleans Advo­cate on Octo­ber 8, and con­clud­ed that Cres­cent City work­ers are grow­ing more recep­tive to union membership.
One of the union's most active and inno­v­a­tive units is Local 11 in Los Ange­les. With its heavy Lati­no pop­u­la­tion, anti-Trump sen­ti­ment is strong in the Los Ange­les labor com­mu­ni­ty, reports Local 11 spokesper­son Andrew Cohen, and ​"is def­i­nite­ly pro­vid­ing a boost" to new orga­niz­ing efforts in the region.
It's been a good year so far, Cohen tells In These Times, with hotel vic­to­ries at the West­in Long Beach, Sof­i­tel Los Ange­les at Bev­er­ly Hills, San­ta Mon­i­ca Dou­ble­tree and JW Mar­riott San­ta Mon­i­ca Le Merig­ot. The Dou­ble­tree was an espe­cial­ly sat­is­fy­ing win for 23,000-member Local 11, because it required a 15-year cam­paign of unusu­al intensity.
The local also had a small­er vic­to­ry with food ser­vice work­ers at the air­port. A unit of the Chica­go-based air­line cater­ing out­fit Fly­ing Food was suc­cess­ful­ly orga­nized at Los Ange­les Inter­na­tion­al Air­port as part of UNITE HERE's nation­al cam­paign at that com­pa­ny, Cohen says. All togeth­er, Local 11 has added about 1,700 new mem­bers in the last year, he reports.
The local isn't rest­ing on its lau­rels: It just launched a new cam­paign to orga­nize at the lux­u­ry Ter­ranea Resort in Ran­cho Palos Verdes. A key to this cam­paign will be tar­get­ing the pri­vate equi­ty firm Lowe Enter­pris­es, which owns the resort, Cohen says.
In announc­ing the Oct. 19 ​'Day of Action," UNITE HERE Pres­i­dent Don­ald ​"D." Tay­lor stat­ed, ​"We are in a polit­i­cal age where immi­grants, women, and all work­ers are under con­stant attack, and equal­i­ty for all is at risk of being no more than just a dream."
"Unions serve their coun­try as a cru­cial answer in the fight against deep­en­ing racial and eco­nom­ic inequal­i­ty in our coun­try," Tay­lor con­tin­ued. ​"Today is only the begin­ning of what UNITE HERE will do to take back our country."
Gumpert tells In These Times the union con­sid­ers the Octo­ber 19 street demon­stra­tions to have been a suc­cess, and that its var­i­ous orga­niz­ing cam­paigns will be con­tin­u­ing at an increased tempo.
Bruce Vail
is a Bal­ti­more-based free­lance writer with decades of expe­ri­ence cov­er­ing labor and busi­ness sto­ries for news­pa­pers, mag­a­zines and new media. He was a reporter for Bloomberg BNA's Dai­ly Labor Report, cov­er­ing col­lec­tive bar­gain­ing issues in a wide range of indus­tries, and a mar­itime indus­try reporter and edi­tor for the Jour­nal of Com­merce, serv­ing both in the newspaper's New York City head­quar­ters and in the Wash­ing­ton, D.C. bureau.